TikTok's Feta Fried Eggs Are The Only Reason You Need To Get Out Of Bed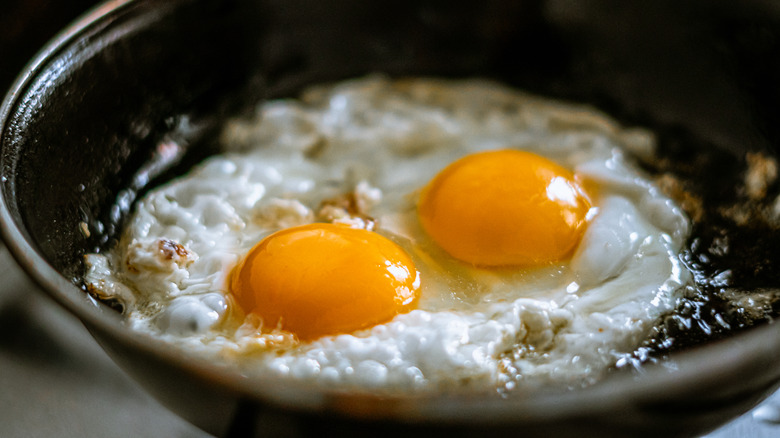 Miguel Angel Flores/Getty Images
Who remembers TikTok's viral feta pasta? The simple recipe was all the rage on the video-sharing platform at the beginning of 2021, which doesn't seem like too long ago. However, considering that trends on the app typically have a lifecycle of only three to 10 days, in TikTok years, the recipe seems equivalent to one developed in the early 1900s.
That being said, it's safe to say that the feta pasta trend has died down significantly over the last few months. However, as we've seen time and time again, trends are often cyclical, and now, nearly two and a half years after feta cheese became nearly impossible to find due to the popularity of the pasta dish, the crumbly Greek dairy product is being thrust back into the spotlight once again as an accompaniment to a breakfast fave: fried eggs.
Yes, that's right. For those who have yet to make it to feta cheese-tok, feta fried eggs are the current dish captivating everybody's hearts and stomachs so much so that, as of this writing, videos with the hashtag #fetafriedeggs have collectively racked up over 15.8 million views.
"This recipe is a winner!" Parade's Nina Elder said of the latest TikTok sensation, which was created by food writer Grace Elkus. "It's rich and cheesy and crunchy and soul-satisfying." With a review like that, how could you not want to hop out of bed and head straight to the kitchen every morning?
The possibilities are endless when it comes to feta fried eggs
Like TikTok's famous feta pasta, making five-minute feta fried eggs is relatively easy. In its simplest form, the A.M. meal only requires a handful of ingredients: eggs, pepper, and, of course, feta cheese. Note that salt is not necessary for this recipe, as Elkus explained in her viral, trend-starting TikTok that the feta should be salty enough as-is.
@graceelkus

5-minute feta fried eggs: you'll thank me next time you're hangry 🍳 Inpired by Ali Slagle's potato, egg, and cheese tacos 🧀 Heat small nonstick skillet over medium heat. Crumble in feta around perimeter. Crack egg into center; season w/ black pepper & red pepper flakes (no need to add salt, the feta is plenty salty) Cover pan and cook until white is set, yolk is still runny, and cheese is unbelievably crispy. Serve atop toast, w/ hash browns, or my personal fave: in a charred tortilla with avocado & lime. You can oil the skillet, esp. if you're not using nonstick, but I find the cheese gets crispier w/o More tips on my IG @graceelkus #friedeggs #feta
Start by sprinkling a handful of feta around the perimeter of a small pan. After the cheese has started melting, it's time for the egg, which you're going to crack right in the middle of that dairy ring you just made. Season with any spices you desire (red pepper flakes are a popular choice), and you're ready to enjoy – though you don't necessarily have to stop there if you don't want to.
In her initial recipe video, Elkus herself took her creation a step further by sliding the feta-fried egg onto a toasted tortilla topped with mashed avocado to create a mouthwatering breakfast taco. Others opted for a base of toast, hashbrowns, or English muffins, while others found inspiration from other viral trends and added pesto sauce or chili crisp. Regardless of how you choose to spruce up the dish, Elkus does make one guarantee about her trendy TikTok meal: "It hits the spot every time."