What Happens Behind The Scenes Of The Great American Baking Show, According To Zach Cherry - Exclusive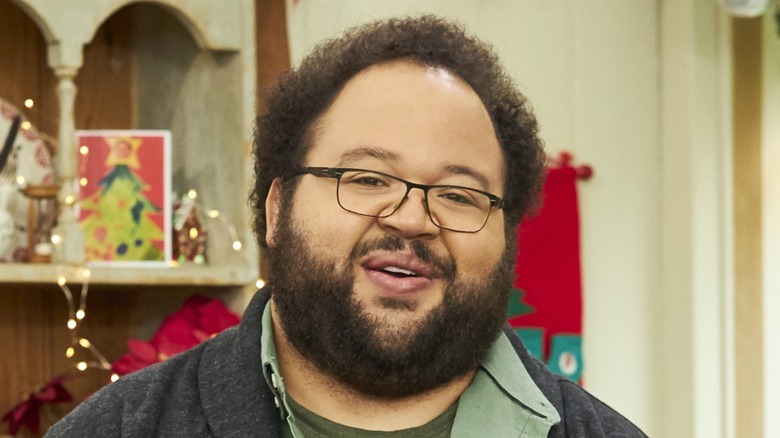 Courtesy of The Roku Channel
If you're a fan of just about any cooking competition series — be it an incredibly fast-paced show like Food Network's "Chopped" or a slightly slower-paced show in which cooks and bakers have hours to put together their creations — then you know that what you watch is hardly the whole experience. Savvy television editors cut away fluff and boring bits, leaving you with an intriguing half-hour or hour's worth of TV with just the important moments included. So what happens behind the scenes when the cameras aren't rolling or aren't picking up anything producers deem worthy of inclusion?
According to host of "The Great American Baking Show" Zach Cherry, who spoke to Mashed in a recent exclusive interview, it all depends on who's on set. Cherry has experience hosting both one regular season of the show and the show's holiday special, wherein the real-life, down-to-earth baking contestants are swapped out for celebrities. When it comes to the latter, Cherry says there's a certain "chaotic energy" in the baking tent, with lots of laughing, comedy bits, and maybe even a little baking, too.
Baking with celebrity style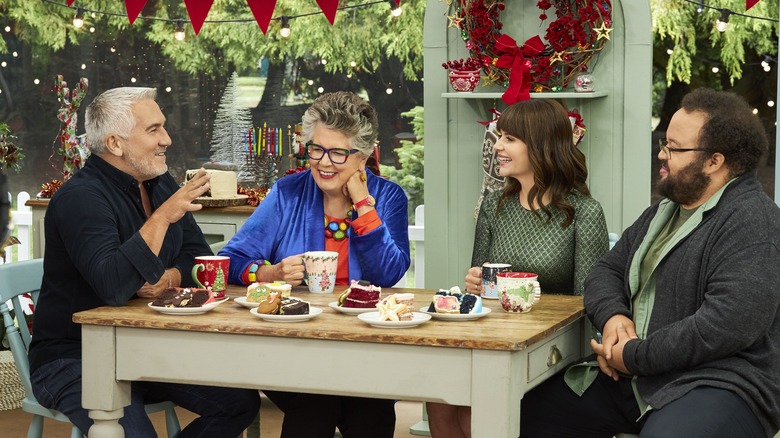 Courtesy of The Roku Channel
Zach Cherry told Mashed, "The main difference between the celebrity episode and a regular episode is that there is a lot more energy and yelling and comedy bits happening during the celebrity episode. You have a tent full of comedians who aren't bakers, so, in their downtime, what they know how to do is try and make each other laugh, and try and make us laugh. There's a chaotic energy. Other than that, it's pretty similar. They have basically the same amount of time for the challenges and they get to work."
On this year's "The Great American Baking Show: Celebrity Holiday" special, which premieres November 10 on The Roku Channel, viewers will see a range of familiar faces vying for status as star baker. Competing celebrities include Joel McHale of "Community" fame, Arturo Castro ("Broad City"), Ego Nwodim ("Saturday Night Live"), the NBA's DeAndre Jordan, Phoebe Robinson ("Everything's Trash"), and comedian Heather McMahan. 
"The Great American Baking Show: Celebrity Holiday" is available to stream for free on The Roku Channel starting November 10.