What Is The Starbucks Twix Frappuccino And How Do You Order It?
If there's one thing in the world there is not a shortage of, it is secret menu drinks at Starbucks. In the past month alone, Starbucks fans have seen a secret menu Valentine's Day drink, a new menu for spring with colorful, fruity drinks, movie-themed Frappuccinos, and even a secret peach drink. The latest thing to order is candy bar-themed, so it's a win for anyone with a sweet tooth.
The Twix Frappuccino has hit the Starbucks secret menu, and you don't even have to pick between the right side or the left side. According to Hack the Menu, the Twix Frappuccino is tastes like a "richer, creamier Caramel Frappuccino." With the Caramel Frappuccino serving as the base for this new creation made with a favorite candy bar in mind, prices for the Twix Frappuccino typically reflect those of caramel, which a grande of costs about $4.45, but keep in mind that extra pumps of syrup can drive up this price (via Fast Food Menu Prices).
How to order the Starbucks Twix Frappuccino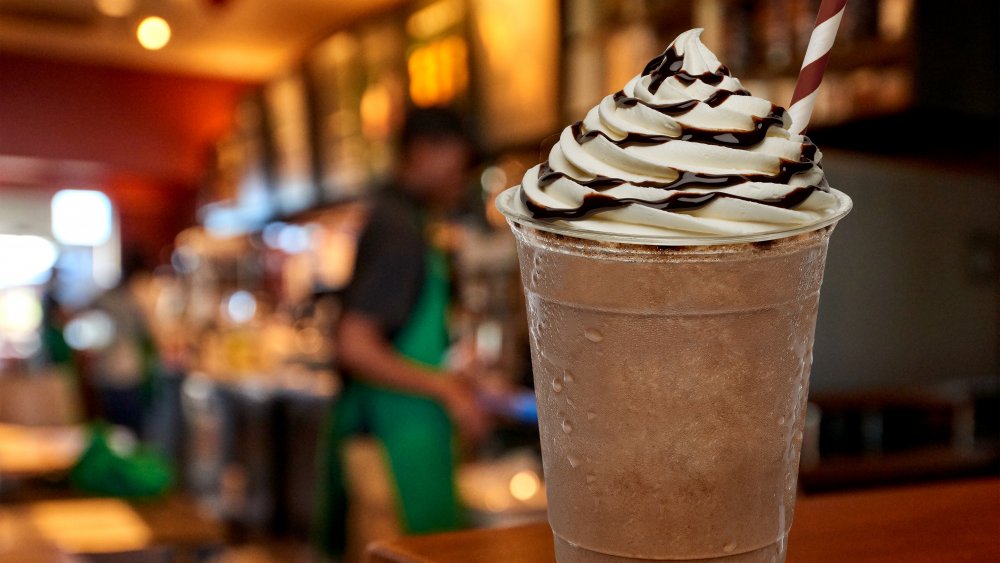 Shutterstock
To order this little indulgence, you'll need to, again, start with the Caramel Frappuccino from the regular Starbucks menu as your base. Ask the barista to add a couple of pumps of hazelnut syrup as well as an extra pump or two of caramel syrup. Next, add in mocha chips to help balance out the sweetness. Once the drink is all blended together, top it off with a caramel and mocha sauce drizzle for a final touch. When combined, this Twix Frappuccino recipe should be just the right balance of caramel and chocolate to taste just like you're biting into the candy bar itself.
Keep in mind that not all Starbucks locations participate in making secret menu drinks. So, it might be best to just order this specialty drink as a Caramel Frappuccino with added syrups and toppings instead of waltzing in and asking for a Twix Frappuccino. Don't forget to take a look at the new spring food, items too like the bacon, sausage, and egg wrap, or the southwest veggie wrap. The lemon cake pop, a seasonal favorite, has also reappeared, so that's another snack to pick up while you're there (via Starbucks).