These Chain Restaurants Are Selling Groceries During The Pandemic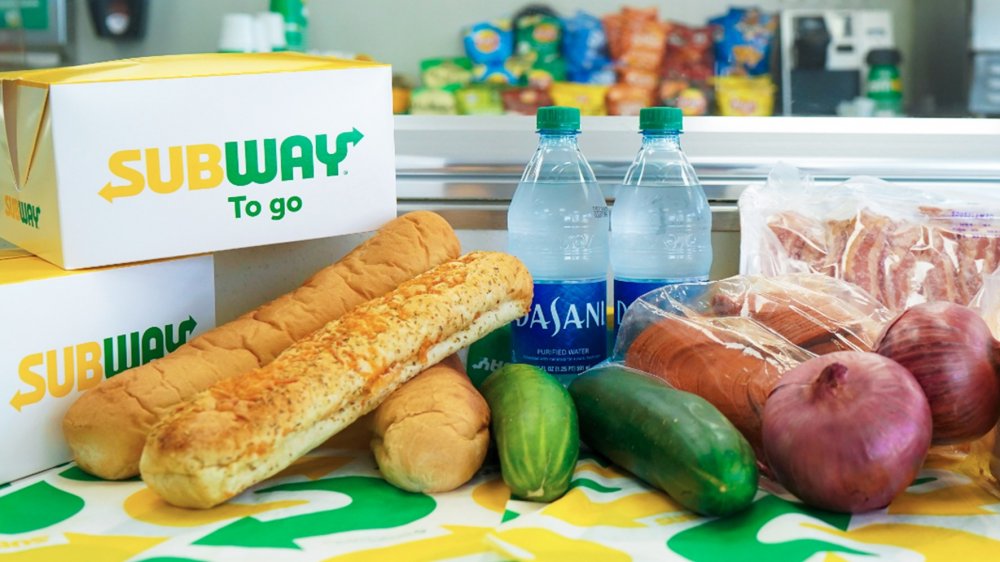 Subway
The COVID-19 pandemic has created a new niche market for those chain restaurants who are nimble enough to change and adapt their business models to the meet the growing demands of a population under stay at home orders that also needs to eat. Small eateries have definitely suffered under the new limitations under which they are forced to operate, and have urged their local community to come to them for takeout in an effort to keep their businesses afloat. Still others have been able to pivot into this new economy by going back to supplying basic needs. To this end, a growing number of fast food chains like Subway, Potbelly, and Panera are doubling as grocery stores for their patrons (via Today).
Leading the charge is national sandwich chain Subway. On April 3, the company launched their newest product offering, "Subway Grocery," which will be available at more than 200 of its stores throughout California, Connecticut, Oregon, Tennessee, and Washington. The sandwich shop is offering customers the opportunity to not only get their favorite foot-longs to go, but the opportunity to purchase pantry and refrigerator staples you would normally purchase at a grocery store. Bread, meat, cheese, vegetables, chips, and cookies are all available for purchase. The pricing appears to be comparable to what you would buy at a grocery store. A 12-inch loaf of bread costs $1.50 and a 16-ounce bag of spinach is $3.50 (via Fox Business News).
Groceries to-go at Panera and other restaurant chains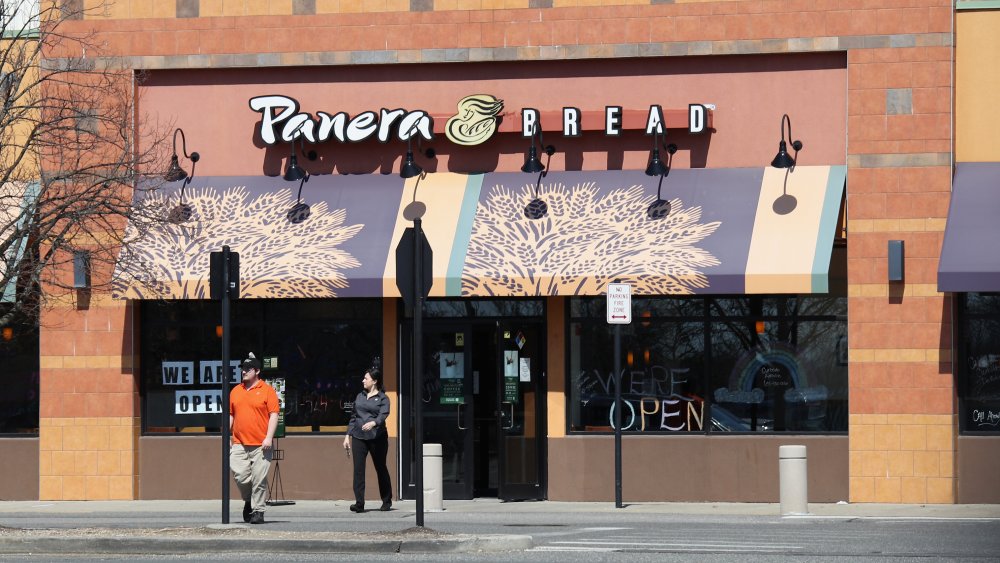 Bruce Bennett/Getty Images
Panera Bread has been at the forefront of this change for chain restaurants during these unprecedented times. On April 8, the company kicked off a new online service called Panera Grocery. From the grocery service you can buy breads, fruits, yogurt, and even a gallon of milk in addition to the chain's prepared-to-order meals like tomato basil soup and mac and cheese. These pantry staples can be purchased and delivered to your doorsteps using the Panera app, the chain's website, or Grubhub. You can also go to the restaurant for pick-up. As far as pricing, there does seem to be a mark-up. At Walmart you can purchase a gallon of milk for around$3.50, whereas a gallon of milk at Panera is $4.99.
Subway and Panera are not alone. Other restaurant chains hopping on the grocery bandwagon include Moe's Southwest Grill, which is selling DIY burrito ingredients by the pound through Moe's Market. California Pizza Kitchen is selling meal kits and pantry items, while Shake Shake is promoting its new DIY burger kits which comes with all the fixings for eight burgers.  
With limited hours for grocery shopping, bare shelves, and a tremendous demand for items in short supply, this growing trend is helping keep businesses in business, while taking some of the demand and stress off grocery chains, their workers, and their shoppers.