Dangerously Easy 3-Ingredient Cookies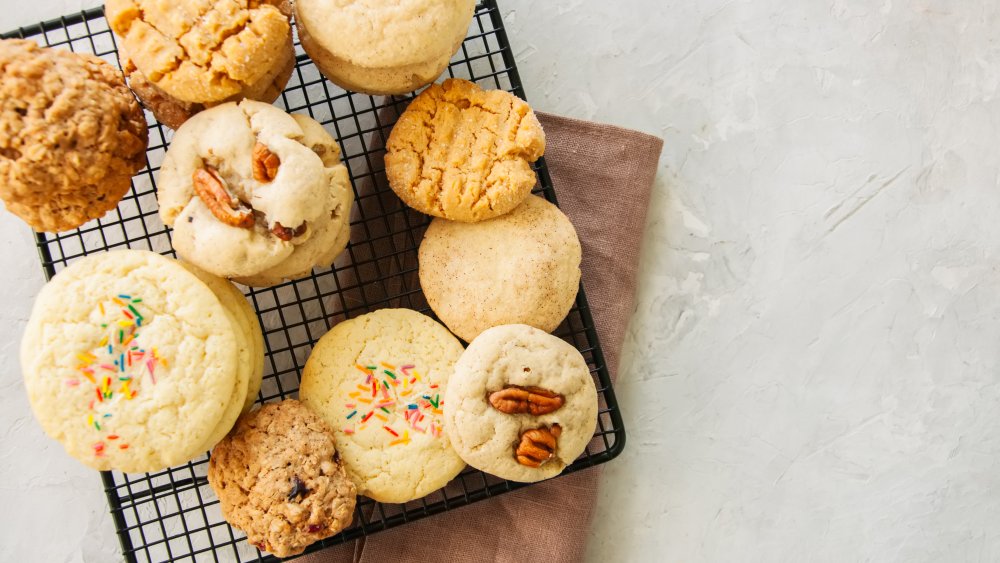 Shutterstock
For some, the idea of baking can be all too daunting. Between needing a fancy mixer, a slew of ingredients, and a bit of finesse, the idea of conquering a cake or baking a pie can seem a little much. But what if you could take the majority of that out of the equation and produce cookies in just minutes with only a few ingredients? 
Cookies are one of the simplest baked goods to master, and there are recipes to make the process even easier. With just three ingredients, it's amazing what you can accomplish. 
Especially at a time when baking ingredients are sometimes hard to come by, or you don't want to head to the store for just one or two ingredients on the list, these are the recipes that will come to the rescue for you to get your mid-week sweet fix. These are the most delicious, yet dangerously easy, three-ingredient cookie recipes out there.
3-ingredient sugar cookies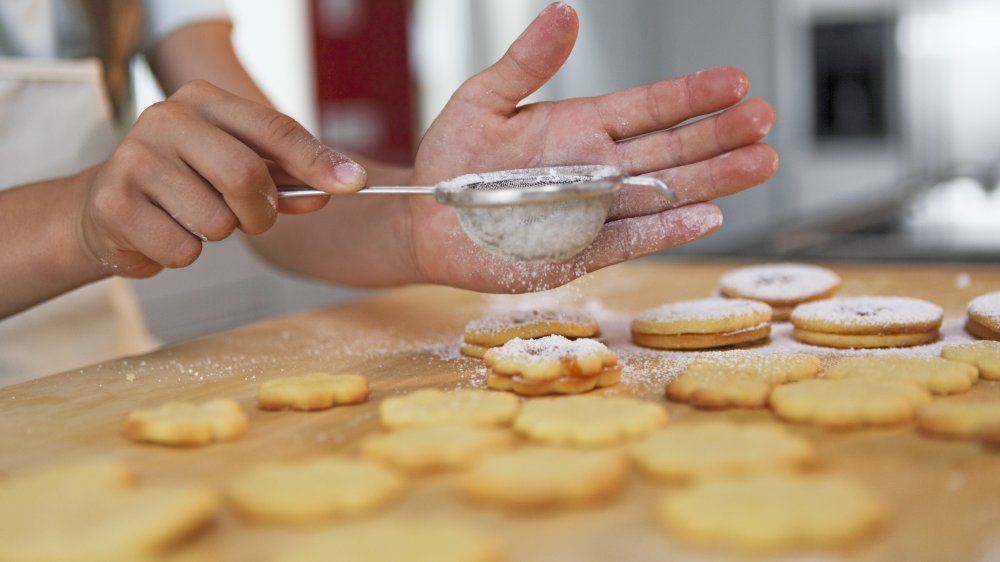 Shutterstock
Next to chocolate chip, of course, sugar cookies are the quintessential cookie. But when it comes to baking, sugar isn't just used to simply add sweetness to your cookie. Sugar actually plays a role in the texture of cookies as well, ultimately causing the dough to spread as the sugar dissolves. With the correct sugar content, your cookies will turn out lighter and softer thanks to this sweet addition.
Because sugar adds the sweetness, and it helps with texture, the only other two ingredients you really need to make a delicious sugar cookie are butter and flour. To make sugar cookies, combine one stick, plus two tablespoons, of butter with ⅓ cup granulated sugar. You'll want to be sure to whip the butter and sugar mixture in a mixer or stir vigorously with a wooden spoon. Once well combined, add in one cup of flour and stir until it's fully incorporated. This will provide stability for your butter and sugar mixture, ultimately allowing you to form your cookie shape.
Form balls of dough, flatten them slightly, and place them on a greased baking sheet when you're ready to bake. Bake your cookies for 14-16 minutes in a 350-degree oven until the edges are lightly golden brown. Let them cool for a few minutes after baking before you dive in.
3-ingredient peanut butter cookies
Shutterstock
Peanut butter cookies are another one of those quintessential cookie varieties that just about everyone swears by. And they've been around a long time.
According to ABC News, peanut butter cookies were used as a way to promote the peanut crop in the early 1900s. A cookbook was published showcasing a cookie recipe utilizing chopped peanuts, inspiring the recipe that later came with peanut butter included for a smoother texture.
To make these treats, simply mix one cup of peanut butter with one cup of granulated sugar and one egg. Combine the mixture until smooth, forming a dough. Use a cookie scoop or your hand to form balls of dough and place them on a greased baking sheet. Don't forget to press your sugar cookies with a fork to get that classic look, and bake your cookies at 350 degrees Fahrenheit for six to eight minutes. The quick bake time will keep your cookies from over-baking, making the end result soft and chewy.
3-ingredient shortbread cookies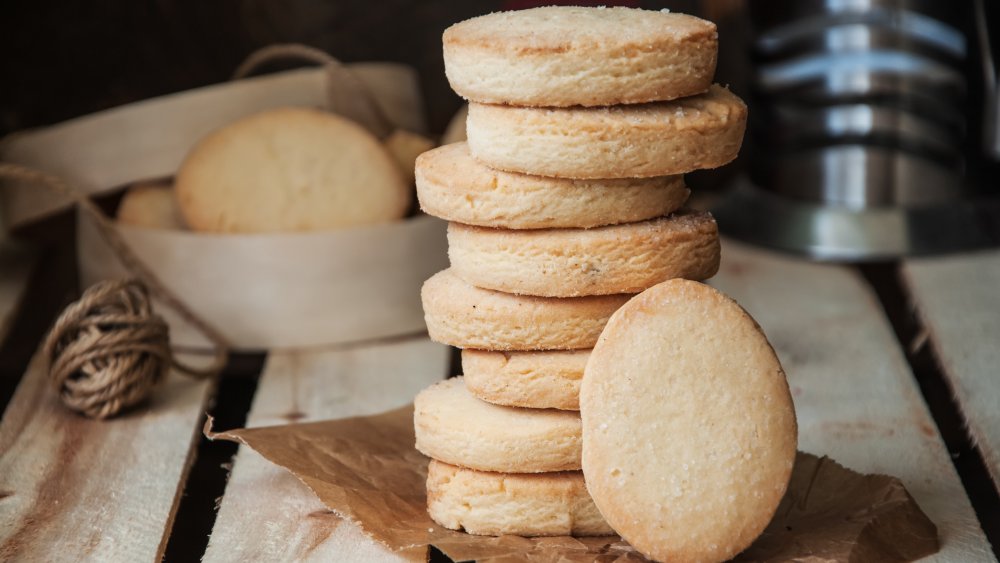 Shutterstock
Shortbread is the ideal complement to tea time, pairing a deliciously sweet and buttery cookie with a cozy warm cup. It's a rich cookie, taking us all back to a simpler time, and the ingredients to make shortbread are just as simple.
The first shortbread recipe debuted in a Scottish cookbook back in 1736 utilizing yeast, but by 1850 the recipe dropped the yeast and only called for butter, flour, and sugar. While many three-ingredient cookies are hacks to make a cookie with fewer ingredients than its normal recipe, this shortbread cookie recipe is pretty well the same as its been since 1850.
To make shortbread, combine one cup of softened butter with ½ cup of sugar and beat it in a mixing bowl or stir it with a spoon. Gradually add in two cups of flour and combine until your dough forms. Shortbread can be shaped in a number of ways, but it's traditionally served in triangles. To achieve this, bake your dough in a greased round cake pan at 350 degrees for 25-30 minutes. The edges will be a light golden brown, telling you it's ready to remove the pan from the oven to cool. Once cool, cut your circular cookie into triangle wedges (much like a pie) and serve with a cup of tea.
3-ingredient coconut macaroons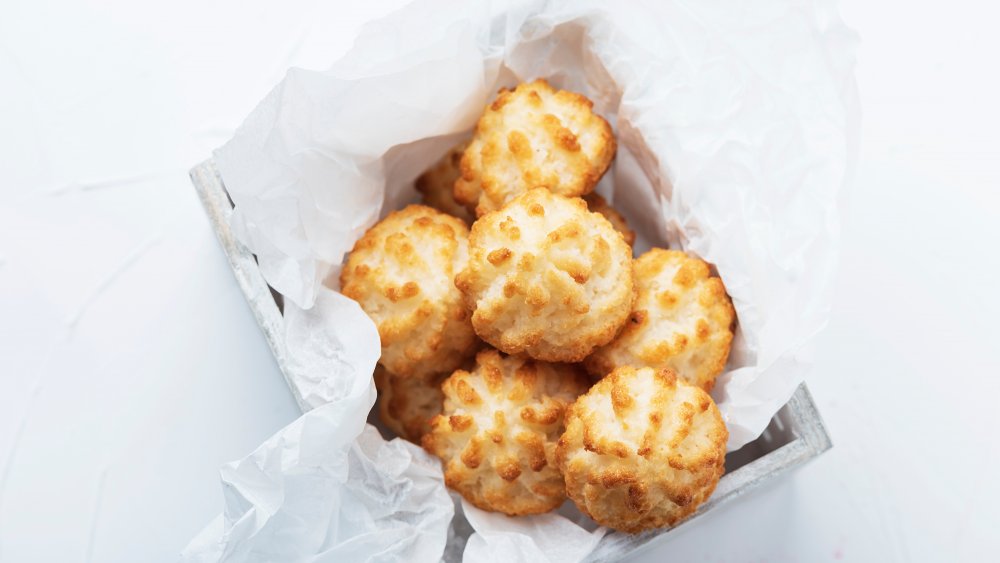 Shutterstock
Yep, you read that right. You can make macaroons with just three ingredients. But first, let's make sure we all know exactly what a macaroon is. Macaroons and macarons are commonly mixed up, with many assuming they mean the same thing. Macarons are a French cookie made from almond meal and egg whites. The little shell cookies are baked to perfection and then turned into bright, beautiful little sandwich cookies filled with chocolate ganache, buttercream, or jam.
Macaroons, on the other hand, are totally flourless and made from egg whites, shredded coconut, and sugar. And by combining just these three ingredients, you also get a cookie that is gluten-free.
To make easy macaroons, combine four egg whites and ½ cup granulated sugar in a bowl and stir until it's frothy. Add in three cups of sweetened shredded coconut. Mix until the coconut is nice and moist and the mixture is evenly combined. Use the mixture to form balls, place them on a greased or lined baking sheet, and bake your cookies for 15-20 minutes at 350 degrees Fahrenheit. The tops will be a light golden brown once they're ready to take out of the oven.
3-ingredient Nutella cookies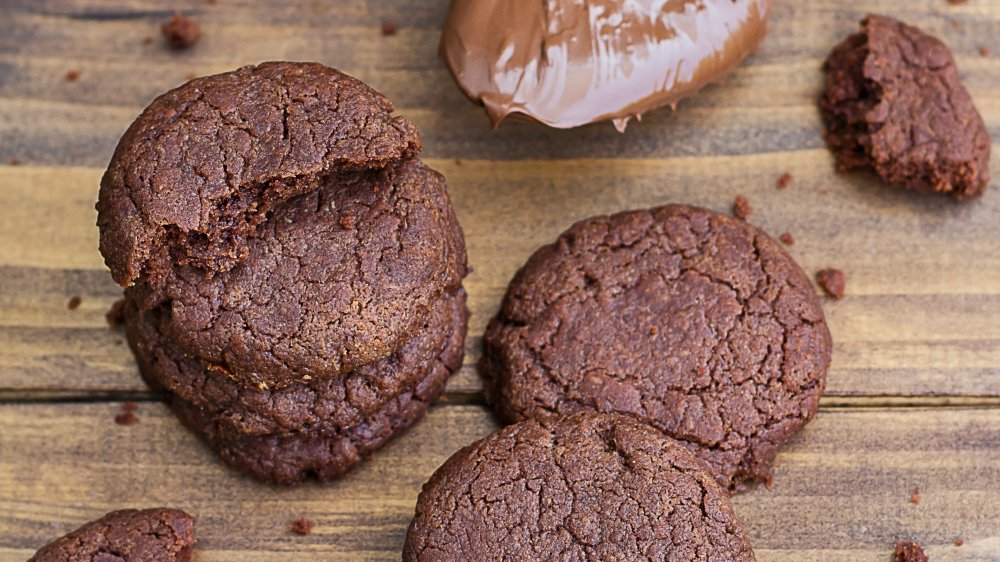 Shutterstock
Craving a delicious, chocolate-hazelnut cookie? You're in luck with this recipe. Nutella is essentially the combination of hazelnuts, sugar, oil, and cocoa to form a spread similar to peanut butter. It was invented in Italy in 1964 and has become wildly popular as a spread on toast, but it's just as popular as an addition to cakes, cookies, and other desserts.
You can capture the flavor of Nutella and put it in a cookie with just three ingredients. All you need is one cup flour, one cup Nutella, and one egg. Mix the ingredients in a bowl until well combined, forming a thick dough. Roll the dough into balls, put them on a greased baking sheet, and flatten the dough slightly along the way. Bake your cookies at 350 degrees for about 10 minutes. With that baking time, the edges will crisp slightly, but the middle will stay soft. Pull your baking sheet out of the oven and let your cookies cool on the sheet for a few minutes until they're ready to eat.
3-ingredient banana oat cookies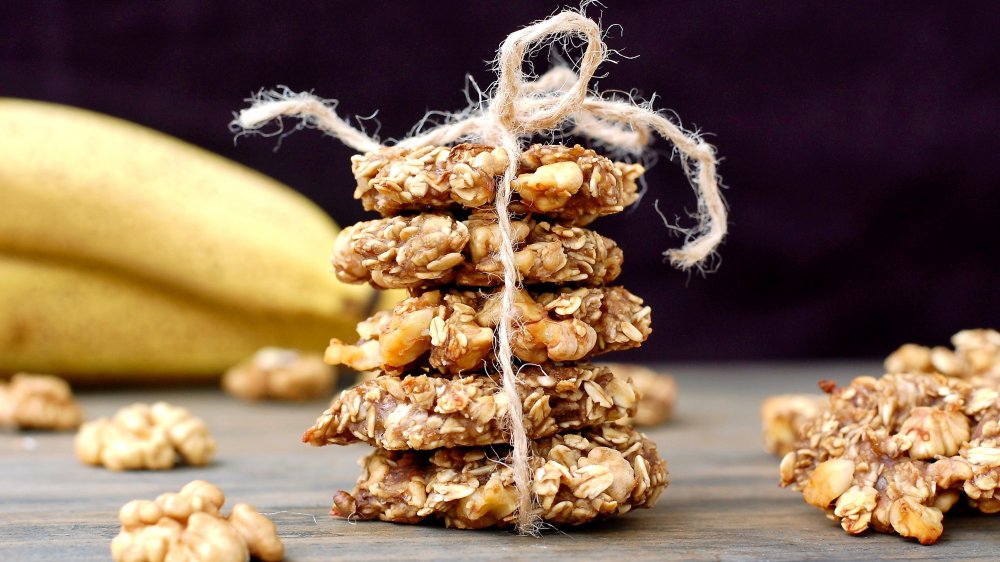 Shutterstock
The beautiful thing about cookies is that they walk a fine line between dessert, snack, and breakfast. Really, depending on their ingredients you can make them totally suitable for breakfast, and that's exactly what these three-ingredient banana oat cookies can be classified as.
And luckily, if you need breakfast in a pinch, they're easy as can be. All you need to pull these off is bananas, oats, and chocolate chips. Bananas work in this recipe to add flavor to the cookies, but it also acts as the glue that holds them together. Often, you're able to replace eggs in a recipe with bananas because of the similar texture, and that works perfectly here.
Mash two ripe bananas, add in 1-½ cups of oats and stir them together. Once the mixture forms a dough, add in chocolate chips. Use a cookie scoop or your hands to form balls of dough, place them on a baking sheet, and bake your breakfast cookies at 350 degrees for 12-14 minutes. The edges will be a light golden brown once they're ready to pull out of the oven and let cool before serving.
3-ingredient cheesecake truffles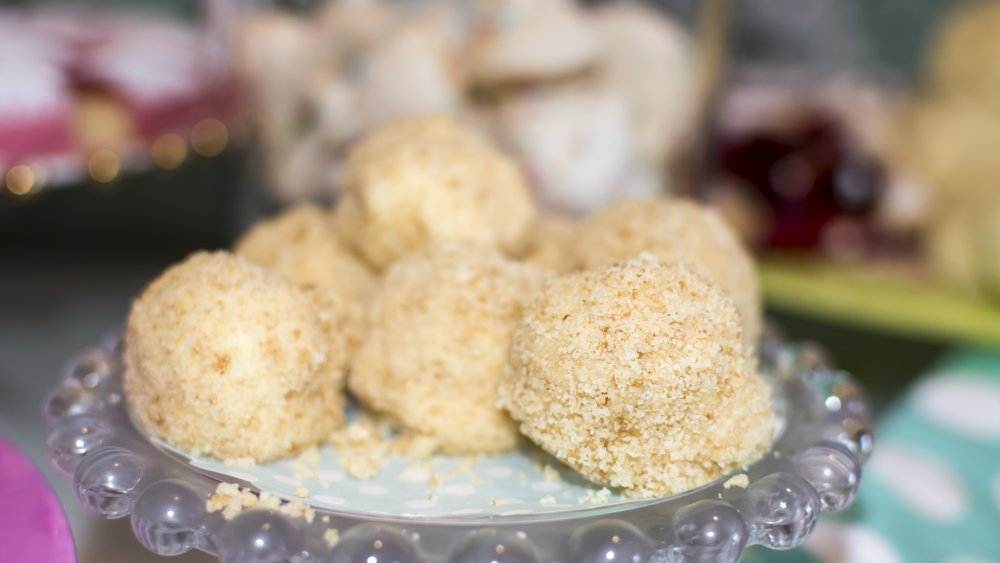 Shutterstock
What if we told you that you can even make delicious three-ingredient cookies, and you don't even have to bake them? Talk about a double win. Ridiculously easy cheesecake truffles are just the thing to curb that sweet craving, made with cream cheese, sugar, and graham crackers. Most cheesecake recipes utilize the same three ingredients, so these little delights capture the flavors of cheesecake perfectly.
All you need to do is combine a block of cream cheese with ¼ cup of granulated sugar. If you're out of granulated sugar, powdered sugar will work too. Mix the cream cheese and sugar, and then add in ½ cup of crushed graham crackers. Mix the dough, form into balls, and then roll each truffle in crushed graham crackers to finish them off. These are best left in the fridge to chill for a bit, and if you have it on hand, they can be served with a drizzle of chocolate or cherry sauce to really amp up your cheesecake bites.
3-ingredient edible raw cookie dough balls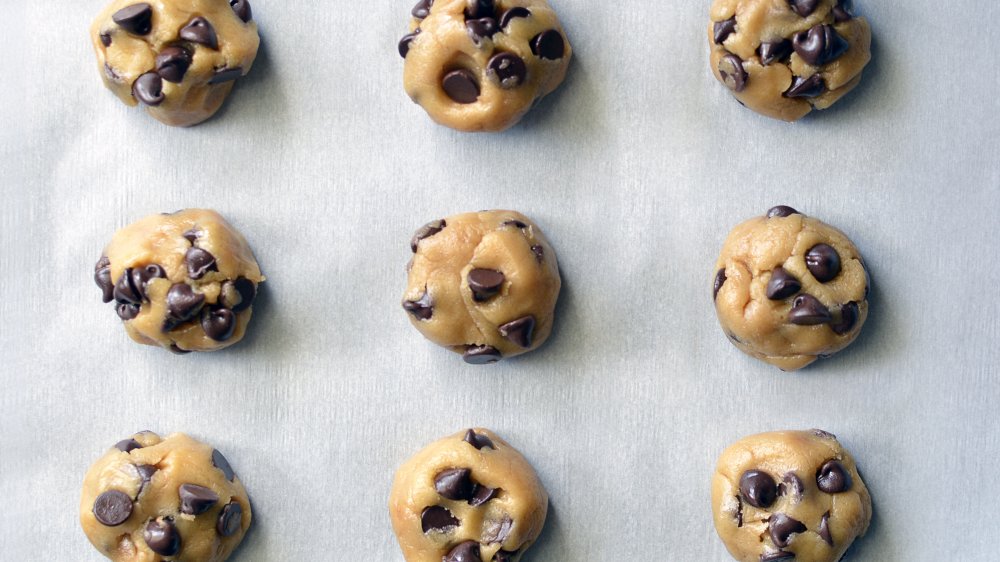 Shutterstock
For years and years, it's been said that eating raw cookie dough isn't all that great of an idea. And that's all because of the addition of raw eggs. According to Healthline, salmonella bacteria is often present in raw eggs, which is, of course, why we cook them. Eating the cookie dough before baking presents the same potential risk. But what if you could make a version that's totally edible, totally safe, and you could even call it a cookie? Enter edible raw cookie dough balls. 
These little cookie dough bites are the simple combination of granulated sugar, butter, and flour. You could also make them by swapping out all or half of the granulated sugar for brown sugar to achieve a different flavor.
Simply mix together one cup sugar with one stick of butter until well combined and creamy. Add in ¾ cup flour and stir until it's well combined and forms a dough. If you have extra ingredients on hand such as chocolate chips, coconut, or sprinkles you can add those in for extra flavor and texture if desired. Form the cookie dough into balls, or simply eat it by the spoonful when nobody is watching. That part is all up to you.
3-ingredient peanut butter oat cookies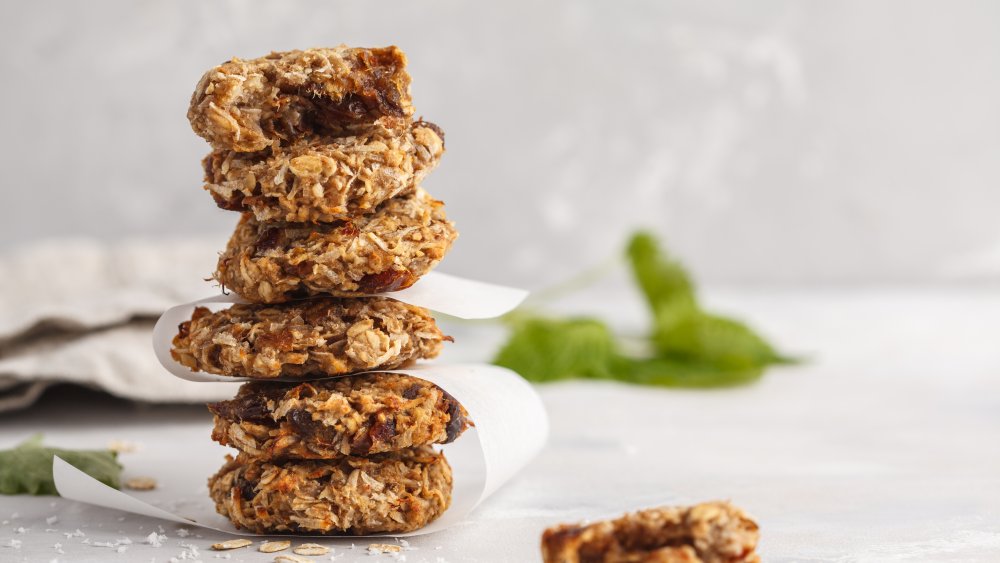 Shutterstock
Oddly enough, three-ingredient cookie recipes have the ability to be considered healthy. After all, the ingredients that might make a cookie unhealthy are typically butter, sugar, or flour, but this recipe omits all three of those. These 3-ingredient cookies are a simple option to make for a quick afternoon snack to have on hand, or, you could definitely get away with eating these for breakfast. 
To make these little delights, all you need is peanut butter, oats, and maple syrup. Add one cup of peanut butter and ½ cup of maple syrup to a pot. Warm the mixture on the stovetop until it begins to bubble. Once hot, pour the mixture over two cups of oats. Let the mixture cool slightly before using your hands or a cookie scoop to form balls of dough. Place them on a baking sheet with wax paper, flatten the balls of dough to form a cookie shape, and chill in the fridge or freezer until firm.
3-ingredient peanut butter balls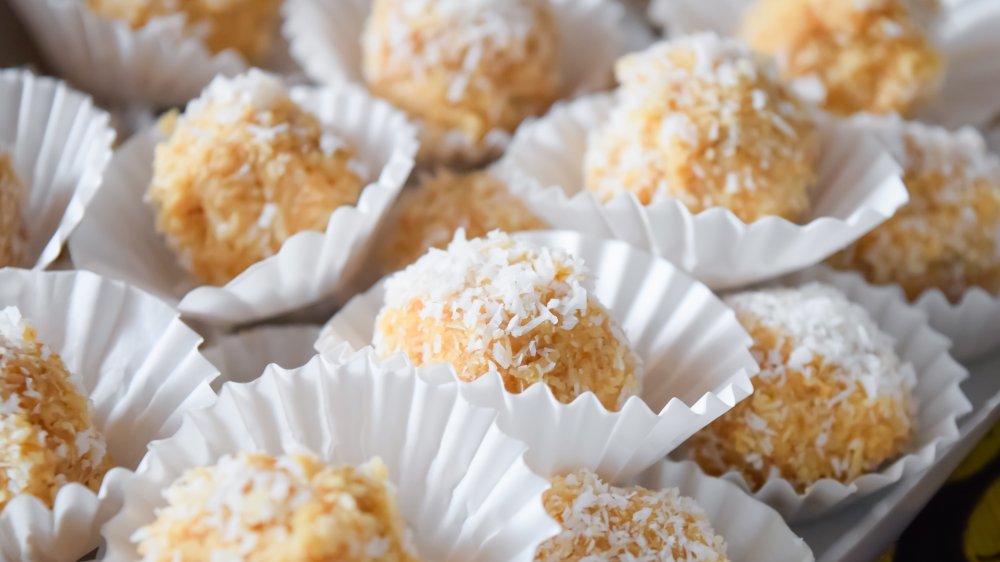 Shutterstock
This is another great no-bake cookie option to add to your recipe arsenal. Peanut butter balls are a popular option around the holidays because one batch can produce plenty of treats to hand out to friends and family. Or, you could just make them for yourself to enjoy at any time of the year.
As the name suggests, this recipe calls for peanut butter, along with butter and powdered sugar. Simply combine ½ cup of peanut butter, three tablespoons of butter, and one cup of powdered sugar until well combined and smooth. Let your mixture sit in the fridge or freezer to chill. Once chilled, shape one-inch or two-inch sized balls, depending on your preference, and set them on a baking sheet lined with wax paper. Once complete, keep them stored in the fridge so your treats can hold their texture.
They're delicious on their own, but if you have chocolate candy coating on hand, coconut, or even graham crackers, dipping the peanut butter balls in a coating can add another layer of great flavor.
3-ingredient copycat Thin Mint cookies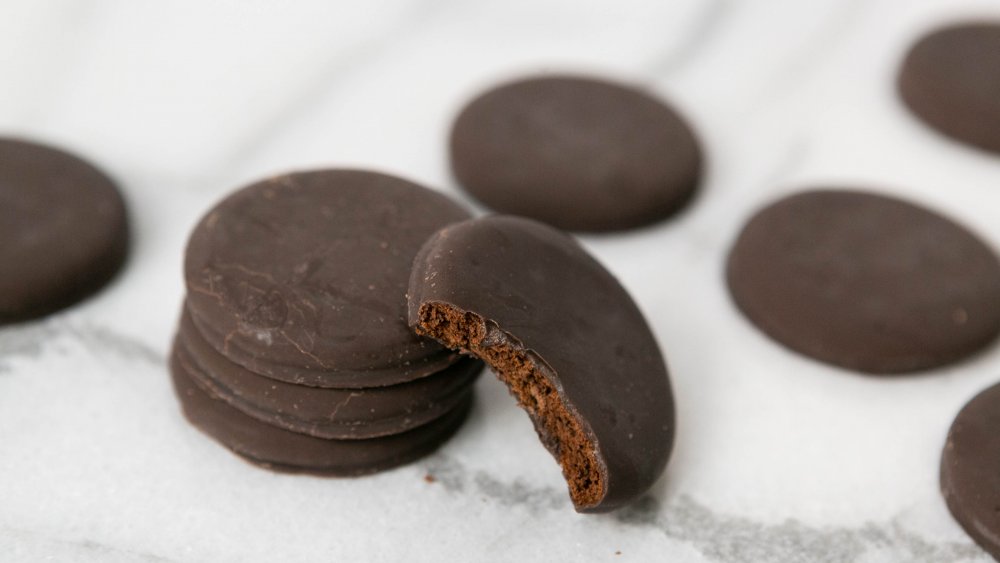 Shutterstock
To be fair, let's just get this out in the open. Yes, this recipe uses a store-bought cookie to make another type of cookie, but hear us out. You'll definitely want this on-hand when your next Girl Scout cookies craving hits. 
Thin Mints have been on the Girl Scout cookie menu since 1939, and with their deliciously crunchy inside and their refreshing mint flavor, the little mint cookies have become a favorite across the U.S. But, as well all know, Girl Scout cookie time only comes once a year, so what's a Thin Mint addict to do when they run out of their favorite cookie? Now, you can whip up a solution for your shortage at home.  
All you need to pull this off is a package of Oreos, chocolate candy melts or dipping chocolate, and peppermint extract. Pull apart your Oreos and take the cream off of each cookie. Melt your chocolate and stir in the peppermint extract. Dip the Oreo halves in the melted chocolate and then place them on wax paper. Let the chocolate set and harden, and there you have it.
Now all you have to do is find a use for all that leftover Oreo cream, but we're pretty sure that won't be a problem. 
3-ingredient chocolate peanut butter no-bake cookies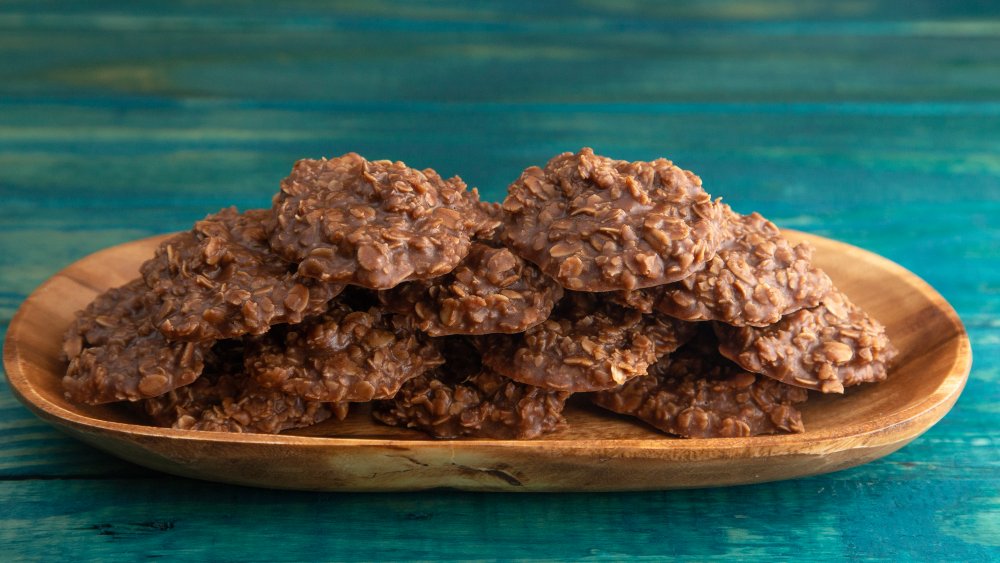 Shutterstock
These no-bake cookies have been around a long time, serving as a childhood staple for many growing up. After all, you don't always feel like pulling out all the stops with a baking sheet and turning on the oven. 
Often made without the peanut butter, this version kicks it up a notch. Really, few combinations are as ideal as chocolate and peanut butter, and these are the perfect rich mixture, coming together in just minutes. 
Melt eight ounces of chocolate chips and combine the melted chocolate with 1/2 cup of peanut butter. Once the mixture is combined, add in 1-1/2 cups of oats and keep stirring. Once the oats are incorporated, use your hands or a cookie scoop to form cookies and place them on a plate or baking sheet with wax paper. Let the cookies cool, allowing the chocolate to harden, and then dive right in. 
3-ingredient meringues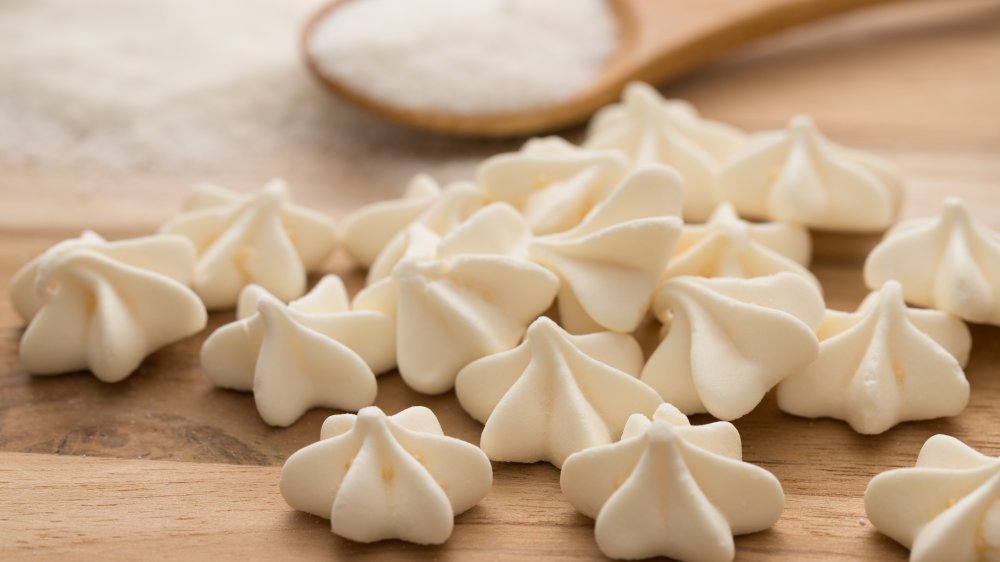 Shutterstock
Meringues are the cutest little clouds of sugar, and you can easily make them at home with little effort and only a few ingredients including egg whites, sugar, and cream of tartar.
Egg whites have been used to make textured desserts for centuries, because of their makeup. According to Smithsonian Magazine, egg whites are 90 percent water, but they also include proteins made up of amino acids. As they're beaten, portions of the egg white proteins cling to the water found in them, while others repel, creating bubbles that ultimately fluff up into meringue. Cream of tartar is added to stabilize the mixture, allowing it to hold its shape. And while all of that sounds scientifically complicated, making them at home really is quite easy.
All you need is two egg whites at room temperature, 1/4 teaspoon of cream of tartar, and 1/2 cup of granulated sugar. Beat your egg whites in a bowl until frothy and then add in the cream of tartar. Continue to beat the egg whites until stiff peaks begin to form and slowly add in your sugar. Adding in the sugar slowly is crucial for the ideal texture. Once the mixture is stiff, scoop spoonfuls of meringue onto a greased baking sheet, and bake your cookies at 225 degrees for 45 minutes. Once the baking time is completed, open the oven door and let the meringues sit to dry out for an hour to give them their signature chewy texture.