Were The Travis Scott And J Balvin McDonald's Meals A Shady Coverup?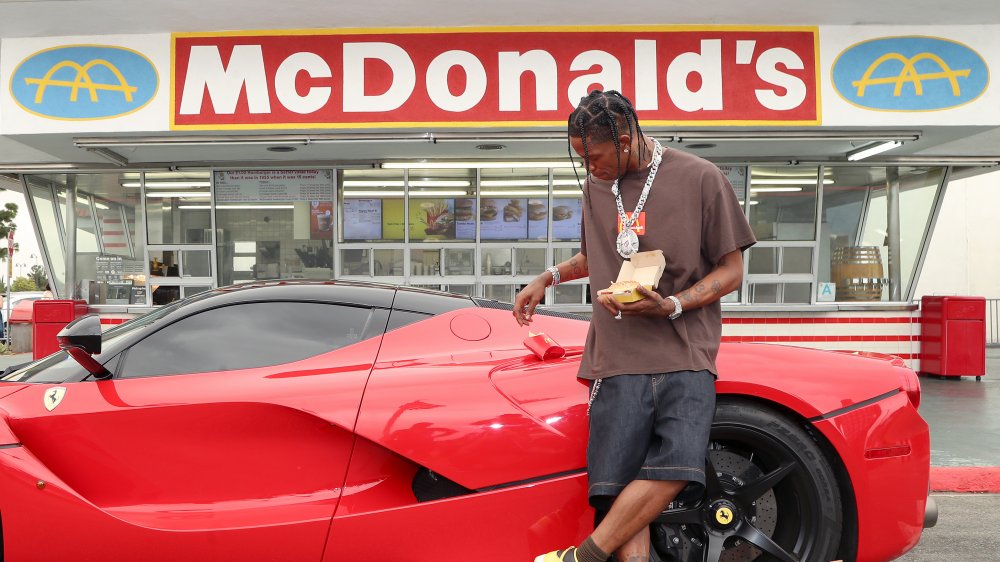 Jerritt Clark/Getty Images
Business Insider reports that when McDonald's partnered with performing artist Travis Scott and Reggaeton star J Balvin on special meals, the fast food chain's goal was to regain lost appeal with "younger African-American and multicultural consumers," according to a marketing executive for the company; but two historians, Chin Jou and Marcia Chatelain, who have written about McDonald's relationship with race are suggesting something more devious might be going on. McDonald's is allegedly elevating Black and Latino musicians just as the company is being hit with two lawsuits filed by Black executives and franchise owners (via Vice).
In January of this year, The Guardian wrote that two executives sued McDonald's, claiming Black people in higher positions at the chain faced a "hostile and abusive work environment" as well as a "ruthless purge" that saw the number of high-ranking Black executives drop from 42 in 2014 to just seven. In September — the same month the Travis Scott meal debuted — 52 Black former franchise owners also sued. They claimed they were given less economic opportunity than white franchisees, as they were steered toward low-performing, high-cost restaurants in poorer neighborhoods (via NPR). "McDonald's should be in the doghouse when it comes to African Americans right now," Jou told Vice, while Chatelain asserted that the Scott collaboration is the company's way of trying to build good PR among customers of color. Meanwhile, the Travis Scott meal was credited with improving McDonald's sales compared to last year, despite lower sales earlier in the year due to the COVID-19 pandemic (via Complex).
McDonald's denies any connection between the lawsuits and celebrity meals
McDonald's executives have denied the allegations laid out in the lawsuits, along with the notion that the Scott and Balvin partnerships were a response to the legal actions against them. McDonald's delivered this statement to Vice: "Any claim that McDonald's collaboration with Travis Scott was launched in response to recent litigation is completely false. We teamed up with Travis — and our newest celebrity partner, J Balvin — because of their love for the McDonald's brand, their widespread appeal, and their loyal following among our younger customers and our crew."
A few months ago, McDonald's said the right words in the wake of the murder of George Floyd at the hands of police and the nationwide racial justice protests that followed: "We do not tolerate inequality, injustice, or racism." The chain also donated $1 million to the NAACP and the National Urban League (via Restaurant Business). At least two executives and 52 former franchisees might dispute McDonald's rosy statement about fighting inequality, but while the timing of the Travis Scott and J Balvin collaborations may look suspicious, any claim that the two artists were used to drown out accusations of corporate-level racism is only speculation.