What You Should Know About McDonald's Newest Celebrity Meal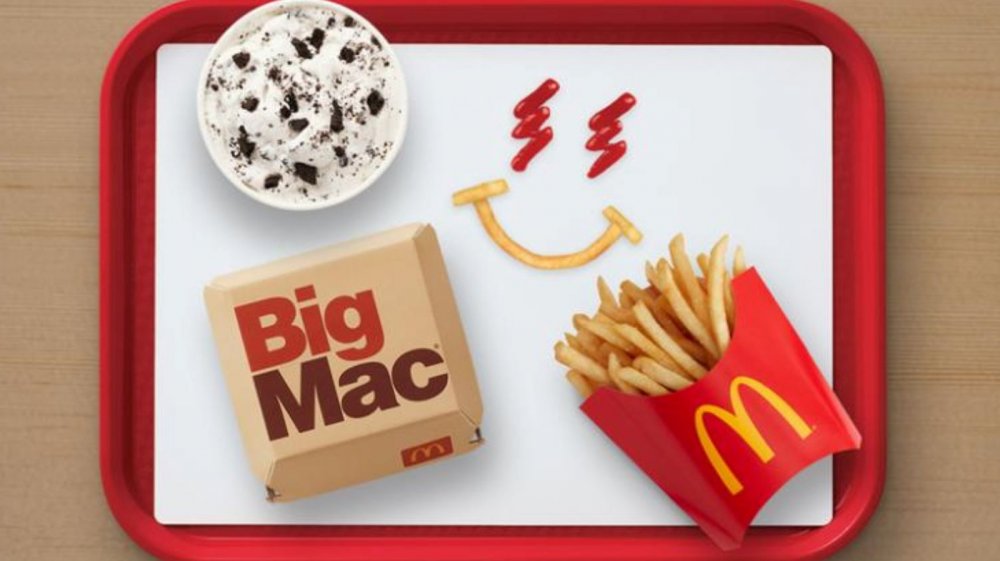 McDonald's
The Travis Scott meal may officially be off the menu at McDonald's locations, but another musical artist with youth appeal has taken Scott's place. In a press release, the fast food chain announced Reggaeton artist J Balvin's favorite McDonald's order will now be featured on the McDonald's menu from October 5th to November 1st, 2020. Balvin has been a star in Latin America for years, and has been gaining recognition in the U.S. since his surprise appearance with Jennifer Lopez during the 2020 Super Bowl halftime show (via NJ.com). CNN reports that Balvin ranks third in the world on Spotify's list of most-streamed artists, with 56 million listeners per month.
After McDonald's scored a massive hit with Travis Scott's "Cactus Jack" meal, it makes sense they would try to strike gold again with another collaboration. McDonald's states the J Balvin meal is based on the musician's usual order, and features a Big Mac without pickles, a medium sized order of French fries with ketchup, and an Oreo McFlurry. "When I was a kid growing up [in Colombia,] we didn't have McDonald's until later so when I visited the United States it was like always like 'First thing, we gotta go to McDonald's,' and I'd get my usual Big Mac, Oreo McFlurry and medium French fries with ketchup," Balvin told Hypebeast, "I've always gotten the same thing since I was a kid — no pickles, though."
J Balvin and McDonald's are also offering merchandise
McDonald's famously had trouble keeping ingredients in stock for the Cactus Jack meal, which sold for $6. After only one week of the Travis Scott promotion, McDonald's limited the collaborative deal to app orders only to get a better handle on its supplies of beef, bacon, onion, and lettuce (via USA Today). Having learned from this mistake, McDonald's is only offering a special deal on the J Balvin meal through the app. CNN states that customers ordering the J Blavin meal through the McDonald's app will get their Oreo McFlurry for free. The outlet asserts that McDonald's, like other chains, is emphasizing its app so much with these promotions because using them boosts sales and customer loyalty.
With Travis Scott, McDonald's sold Cactus Jack-themed clothing and other merchandise — including a three-foot-long Chicken McNugget body pillow for $90 — as part of the promotion. Balvin and McDonald's collaboration will also offer a line of merchandise, according to Hypebeast.