The Untold Truth Of Sloppy Joes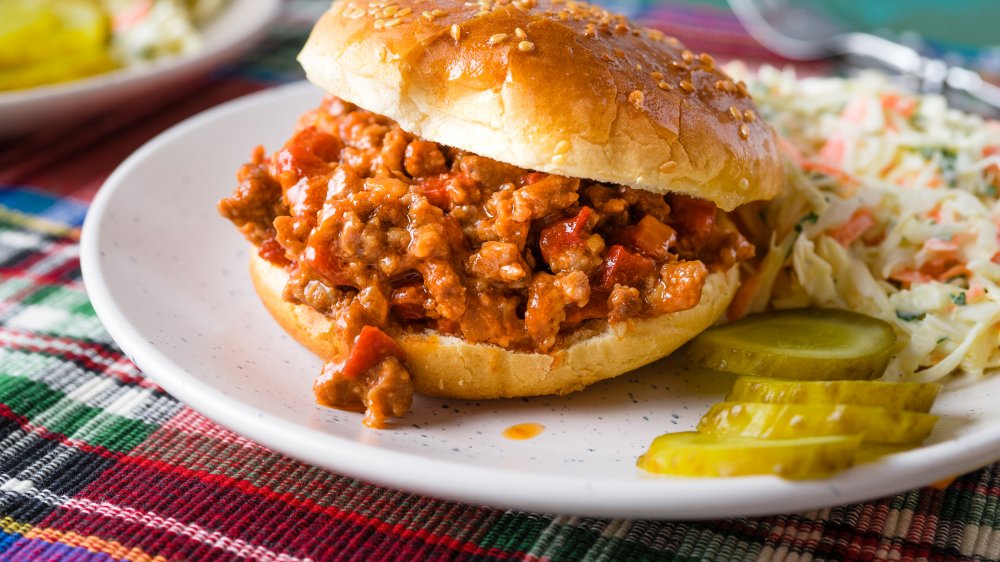 Shutterstock
If you know who Chris Farley's iconic Lunch Lady is, then you know the Sloppy Joe is a hero sandwich in the truest sense. Sloppy Joes and the Saturday Night Live cult classic character, Lunch Lady, are sewn into the American fabric. How could they not be? SNL skits are hilarious and the loose ground beef or pork, in a sweet tomato sauce piled high on a hamburger bun, affectionately known as the Sloppy Joe, is delicious. But if you've ever wondered who invented this favorite meaty and saucy sandwich of many individuals' childhoods, we can't promise you the satisfying answer you might be craving.
In fact, there are different origin stories. According to SloppyJoes.org, Sloppy Joe's Bar, which is located in Havana, Cuba, and counted Ernest Hemingway among its patrons, operated in the 1930s and was run by a bartender named Jose Garcia whom the bar was named for. As the story goes, he was a rather messy purveyor and was nicknamed "Sloppy Joe." The bar sold a sandwich made of "ropa vieja," or shredded beef in tomato sauce, per Chowhound. This dish was called a Sloppy Joe. But the Havana story is only one of the appetizing tales. There is a bar out of Key West, Florida that calls dibs and a café in Sioux City, Iowa that says it was the first. 
Sloppy Joe's origins has ties to Key West and Sioux City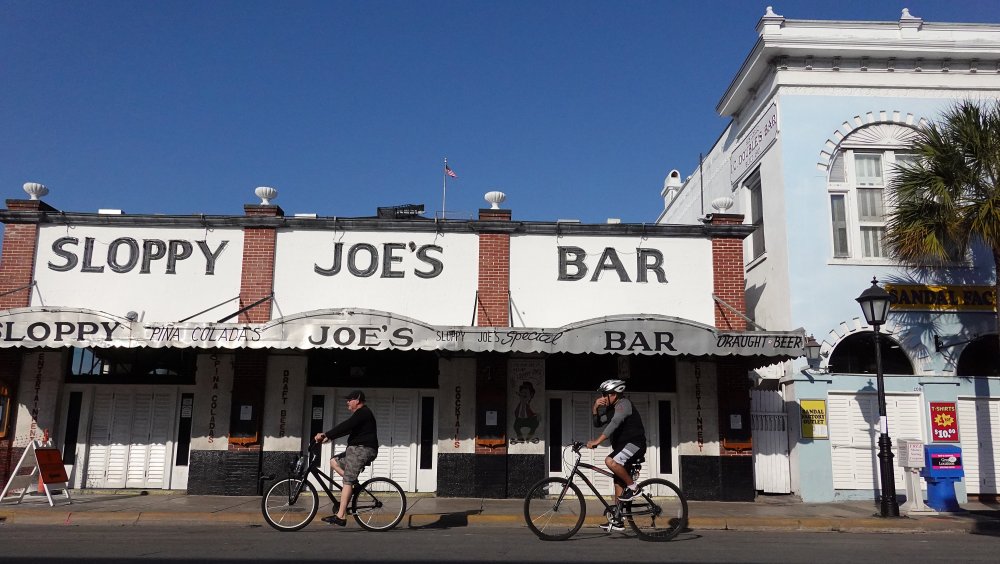 Joe Raedle/Getty Images
Another story of the Sloppy Joe's genesis takes place against the blue skies and beaches in Key West, Florida. It, too, involves the illustrious and prolific Ernest Hemingway. Hemingway was supposedly friendly with a man named Joe Russell who opened a bar in 1933 per Chowhound. Russell named his joint the Silver Slipper, but Hemingway, nostalgic for his favorite Sloppy Joe's bar in Havana convinced Russell to change the name to Sloppy Joe's and to add the Sloppy Joe sandwich to his menu. Hemingway was clearly persuasive because Russell did and the landmark is still in operation.
And, the third story in this trio of tales takes us to Sioux City, Iowa where the Midwestern city claims the Sloppy Joe as its own. Spoiler: Hemingway does not make an appearance in this tale. Instead, a KXRB radio story references Marilyn Brown, Director of the Consumer Test Kitchen at H.K. Heinz in Pittsburgh, who suggests that there is research to back up the claim that the Sloppy Joe was born in a Sioux City café in 1930 and its creator's name was, of course, Joe. Still, another story gives the Ye Olde Tavern Inn in Sioux City bragging rights and trumps other stories with a 1924 birthdate. However, while these stories are all over the map, the one thing that they seem to agree upon is that the culinary expert who invented this sandwich was, indeed, named Joe.
Sloppy Joes still remain a favorite sandwich today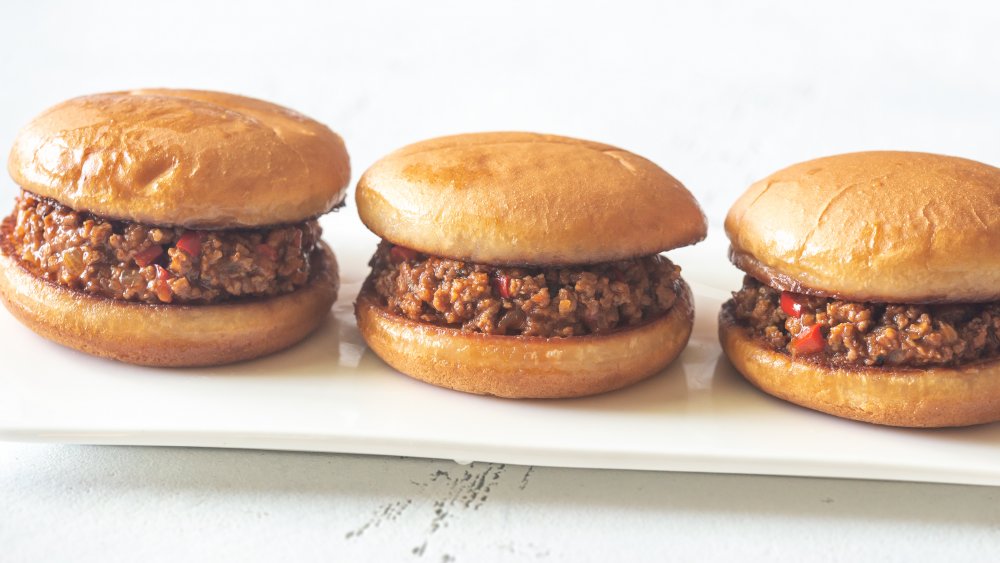 Shutterstock
Fast-forward to 1969 and Hunt's Manwich sauce hit grocery store shelves, making it easy-peasy to make this sandwich at home and for it to continue its meteoric rise as a household staple. Hunt's even came up with the now-classic slogan: "A sandwich is a sandwich, but a Manwich is a meal." The Takeout notes that the mass marketing and distribution of the Manwich really made the Sloppy Joe part of the American dinner table. 
Today, everyone from Chrissy Teigen to Eli Manning likes to enjoy a Sloppy Joe from time to time. Your basic Sloppy Joe recipe is generally comprised of ground meat, tomato sauce, onion, Worcestershire sauce, brown sugar, some spices all mixed together and served on a bun (via Williams-Sonoma). But over the decades the sandwich has been adapted into new variations and dubbed with other nicknames like the "Sloppy Jane," which is made with turkey, and the "torpedo," which is made on a hoagie roll. But, they all are a gentle nod to the sandwich that came first. Honestly, maybe the origin of the Sloppy Joe should forever remain a mystery, shrouded in the lore of Cuba, Hemingway, Sioux City, and the great rise of the Manwich sauce. It definitely makes for fun culinary conversation around the dinner table. The Sloppy Joe even has its own holiday – March 18th – so mark your calendar.