Old-Fashioned Sloppy Joes Recipe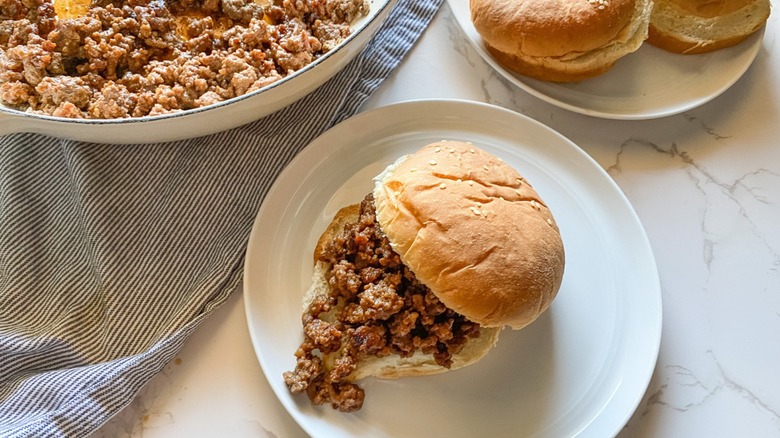 Kristen Carli/Mashed
Do you remember the last time you ate a sloppy joe? We're going to guess it might have been in your elementary school's cafeteria. For some reason, these deconstructed burgers have fallen out of favor, although there are a few gourmet sloppy joe food trucks out there doing their best to elevate this dish to the status of trendy comfort food a la mac and cheese or grilled cheese sandwich.
Sloppy joes, after all, are well deserving of a revival. They are tasty, they are very nearly a one-pot meal since all you need to do is scoop them onto a bun, and they can actually be reasonably healthy if you make them from scratch. Yes, you can make sloppy joes without using that canned stuff! Recipe developer Kristen Carli provided us with this traditional sloppy joe recipe that only requires a few ingredients and can be on your table in just half an hour.
Gather the ingredients for these sloppy joes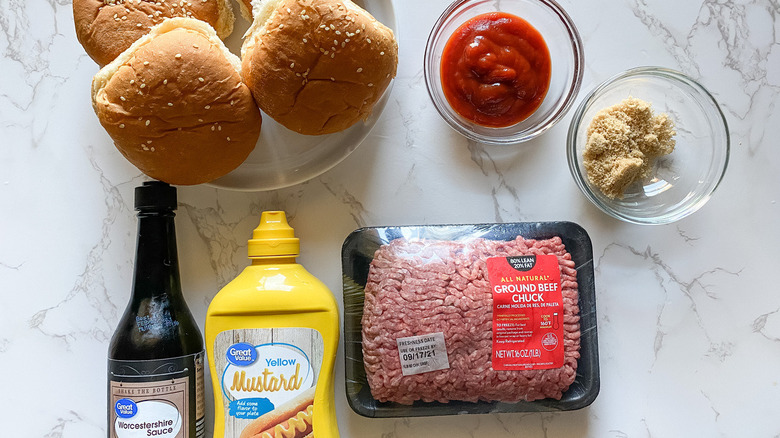 Kristen Carli/Mashed
Sloppy joes start with good old ground beef, the basis for so many quick and easy dinners. Pro tip: Buy the three- or five-pound packages to save money, then slice them into one-pound segments and freeze each segment in a quart-sized Ziploc bag.
You're also going to need a few different condiments: mustard, Worcestershire sauce, and ketchup. A little bit of brown sugar will help sweeten the pot (literally), though you can always reduce or eliminate the sugar if you don't like your food too sweet. If you like your sloppy joes on the hot side, Carli suggests, "To give it a different flavor, you could add some red chili flakes for a bit of a spicy kick." For serving the sloppy joe mix, you may also want some hamburger buns.
You can always make a few healthy ingredient swaps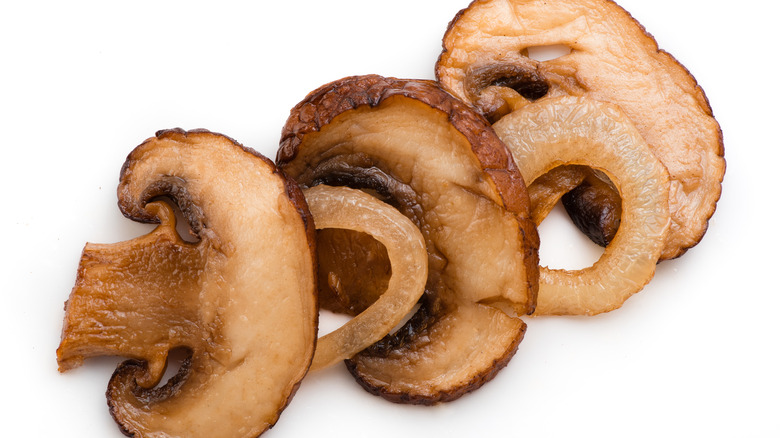 Tanya Sid/Shutterstock
If you're trying to reduce the amount of fat in your diet, Carli recommends that "you could use ground turkey [in these sloppy joes] for a leaner version." She also says that this sloppy joe mix makes the ideal vehicle for hiding a few stealthy veggies. As she tells us, "I would use finely diced mushrooms or lentils to sneak in some extra nutrition for kiddos." You might also enjoy adding some aromatics like chopped onion or garlic for a nutritious flavor boost.
Simmer the beef and seasonings to make the sloppy joe filling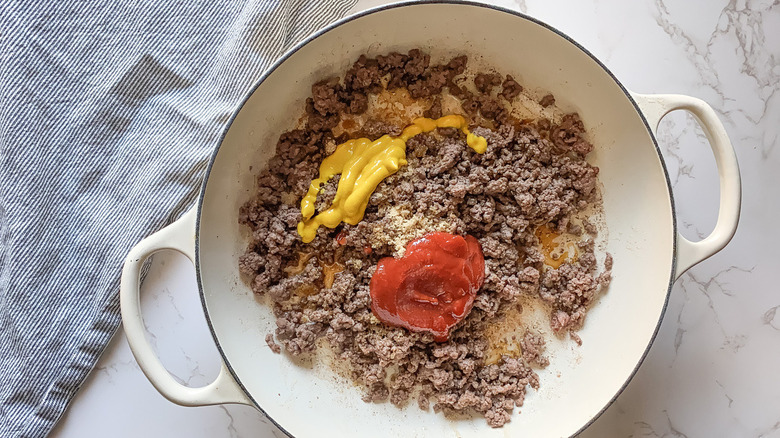 Kristen Carli/Mashed
Break up the beef into a large skillet and turn the burner to medium-high heat. Take a wooden spoon or similar implement and stir the beef as it cooks. Once it has browned and there's no visible pink left, add the condiments, the sugar, one teaspoon of salt, and half a teaspoon of pepper. Stir these ingredients into the meat, then cover the pan, turn the heat down low, and simmer the sloppy joe mix for 20 minutes to let all of the flavors combine.
Serve the sloppy joe mix on buns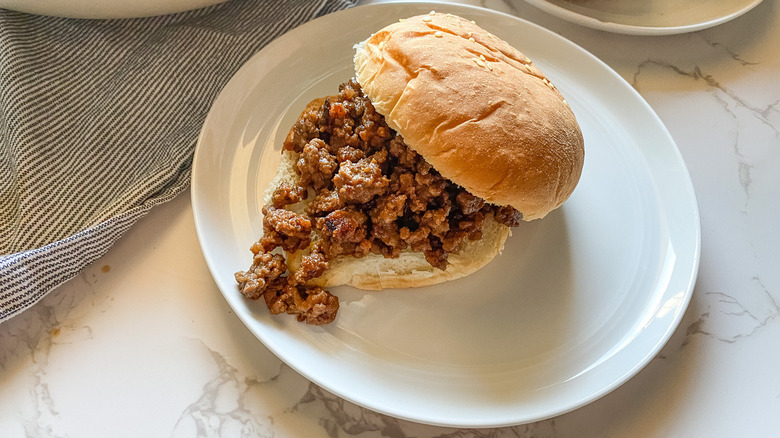 Kristen Carli/Mashed
Carli likes to eat this as a main dish paired with another comfort food. She told us, "I love mashed potatoes on the side of classic sloppy joes." If you're trying to cut down on your carbs just a bit and/or want to think outside the bun, you could just spoon the sloppy joe mix directly onto the mashed potatoes or else on top of a baked potato. You could also keep the bun but have a simple green salad as your side dish. Of course, you can always go old-school and pair your sloppy joes with another cafeteria classic like tater tots.
Old-Fashioned Sloppy Joes Recipe
Yes, you can make sloppy joes without using that canned stuff! Recipe developer Kristen Carli provided us with this traditional sloppy joe recipe.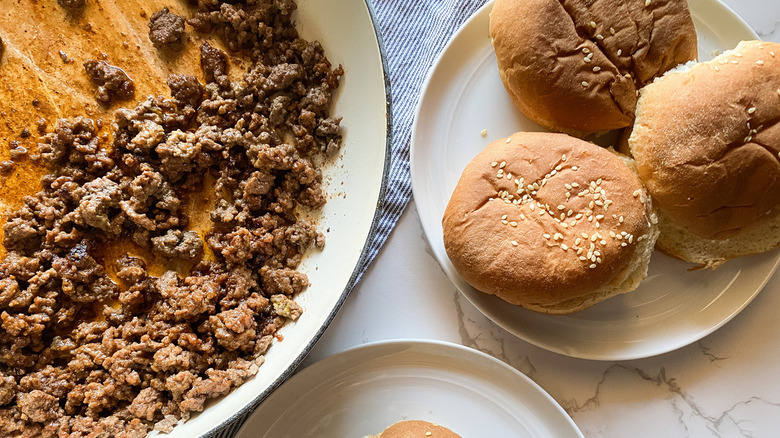 Ingredients
1 pound ground beef
1 teaspoon mustard
1 teaspoon Worcestershire sauce
¼ cup ketchup
1 teaspoon salt
½ teaspoon pepper
1 tablespoon brown sugar
6 hamburger buns
Directions
Cook ground beef in a large skillet over medium heat until no longer pink, breaking up with a wooden spoon.
Add mustard, Worcestershire sauce, ketchup, and brown sugar to the meat along with 1 teaspoon salt and ½ teaspoon pepper. Stir to combine.
Cover pan, turn the heat down to low, then simmer sloppy joe mix for 20 minutes.
Spoon sloppy joe filling onto buns.
Serve and enjoy.
Nutrition
| | |
| --- | --- |
| Calories per Serving | 326 |
| Total Fat | 16.7 g |
| Saturated Fat | 6.1 g |
| Trans Fat | 0.9 g |
| Cholesterol | 53.7 mg |
| | |
| --- | --- |
| Total Carbohydrates | 25.7 g |
| Dietary Fiber | 1.0 g |
| Total Sugars | 6.4 g |
| Sodium | 369.6 mg |
| Protein | 17.3 g |