Tasty Grilled Cheese Sloppy Joe Recipe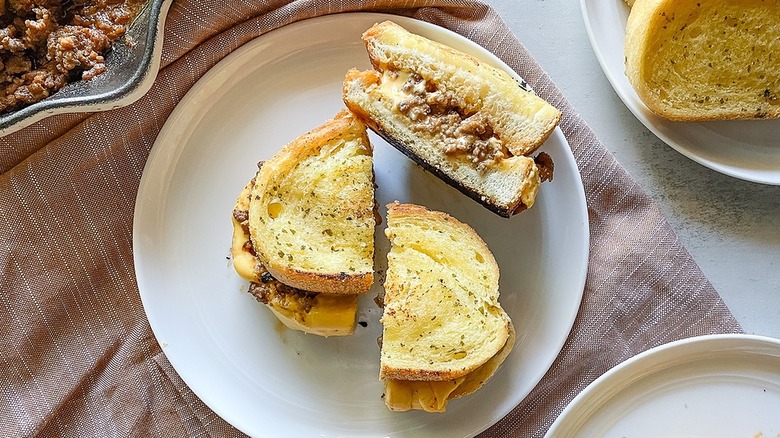 Kristen Carli/Mashed
The next time you're craving a hot, cheesy, comforting sandwich, skip the basic grilled cheese and opt instead for a grilled cheese sloppy joe. It's essentially two comfort foods in one — you get the cheesy goodness of a tasty grilled cheese, and the sweet, meaty flavors of a sloppy joe. "This is the ultimate comfort food with ooey-gooey buttery goodness," says recipe developer and registered dietician Kristen Carli.
It only takes about 30 minutes to make four sandwiches, and it's a great option to serve alongside a tomato or vegetable soup, or lighten things up a bit with a tossed green salad. One of the things that sets this recipe apart from a standard grilled sandwich is that, instead of using basic slices of sandwich bread, you're constructing the meal using thick and hearty slices of Texas toast, which amps up the garlic butter flavor and intensifies the satisfaction you get from this cheesy meal. So go ahead and indulge a little bit when you're looking for that hearty, comfort-food dish and try this grilled cheese sloppy joe recipe.
Gather your ingredients to make grilled cheese sloppy joes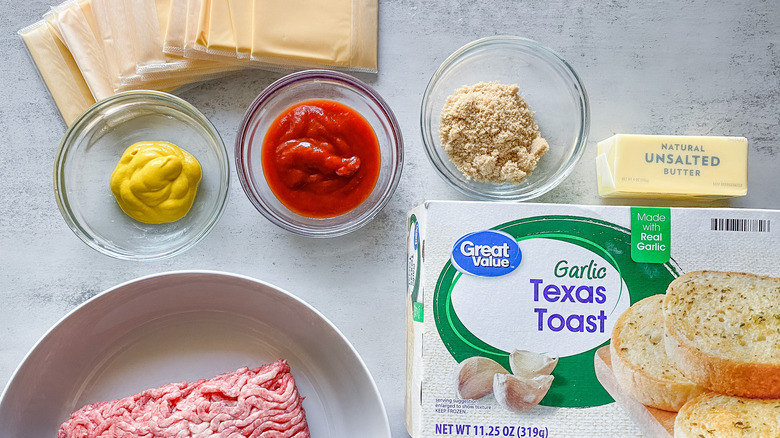 Kristen Carli/Mashed
First things first, you need to gather your ingredients. You may have many of these items in your kitchen, but you may also need to make a quick trip to the grocery store. You'll need Texas toast, ground beef, salt, pepper, brown sugar, ketchup, yellow mustard, butter, eight slices of American cheese, and some water. It's really that simple! That said, if you realize you have everything on hand except for the Texas toast, not all hope for a delicious sandwich is lost. You can use regular slices of bread, although Carli suggests opting for thick-sliced bread, if you can. "Then spread butter and garlic on each side and toast it in the oven before assembling the sandwich," Carli explains. You'll get the same general effect, it just takes a couple extra steps. 
Preheat oven and cook the Texas toast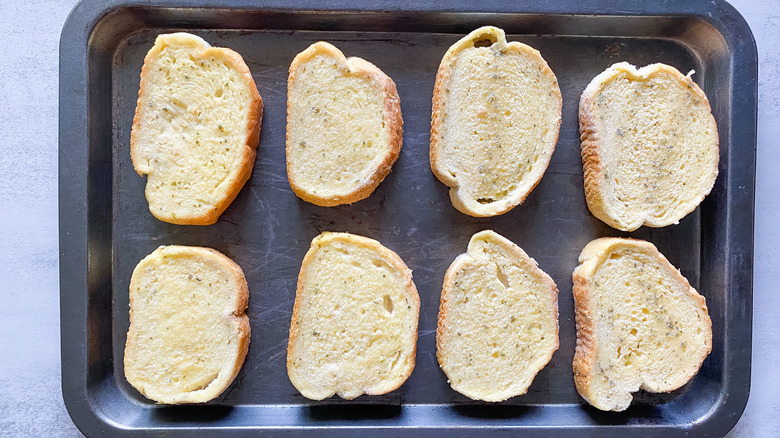 Kristen Carli/Mashed
Whether you're using frozen Texas toast or you're constructing your own garlic butter bread, you need to start by preheating the oven to 425 F. As it heats, place eight slices of bread onto a baking sheet. When the oven is hot, bake the bread for three minutes on one side before flipping the slices over and baking for three more minutes on the other side. When the bread starts to take on a golden hue, remove it from the oven. 
Brown the ground beef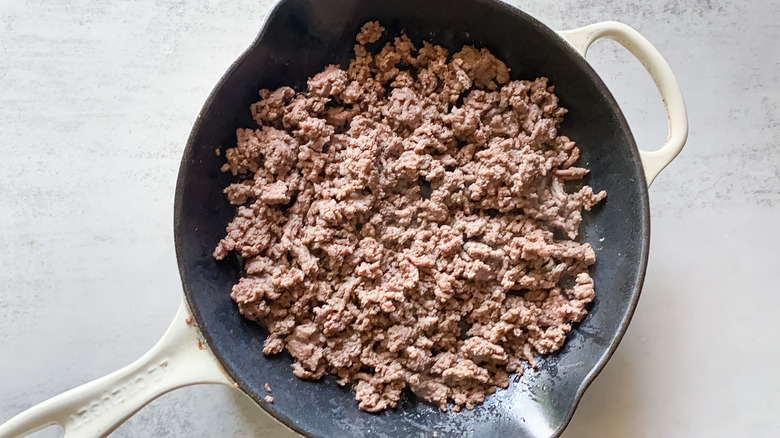 Kristen Carli/Mashed
As your bread cooks in the oven, you can start prepping your sloppy joe meat mixture. Start by heating a skillet over medium heat and add the ground beef, breaking it up into evenly-sized chunks with a wooden spoon. You'll want to cook it thoroughly, which will take about 10 minutes. There shouldn't be any pink left in the meat. 
If you're looking for a way to get creative with your sloppy joes, Carli says you can sub out the beef if you want. "This would work great with a vegetarian ground meat substitute such as Beyond Meat," she says. "Or I would recommend using ground turkey if [you're] looking for a leaner meat." 
Make the sloppy joe filling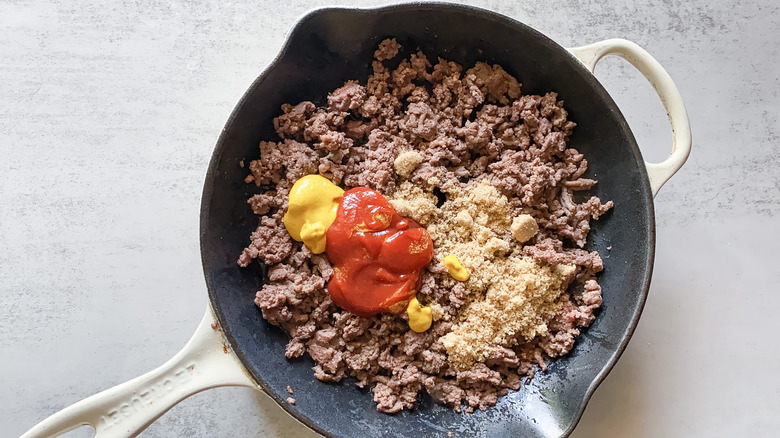 Kristen Carli/Mashed
To give the meat that classic, sweet-and-tangy sloppy joe flavor, you need to season your beef well. Add the salt, pepper, brown sugar, ketchup, mustard, and water to the skillet. Stir well to thoroughly combine the seasonings into the beef. Then, continue cooking the meat over medium heat for roughly 10 minutes to allow all of the flavors sink in. Taste the mixture to make sure it has the flavor you're looking for, and make small adjustments to the mustard, ketchup, or brown sugar as needed.
Cook your grilled cheese sloppy joes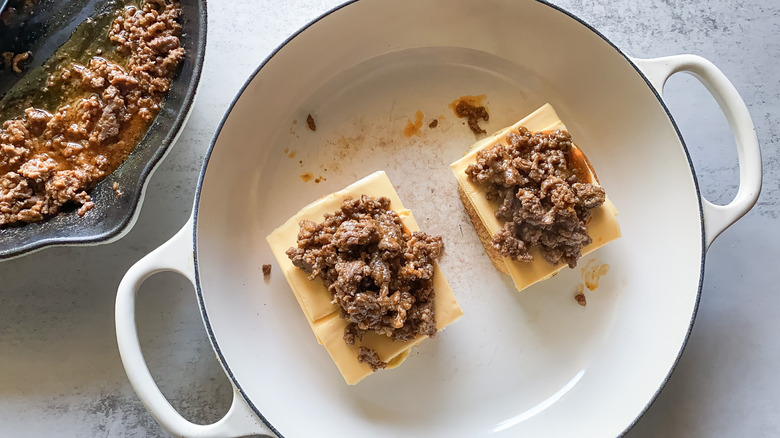 Kristen Carli/Mashed
With your bread prepped and your sloppy joe mixture ready to go, all that's left to do is construct and grill your sandwiches. In a large skillet, melt a tablespoon of butter. Place two slices of Texas toast in the butter (these are the bases for two separate sandwiches). Add two slices of cheese to each piece of toast, then top the cheese with a scoop of the sloppy joe meat. As is, you have two sandwiches cooking on the skillet — finish putting them together by topping each sandwich with another slice of Texas toast. Cover your skillet and let the grilled cheese sloppy joes grill for three minutes before using a spatula to flip the sandwiches over. Cover again, and allow the sandwiches to grill for three more minutes. Remove the grilled sandwiches from the skillet and repeat the process to cook the remaining two sandwiches.
Serve and enjoy your grilled cheese sloppy joes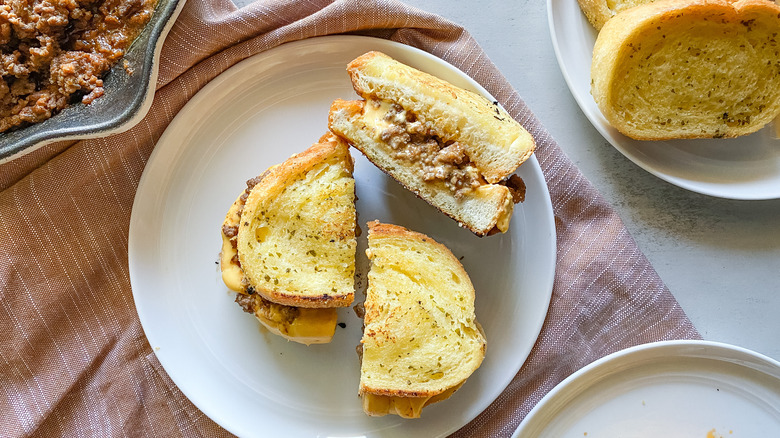 Kristen Carli/Mashed
With all four of your decadent grilled cheese sloppy joes fully prepared, slice each sandwich in half and chow down. Just as a classic grilled cheese pairs well with tomato soup, so does this heartier variety, although a minestrone or potato soup would work well, too. Of course, this sandwich is also a fulfilling, satisfying meal on its own, so feel free to eat it without any other sides. Considering how easy it is to make and how hearty it is as an entree, this grilled cheese sloppy joe may just become your new comfort food go-to!
Tasty Grilled Cheese Sloppy Joe Recipe
The next time you're craving a hot, cheesy, comforting sandwich, skip the basic grilled cheese and opt instead for this grilled cheese sloppy joe recipe.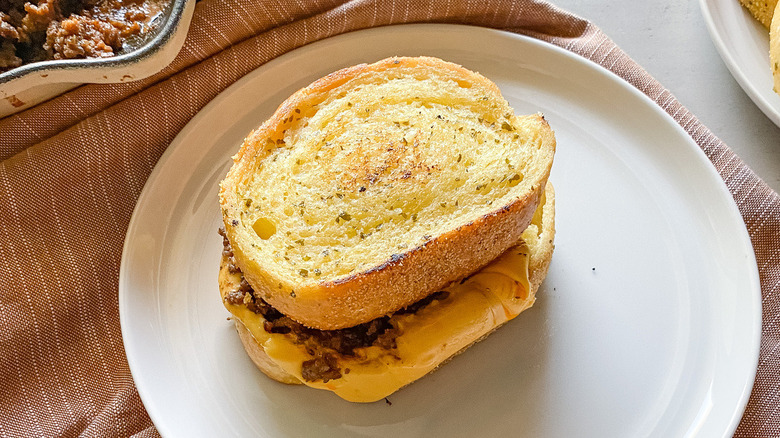 Ingredients
8 slices frozen Texas toast
1 pound ground beef
1 teaspoon salt
½ teaspoon pepper
¼ cup brown sugar
¼ cup ketchup
2 tablespoons yellow mustard
½ cup water
1 tablespoon butter
8 slices American cheese
Directions
Preheat the oven to 425 F.
Place frozen Texas toast slices on a baking sheet. Bake for 3 minutes on each side. Remove from oven.
In a large skillet over medium heat, add the ground beef. Break up with wooden spoon. Cook until no longer pink, about 10 minutes. Add salt, pepper, brown sugar, ketchup, mustard, and water. Stir to combine. Continue to cook over medium heat for about 10 minutes.
In a large skillet, add in 1 tablespoon of butter and allow to melt. Add 2 slices of Texas toast. Top with 2 slices of cheese on each toast slice, then add a scoop of sloppy joe meat to each one as well. Top each of the bottom halves with another piece of Texas toast, thus forming 2 complete sandwiches.
Cover and allow to cook for 3 minutes on each side. Repeat this step until you've cooked all 4 sandwiches, and then serve immediately.
Nutrition
| | |
| --- | --- |
| Calories per Serving | 658 |
| Total Fat | 38.2 g |
| Saturated Fat | 17.4 g |
| Trans Fat | 1.5 g |
| Cholesterol | 115.0 mg |
| | |
| --- | --- |
| Total Carbohydrates | 44.0 g |
| Dietary Fiber | 2.7 g |
| Total Sugars | 15.1 g |
| Sodium | 995.2 mg |
| Protein | 34.5 g |