Alton Brown's Pre-Election Twitter Meltdown Is Turning Heads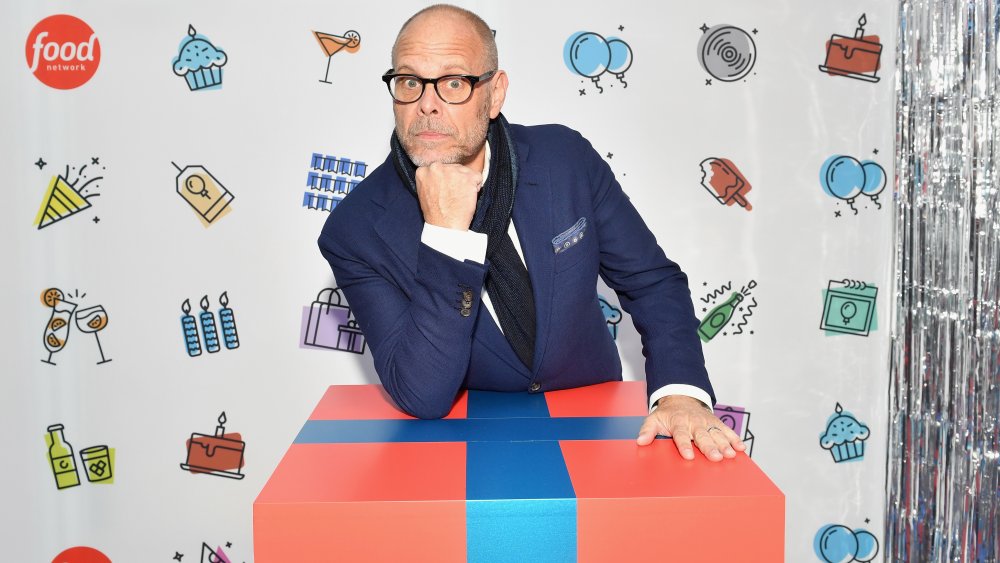 Noam Galai/Getty Images
Ok, so we're all feeling a little edgy these days, what with doom, gloom, and impending apocalypse leading every newscast, especially today when we're having the first pandemic presidential election since... well, forever, since the 1918 Spanish Flu took place during a midterm year (via History). Anyway, we're all undoubtedly saying — and doing — a lot of things we'll maybe come to regret later (here's hoping that our vote won't turn out to be one of them), but chances are, none of us are melting down in quite such an... entertaining way as 2020's newly-crowned (as of yesterday) King of Twitter, Alton Brown.
Brown's best-ever Twitter rant (not just a personal best, but one that sets a whole new standard for the entire platform) began innocently enough, with him posting the question: "So, #QuarantineQuitchen will be live tomorrow night at 8pm on YouTube. What should we cook (and more importantly drink) to get through the night?" While some suggested normal things like casserole, comfort foods, or pie and others listed off classic cocktails, Brown just wasn't feeling it – responding to the first suggestion "I ain't got time for no casseroles," and going on to prove that he's just as stressed as us non-celebs by admitting "I'm seriously thinking about @LittleDebbie #NuttyBars and cigarettes. Honestly, like at the same time."
How the Twitter rant unfolded
Brown really got rolling a few minutes later, when he called out his colleagues, tweeting "So many Food Network people are like 'oh, I'm going to braise short ribs in elderberry jam...'" He went on to say, "Screw that, I'm going to mainline moon pies and snort cheese powder!" When some dedicated foodies insisted on bugging him about what kind of cheese he intended to use, and whether he'd stick to "the good stuff," Brown replied "KRAFT" and "IT DOESN'T... MATTER!"
After this, Brown's all-caps tweets came fast and furious: "I'M TALKING ABOUT PIPING SPAGHETTIOS INTO STALE TWINKIES AND EATING THEM NAKED IN THE SHOWER WITH A BOTTLE OF JAEGER," "I HAVE 17 CANS OF DUNCAN HINES FROSTING AND I'M NOT AFRAID TO USE THEM. BACK THE HELL OFF!", "YOU THINK YOU KNOW WHAT CRAZY LOOKS LIKE? I'VE GOT MARSHMALLOW FLUFF AND THREE FEET OF GARDEN HOSE! YOU WANNA DANCE?", "I'LL DEAL WITH YOU AS SOON AS I'M DONE WITH THIS CAPT CRUNCH SITZ BATH," "TWO WORDS: RANCH...STINGS," "MURDER HORNET FONDUE," "HAS ANYONE ACTUALLY EVER MET A 'JOLLY RANCHER'?", "YOU WANNA EAT WITH THE DEVIL IN THE PALE MOONLIGHT? FINE...EAR WAX," "PRINCE SAID IT BEST 'LET'S GET CRAZY,'" "SWISS FREAKIN' MEATBALLS FOR EVERYONE," "GRAPENUTS ROCK...ESPECIALLY WITH HALF N HALF AND SCOTCH," "I'M MAD AS HELL AND I'M NOT GOING TO TAKE IT ANY MORE," and "CANNED FRUIT SALAD AND CHEEZE WIZ WITH HERSHEY'S SYRUP AND GIN."
The Twitter rampage aftermath
Finally Brown's epic rant started to taper off a bit as the star turned off his caps lock. He still had two final suggestions for followers however: "I want you to go out right now and buy Fritos and cat food" and "Turn off the lights and run 23 Slim Jims through the juicer," to which Slim Jim responded, "How did you get the recipe for my daily nightcap?" Brown wrapped things up by asking "who's with me?" and then again returning to all-caps for one last tweet, "I SAID "WHO'S WITH ME?'"
While fans wondered if his account had been hacked (nope) or if he'd lost his marbles (maybe), Brown was back some 12 hours later to say, "I think I blacked out. What'd I miss?" and then reassured his followers, "I may have lost my mind but @IngramElizabeth and I will definitely be going live with #QuarantineQuitchen tonight at 8pm eastern on the YouTubes! #ElectionNightSteak. Alcohol will be served." Wow, talk about your can't-miss TV! Plus, Brown offered these additional words of wisdom to get us through the night: "No matter what happens tomorrow, we'll still have tiny chocolate doughnuts." So bring it on! We've got doughnuts, Slim Jims, cheese powder, and Alton Brown, and we're ready for whatever craziness lies in store.