Krispy Kreme's New Holiday Doughnuts Look Just Like Christmas
The holiday season is upon us and it's arrived with a whole slew of tasty ways to celebrate. From cookie decorating kits to boozy, cheesy, and chocolatey advent calendars, December is starting to look like a real feast. According to Delish, there's one more thing to look forward to — new holiday doughnuts from Krispy Kreme! Beginning Friday, November 27, Krispy Kreme will debut its Nicest Holiday Collection of doughnuts and, really, the temptation of Krispy Kreme's signature deliciousness mixed with holiday flavors might be more than we can handle. Especially considering one of the specialty doughnuts is filled with Sugar Cookie Kreme. Swoon!
The brand new Sugar Cookie Kreme-filled Present Doughnut comes decorated as the gift that it is, covered in green icing garnished with a sugary ribbon. And, lest you feel too naughty about your doughnut indulgence, it's topped with a gift tag reminding you that you're "nice." The collection includes another new offering as well — the Festive Tree Doughnut which is filled with red velvet cake batter, coated in cream cheese icing, and adorned with a colorful Christmas tree that we'll be all too glad to devour. And, finally, the Santa Belly Doughnut is back with dreamy Chocolate Kreme on the inside and red icing, sugar, and chocolatey coat buttons and belt on the outside. These treasures are sold by the dozen in a decorative "gift-wrapped" box — perfect for gifting to yourself and anyone on your list this year! Just be sure to grab them before they're gone on December 24.
Krispy Kreme is giving back to delivery drivers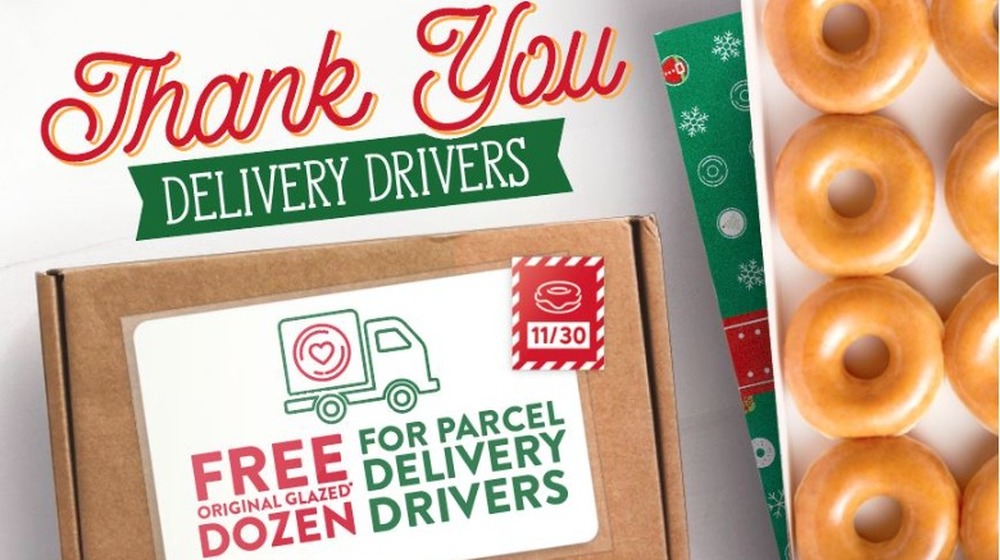 Krispy Kreme
Krispy Kreme's holiday spirit doesn't stop at adorably festive donuts. According to an Instagram post from the brand, they are giving back in a very sweet way by rewarding parcel delivery drivers with free Original Glazed dozens on Monday, November 30th. In a statement sent to Mashed, the brand noted that mail, parcel, and package delivery drivers just need to show their employee ID or wear their uniform to redeem their sweet treats.
Dave Skena, the Chief Marketing Officer of Krispy Kreme Doughnuts said, "All year long delivery drivers have helped keep us safe and they have to work even harder during the holidays. They are definitely all on the nice list." We couldn't agree more! How else would we get our hands on holiday essentials like hoards of Hershey's Sugar Cookie Kisses and ketchup candy canes (not to mention all of the gifts on our list) from the comfort of our own homes? Skena noted, "It's one of the ways we're doubling down on nice throughout the 2020 holiday season." Curious about what else is in store? Read on.
Krispy Kreme is bringing fan favorites back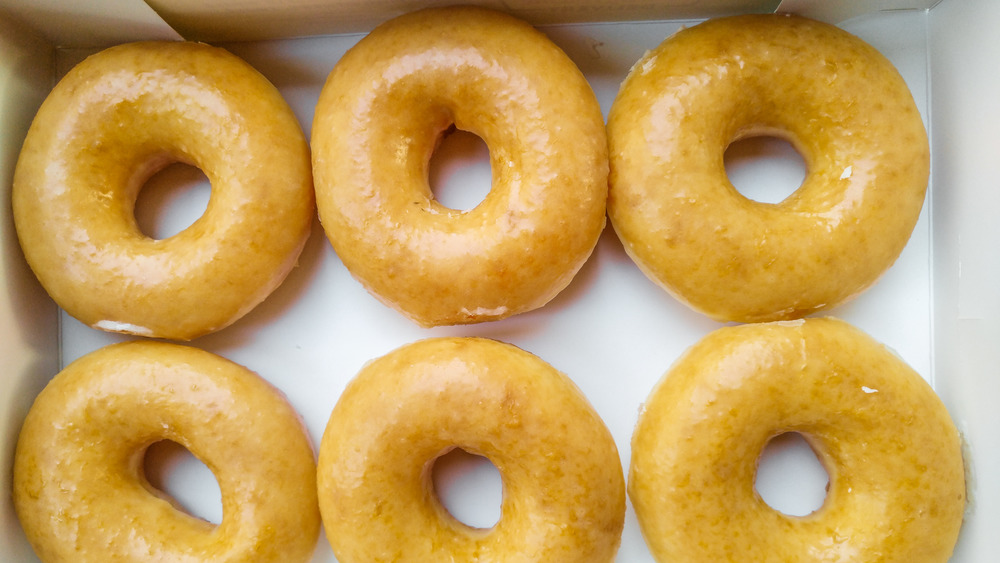 Shutterstock
Krispy Kreme is the gift that keeps on giving and they're not done yet. According to the brand's website, the chain is continuing its tradition of "Day of the Dozens" on December 12, where fans can score a dozen Original Glazed Doughnuts for just $1. It's a steal of a deal so mark your calendars and be prepared to bring your appetite.
As if your sweet tooth hasn't received enough good news already, Krispy Kreme has one more surprise up its sleeve. They've announced their famous Gingerbread Glazed Doughnut will return on December 16. This is an oldie but a goodie; Delish described it in 2018 (via a press release from Krispy Kreme) as "perfectly spiced gingerbread dough with hints of cinnamon, covered in a warm gingerbread molasses glaze." Honestly, is Krispy Kreme becoming the poster child of Christmas deliciousness or what? We're pretty sure they've just earned their spot on everyone's "nice" list this year.