Shrimp Taco Recipe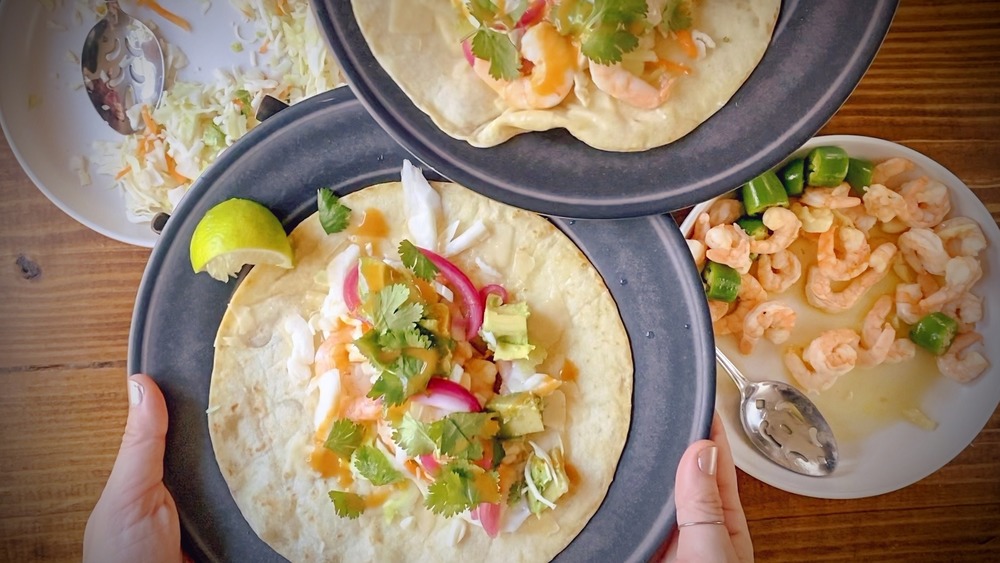 Ashley Schuering/Mashed
We love recipes that are delicious, fast to make, and can be served at a fancy dinner party or to your family mid-week. This recipe for shrimp tacos with Parmesan-crusted tortillas and quick-pickled red onions hits all of those marks. The recipe's creator is Ashley Schuering, and her blog — Confessions of a Grocery Addict — was recently launched in June, and already, Schuering has thousands of followers. She's been in the restaurant business since she was 15, starting as a restaurant hostess, and over the years, she's also been a server and restaurant manager. "I think about food all the time," Schuering told us. "I've worked in professional kitchens so I know that when something gets 86'd (restaurant jargon for when an item is no longer available), you need to work on the fly and substitute ingredients. One of the things that I like about cooking," she said, "is you can riff. It's like jazz." 
Most of Schuering's recipes on her blog are very easy, and most don't take more than 30 minutes of active cooking time. This recipe is no exception: ten minutes to prep and ten minutes to cook. Although the recipe calls for jalapeño peppers, you can modulate the heat. "It's not super spicy, it's not super tangy, and it's not a challenging-palate recipe," she said. "Kids love it." So let's get started with Schuering's easy recipe by gathering up the ingredients.
Gather together the ingredients for shrimp tacos with parmesan-crusted tortillas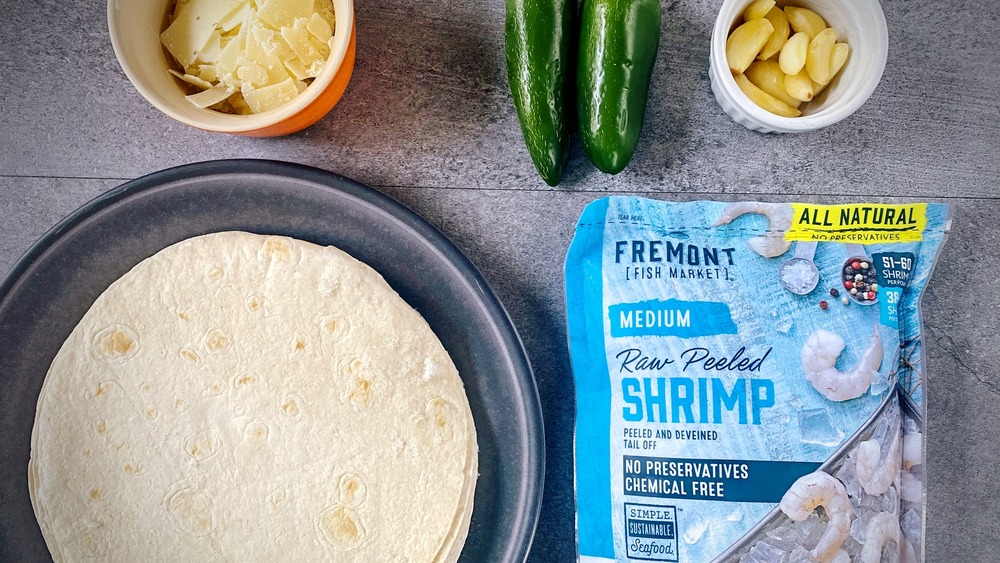 Ashley Schuering/Mashed
At first glance, you might think there are a lot of ingredients to gather together for these shrimp tacos. But don't worry, Schuering created this recipe with ingredients that can be found at any supermarket. "Even if the only grocery store you have is the Piggly Wiggly," she told us, "it's very easy to find the ingredients." She suggests grouping the ingredients into four sections, so you'll have everything laid out in front of you. It also helps to group them in the order of when each section will be cooked.
The first four ingredients in the recipe are for the pickled red onions. Then, the taco sauce is only three ingredients: sour cream, mayonnaise, and minced garlic. The next four ingredients are for making the jalapeño-garlic shrimp. Finally, the last three ingredients are for the tortillas. In the restaurant world, grouping your ingredients is known as mise en place, and creating your own for any recipe that you cook is a good idea, so you know where everything is at the exact minute that you'll need it.
Start by quick-pickling red onions for shrimp tacos with parmesan-crusted tortillas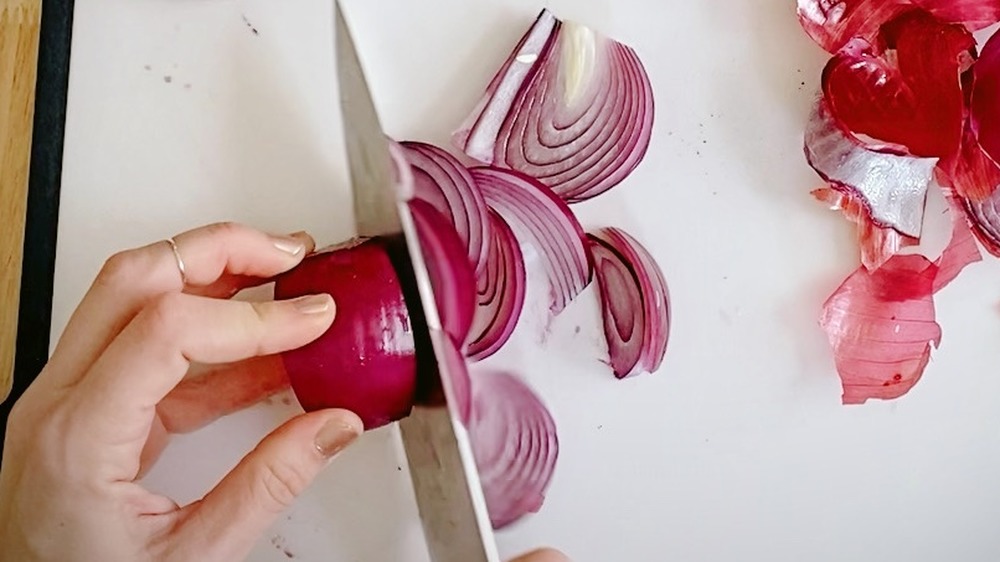 Ashley Schuering/Mashed
"People in my generation have trouble figuring out how to boil water," Schuering joked. "Or they're just very intimidated by the idea of cooking from scratch." But you really couldn't get much easier than making the pickled red onions in this recipe. Pickling has a reputation for being labor-intensive, but actually, when you pour vinegar and a few spices over a vegetable, it's a pickle. Grab your red onion — Schuering prefers red over white onion because it retains its crunch — and peel off the skin. Cut the onion in half vertically (end to end), and slice it thinly. The slices will be easy to separate into perfect one-bite portions. 
Sprinkle the onions with Kosher salt, then toss them in a bowl to make sure each slice is salted. You'll need a canning jar or, in a pinch, a clean marinara jar. It needs to be large enough to hold the onions and the pickling liquid. Pack the onions into the jar, and heat up the rice wine vinegar in the microwave or on the stove top. You can substitute the rice wine vinegar with apple cider vinegar. "Or if you only have white vinegar," Schuering said, "you need to increase the sugar content to about 1 tablespoon." Once the vinegar is heated, stir in the sugar until it's dissolved, then pour it over the onions, and let them marinate 15 to 20 minutes. "The onions are fantastic on burgers too."
Whip up the white taco sauce in a jiffy for these shrimp tacos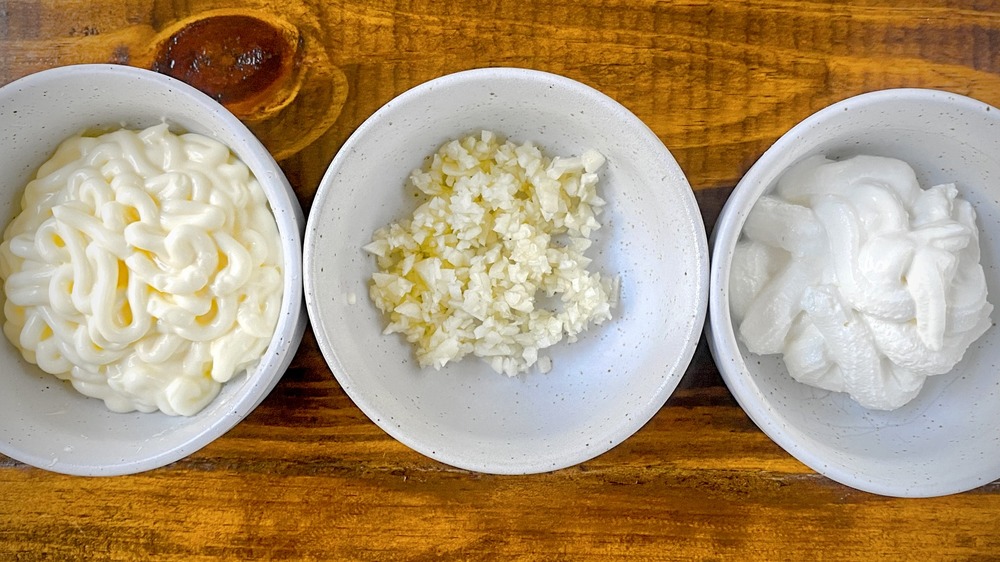 Ashley Schuering/Mashed
Schuering blogs all day, writing about food and creating an online community, but there comes a point in the day — usually around dinner time — when she needs a break and will do anything to get dinner on the table faster. She's all for using "store-bought cheats," as she calls them, but rather than grab a bottled taco sauce, she makes this super-fast white sauce instead.
We love "gah-lic," as Emeril Lagasse used to say, and if four cloves of raw garlic is too overpowering, feel free to cut it back by a clove or two. Once you've minced the garlic for your shrimp tacos, you mix it together with some mayo and sour cream, and voilá, it's done in less than a minute! "You could make this a dairy-free sauce," Schuering suggested, "by using vegan mayo and vegan sour cream instead." And now, heat up your sauté pan, because the shrimp and jalapeños are next.
Sauté the shrimp with garlic and jalapeño for your shrimp tacos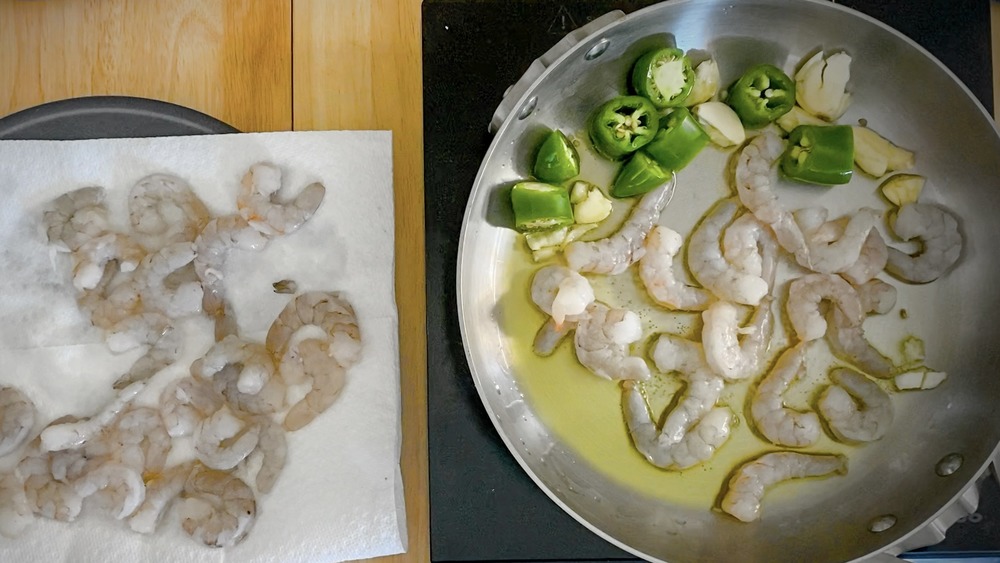 Ashley Schuering/Mashed
"Don't attempt this recipe by using cocktail shrimp," Schuering warns. Cocktail shrimp are usually pre-cooked, and you'll want raw shrimp. She uses the small 51/60 count-per-pound size, but the recipe will still be a success if you use larger shrimp, like 36/40 or 31/35 count-per-pound instead. If you're using frozen shrimp, you'll need to defrost them and then peel off the shell and tail. Small shrimp don't usually have a large enough digestive tract to matter much, but the larger shrimp will have a vein that will add grit to the finished dish. Check each shrimp, and if you see the vein, pull it or cut it out. Schuering adds even more garlic to the shrimp, but because there's raw garlic in the sauce, you can cut it back to your own preference. 
Quartered jalapeños are tossed into the pan with the smashed garlic to infuse the oil with their flavor. If there is too much jalapeño to your liking, you can remove it from the shrimp tacos after they've been sautéed. Schuering and her husband love the garlic and jalapeño, and when they make their tacos, they "jam them on in." We asked her if chicken could be substituted for the shrimp. She doesn't recommend it, since the flavor profile was created for seafood. But fish sticks, cod, tilapia, or any other flaky white fish could be used in place of the shrimp. 
Make the parmesan-crusted tortillas for the shrimp tacos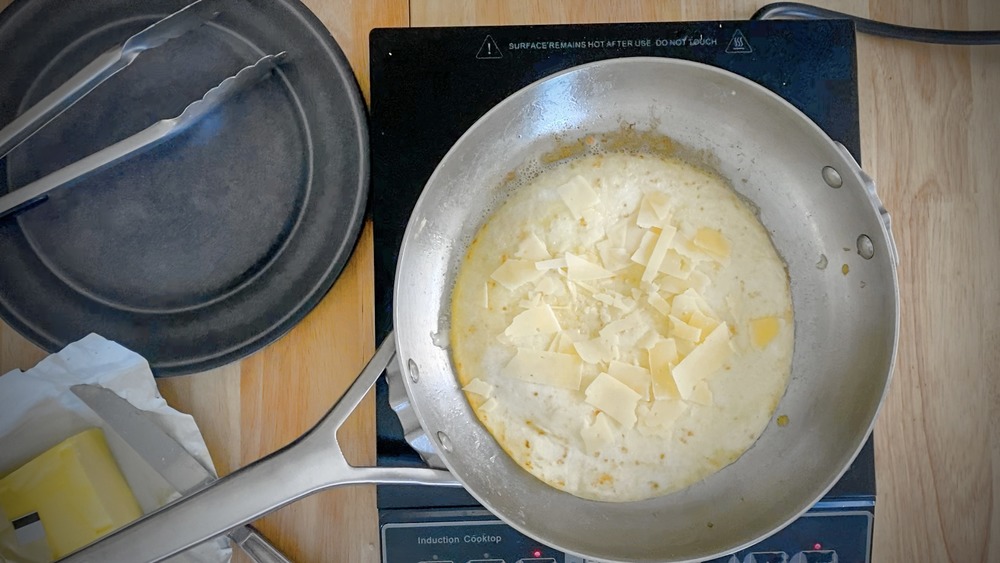 Ashley Schuering/Mashed
"I grew up in a household where my mom made everything from scratch," Schuering said, and this recipe is adapted from one of her mother's. Schuering is aware of the argument about culture appropriation when calling a recipe authentic, and this one isn't traditional because of the flour tortillas ("gringo," as she calls it). corn tortillas would make the shrimp tacos a little more authentic. "But they would have to be the small taco size, double-stacked."
She makes the Parmesan-crusted tortillas in the same pan as she's cooked the shrimp ("less clean-up"), which are lightly sautéd until the cheese on top is melted and the underside of the tortilla is golden. The tortillas will still be flexible for taco-making, but the browned side will be slightly crispy, which adds to the mouth-pleasing texture of the tacos. If you wanted to make it even more traditional, use cotija cheese instead, "or feta," Schuering recommended, "if you wanted it to be even more cheesy."
Assemble your shrimp tacos with parmesan-crusted tortillas and quick pickled onions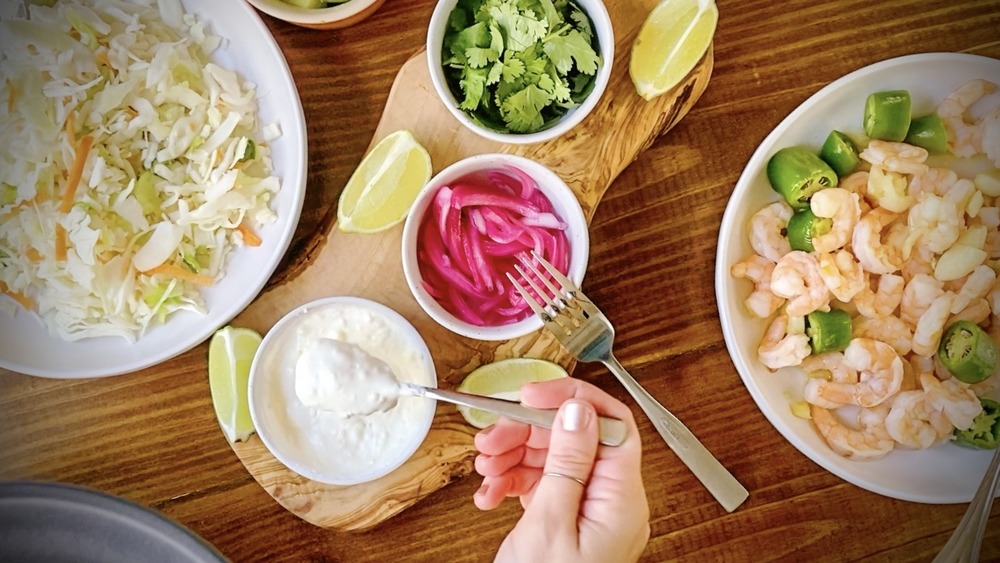 Ashley Schuering/Mashed
There aren't any hard-and-fast rules about assembling a shrimp taco, which makes a taco dinner fun for everyone. Schuering starts by slathering a couple of tablespoons of the mayo-sour cream-garlic sauce evenly over the Parmesan-crusted tortillas. Then she adds five or six shrimp, depending on their size, with some of the jalapeños and sautéed garlic. Next, sprinkle on the cabbage and finish with the pickled red onions, which Schuering likes on top "because they're such a pretty magenta." She recommends garnishes, such as cilantro, sliced avocado, lime juice, and hot sauce. If you've never tried Peruvian-style aji verde — a bright green sauce of cilantro, garlic, jalapeno, and mayonnaise — Schuering suggests using it instead of the hot sauce. Finally, if you don't care for cabbage or are avoiding cruciferous vegetables, you could garnish your tacos with shredded romaine or iceberg lettuce. 
Schuering started her blog so she could still serve and help readers have a restaurant experience from home during the pandemic. "This has been a wild year," she told us. "Anything to feel connected. It's important." This superb recipe is one of the many ways she connects to the community.
Shrimp Taco Recipe
This recipe for shrimp tacos with Parmesan-crusted tortillas and quick-pickled red onions checks every box for a delicious dinner.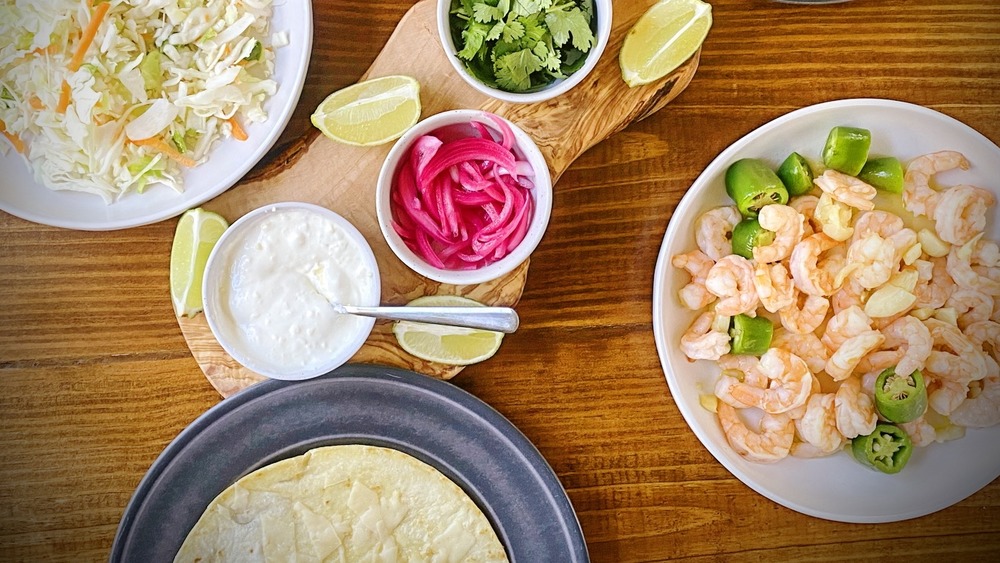 Ingredients
1 red onion, peeled and sliced vertically
Kosher salt
½ to 1 teaspoon granulated sugar
¾ to 1 cup rice wine vinegar
¼ cup sour cream
¼ cup mayonnaise
4 garlic cloves, minced
12 ounces shrimp, peeled and deveined
2 to 3 tablespoons olive oil
4 to 6 garlic cloves, smashed
1 to 2 jalapenos, quartered
4 soft taco-sized flour tortillas
3 ounces shredded Parmesan, divided into 4 portions
4 teaspoons butter, divided 
Shredded cabbage, for garnish
Cilantro, for garnish
Sliced or diced avocado, for garnish
Lime quarters, for garnish
Hot sauce, for garnish
Directions
Vertically slice red onion, then separate the pieces with your fingers. Sprinkle liberally with Kosher salt, and toss to incorporate in a medium bowl. Allow the onions to sweat for 10 to 15 minutes until liquid pools in the bottom of the bowl.
Heat the rice wine vinegar in microwave or stovetop. Stir in sugar until it dissolves.
Transfer onions to a sealable jar. Pour the hot rice wine vinegar over the onions, close the jar, and shake. Marinate for 15 to 20 minutes.
Stir together the sour cream, mayonnaise, and minced garlic in a bowl.
Heat the olive oil in a sauté pan until it shimmers. Add the smashed garlic and quartered jalapeños, and sauté til fragrant (about 1 minute).
Add the shrimp to the pan (working in batches if necessary), and cook until just cooked through, when pink and opaque.
Transfer the shrimp, garlic, and jalapeño to a serving dish.
Melt 1 teaspoon of butter over medium heat in the same sauté pan.
When the butter bubbles, add 1 tortilla, swirling to coat one side with butter, then flip the tortilla.
Sprinkle with one portion of the Parmesan. Allow the cheese to melt and the bottom side to get golden and slightly crispy.
Transfer the tortilla to a plate, and repeat with the remaining 3 tortillas.
To assemble: spread about 2 tablespoons of the sour cream-mayonnaise sauce on the cheesy side of the tortilla. Add shrimp, jalapenos, and garlic. Sprinkle with sliced cabbage, and top with a few pickled onions. Garnish with cilantro, avocado, a few squeezes of fresh lime juice, and hot sauce.
Nutrition
| | |
| --- | --- |
| Calories per Serving | 568 |
| Total Fat | 36.4 g |
| Saturated Fat | 11.2 g |
| Trans Fat | 0.2 g |
| Cholesterol | 144.9 mg |
| | |
| --- | --- |
| Total Carbohydrates | 34.5 g |
| Dietary Fiber | 2.6 g |
| Total Sugars | 4.7 g |
| Sodium | 1,233.6 mg |
| Protein | 24.5 g |