People Are So Excited For The Return Of Krispy Kreme's Festive Gingerbread Donuts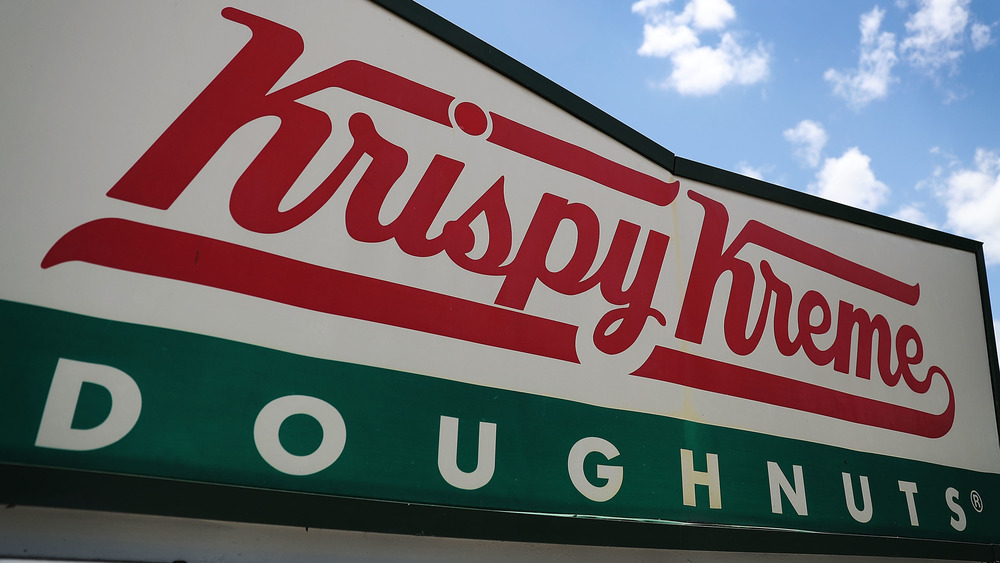 Joe Raedle/Getty Images
It's that time of year again: winter coats, holiday music, and of course, Krispy Kreme's gingerbread doughnuts! That's right, starting today, Krispy Kreme is selling their gingerbread glazed and filled doughnuts again, but only for a little over a week. From now through Dec. 24, 2020, you can order them in person or for pickup or delivery through the Krispy Kreme website.
If you don't remember these fan-favorite holiday doughnuts, here's a quick reminder: For the traditional doughnut lovers, there's the plain gingerbread doughnut dipped in a warm gingerbread molasses glaze (via Delish). If, however, the combination of two classic desserts (gingerbread and doughnuts) still isn't enough for you, there's always the filled version of these Krispy Kreme treats: stuffed with creamy cheesecake filling.
To tell these two similar doughnuts apart, just check for the white icing stripe detail on top — that identifies the filled ones (via Best Products). A dozen of one kind or a half a dozen of each will set you back $14.99.
What fans have to say about Krispy Kreme's gingerbread glazed doughnuts
When Krispy Kreme took to Instagram on Dec. 16, 2020 to announce the return of these festive favorites, fans were more than a little excited. In just four hours, the post had over 8,500 likes and 120 comments. Most of the comments were gingerbread doughnut fans tagging friends in excitement, along with plenty of drooling emojis. Of course, some fans were really thrilled to have these gingerbread doughnuts back, with comments like, "This is what I've been waiting for!! Finally!!!" and "Tried them last year and they were so good! Time to get some!"
The gingerbread doughnuts join Krispy Kreme's "Nicest Holiday Collection" that they introduced earlier this season (via Business Wire). The collection also includes the holiday-themed Festive Tree, Present, and Santa Belly doughnuts and a limited-edition "gift-wrapped" dozen box — all perfect for leaving out with your cookies on Christmas Eve for a little extra fuel on Santa's busiest night.