30 Minute Fried Rice Recipe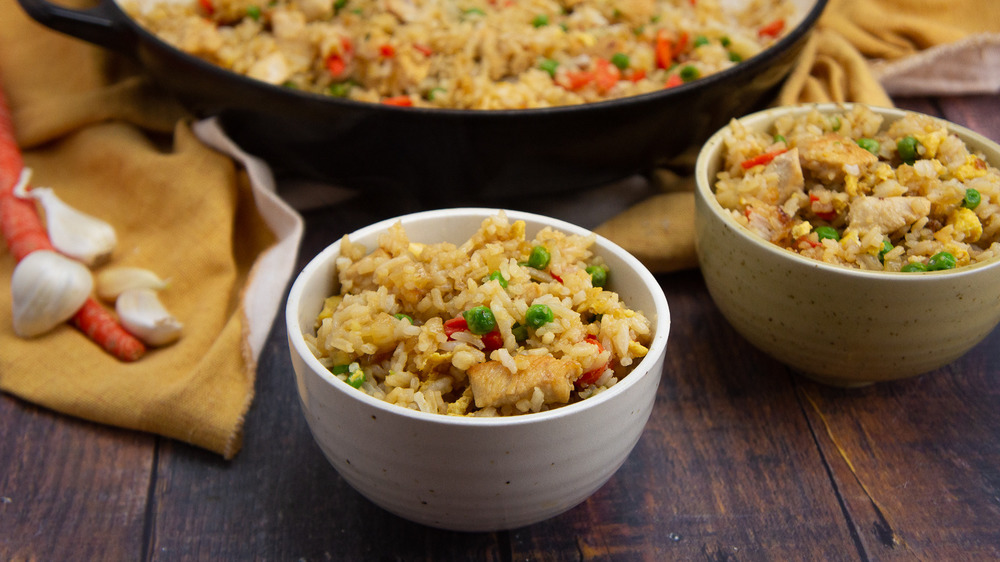 Mikayla Marin/Mashed
We've all had that oops moment when dinner rolls around and you have nothing ready to eat. Before you grab the car keys and resort to the nearest fast food chain, let us show you a quick, easy, and super-simple chicken fried rice recipe that you can whip up in 30 minutes, prep included.
Knowing how to make fried rice opens the dinner door any night of the week. It's versatile, easy, and delicious. This chicken fried rice recipe uses leftover rice, a handful of veggies, and a single chicken breast to create a filling and tasty dinner for four.
As if that wasn't enough, it also requires minimal kitchen equipment. Just get out the one pan tonight! By the time we finish, you'll have all the tips and tricks you need to make rock star chicken fried rice in half an hour, using just what you have on hand.
Get your ingredients together for this chicken fried rice recipe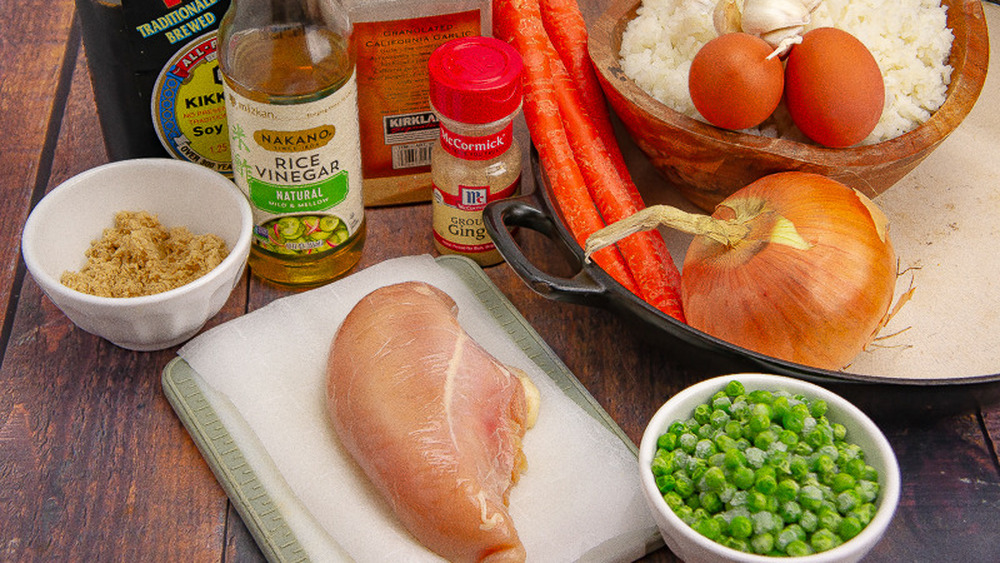 Mikayla Marin/Mashed
We're sharing our ideal ingredient list with you, the tried and true combo that will guarantee a yummy bowl of chicken fried rice. They're common ingredients that many home cooks have on hand. If you can, we definitely recommend that you try the fried rice just the way we tested it. You'll need an onion, garlic, one chicken breast, ground ginger and garlic, frozen peas, a carrot, eggs, rice, soy sauce, rice wine vinegar, and brown sugar. 
But we'll be honest, the true power of this recipe is its flexibility. It follows a basic formula that you can easily replicate with the ingredients that are already available to you. The ideal combination is this: a quick-cooking protein, a few cups of either fresh or frozen mixed veggies, a few cups of leftover grains, and a splash of soy sauce. With just those ingredients on hand, you can whip up any number of delicious fried rice variations, beginning with this one!
Build flavor quickly for your chicken fried rice with onions and garlic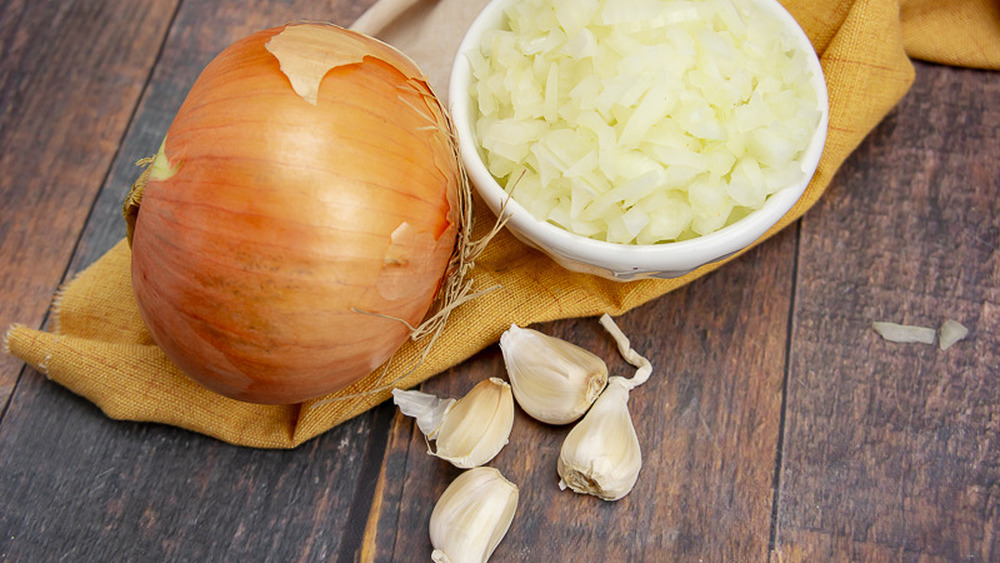 Mikayla Marin/Mashed
There's a good reason so many recipes start with onion and garlic. The intense flavors that come from their simple sauté will season our fried rice really quickly. Yellow onion and a handful of fresh garlic cloves are all this chicken fried rice recipe calls for, but you can easily use whichever onion you have on hand. Red onions provide a nice bite, and sweet onions are one of our favorite substitutions.
Even if you're all out of onions and garlic, there's no need to worry. Sprinkle half a teaspoon of garlic and onion powder when sautéing your vegetables, and that will work as well.
The chicken in your chicken fried rice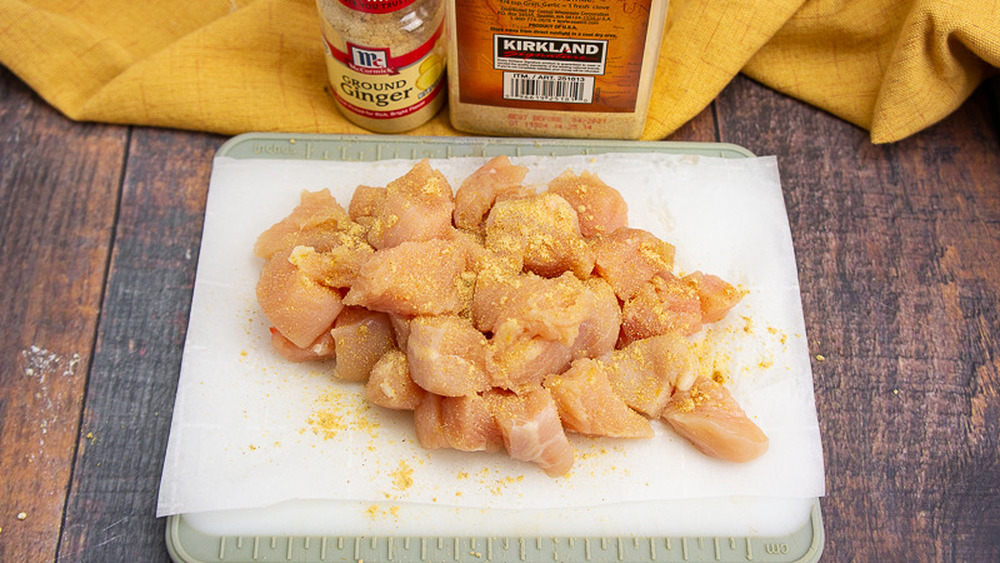 Mikayla Marin/Mashed
Chicken is a healthy and quick-cooking protein that many of us have in our homes on any given day. Here, it bulks up a grain and veggie heavy dinner to provide protein, flavor, and texture.
We like the simplicity of a single boneless, skinless chicken breast — simply dice and cook. You can just as easily swap in two boneless skinless chicken thighs with no change to the recipe. Whichever you choose, go for one-inch cubes to allow it to cook but not overcook in the short cooking time of this fried rice recipe.
Don't be afraid to try alternatives for your proteins in this chicken fried rice recipe. Ground meats like turkey or beef, vegan proteins like tofu or chickpeas, or even something as simple as bacon can be added instead with delicious results.
Vegetables to use for chicken fried rice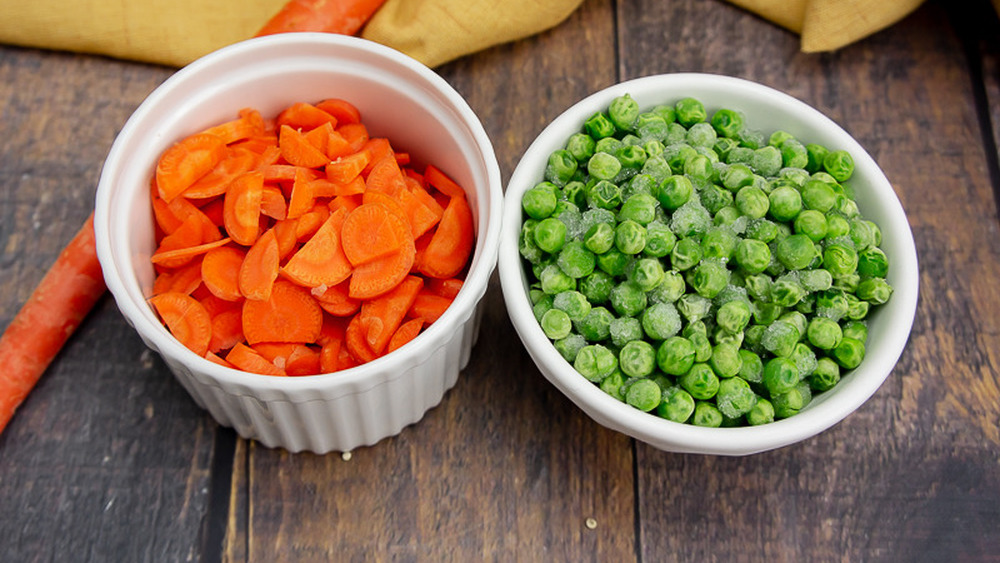 Mikayla Marin/Mashed
The vegetables are the part of this chicken fried rice recipe that you can be very, very flexible with. Here we call for frozen peas and diced carrots, and you'll notice that we used fresh carrot right alongside the frozen peas. 
This means that you can add pretty much any vegetable you have to the pan, fresh, frozen, or canned. The key to cooking them perfectly is to cut the larger ones into uniform sizes that match the smaller veggies. We knew we'd be going traditional with peas, so we chopped those carrots down into pea-sized bits. 
Broccoli, bell peppers, corn, and green beans are just a few of our favorite suggestions. Frozen vegetables will work just fine, but if they're in large pieces, you'll need to add them to the pan before the smaller veggies. This will ensure that all the vegetables are tender and perfect at the end of the cook time.   
Which rice is best for chicken fried rice?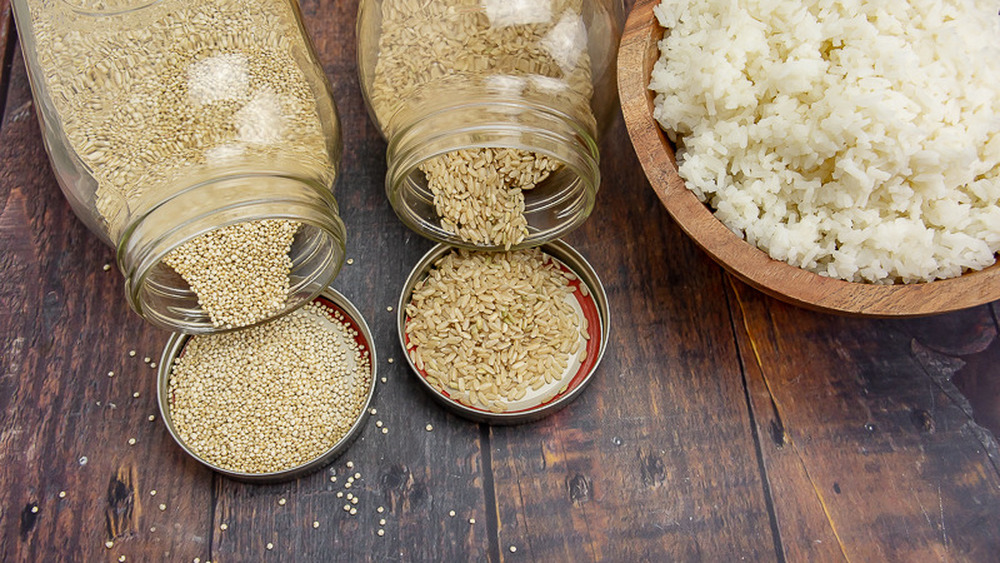 Mikayla Marin/Mashed
One of the powers of fried rice is that it can take that dried-up, stodgy leftover takeout rice and transform it into a beautiful, hot, fresh dinner. Of course, you can also use any cooked rice or grain you happen to have, fresh or leftover.
We used a traditional white, medium grain jasmine rice. However, any variety of medium or long grain rice, either white or brown, will work just as well. If you're feeling adventurous, even a cooked whole grain like quinoa, farro, or barley could be used instead for a fun, healthier twist on traditional chicken fried rice.
Saucing your chicken fried rice up for big flavor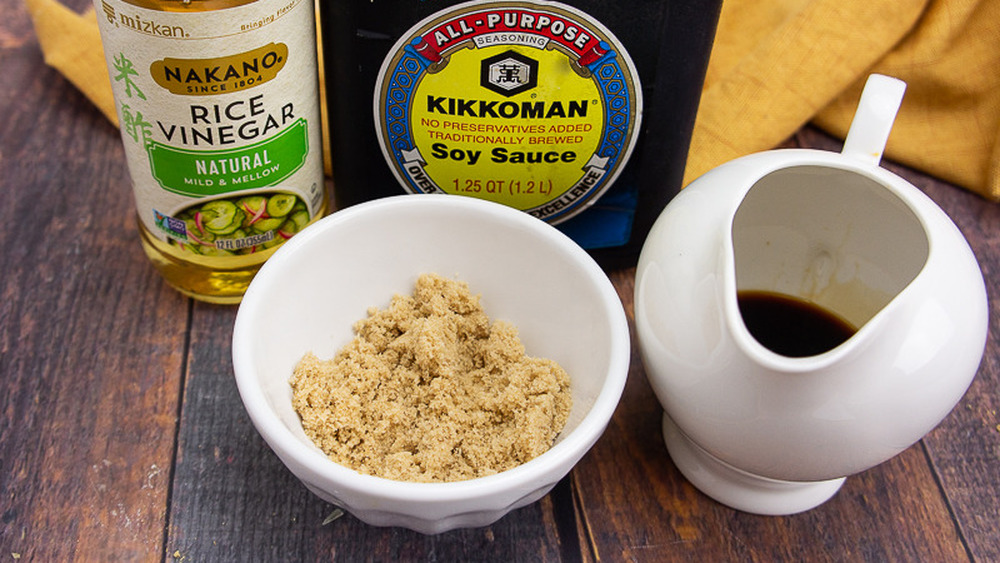 Mikayla Marin/Mashed
For a quick and easy chicken fried rice, even just a splash of soy sauce is delicious for flavoring your finished dish. For the perfect chicken fried rice, however, we used a combination of rice wine vinegar, soy sauce, and brown sugar to make a quick sauce with a flavor that's a little more nuanced.
Soy sauce seasons and salts the fried rice, while rice wine vinegar and brown sugar cut through the intensity of that salt. What we end up with is a balanced fried rice sauce that has notes of salt, sweet, and acid. It's what ties all the other ingredients together in a harmonious bite.
A quick note on eggs for your chicken fried rice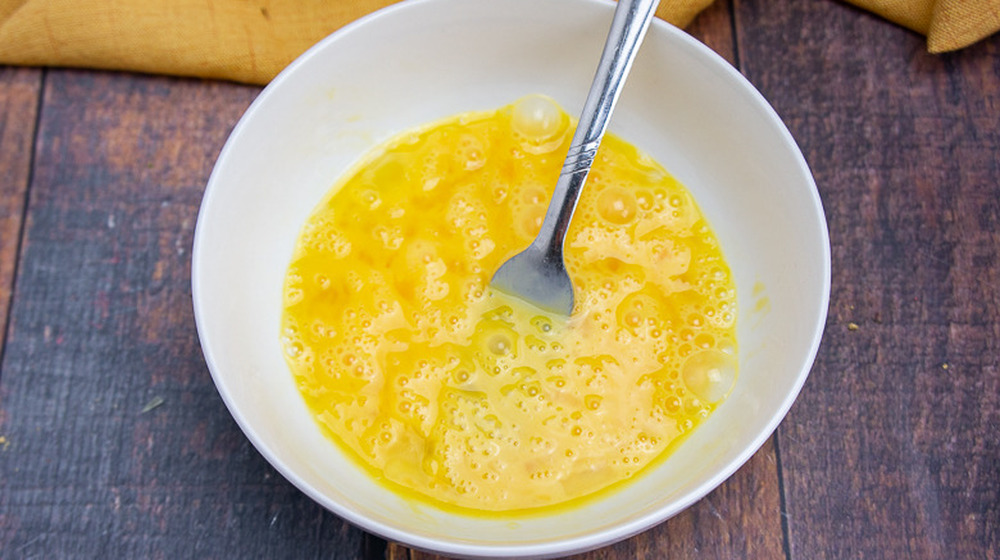 Mikayla Marin/Mashed
We love adding scrambled eggs to our chicken fried rice. The egg is fluffy and soft, and when combined with the rest of the ingredients, you end up with the perfect variety of textures all in one dish. Adding them to the recipe only adds another minute or so to your cook time. They also absorb the sauce perfectly, and add a little extra protein to round out your meal. In a pinch, you could even swap egg for the chicken entirely!
When all is said and done, we've had plenty of fried rice with and without egg. Both ways are delicious, so leaving them out is totally okay too.
You can make this chicken fried rice in 30 minutes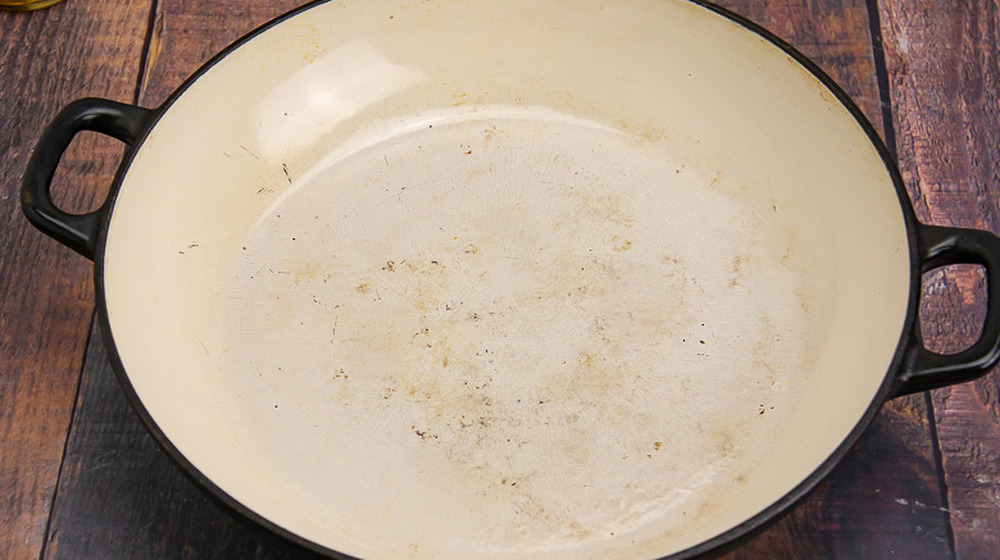 Mikayla Marin/Mashed
The first step to a quick and successful chicken fried rice is prep. Take a few moments to measure out the sauce ingredients, chop your aromatics and veggies, and get your chicken diced and seasoned.
Next, you'll need to choose your pan. We recommend anything with sides that is still wide and shallow enough for you to sauté and stir. Avoid big pots. The high sides will steam instead of sauté your veggies and rice (in other words, fried rice mush). Go for as wide a pan as you have available to you.
We used a 3.6-quart enameled cast iron casserole pan that is about 12 inches across. If available, we highly recommend a pan like that. Heavy-bottomed pans distribute and retain heat evenly, making it easier to cook at a quick pace as we add in ingredients.
Start your chicken fried rice with some aromatics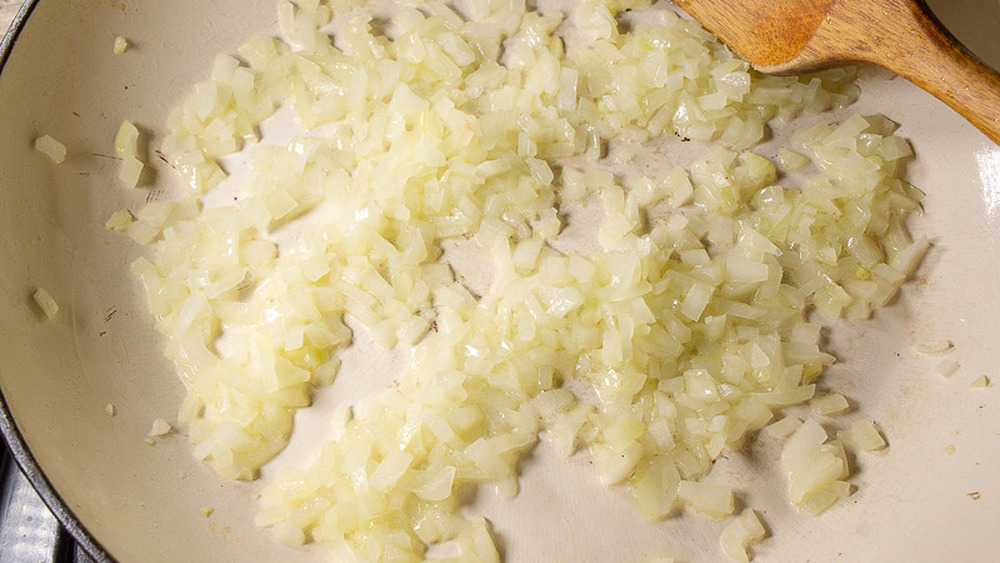 Mikayla Marin/Mashed
Once you're prepped and your pan is heating on the stove over medium heat, you'll want to add in a healthy drizzle of oil to the pan to start cooking your chicken fried rice. Any cooking oil will work — keep it nearby as you may need to add more as the recipe goes on. Get your onions into the pan and stir to coat them well. You'll want these to soften and turn translucent, so don't walk away for very long. Stir every twenty to thirty seconds.
After a few minutes, the onions will be soft. At this point, they'll melt into the fried rice, lending a ton of flavor without overwhelming everything else.
Searing the chicken for your chicken fried rice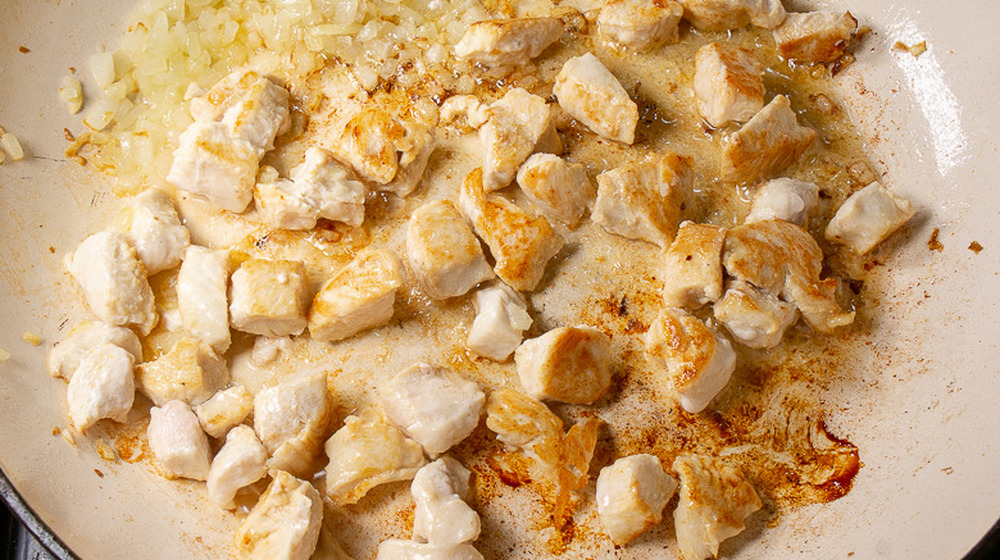 Mikayla Marin/Mashed
Once softened, push all the onions and garlic up to one side of the pan. If your pan looks dry, add another healthy drizzle of oil on the exposed part of its surface. Drop the cubes of chicken into the oil in a single layer and let them caramelize.
Simply let the chicken for this chicken fried rice recipe sizzle away until one side is browned, about two to three minutes. Flip it, and let cook for another 30 seconds, then mix it in with the onions.
Caramelizing the chicken creates the browning, or fond, on the bottom of the pan, which will later add flavor to the sauce. Caramelizing on just one side gets your chicken cooking, without cooking it through. It still has another ten minutes in the pan, and we don't want overcooked, dry chicken.
Use lots of veggies to make this chicken fried rice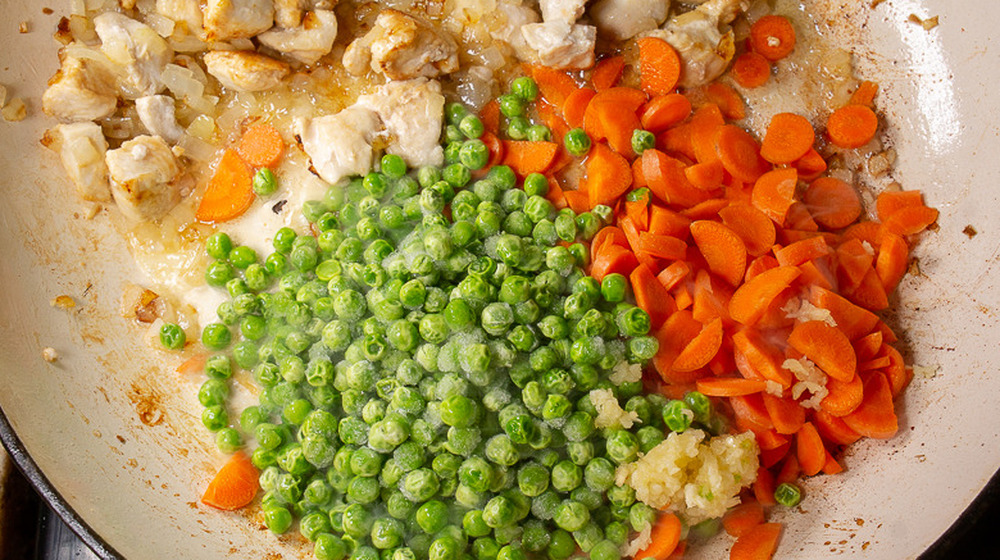 Mikayla Marin/Mashed
Once you've mixed the chicken and onions for this chicken fried rice recipe, move them back to one side of the pan, and add in the veggies and the garlic. You can do this all at once, and just let them sauté, stirring occasionally, for about five minutes. If you're using frozen or canned ones that are still a little wet, you'll notice the pan steaming when you add them. Use this opportunity to scrape the pan and get up all the brown bits left by the chicken. If you aren't using frozen or canned veggies and don't get steam, don't worry — we can get it later.
When the vegetables have reached a tenderness you're happy with, add them into the chicken and onion mixture.
If you're adding egg, that should be next. Push everything up to the side and make sure you have a little oil in your pan to prevent the eggs from sticking and burning. Scramble them gently in the empty space of your pan until they reach a soft scramble that still looks wet. Mix them in with everything else.
Serve your chicken fried rice
Mikayla Marin/Mashed
Your final steps are very easy. Add the rice to the pan and mix it all together until everything is distributed evenly. If you're interested in another textural layer, let the rice crisp in the remaining oil for jut a minute or two before you add the sauce.
Then, pour over the sauce and stir. If you didn't before, make sure to scrape the bottom of the pan to get all those delicious caramelized bits into the fried rice. 
It'll take a minute or two to fully incorporate that sauce, but when the rice grains have all taken a slightly brown color from the soy sauce, you're done. Serve it up immediately and enjoy a filling, flavor-packed bowl of chicken fried rice.
30 Minute Fried Rice Recipe
Let us show you a quick, easy, and super-simple chicken fried rice recipe that you can whip up in 30 minutes, prep included.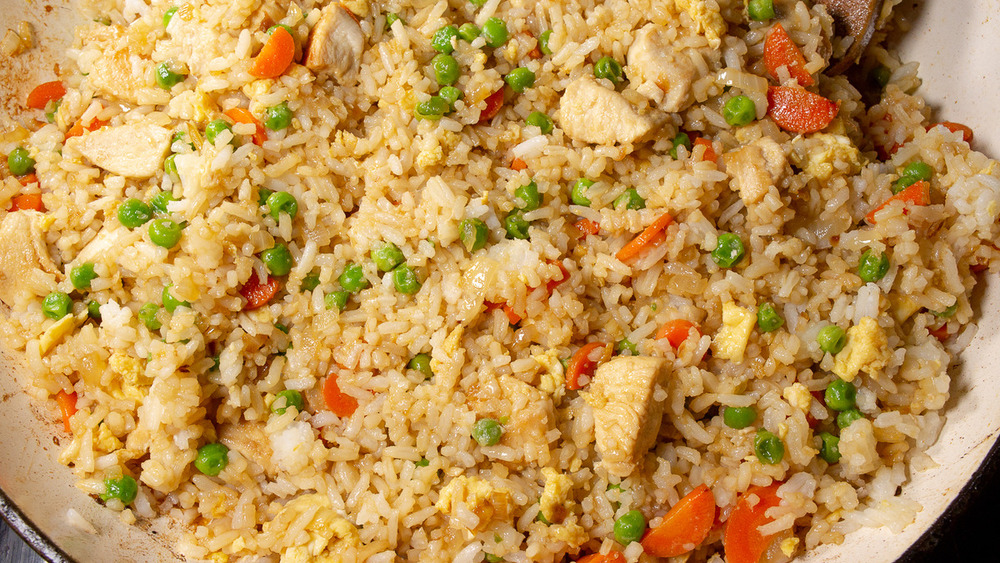 Ingredients
3 tablespoons oil
1 cup minced onion
1 chicken breast
¼ teaspoon ground ginger
¼ teaspoon ground garlic
5 cloves garlic
2 cups mixed vegetables
5 cups cooked rice
5 tablespoons soy sauce
2 tablespoons brown sugar
1 tablespoons rice wine vinegar
Optional Ingredients
Directions
Dice onions finely, mince garlic, and chop any larger veggies into bite-sized pieces.
Dice chicken breast into 1-inch cubes and season with ground ginger and ground garlic.
Beat the eggs lightly and set aside, then whisk together the soy sauce, brown sugar, and rice wine vinegar and set aside as well.
Heat two tablespoons of oil in a wide-rimmed skillet over medium-high heat. When oil is shimmering and very hot, add the onion. Stir constantly until beginning to soften, 2 to 3 minutes.
Push the onions to the edges and add chicken breast to the pan. Allow to sear on one side, about 2 minutes, then flip and gently mix with the onions.
Push the chicken and onions to the side of the pan, and add the veggies and garlic. Stir, allowing to cook and soften for 4 to 5 minutes or until the veggies are to your ideal tenderness.
If adding egg, push all the ingredients to the side of the pan and add the remaining tablespoon of oil if the pan looks at all dry. Pour in the eggs and gently scramble. While the egg is scrambled but still looks wet, mix it into the rest of the ingredients.
Add rice to the pan and mix it in.
Pour in the sauce. Cook, mixing well, until all the rice is coated with sauce and everything is hot. Serve.
Nutrition
| | |
| --- | --- |
| Calories per Serving | 515 |
| Total Fat | 15.5 g |
| Saturated Fat | 2.2 g |
| Trans Fat | 0.1 g |
| Cholesterol | 27.8 mg |
| | |
| --- | --- |
| Total Carbohydrates | 73.7 g |
| Dietary Fiber | 4.2 g |
| Total Sugars | 8.3 g |
| Sodium | 1,306.0 mg |
| Protein | 18.8 g |