Genius Ways You Never Thought To Cook With Ground Meat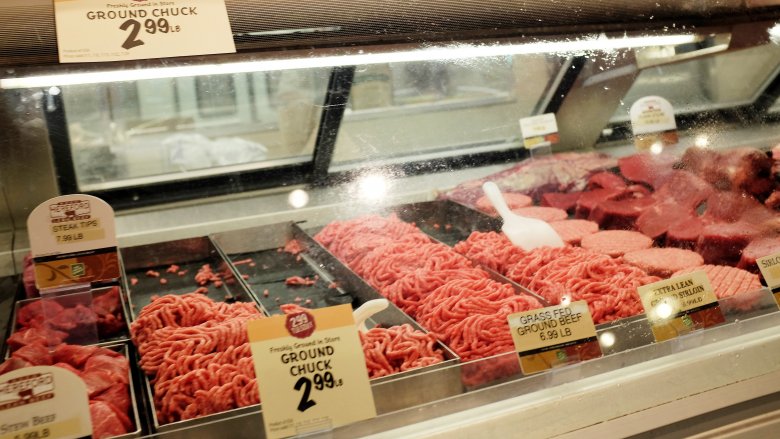 Getty Images
We've all been there: You pick up the three-pound package of 80/20 ground beef, because buying it in bulk instead of one pound at a time knocks a few dollars off the price of this already economical red meat staple. But after you've made a cheeseburger or two, you're stuck with that slowly decaying mound of ground beef in your fridge. Now it's slowly turning grey and sour, and staring at you judgmentally every time you open the refrigerator door. What's left to do with it?
Sure, you could twist up a few meatballs (yawn), jack up some jarred spaghetti sauce (sigh), or use your leftover ground beef to make a really boring burrito (el yucko). But that's not the way you live your life. You're much too creative and interesting a person, to be shoveling the same-old, same-old into your ravenous feed-hole. You want something new, something that'll transform that lifeless pile of ground beef into a new taste sensation that will delight all of your senses as it fills your distended belly. Here are a few ideas to get you started.
Stuffed into Middle Eastern-inspired pitas
If you happen to live in a suburban area that suffers from a real dearth of Middle Eastern cuisine, you can whip up a pretty respectable version using the back-half of that package of ground beef with some off-the-shelf, store-bought ingredients. Sure, we may not all have a vertical rotisserie spinning away in our kitchens, laden with a towering pile of seasoned lamb schwarma, but you can capture the essence of a good pita using some leftovers.
Start by making some quickie ground beef keftedes, a sort of smashed Greek-style meatball. Soak three slices of white bread in milk, then squeeze out the excess and combine in a bowl with 2 pounds of ground beef, a minced yellow onion, 4 cloves of chopped garlic, 1/3 cup of chopped fresh oregano, 2 tablespoons of finely chopped mint, 2 teaspoons of white wine vinegar, 2 eggs, a dash of nutmeg, and salt and pepper, to taste. Mix well with your hands, then roll the meat into 1-1/2 inch balls, lightly pressing each one to flatten slightly. Pan-fry the meatballs in a little olive oil, until brown on all sides and cooked through, and then set aside to drain on paper towels.
To assemble your sandwiches, load some store-bought warm pita bread with chopped Romaine lettuce, diced tomatoes, a swipe of hummus, some thinly-sliced red onion, a few meatballs, and as much packaged tzatziki as you can find.
Layered bricklayer-style into a Mexican casserole
If you are a human being with a mouth and with feelings, you can't deny the appeal of a big, bubbling dish of Mexican enchiladas. Making them from scratch can be kind of a daunting task, however, with all of that rolling and stuffing and carrying on. What if we told you that you could throw all of those same ingredients into a casserole dish, and let your oven do all the work needed to turn your boring ground beef into a comforting Mexican casserole?
Cook a pound of ground beef and a chopped onion together in a large skillet until the meat is brown, then add 2 (14-ounce) cans of stewed tomatoes, a cup of canned enchilada sauce, 2 teaspoons of ground cumin, and a pinch of salt and pepper. Pour half of the mixture into a casserole dish, and set it aside.
Warm up 12 corn tortillas in the microwave to make them a little bendy, then spread each one with a tablespoon or so of room-temperature cream cheese and a spoonful of canned chopped green chilies. Fold each one in half, and layer on top of your meat sauce. Pour the remaining meat mixture over the top, and bake at 350 degrees for 15 minutes. Pull the casserole out of the oven, and layer the whole top with shredded Monterrey jack. Pop it back in the oven until the cheese melts and bubbles, about five minutes more.
As a filling for make-them-yourself Hot Pockets
The frozen "Hot Pocket" is a shining example of a food production system run amok: Loaded with sodium and preservatives, filled with mouth-destroying pastes of unrecognizable meat goo, and loaded with fat and calories, a Hot Pocket shouldn't be a part of any adult's diet. The problem is that Hot Pockets are also ridiculously delicious, and should thus be eaten as often as possible. Here's how to make a version yourself at home with just a few ingredients, that may help ease your sense of self-loathing.
In a large skillet, brown ½ a pound of ground beef, a pinch of salt and pepper, and a tablespoon of chopped onion. Take two pieces of refrigerated packaged biscuit dough, and roll them together into a large, 5-inch oval. On one side of the oval, place a spoonful of the meat mixture, then top with a slice of American cheese. Fold it over, crimp the edges with a fork, and poke a few holes in the top to allow steam to escape while baking. Throw the whole shebang on a baking sheet and put it in a 400 degree oven for about ten minutes, or until golden brown.
As a quick and easy stuffing for peppers
Until sitting around watching The Price is Right in your underpants while eating enormous bowls of cooked ground beef becomes socially acceptable, we're going to have to make due with Italian-style stuffed peppers. Luckily, making them is a cinch.
Cut the tops off of six green or yellow bell peppers, and scoop out the ribs and seeds to make an edible bowl. Cook peppers in boiling water for 5 or 6 minutes, until they soften slightly but don't get too floppy. Remove the peppers from the water and set them aside. Brown 1-1/2 pounds of ground beef with a chopped onion and a pinch of salt in a skillet, then remove from heat and drain excess grease. Add 2 cups of shredded cheddar cheese, 3 chopped tomatoes, and 1-1/2 cups of cooked rice. Stir until cheese melts, then divide mixture evenly into the green peppers. Bake uncovered at 350 degrees until heated through, about 20 minutes.
As a way to get weird with your meatloaf
Another meatloaf isn't going to move the needle on your culinary excitement scale. But if you look at a basic, back-of-the-package recipe for meatloaf as a jumping off point, there are lots of weird and delicious places you can take this classic comfort food dish. The key is to think less in terms of "meatloaf recipes," and expand your mind to imagine overall "meatloaf philosophies."
What in the world can this possibly mean? Okay, so start with two pounds of ground beef, ¾ of a cup of breadcrumbs, 2 eggs, ¾ of a cup of water, 1/3 cup of ketchup, and an envelope of dry onion-beef soup mix. That's your bulletproof, no-frills foundation. Now, start making some substitutions, keeping the volume of each ingredient the same. For example, instead of 1/3 cup of ketchup, what if you used 1/3 cup of bottled hoisin sauce? Boom: Asian fusion meatloaf. How about you substitute a pound of ground sweet Italian sausage, for one of the pounds of ground beef, and use jarred marinara spaghetti sauce instead of ketchup? You've got an Italian-inspired meatloaf. And what if instead of a ¾ cup of dried breadcrumbs, you used ¾ cup of smashed-up stale Cheez-Its? Try that, and you'll end up with not just a delicious meatloaf, but probably a few marriage proposals.
As the foundation of Minchet Abish (an Ethiopian stew)
If you've burned out on your usual chili recipe, mix things up with this version of Minchet Abish, a traditional Ethiopian ground beef stew flavored with more exotic spices that you may not be including often enough in your cooking. Serve it with a bowl of cooked rice, some flatbread (Ethiopian or otherwise), or some cooked greens, like collard greens or kale.
Start by melting 2 tablespoons of butter in a large saucepan over medium heat. Add a diced onions, 4 cloves of minced garlic, and a teaspoon of ground ginger, and cook for a few minutes until onions begin to soften. Add 1-1/2 teaspoons of paprika, a teaspoon of salt, and a ½ teaspoon each of ground coriander, cumin, cinnamon, turmeric, a crushed red pepper flakes. Next, add ¼ teaspoon each of ground nutmeg, allspice, ground cardamom, cloves, and black pepper. Stir for a minute until spices become fragrant, then add 1-1/2 pounds of ground beef. Cook until meat is no longer pink, then add 3 cups of low-sodium beef stock and a 6 ounce can of tomato paste. Cover and cook over low-medium heat for 2-3 hours, or until thickened. (If mixture is too loose, remove the lid from the pot during the last hour of cooking to speed up evaporation.) Serve hot.
Dumped into a bag of Fritos to make "walking tacos"
Look, we get it. With today's fast-paced, on-the-go lifestyles, we don't always have the time we need to sit down to an elaborate meal of authentic tacos. Why take the time to sit down and eat, when you can incorporate "eating tacos" into your regular, everyday activities, including "walking on a treadmill at the gym," or "writing about ground beef on the internet"?
This one's dead-simple. Purchase a bag of Fritos corn chips (or Doritos, or whatever you want). Open the bag either at the top, or by splitting the bag open the long way. In a large skillet over medium heat, cook a pound of ground beef until no longer pink, then mix in an envelope of your favorite taco or chili seasoning mix, a can of diced tomatoes with green chilis (such as Ro-Tel), and a can of pinto beans. Cook until thickened, then dump by the scoopful into your bag of opened chips. Throw in as many handfuls of shredded cheddar cheese, sour cream, pickled jalapenos, and sliced green onions as you'd like, followed by a few heavy shakes of your favorite hot sauce. Mix well and eat with a fork, if you want to be all fancy about it.
As a crust for a mashed potato pie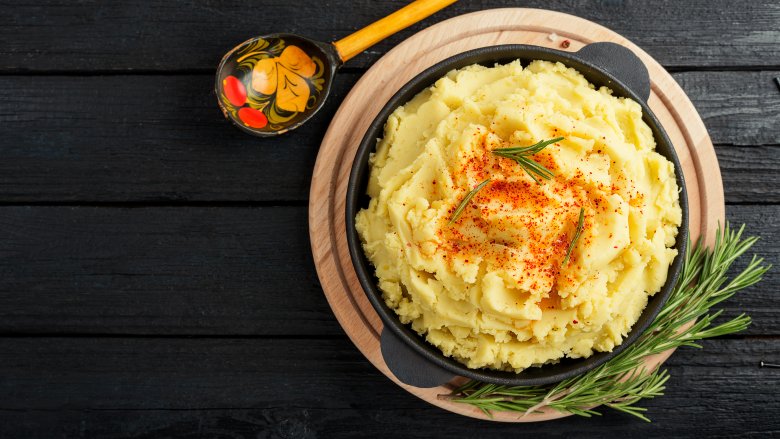 Shutterstock
You've probably already used up some leftover ground beef by mixing it into a grammar school cafeteria-style Shepard's Pie, with loads of mashed potatoes, and peas, carrots, or corn. But did you know that you can also flip Shepard's Pie inside out, and make the crust out of meat?
In a large bowl, mix together a pound of ground beef, half a can of condensed cream of mushroom soup, ¼ cup of chopped onion, an egg, and ¼ cup of dried breadcrumbs. Mix well with your hands, and then press into the base and sides of a 9" pie pan. Bake at 350 degrees for 25 minutes, then remove from the oven and drain off excess fat.
In another bowl, combine two cups of cooked mashed potatoes and the other half of the can of soup. Mix well, then spread over meat crust. Top with ¼ cup of shredded cheddar cheese, and a few slices of cooked and crumbled bacon. Throw it back in the oven for another 15 minutes, then cut into wedges and serve.
As a way to pretend you're at a hip Korean food truck
We can't all spend our lunch hours with the rest of the cool kids, standing around the Korean BBQ fusion food truck in town. Heck, some of us don't even live near towns in general, let alone have a reliable source for a quick bulgogi rice bowl. But that doesn't mean you can't experience these flavors in the comfort of your own kitchen, with the help of a ingredients you probably already have.
Heat a dab of vegetable oil in a large skillet over medium heat. Add 3 cloves of minced garlic, and cook for about a minute, stirring constantly. Add a pound of ground beef, and cook until browned. Drain the excess fat, then add ¼ cup brown sugar, ¼ cup reduced-sodium soy sauce, 2 teaspoons of sesame oil, ½ teaspoon of crushed red pepper flakes, and ¼ teaspoon of ground ginger. Stir and allow mixture to simmer until heated through, about 2 minutes. Toss in a handful of chopped green onions, and serve spooned over cooked white rice.
As a way to make cheeseburgers into liquefied form
Sometimes, you really want a good cheeseburger, to feel your teeth slicing through that perfectly charred patty, cheese oozing out the sides, a thin slurry of grease and ketchup breaking free from the pillowy roll and running down your hungry chin. But more often than not, the thought of all of that chewing can be so exhausting and emotionally overwhelming, that most of us can't even be bothered. Luckily, we've put together a quick soup recipe that allows you to mainline a cheeseburger's very essence, without wasting any time or physical energy on all of that up-and-down chompity-chomp.
In a large soup pot, combine 1-1/2 cups of water, 2 cups of cubed peeled potatoes, 2 small grated carrots, a chopped onion, ½ of a chopped green bell pepper, a clove of minced garlic, a beef bullion cube, ½ a teaspoon of salt, and a seeded and chopped jalapeno pepper. Bring to a boil, then reduce heat and simmer until potatoes are cooked, about 20 minutes. Stir in a pound of cooked ground beef and 2 cups of milk, and bring back to a simmer. Mix together ½ cup of milk with 3 tablespoons of flour, then add to soup gradually. Bring soup back to a boil, and cook until it begins to thicken, about two minutes. Remove from heat, and stir in 8 ounces of American cheese, stirring until melted and incorporated. Serve topped with cooked crumbled bacon.
Dressed up as "recession barbecue"
Good barbecue combines properly trimmed and cut pieces of meat, a little smoke, a little heat, and a whole lot of patience and time on the part of the pitmaster, who often pulls an all-nighter in order to carefully monitor that hulking slab of brisket. And while all of that patience and time can result in some almost otherworldly barbecue, it also comes with a pretty hefty price tag. Here's a way to satisfy your craving for BBQ at home, without breaking the bank.
In a large skillet, cook 1-1/2 pounds of ground beef with a diced onion until beef is no longer pink and onions have softened. Add a can of diced tomatoes (drain them first), with a cup of beef broth, ½ a cup of ketchup, ½ a cup of your favorite barbecue sauce, and a tablespoon of Worcestershire sauce. Cook until thickened and reduced, about 5-6 minutes. Scoop mixture onto buns, and top with shredded cheddar cheese or your favorite coleslaw recipe.
Mixed with olives and raisins into a Cuban picadillo
Start stuffing things with Cuban-style picadillo, a seasoned blend of ground beef, olives, and golden raisins, and you'll wonder why you ever ate plain ground beef in the first place. The acidity of the olives combines with the bursty sweetness of the raisins into a pleasantly palate-confusing explosion of flavors and textures. Picadillo makes an ideal filling for empanadas and burritos, but can also be used for sandwiches, served over rice, or even stuffed into some pasta dishes.
In a large skillet, cook a pound of ground beef, ½ a chopped onion, and ½ of a chopped green bell pepper, until onions soften and become translucent. Add an 8 ounce can of tomato sauce, ½ a cup of sliced pimiento-stuffed green olives, and 1/3 of a cup of golden raisins, along with a splash of apple cider vinegar. Stir well to combine and simmer uncovered until raisins soften, about 5-7 minutes. Top with fresh chopped cilantro for serving.