The Big Mistake You're Making With Cabbage Soup From Scratch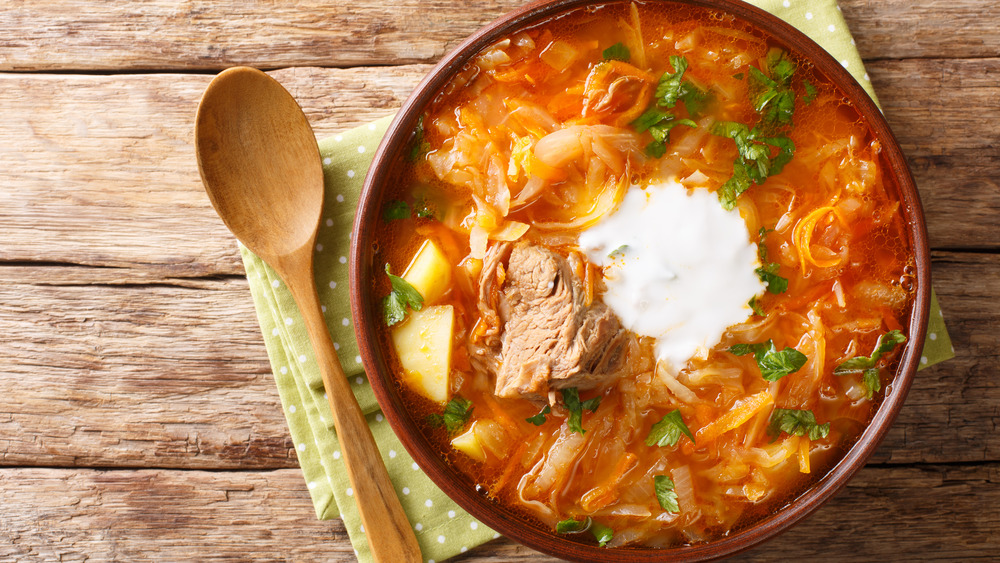 Shutterstock
Studded with vegetables and scented with herbs, few things are more comforting than a chunky, brothy bowl of cabbage soup. Of course, that's only if you make it right. By simply correcting a few common cabbage soup gaffes, you can easily build a robust, intensely satisfying pot of joy.
Cabbage soup is the national dish of Russia and, according to The Spruce Eats, the traditional recipe features cabbage, potatoes, and tomatoes, simmered with aromatics (onions, carrots, and celery), and is ladled into bowls, served with a dollop of sour cream and sprinkling of dill.
Healthline adds that the classic vegetarian soup is a nutritional powerhouse because low-calorie cabbage is crammed with nutrients (especially vitamins C and K), and the cruciferous veggie may reduce chronic inflammation, improve digestion, promote heart health, and lower blood pressure and cholesterol. Those are serious vegetable bragging rights, and cabbage isn't the only nutrient-dense ingredient in the pot.
Recipes for cabbage soup vary, but the general formula is cabbage, carrots, celery, tomatoes, onion, and garlic, braised in water or broth, perfumed with herbs (via Dinner Then Dessert). The Recipe Rebel gushes over the nurturing effect of cabbage soup and claims that you can even create a six-ingredient batch without raiding your spice rack.
Add this trick for the best cabbage soup ever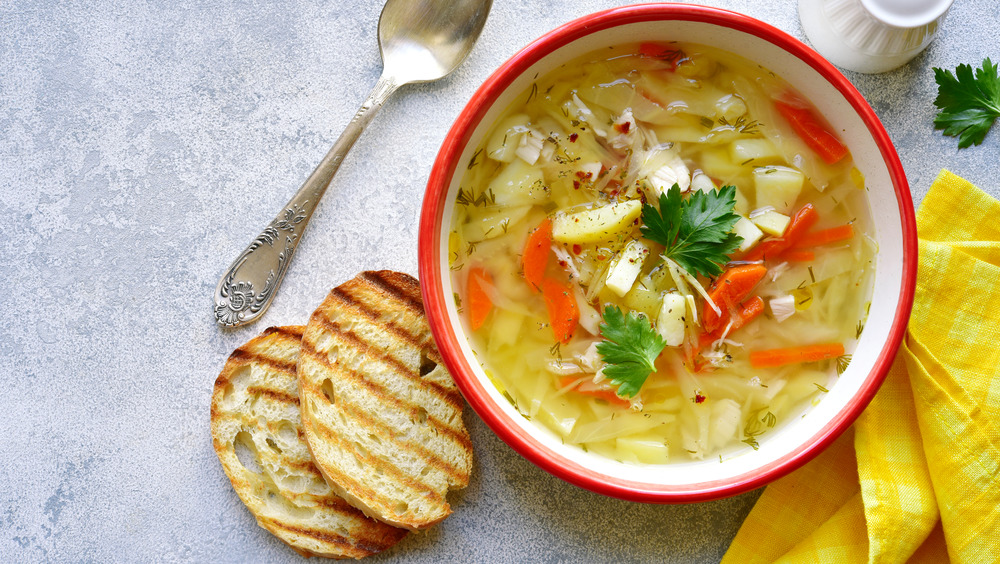 Shutterstock
The ingredient list is short, and the cooking technique is basic, so what's so difficult about creating delectable cabbage soup? First, you need to pick the right cabbage. Bon Appetit claims that savoy is the best variety for the job because it's more tender than its sturdy green cabbage cousin. La Cucina Italiana agrees and asserts that browning the cabbage in olive oil — with a bit of celery and garlic — is the trick to cabbage soup supremacy. 
In fact, after a quick sear, the caramelized vegetables are submerged in boiling water and, after just 30 minutes, seasoned with salt and pepper and served. Nothing else is thrown in. Taste of Home adds that taking the time to brown your vegetables yields tremendous results, infusing sweetness and depth into every spoonful. One simple technique and the soup game changes forever.
If you have a hankering for more vegetables, Cooking Classy delivers a colorful version of cabbage soup that boasts carrots, tomatoes, green beans, red bell pepper, and fresh parsley. For something truly unique, Delish shares a full-bodied version of cabbage soup scented with chili powder and elevated with white beans and fire-roasted tomatoes.
If you have leftover cabbage soup, (preferably a version without potatoes since potatoes don't freeze well), Carlsbad Cravings suggests storing the soup in an airtight container in the refrigerator for up to five days. You can also freeze the soup for up to three months.