Simple Sopapilla Recipe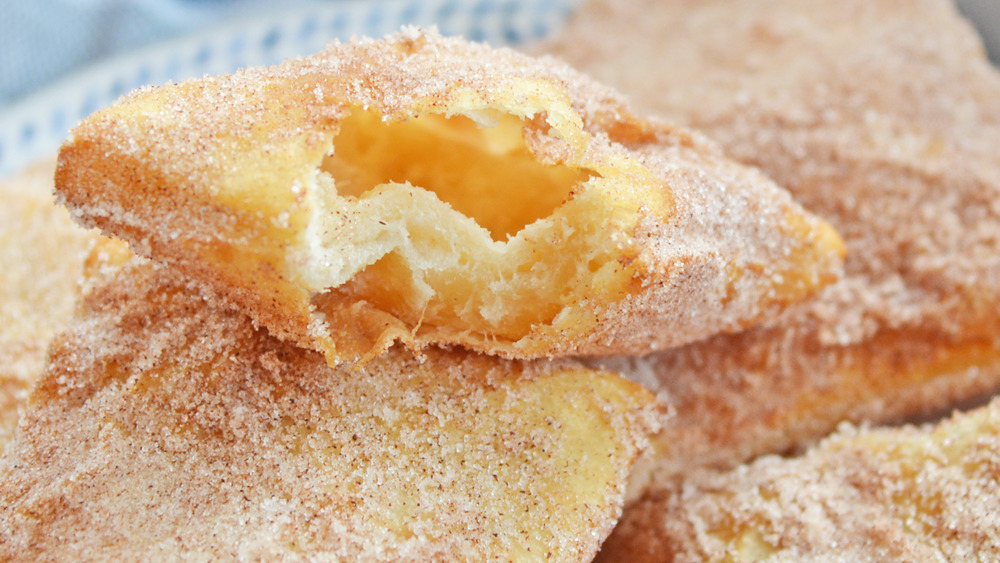 Jessica Formicola/Mashed
While Mexican food is known for many delicious main dishes, many of us would be hard-put to name more than a few Mexican desserts, and even the ones we can think of may not as Mexican as we thought. Flan is originally from Spain while churros, believe it or not, may have come from China. Fried ice cream, of course, is as All-American as Chi-Chi's, the Minnesota-based chain that made this crunchy, gooey delight synonymous with "Mexican(ish)" cuisine.
While sopapillas may seem more authentically Mexican, the truth is, even this dish originated north of the border –- in Albuquerque, to be exact. The New Mexico Department of Cultural Affairs says sopapillas were introduced in the late 16th century by the conversos, Spanish settlers of Moorish extraction. While the state of Texas also claims sopapillas, even going so far as to declare them one of the Official State Pastries (along with strudel, also not a Texas invention). The Dallas Observer acknowledges, though, this may be just Texas being Texas, since they also admit to the Albuquerque origin story.
Even if you don't give a culo de rata about the origins of sopapillas, you're sure to love this dish if you're a fried dough fan. Jessica Formicola of the Savory Experiments food blog says churros aren't at all as heavy as doughnuts, funnel cakes, or even churros sometimes tend to be, describing them instead as "light and flaky, a little crispy." They're also a lot easier to make than you might think.
Sopapillas start with dry ingredients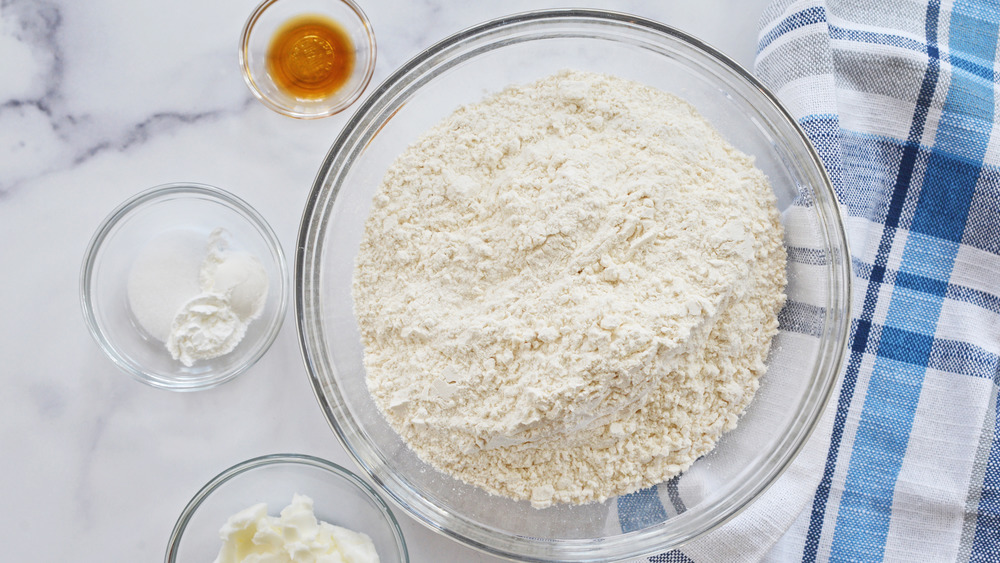 Jessica Formicola/Mashed
If you will be using a stand mixer, get out the medium bowl and affix the paddle attachment. No mixer, or you just don't feel like dragging it out of wherever you've stashed it? Not a problem, sopapillas are something that can easily be mixed by hand. Measure out your flour, your baking powder (not baking soda! powder's the stuff in the little round canister, not the cardboard box), your salt, and your nutmeg into the mixing bowl. 
According to Formicola, "Nutmeg is not a traditional ingredient," but she likes to use just a smidge of the spice to add some aroma as well as flavor. If you're a strict traditionalist and/or not too fond of nutmeg, feel free to leave it out; the sopapilla spirits will not smite you for this non-sacrilege.
Then the sopapilla's shortening asks "May I cut in?"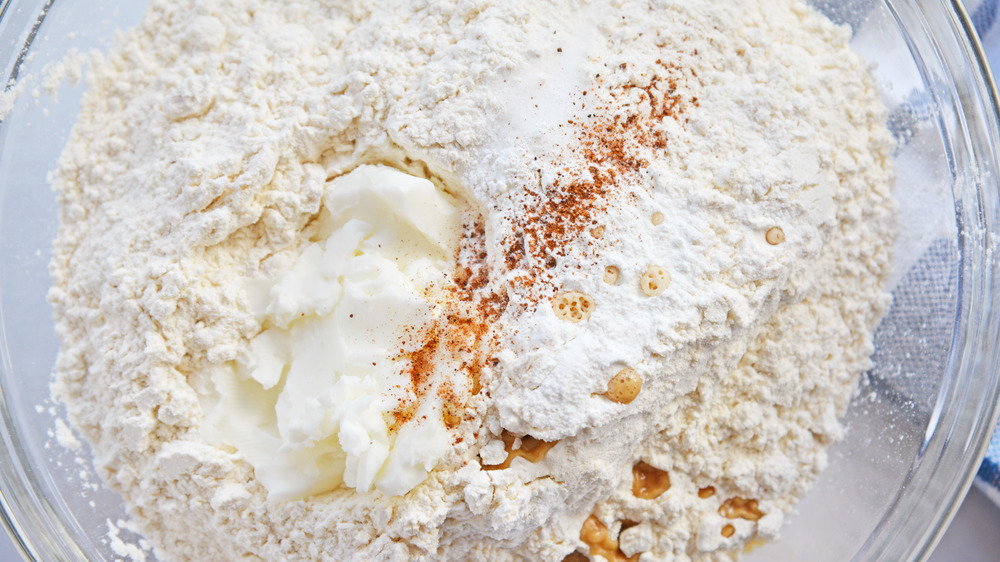 Jessica Formicola/Mashed
The first sopapillas were undoubtedly made with lard, kind of a necessity for the first few centuries since Culinary Lore says vegetable shortening wasn't invented until 1910. These days solidified pig fat has fallen out of favor, go figure. Should you happen to have a tub o'lard in the house, Formicola says you can use it in this recipe, but if you'll be serving these sopapillas to any vegetarians or those who avoid pork, then you'd best stick to shortening. (As this dish contains no eggs or milk, it should even be vegan if you keep to the ingredients as listed.)
Anyway, take your shortening (or lard) and cut it into small cubes, something that will obviously be easier to do if it's chilled. Cut it into the dry ingredients, either using the paddle attachment of your mixer or, if you're baking unplugged, with your hands or two knives. You're not trying for a smooth mixture here, but something more crumb-like. When the shortening's mixed in, add the warm water. If you don't want to get your water straight from the tap, Formicola suggests heating it for 20 to 30 minutes in the microwave, but cautions "you don't want it super hot." Mix the dough with a wooden spoon or, again, using the mixer paddle, just until a smooth dough forms. Formicola warns "over-mixing the dough can make it dry and cause it to be flakier than you'd want."
Let the sopapilla dough rest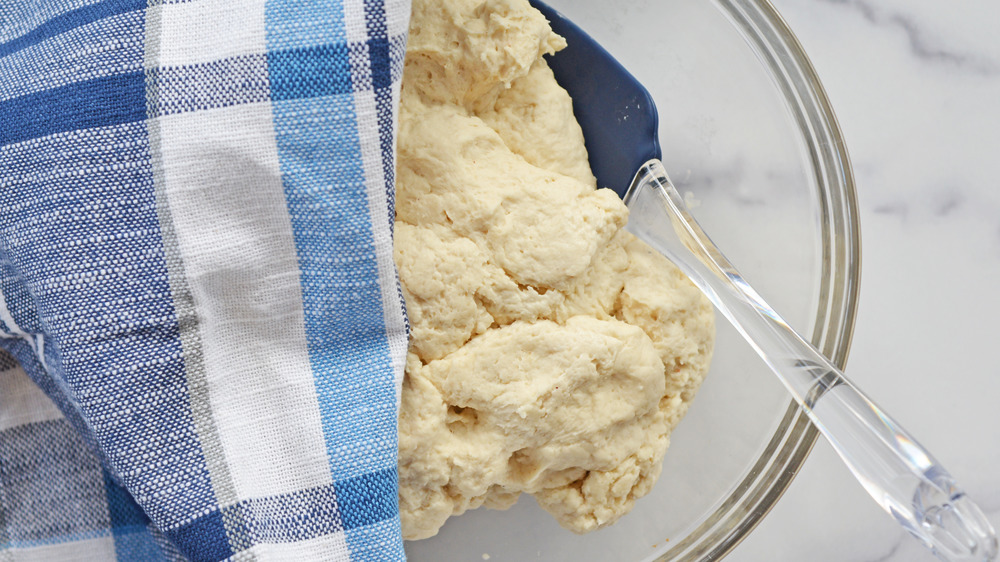 Jessica Formicola/Mashed
Are you getting tired yet? We hope not, since it really hasn't been all that labor-intensive a recipe. Still, the sopapilla dough itself is in need of a short break at this point. Just cover it up with a damp tea towel, or use a dish towel, if you're less refined – Good Housekeeping says they're the same thing, really, but "tea towel" does sound a lot fancier. Just don't use a dish rag made of terry cloth, though, since a) this is where tea and dish towels part company and b) little bits of fuzz might stick to your dough. Once your bowl is towel-covered, let it sit for 15 minutes.
While the dough is resting, you can mix together the sugar and the cinnamon. This should take you about 30 seconds or so. After you're done, you can spend the remaining 14 ½ minutes sorting out your kitchen towel drawer. Or not.
Now get ready to roll the sopapillas!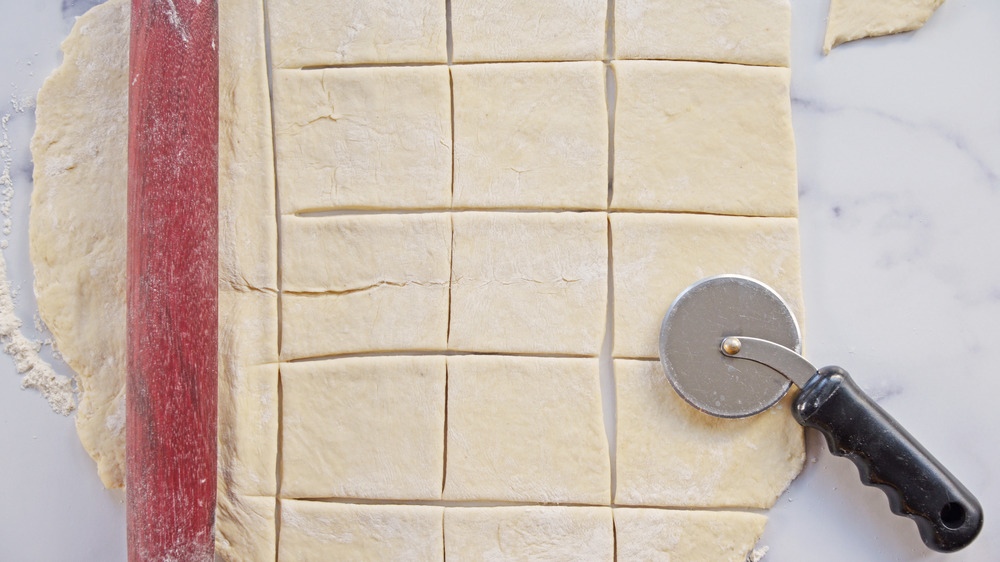 Jessica Formicola/Mashed
Prepare a clean work surface like a counter top or a cutting board and sprinkle it with just a light dusting of flour so the dough won't stick. (Not too much, since taking on excess flour would upset the balance of the recipe.) Roll the dough out until it's just 1/8" thick –- Formicola says that "Having them puff is the biggest issue with sopapillas," but advises that "if you roll the dough thin enough ... this should not be an issue."
Once your dough is rolled out, you might want to grab a clean ruler to measure it unless you're experienced enough to be able to eyeball 1/8". If you're sure it's thin enough, great! Now cut it into squares about 3" to 4" per side. Formicola explains that this is the optimal size for sopapillas since they need sufficient surface space to puff up the way they should. "If they are too small," she tells us, "you won't get the fluffy domes you are looking for," but goes on to say that if you make the squares any bigger "the structure wouldn't support [them] — they'd likely collapse or crack."
Spread your wings and fry ... the sopapillas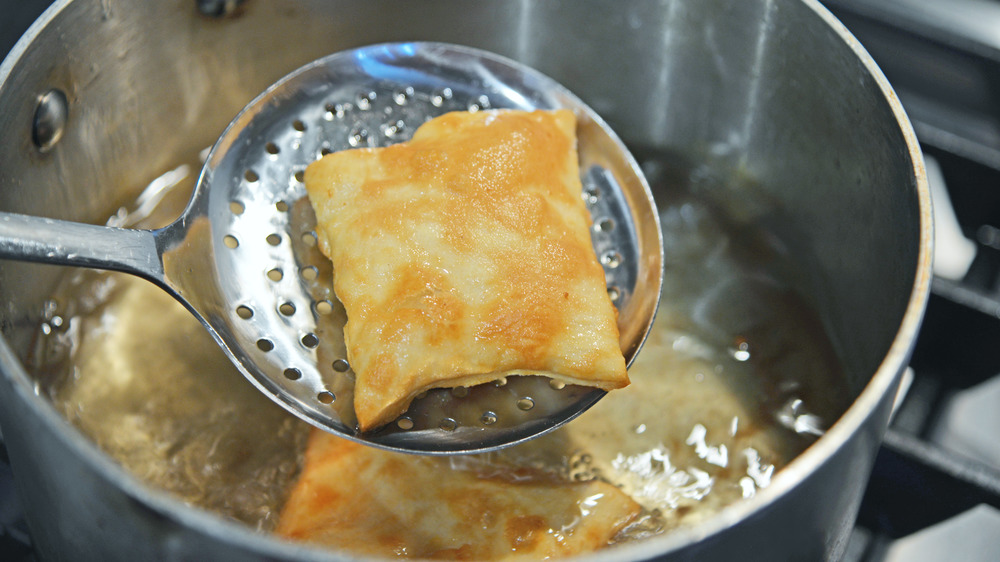 Jessica Formicola/Mashed
Heat the oil in a large, heavy saucepan until it reaches 375 degrees. Make sure you've got a good deep dry thermometer before you even begin this recipe! Formicola notes that having the oil at the right temperature is crucial in order for the sopapillas to turn out just right, and there really are no work-arounds for a good thermometer. Plus, if the oil temperature gets too high, that can present a serious safety issue with this much oil involved, so ... yeah. Use a thermometer, and make sure it's accurate! Food Republic says you can calibrate a food thermometer by using either ice water or boiling water to make sure it's reading the right temperature.
Once your oil is at 375 degrees –- no less, and definitely no more –- add the sopapillas two at a time and fry them for a minute or two per side until they're lightly brown, turning with a fork or metal spatula. Once they are done, remove them with a slotted spoon and place them on a wire rack over a baking sheet to catch all the drips.
Add the finishing touches to your sopapillas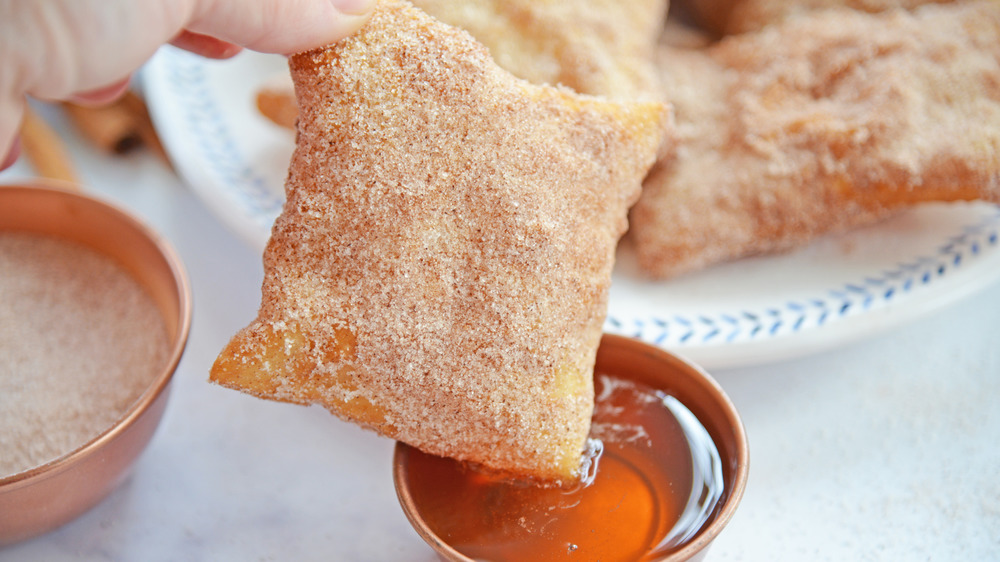 Jessica Formicola/Mashed
When the cooked and slightly cooled sopapillas are still warm but no longer glistening with oil, then you can toss them in the cinnamon sugar mix. (Too much oil still adhering to them might make the sugar mix slide right off.) At this point, they're ready to pop right in your mouth, or you could observe the formaility of putting them on a plate first. Assuming you have the patience not to dive right in, you may also want to set out a dish of honey to dip them in. You could also try them with chocolate sauce, caramel sauce, or a sauce made of pureed berries, or maybe even make a whole sopapilla dipping station if you're serving these at a party. You could also do as Visit Taos suggests and skip the cinnamon sugar and serve sopapillas as a savory side with green or red chile sauce for dipping. Yes, they're just that versatile!
While Formicola advises that "sopapillas are best enjoyed right after frying," she does say you can make the dough ahead of time and store it in the fridge beneath that damp tea (or dish) towel. Cooked sopapillas can also be stored covered at room temperature. While they may not be quite as good once they've cooled off, they'll still be delicious enough to give any doughnut a run for its sprinkles. And speaking of sprinkles, no reason you can't shake those on your sopapillas –- muy festivo!
Simple Sopapilla Recipe
Is there anything better than fried dough sprinkled with sugar and cinnamon? The answer is "no" and this sopapilla recipe is a sweet end to any Mexican meal.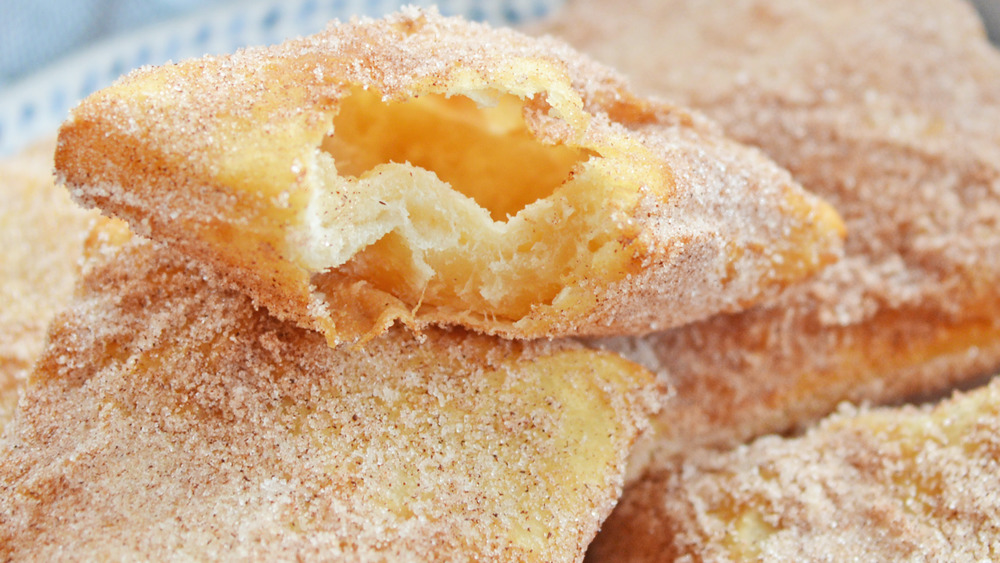 Ingredients
4 cups all-purpose flour
2 teaspoons baking powder
1 teaspoon fine sea salt
¼ teaspoon nutmeg
4 tablespoons shortening, cut into small cubes
1 ½ cups warm water
1 cup granulated sugar
2 teaspoons ground cinnamon
2 quarts vegetable oil for frying
Optional Ingredients
Directions
Whisk together the flour, baking powder, salt and nutmeg in a medium bowl or bowl of a stand mixer fitted with the paddle attachment.
Add cubed shortening and warm water, mixing until dough forms. Do not overmix.
Cover bowl with a damp tea towel for 15 minutes and let rest.
While dough rests, combine the sugar and cinnamon in a medium bowl. Set aside.
Roll dough out onto a clean, lightly floured work surface. Roll to ⅛ inch thick and cut into 3 to 4 inch squares.
Using a deep fryer thermometer, heat oil in a large saucepan to 375 degrees.
Fry sopapillas 2 at a time for 1 to 2 minutes on each side or until lightly brown.
Remove sopapillas to a wire rack over a baking sheet.
While still warm, but after the glisten of oil has subsided, toss sopapillas in cinnamon sugar mixture.
Enjoy sopapillas while hot or warm. Dip in honey if desired.
Nutrition
| | |
| --- | --- |
| Calories per Serving | 170 |
| Total Fat | 7.2 g |
| Saturated Fat | 0.9 g |
| Trans Fat | 0.3 g |
| Cholesterol | 0.0 mg |
| | |
| --- | --- |
| Total Carbohydrates | 24.5 g |
| Dietary Fiber | 0.7 g |
| Total Sugars | 8.4 g |
| Sodium | 119.9 mg |
| Protein | 2.2 g |