This Is Chick-Fil-A's Spiciest Chicken Sandwich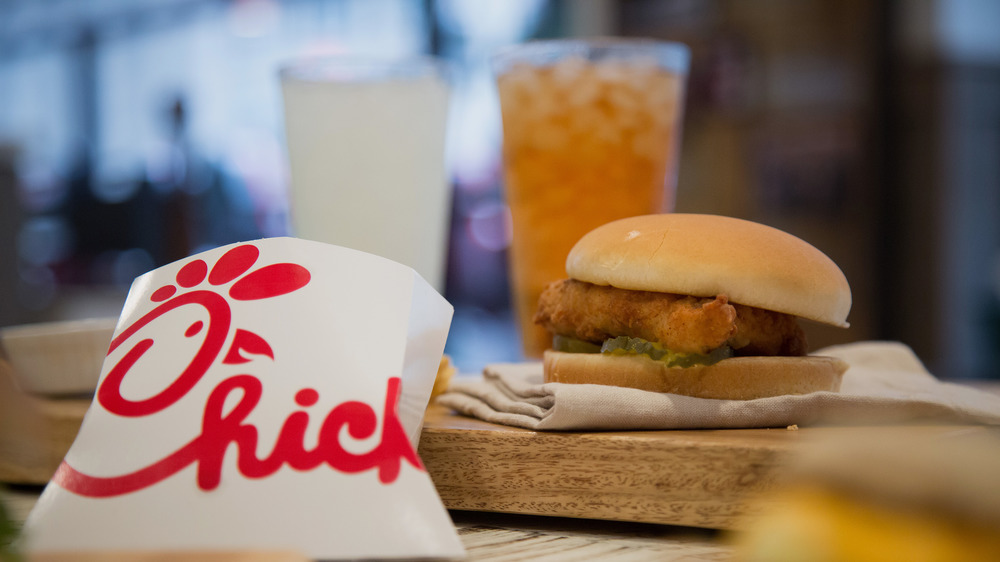 Bloomberg/Getty Images
The chicken sandwich war is always heating up as each fast food chain tries to best the others. From Popeyes' chicken sandwich that caused a shortage to Wendy's and McDonald's stepping up their chicken sandwich game, this menu item has become a serious business. But one quick-service restaurant has built its name and reputation on its chicken sandwiches, and per the Harris Poll, it has even earned them the top spot on the food chain as brand of the year for "Chicken Restaurants." Chick-fil-A has won this title not once, but six years straight (via USA Today). Pretty impressive if you ask us.
Their sandwich offerings make our mouths water. Whether you are a fan of their original chicken sandwich, like to nosh on their chicken club sandwich during the week, or like to fire up your weekend with one of their spicy chicken sandwich offerings, Chick-fil-A has got you covered. And speaking of spicy, have you ever wondered which of Chick-fil-A's chicken sandwiches is the spiciest? Us too!
Luckily, Reddit is not just an online destination to find enticing stock tips for GameStop, Dogecoin, and the like. It also provides a forum for people to talk about pressing matters like which Chick-fil-A sandwich is the spiciest. And according to popular opinion and the Eat Mor Chikin restaurant, it turns out that the chicken sandwich that is the spiciest has been years in the making.
The Spiciest Chick-fil-A sandwich is the Grilled Spicy Chicken Deluxe Sandwich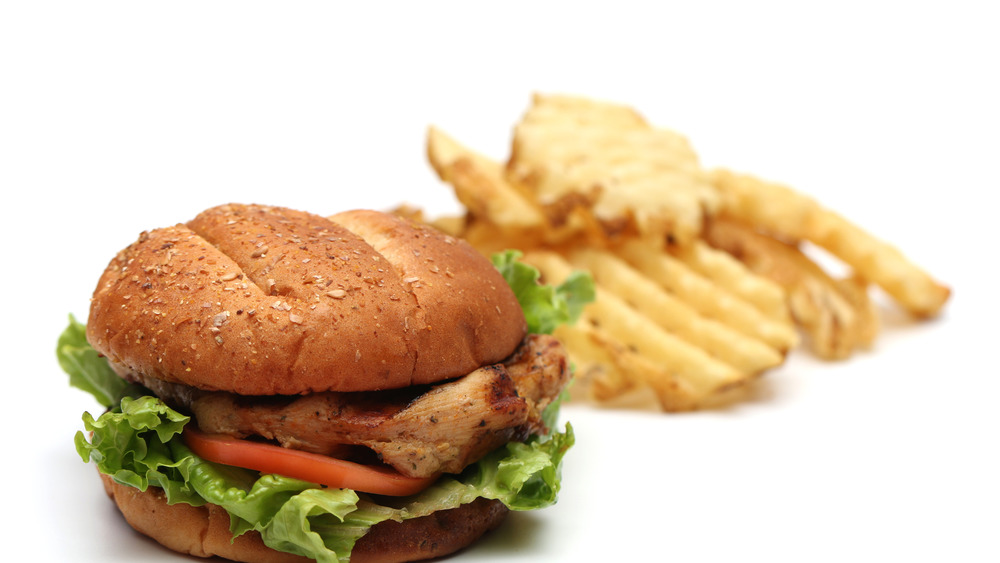 Shutterstock
According to the fast food chain's blog, The Chicken Wire, the spiciest Chick-fil-A sandwich is their new Grilled Spicy Chicken Deluxe Sandwich. Chef Angela Wadlington, a Chick-fil-A senior culinary developer, told the blog, "While our guests already love our spicy menu, we wanted to offer a grilled twist that allows them to enjoy the layers of bold flavors. Our Grilled Spicy Deluxe Sandwich got great feedback from guests in our test markets, so we knew we needed to expand the offering to Chick-fil-A restaurants nationwide."
So, what makes this sandwich so spicy? The Chicken Wire describes the sandwich as "grilled chicken marinated in a spicy seasoning, served on a toasted multigrain brioche bun with Colby-Jack cheese, lettuce and tomato." One Redditor noted that, "The Grilled Spicy uses an extra marinade on top of an already spicy piece of chicken that the fried sandwiches use." While another Reddit user offered, "I believe it's the cheese that gives it a little kick." 
But if you are worried that this sandwich might cause your tongue to do the cha-cha and reach for a glass of milk, don't. Wadlington shares, "The Cilantro Lime Sauce helps to take the edge off the heat while adding a final layer of flavor that brings all the ingredients together." Sounds like it's time to psych up your taste buds to try it for yourself.