Baked Spaghetti Recipe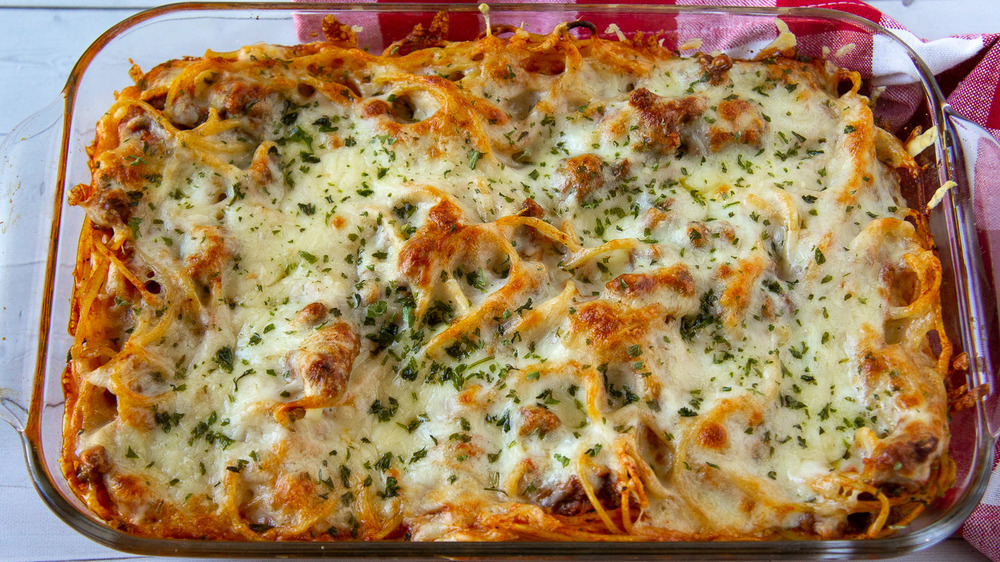 Mikayla Marin/Mashed
It's pasta night again and the debate is on once more, spaghetti or lasagna, baked or fresh? Well, what if you could have both?
Enter baked spaghetti. We've lovingly nicknamed it "cheater's lasagna." It's a quick and easy casserole that combines all the delicious red sauce and noodles of spaghetti, with the gooey cheese and crisp edges of lasagna. It's the make-ahead cook's dream because either fresh or from frozen, it's a dish that delivers big flavor with just a few ingredients and a bit of low-stress cooking.
It will only take a few steps and a hot oven to easily give everyone at home a delicious pasta they enjoy. Whether it's the gooey cheese and saucy middle they like, or the crisp edge of baked noodles and cheese, there's a bit for all. Heck, we like a little of both with every bite!
Get more recipes and inspiration from Mikayla Marin on her blog The Flour Handprint.
What you'll need to make baked spaghetti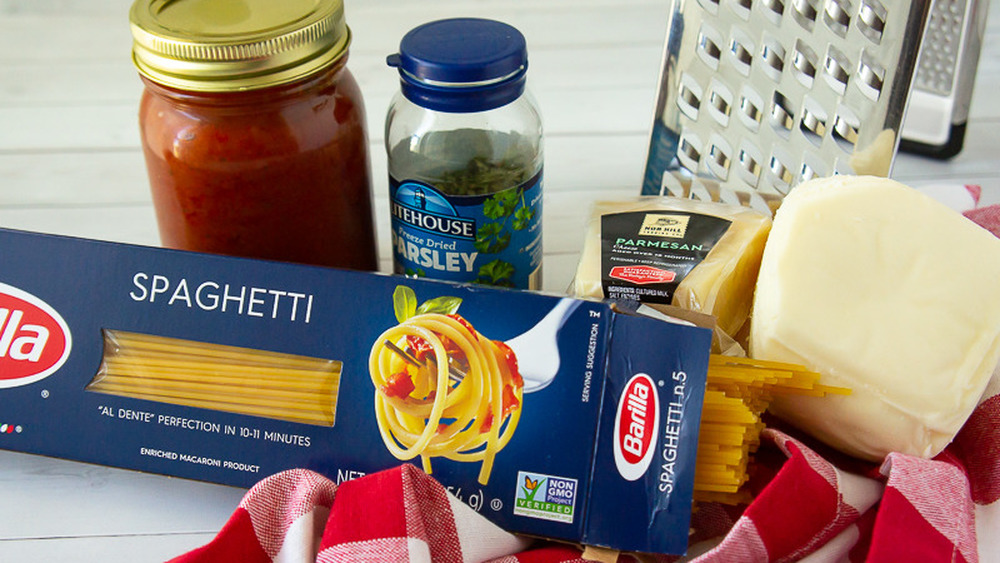 Mikayla Marin/Mashed
We all love a short ingredient list! Baked spaghetti is one of those fantastic recipes that delivers on big flavor from only five very simple ingredients.
By combining cooked spaghetti noodles, a quick flavorful marinara sauce, dried parsley, and a delicious blend of parmesan and mozzarella, you'll have everything you need to get this noodle casserole in the oven.
With the simplicity of ingredients like these, it's easy to customize and adjust your baked spaghetti to any diet, even vegan. Whatever your preferences, we have suggestions because baked spaghetti should definitely be enjoyed by all.
What pasta should you use for baked spaghetti?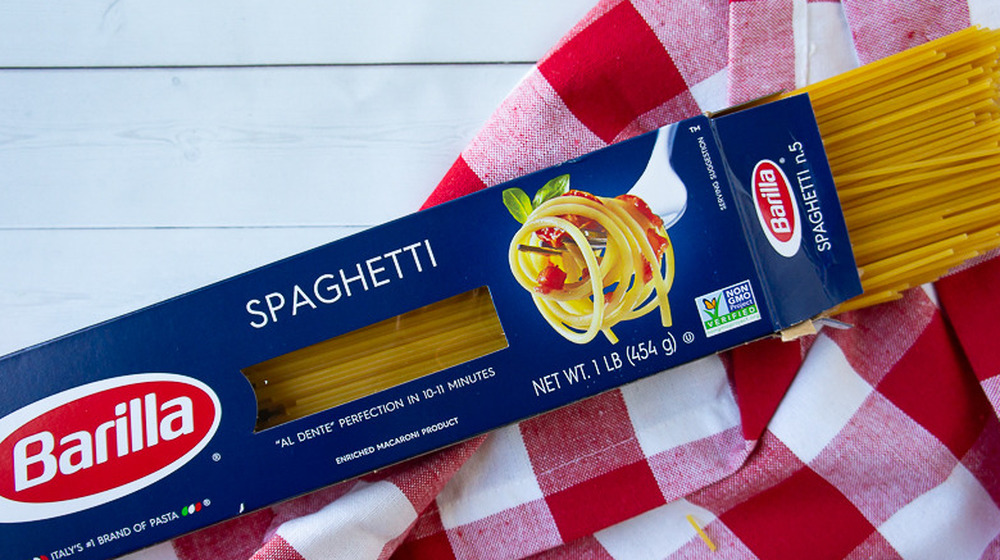 Mikayla Marin/Mashed
Despite what you may have thought growing up, spaghetti doesn't actually refer to the dish of pasta, sauce, and cheese. It's simply the name of the noodle you use.
For baked spaghetti, it's pretty obvious that we recommend spaghetti noodles, but in truth it doesn't matter too much. Only have ziti or elbow macaroni in the cupboard? Go for it.
Of course, there are certain noodles that simply don't hold up well in a casserole form. For this recipe, we recommend avoiding the long, flat noodles like fettuccine. They tend to clump and lose texture.
There's also some opportunity to add more nutrition if you're up for it! Swap classic noodles for protein- or vegetable-enhanced noodles, or even go for lentil or chickpea pasta for added health benefits. For vegan cooking, choose pasta made without eggs.
Get your favorite red sauce ready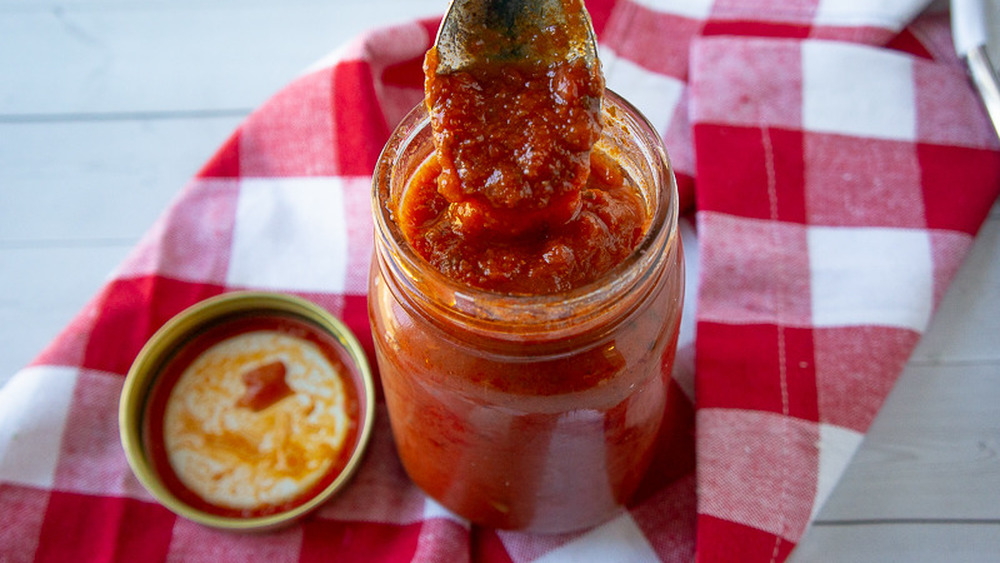 Mikayla Marin/Mashed
Let the arguments commence, meat or no meat? There's plenty of discussion in the food world about whether spaghetti (the dish, not the noodle) should include meat or just a classic tomato marinara.
This recipe calls for a simple, quick and easy marinara. You can make your own really easily, or you can buy a jar of your favorite sauce.
If you're a fan of Bolognese style sauces, aka meat sauces, then go for it! About half a pound is all you need. Simply brown it, drain off any excess grease, and combine it with your sauce of choice. The recipe doesn't change otherwise!
It's not baked spaghetti without lots of cheese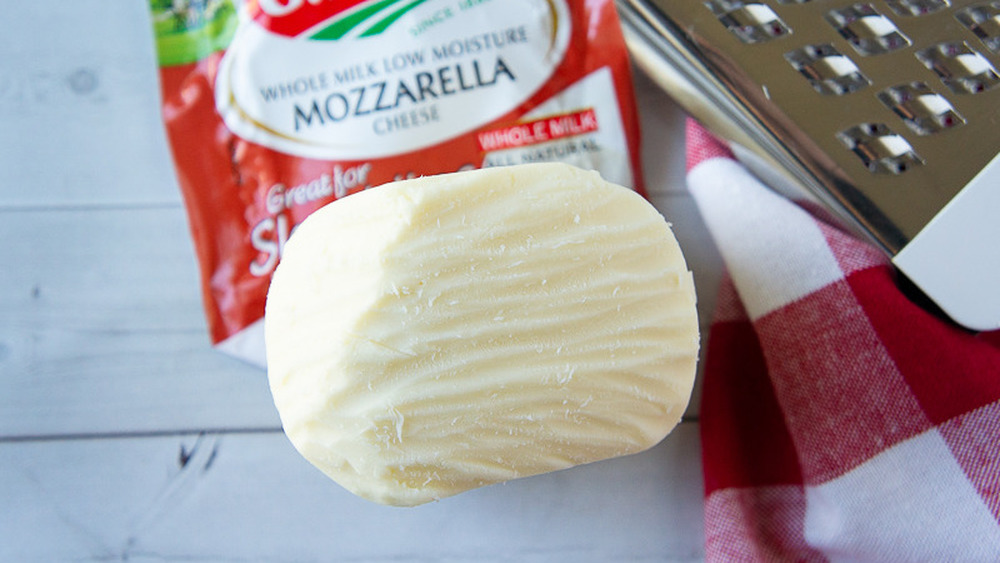 Mikayla Marin/Mashed
Baked spaghetti just wouldn't be right without cheese! The way we achieve that lasagna-like cheesy, crusty layer is by combining parmesan and mozzarella cheese on the top of the dish.
When it comes to cheese, quality is going to matter for flavor. If at all possible, go for an aged parmesan, or parmigiana Reggiano for bigger, more intense flavor.
For mozzarella, there are tons of options available to consumers. We recommend either a block of low-moisture mozzarella, as those are easy to grate, or fresh mozzarella, which can be torn and sprinkled. Avoid pre-shredded bags if you want the best melty gooey layer possible.
Finally for our vegan readers, go ahead and swap both of the cheeses for vegan versions. So long as they melt and provide the same creamy, salty flavor, they'll be just right for your vegan baked spaghetti.
A sprinkle of garnish finishes off your baked spaghetti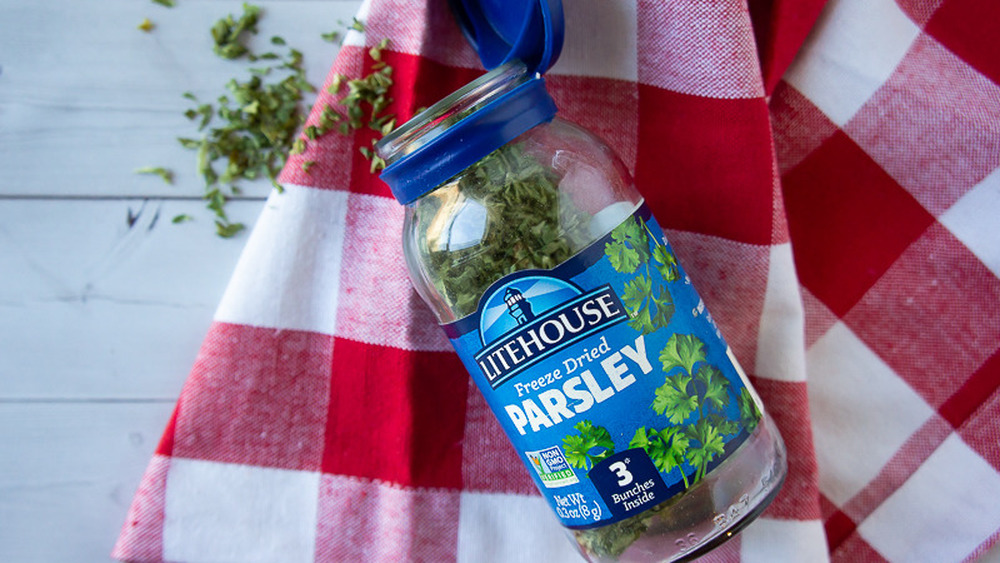 Mikayla Marin/Mashed
We love parsley around here. It's a vibrant, beautiful, and subtle herb that's easy to sprinkle across a dish. Here we actually use freeze-dried parsley — it rehydrates in the oven as the cheese melts, and gets baked into the topping. We think it gives just enough herb flavor to the cheese, and finishes the baked spaghetti beautifully.
Fresh parsley is always an option, of course. Sprinkle it on just as you would the dried parsley, or wait until the baked spaghetti comes out of the oven and sprinkle it on while the cheese is hot.
How to make perfect baked spaghetti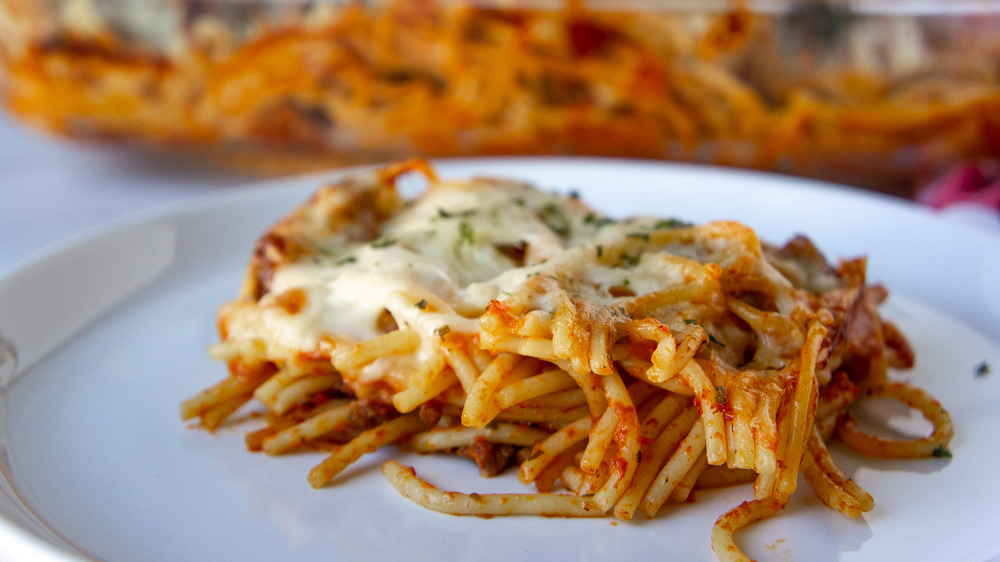 Mikayla Marin/Mashed
The first step to spaghetti of any form — this baked spaghetti included — is to cook the pasta. No tricks or special steps, just cook your pasta to al dente. Al dente is the point where it still has a little bite in the middle. Most boxed pastas recommend a time for reaching that perfect al dente point. 
As always, when cooking pasta make sure it has plenty of well-salted water to cook in. Lots of water prevents sticking and the salt is vital for adding flavor to the noodles.
While that gets started, also preheat your oven to 400 degrees Fahrenheit.
If you're adding meat to your baked spaghetti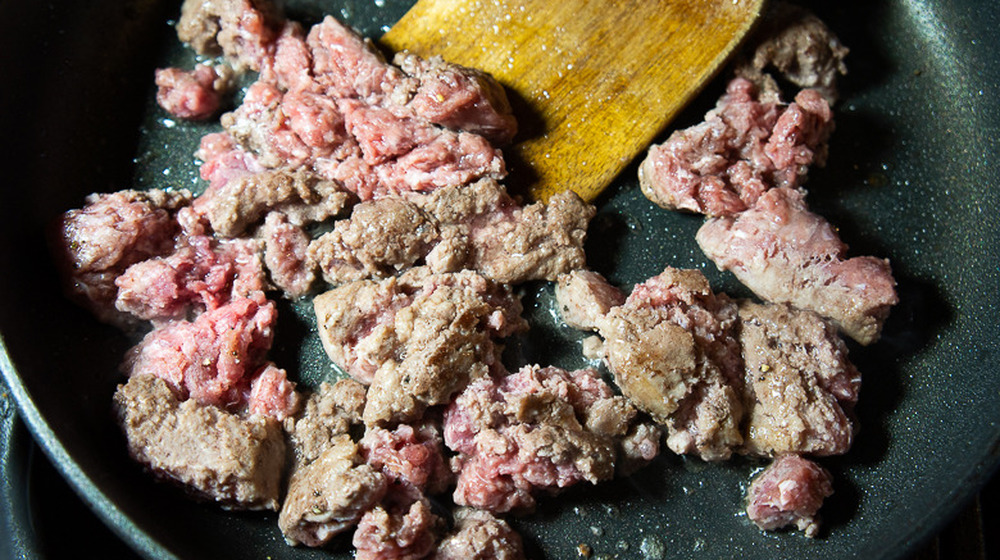 Mikayla Marin/Mashed
If you're choosing to add meat to your meal, take care of the browning while your pasta cooks. For meats like ground beef or turkey, just toss it in a hot skillet with some salt and pepper. If you opt for Italian sausage or other pre-seasoned meats, be sure to taste it after cooking and add seasoning only if it's needed.
Once the meat is cooked, you can either set it aside, or just dump your marinara right into the pan to warm it all through. They'll both be going in with the noodles, so when you opt to combine the two won't affect the recipe.
Top, toss, and bake your spaghetti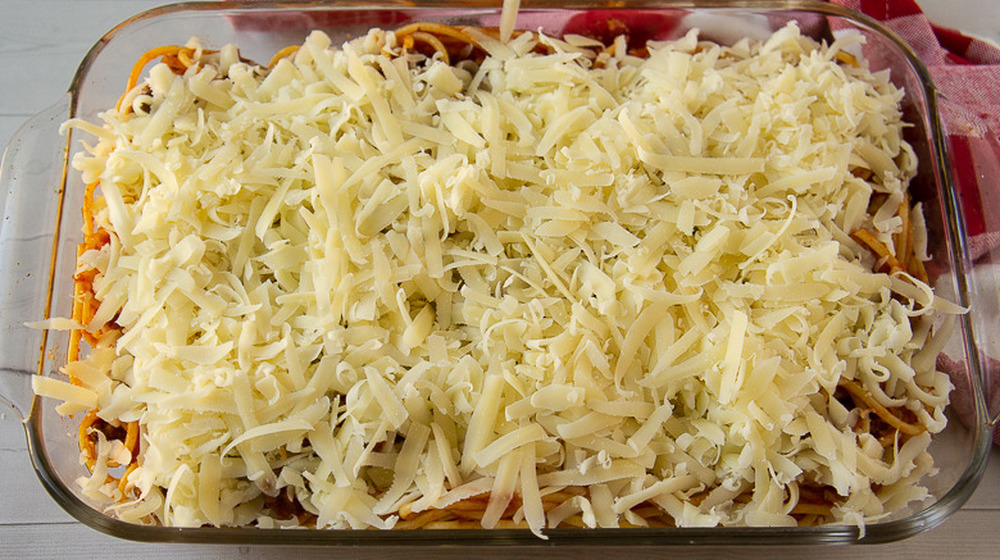 Mikayla Marin/Mashed
When your pasta is cooked, drain it off and return it to the pot. Add in the marinara, and meat if using. Toss it well so the noodles are evenly coated with the sauce.
Dump the whole pot of sauce-covered noodles into an 8x10 or similar sized baking dish. The pan you use doesn't matter a lot for baked spaghetti, just choose one that doesn't allow the noodles to spread too thin, or the dish will lose too much moisture during baking.
Top the noodles with both cheeses. Spread them as evenly as you can across the top and then sprinkle on your parsley. Pop the whole dish in the oven for 20 to 25 minutes, or until the cheese is bubbling, browning, and calling your name.
Make baked spaghetti ahead, or make double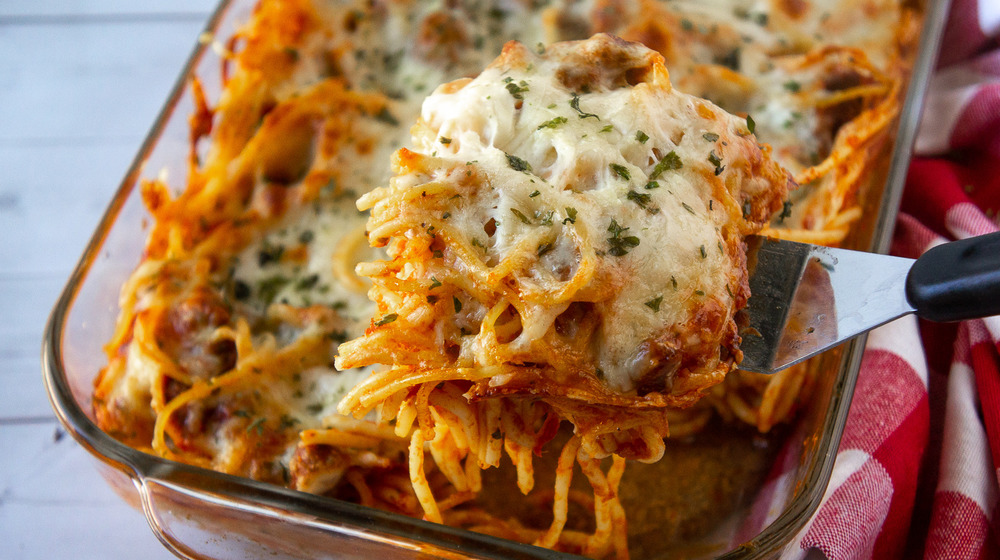 Mikayla Marin/Mashed
One of the big perks of casserole cooking is the ease at which you can prep ahead. Baked spaghetti is one of those dishes that holds up beautifully in the fridge and freezer, even after baking.
To make ahead, prep the dish to the point of adding the cheese and parsley. Then simply place it in the fridge until you're ready to bake. Baking from the fridge will require just a few extra minutes of baking.
For freezer prep you can do the exact same thing. Make sure you're using a freezer-safe dish that can transfer to the oven. To bake it from frozen, just cook at 400°Fahrenheit for 35 to 40 minutes. When it's hot throughout and the cheese is bubbling, it's ready.
This dish is also incredibly easy to double. Simply use the whole jar of marinara sauce, and a full box of pasta, then double the cheese. A 9x13 pan and a few extra minutes in the oven are all you need to have an extra large baked spaghetti ready to go. Or, split it into two for dinner another night.
Baked Spaghetti Recipe
It's pasta night again and the debate is on once more, spaghetti or lasagna, baked or fresh? This baked spaghetti dish lets you have both.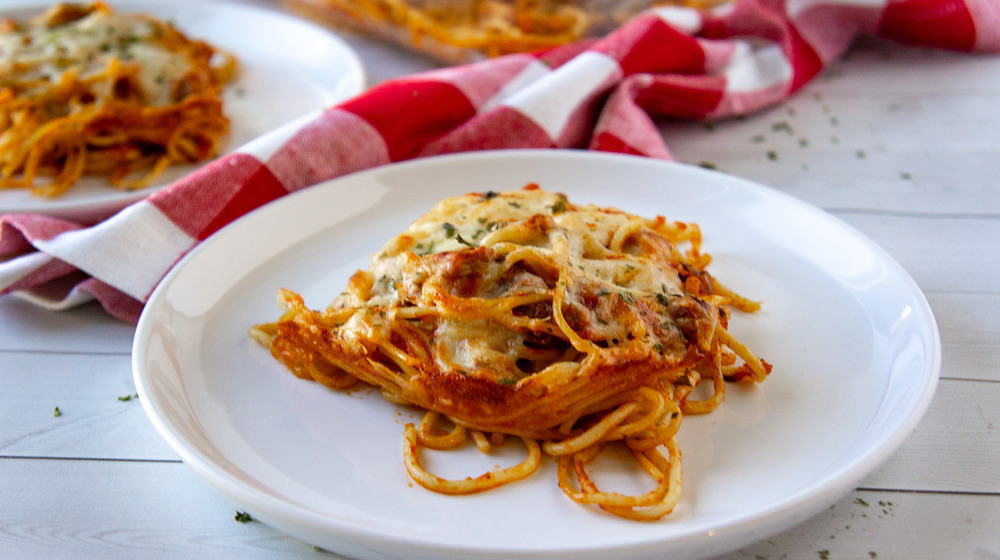 Ingredients
½ lb. dried spaghetti noodles
Salt, to taste
½ lb. ground beef or turkey, optional
1 ½ cup marinara sauce
2 cups shredded mozzarella
1 cup shredded parmesan
1 tablespoon dried parsley
Directions
Bring a large pot of well salted water to a boil over high heat and preheat your oven to 450°F.
If adding ground meat, cook until browned over medium heat.
Cook pasta until al dente then drain and return to the pot.
Add the ground meat and marinara to the noodles and gently toss to combine.
Pour the spaghetti into an 8 x 10 baking dish and top with both cheeses. Sprinkle on parsley.
Bake for 20 to 25 minutes or until cheese is bubbly and turning golden in some spots. Serve immediately.
Nutrition
| | |
| --- | --- |
| Calories per Serving | 479 |
| Total Fat | 23.9 g |
| Saturated Fat | 12.1 g |
| Trans Fat | 0.4 g |
| Cholesterol | 74.5 mg |
| | |
| --- | --- |
| Total Carbohydrates | 34.9 g |
| Dietary Fiber | 2.5 g |
| Total Sugars | 5.2 g |
| Sodium | 880.1 mg |
| Protein | 29.6 g |