This Is What You Can Substitute For Pumpkin Pie Spice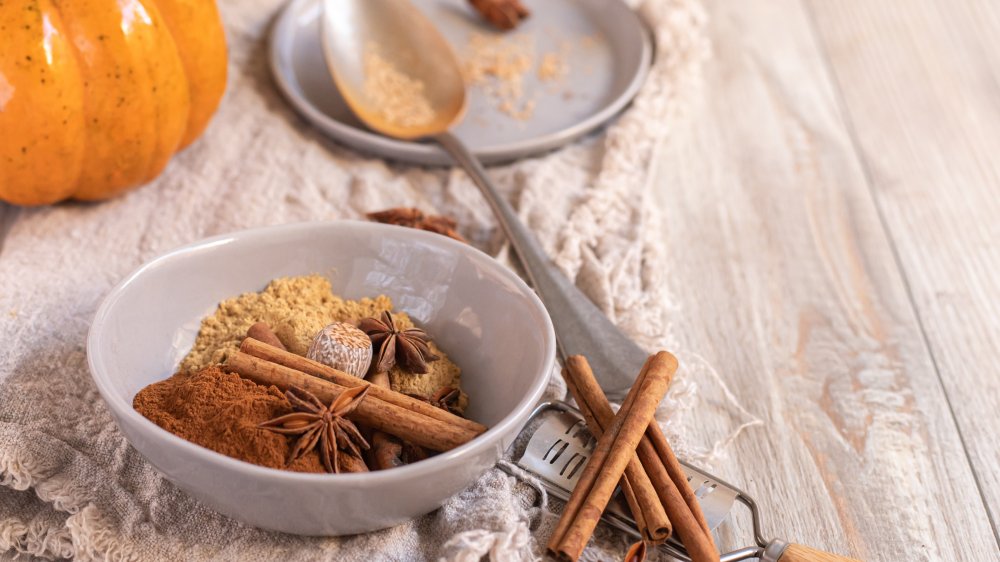 Shutterstock
Pumpkin spice is more than just an ingredient — these days it's a lifestyle, inspiring everything from coffee drinks to Spam. It is, however, an actual baking ingredient, so what to do when you go to make a holiday favorite only to discover that you're fresh out of pumpkin pie spice? 
Pumpkin pie spice is a blend of other spices. If you buy the readily-available McCormick Pumpkin Pie Spice, what you're getting is a blend of cinnamon, ginger, nutmeg, and allspice (via McCormick). Once you know what's actually in pumpkin pie spice, it's a lot easier to make a tasty substitution at home. 
The best substitute for pumpkin pie spice
Shutterstock
If your spice cabinet is generally well-stocked, you might already have the easiest pumpkin pie spice substitute on hand — apple pie spice. Apple pie spice is almost identical to pumpkin pie spice. It usually includes cinnamon, nutmeg, and allspice, and is merely lacking the ginger you'll find in pumpkin pie spice (via McCormick). 
If you don't happen to have that on hand, you have two options. 
For a really simple substitute, you can try just using cinnamon. Cinnamon is the dominant flavor in pumpkin pie spice anyway, and while using just cinnamon won't give the dish you're making quite the same complexity as a pumpkin pie spice blend will, it's something that almost everyone already has in their cupboard and will do the trick in a pinch. 
Another alternative is making your own pumpkin spice blend from cinnamon, nutmeg, ginger, and allspice. This gives you the ability to adjust the blend to your personal preferences — go heavy on the nutmeg if you like that flavor to come through, or even add some ground cloves if you want a spicier flavor. 
If you don't have any pumpkin pie spice on hand, don't panic. Whether you substitute it with apple pie spice, cinnamon, or a homemade pumpkin spice blend, you're bound to bake up a hit.