Aldi's Sweet Heart-Shaped Pretzels Are Perfect For Valentine's Day
Valentine's Day is practically upon us, and Aldi has just the thing to spoil yourself or your loved ones with a perfectly sweet and salty treat. It's hard to beat chocolate-covered pretzels when it comes to their fabulous combo of sweet and salty, but the ones Aldi released just might. According to the Aldi fan Instagram account,@theamazingaldi, the budget-friendly store has stocked heart-shaped chocolate covered pretzels on its shelves, and they're not something you want to miss out on.
The post was shared on Tuesday, Feb. 9, and within a day it received more than 700 likes. The caption read, "Who doesn't love chocolate covered pretzels?" Seriously — everyone does. But it's the heart shape that makes these ones from the Clancy's brand so special. They also happen to pair perfectly with Aldi's seasonal heart-shaped cheese and romantic pizzas. But if it's pretzels you're after, here's what to know about the sweet new treat that's perfectly fitting for celebrating Valentine's Day.
This is how customers feel about these heart-shaped sweet and salty treats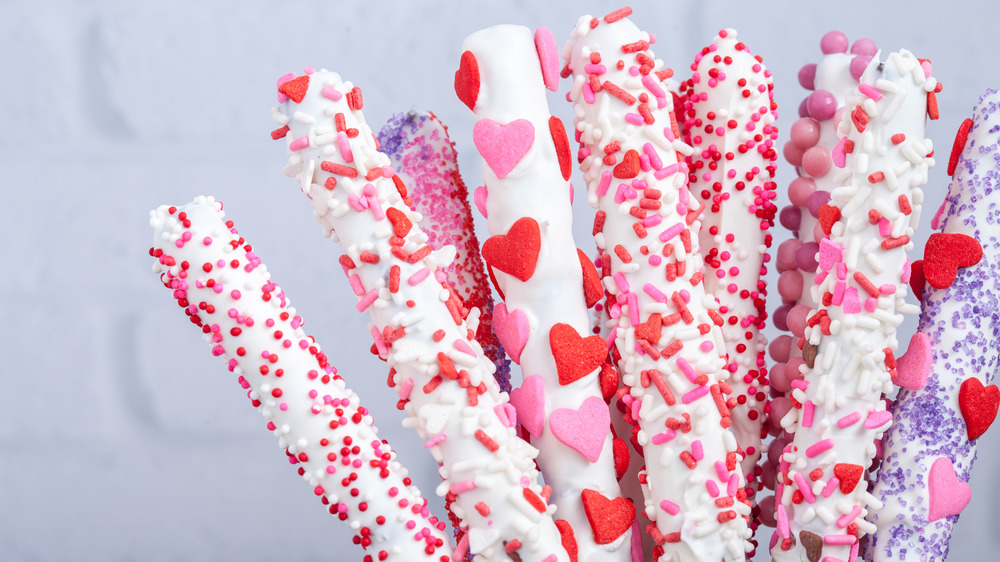 Shutterstock
Your two options for these pretzels are as follows: white chocolate-covered pretzels topped with round red sprinkles or you can grab the pink chocolate-covered pretzels without sprinkles. Each seven-ounce bag is just $1.99, so you can pick up an armful. That low price also makes them a great stuffer for Valentine's Day gift baskets. But regardless of the flavor you choose, people are loving them.
Aldi is always stocking up on cult-favorite products, and needless to say, customers are very excited about this latest one. A couple followers wrote how tasty they were, while another person said how much they wanted to buy. Someone else tagged a friend and asked, "Where were these," followed by a wide-eyed emoji. And that definitely will be a question everyone will ask if you wait too long to pick these up — Valentine's Day is this weekend after all.
So, be sure to make another Aldi run as soon as you can. You know these won't last long at such a low price. Besides, heart-shaped pretzels are still a great treat even after the 14th has passed.