No-Bake Oatmeal Cookie Recipe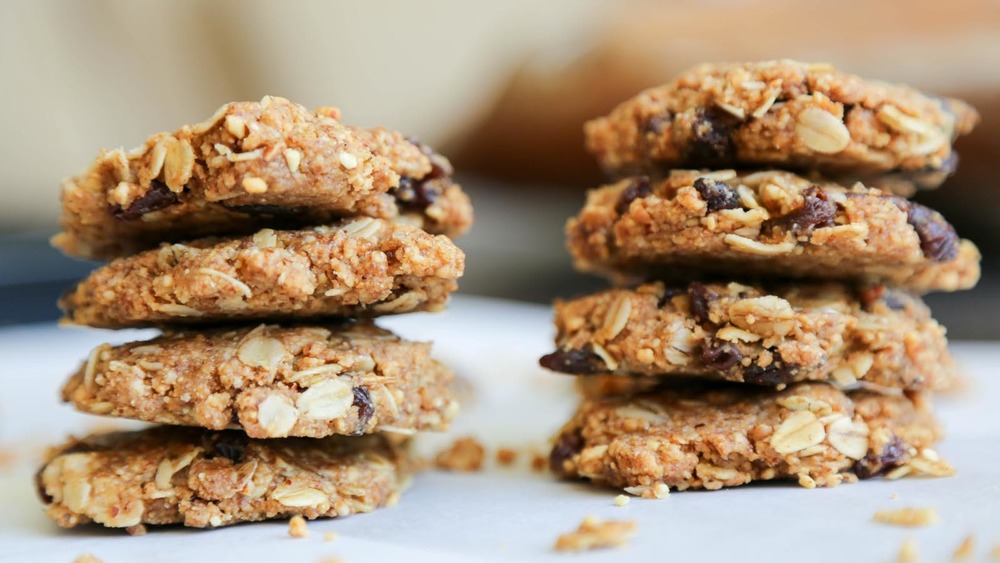 Maren Epstein
If the thought of no-bake oatmeal cookies conjures up visions of chocolate bombs brimming with oatmeal bits that might be too sweet for your liking — or for your health, then you will love this health-conscious oatmeal cookie recipe that you can somewhat customize to your taste.
It may sound odd to use healthy and cookie in the same sentence, but this quick and easy recipe uses natural maple syrup (or honey, if preferred) instead of sugar with a hint of cinnamon for additional flavor. Even better is that this recipe takes just 10 minutes to prepare and 25 minutes to cook for 15 cookies — and you have your choice of nut butter and dried fruit.
Recipe developer Maren Epstein created this recipe for those with a sweet tooth who need a healthier alternative for bars of chocolate or a bowl of ice cream as a mid-day pick-me-up and others who just want to start their day with some fun: "These are so healthy that you really could eat them for breakfast. My daughter absolutely loves them and will often have one for breakfast with some fruit. There is a lot of protein in the almond butter so I'm more than happy to let her have a 'cookie' for breakfast," Epstein said.
Gather your no-bake oatmeal cookie ingredients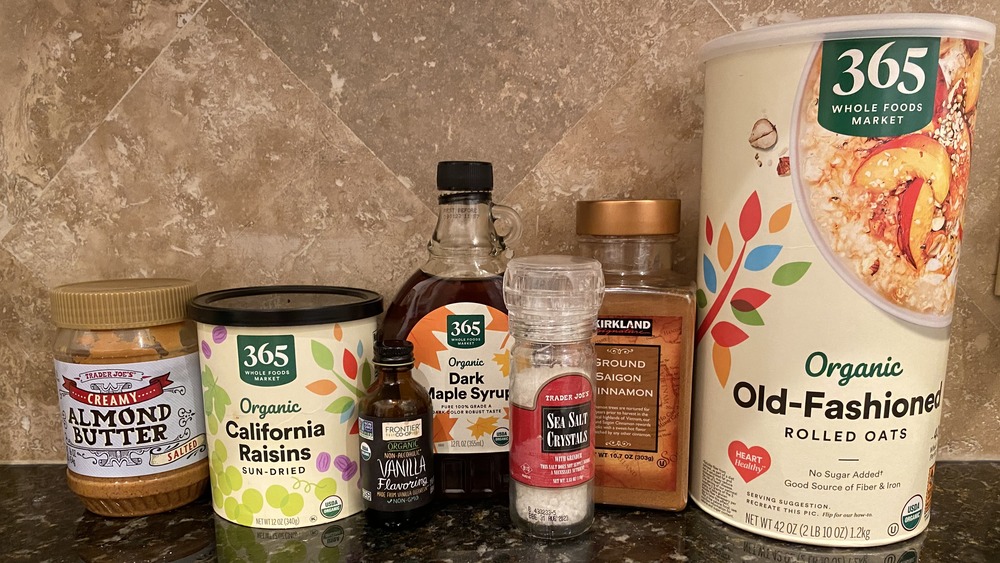 Maren Epstein
This recipe is fairly simple, and it doesn't require more than seven ingredients that can be found quite easily, if you don't already have them sitting in your cupboard. To make no-bake oatmeal cookies, you'll need oatmeal of course, along with raisins (or other dried fruit), almond butter (or nut butter of your choice), maple syrup (or honey), salt, cinnamon and vanilla extract. 
For health reasons, Epstein doesn't use peanut butter, but the chef advises that any kind of preferred nut butter could be substituted for the almond butter. "I bet peanut butter would taste delicious," Epstein said. Other options could be sunflower butter, soy nut butter and even pea butter.
Blend the base for your no-bake oatmeal cookies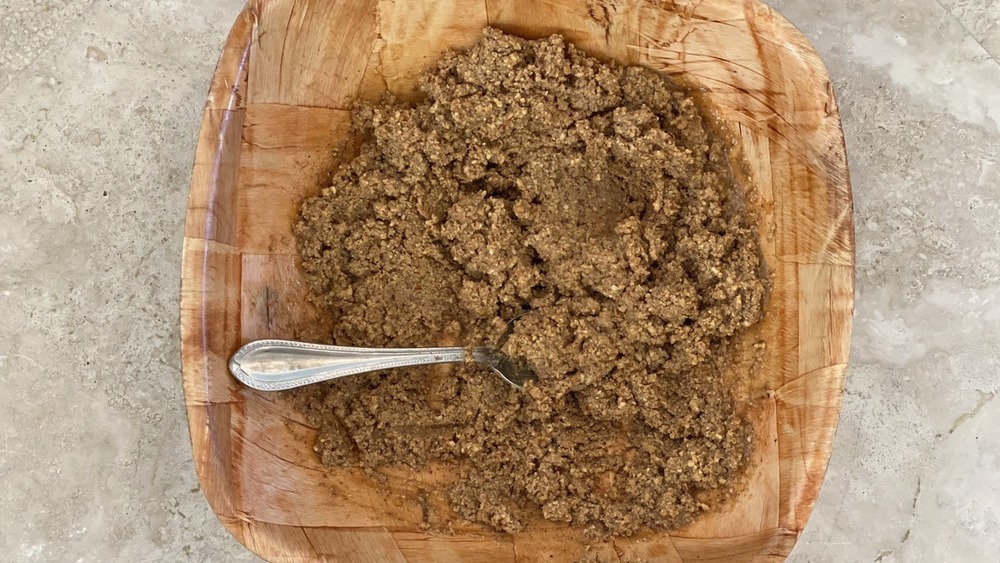 Maren Epstein
Take one and 1/3 of a cup of tasty almond butter (or another nut butter of your choice) and scoop it into a medium-sized mixing bowl. Add in 1/3 of a cup of maple syrup or honey and combine both ingredients well. It will be a sticky concoction, so bust out those arm muscles and get to stirring!
Once it's thoroughly blended, microwave the mixture for 30 seconds at a time and stir in between each 30-second session until the almond butter softens completely. It will take approximately four or five times in the microwave until the butter-maple syrup blend is smooth and creamy. As Epstein explains, "The maple syrup holds it all together."
Add in the rest of the no-bake oatmeal cookie ingredients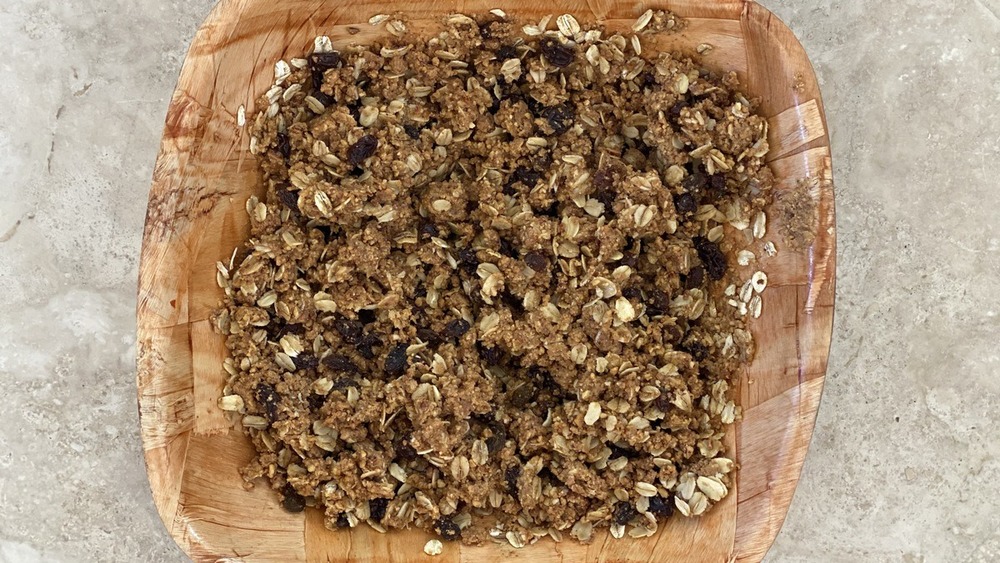 Maren Epstein
Once the maple syrup-almond butter combination has softened completely, it's time to add in the rest of the ingredients to the batter. 
Pour in 2 cups of oatmeal, 3/4 of a cup of raisins, 1 teaspoon of cinnamon, 1 teaspoon of vanilla extract and a pinch of salt into the warmed almond butter mixture and combine thoroughly. Again, the batter will be somewhat sticky and stiff, so get your workout in and blend well. 
Epstein noted that the raisins can be swapped out for other dried fruit, including cranberries, apples or dates. "These cookies are so versatile," she said.
You're almost done with your no-bake oatmeal cookies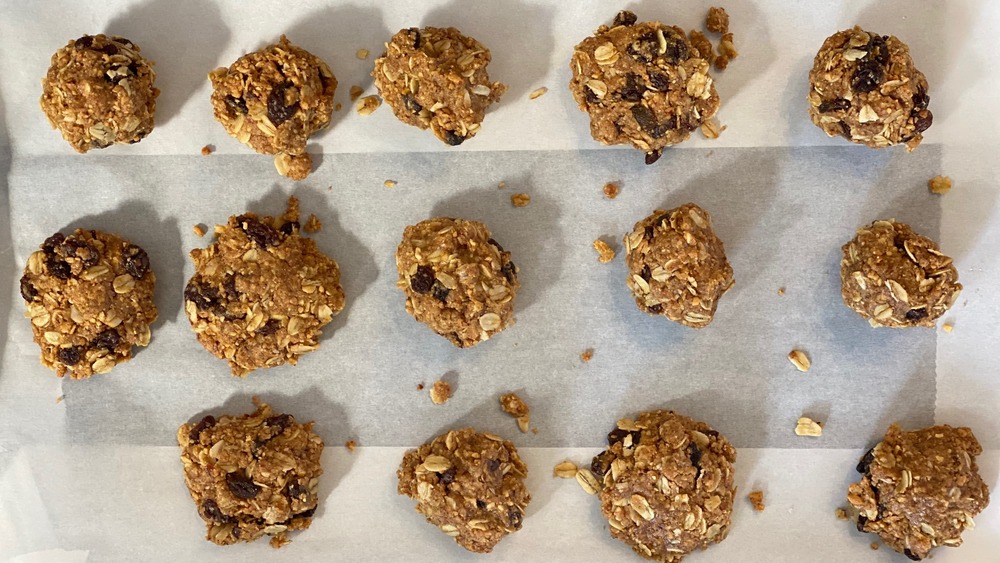 Maren Epstein
Use an ice cream scoop that holds two tablespoons to swoop up the batter. Roll each scoop into a ball and gently place it on a parchment-lined cookie sheet — parchment paper works better than cooking spray or another oil because it doesn't alter the composition of the raw dough. 
Next, use the palm of your hand to press down on the dough balls in order to flatten them. Epstein advises that you can keep your hands clean several ways: "You can use a glass to push the cookies down. I'm sure that would create a nice even cookie. While this recipe is fast it is definitely messy. If you really don't want to get your hands dirty you can use some latex gloves.
Slide the sheet of cookies into the refrigerator for 25 minutes to help the cookies harden.
An alternative method of making these no-bake oatmeal cookies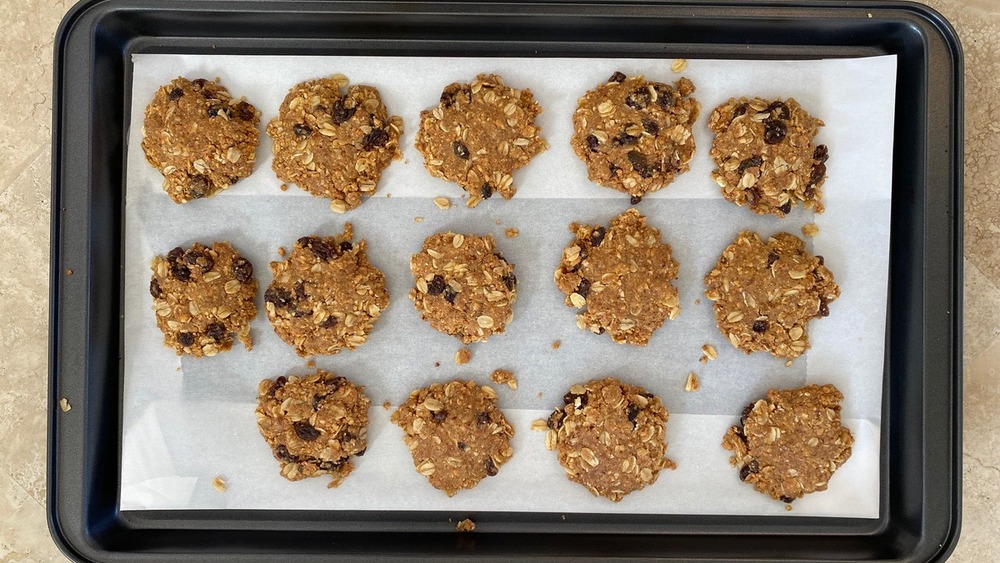 Maren Epstein
Since forming the cookies into balls and then tenderly pressing down on them with your hands can cause an ooey gooey mess, Epstein has some more suggestions on containing the mess.
Epstein advises placing the bowl of batter next to the sink and running your hands under hot water to help quickly dissolve the maple syrup in between forming each cookie. Be sure to keep a towel handy, too, because you don't want to handle the cookie dough with wet hands.
"Another trick that I like to use is to mix the batter directly in the sink. That way if there are any spills you can simply rinse them away," Epstein said.
Helpful hints for making a great no-bake oatmeal cookie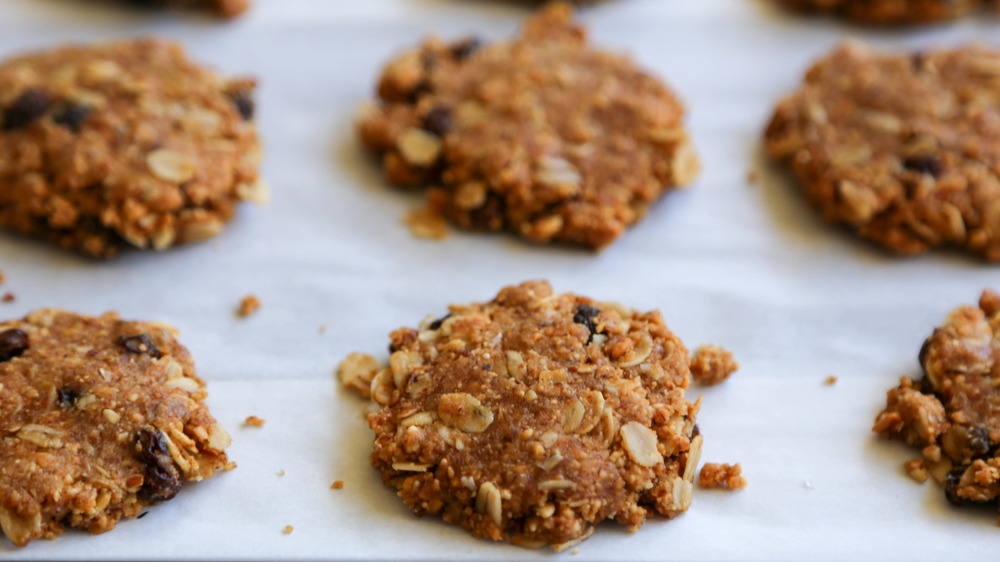 Maren Epstein
If you're having trouble getting the cookie batter to clump together really well so you can scoop the little balls and flatten them easily onto the baking sheet, you can add melted coconut oil to the mix for some help, Epstein advised.
For a better cookie form, you also can use less than two cups of oatmeal. They will likely look smoother as a result, like a peanut butter cookie, instead of clumpy with the healthy oats slightly jutting out.
"I like lots of oats in my cookies, [but] If you are having trouble you can use less oats or add some oil or more maple syrup," Epstein said.
No-Bake Oatmeal Cookie Recipe
These no-bake oatmeal cookies can be customized and enjoyed guilt-free at anytime of day, including breakfast or a mid-day snack.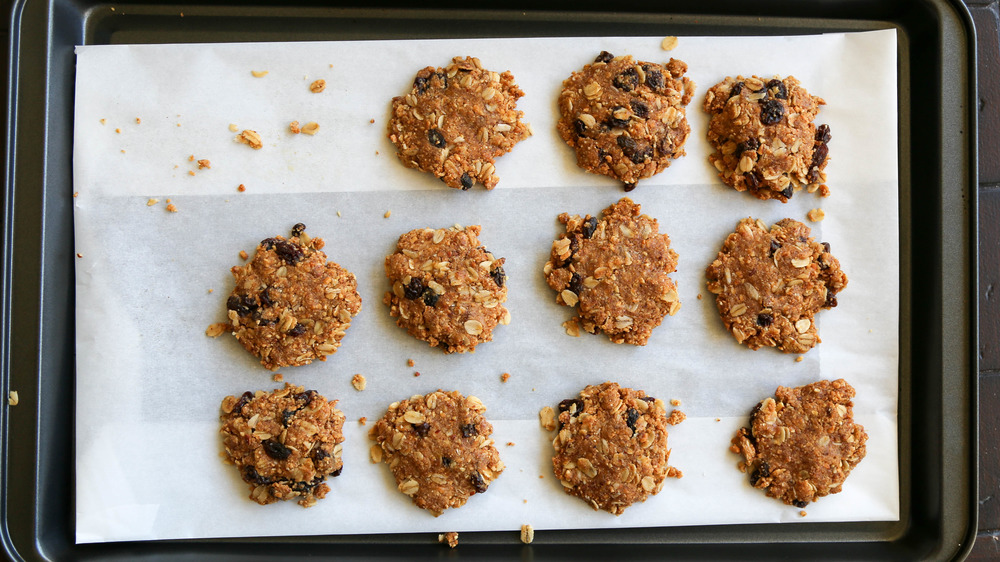 Ingredients
2 cups oatmeal
¾ cups raisins
1 ⅓ cup almond butter
⅓ cup maple syrup
1 pinch salt
1 tsp cinnamon
1 tsp vanilla extract
Directions
Combine almond butter and maple syrup in a medium mixing bowl.
Microwave for 30 seconds at a time and mix in between heating until almond butter softens.
Thoroughly mix oats, raisins, cinnamon, vanilla extract and salt into the warmed almond butter.
Use a 2-tablespoon ice cream scoop to scoop out the batter.
Roll batter into a ball and then place it on parchment-lined cookie sheet.
Using the palm of your hand, press the dough balls down to flatten them.
Place the cookies in the fridge for 25 minutes to harden.
Nutrition
| | |
| --- | --- |
| Calories per Serving | 218 |
| Total Fat | 13.1 g |
| Saturated Fat | 1.0 g |
| Trans Fat | 0.0 g |
| Cholesterol | 0.0 mg |
| | |
| --- | --- |
| Total Carbohydrates | 22.1 g |
| Dietary Fiber | 3.7 g |
| Total Sugars | 9.7 g |
| Sodium | 13.7 mg |
| Protein | 6.3 g |