Aldi's Cashew Butter Is Really Turning Heads
Finding the perfect food that is healthy and satisfying isn't always easy. The love of the classic PB&J hits all the right spots when it comes to nostalgia and comfort food, but purple jelly and peanut butter just don't check all the same boxes they used to. Fortunately, cashew butter is here to take your sandwich to the next level. As a bonus, you won't have to pay a sky-high price for cashews.
Aldi's latest release of Simply Nature Creamy Cashew Butter is turning heads. The 12 oz jars are currently available for $4.89 (via Instagram). The label notes that this cashew butter non-GMO, no stir, and gluten-free. We were able to check independent sources and the nutrition info is listed as dry-roasted cashews, sunflower oil, palm oil, cane sugar, sea salt (via Nutritionix). This item is labeled as a limited-time find on Instacart, so supplies may be scarce in your area (via Instacart).
A health-focused peanut butter alternative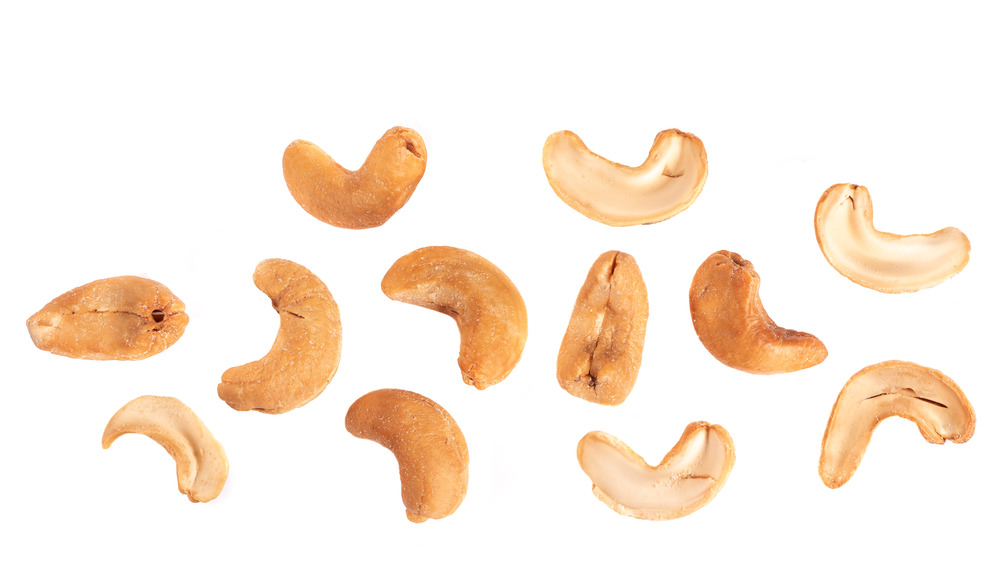 Shutterstock
People really like this cashew butter. A fan on social media writes, "It's sooooo good" while another simply sends out heart emojis (via Instagram). Another happy foodie notes, "I usually pay close to $10 for it," so this price is a steal, too. As with many natural foods, there are always a few detractors, however. One reviewer shares, "This lacks flavor. [O]nly when I imagine what cashew taste like can I taste any. Forget about spending this on to anything that already has flavor. The texture is good and creamy" (via Fooducate).
It can be true that for those used to highly processed food, more natural foods can seem a little bland. Another user says that to fix that issue, they simply add a little salt to their own jar for better flavor. No matter how you enjoy it, cashews are pretty good for you. "Cashew butter contains amino acids and healthy fats, which keep your heart healthy, as well as magnesium which speeds up your metabolism and improves your immunity," shares NetDoctor. Just remember, with a food like this so rich in protein and calories, it's best not to overindulge.