3-Ingredient Peanut Butter Cookie Recipe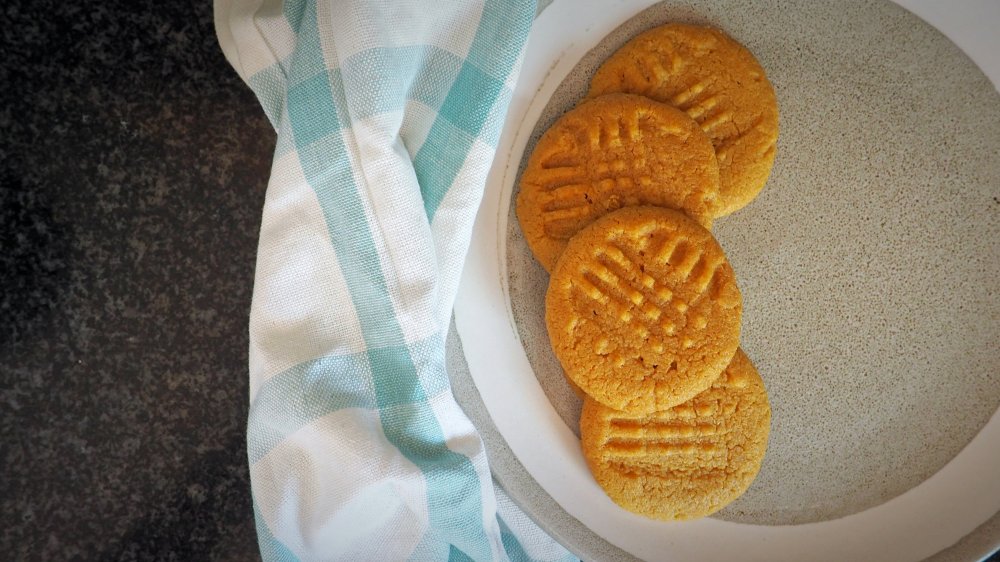 Lindsay D. Mattison/Mashed
We've developed a lot of baking recipes over the years, and they usually end up being a little complicated. Something like pound cake, for example, requires a precise mixing of ingredients, creaming the butter and sugar before adding the eggs one at a time. Cookies, while they aren't quite as particular as cakes and muffins, still require a mixing process that demands care and attention to details to prevent a dense, dry cookie.
So imagine our surprise when we learned you could make cookies with only three ingredients — peanut butter, flour, and egg. We weren't sure it could be true. After all, how do you make a cookie without using any flour at all? And how will it turn out soft and fluffy without a leavener like baking powder or baking soda? It turns out these cookies are not only naturally gluten-free and easy to make with pantry staples, but they're also just as good as cookies made with more complicated recipes.
Gather the ingredients for 3-ingredient peanut butter cookies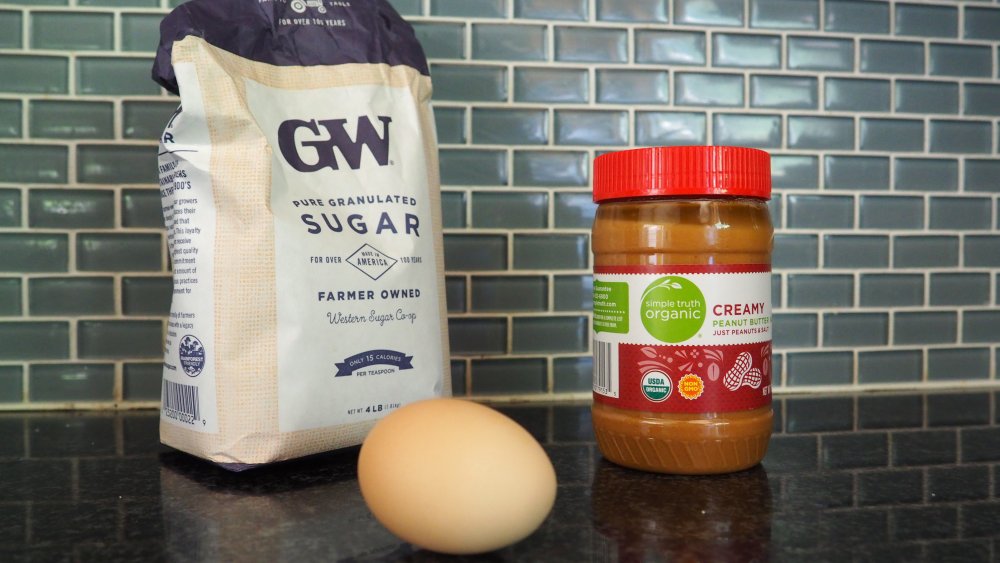 Lindsay D. Mattison/Mashed
True to our word, these cookies only contain three ingredients: Peanut butter, white sugar, and a large egg. The proportions are so simple, you'll probably have this recipe memorized after the first attempt. Simply mix together one cup each of peanut butter and sugar, and a single egg. How does it work without flour? Gluten-Free Cooking School explains that the combination of ground peanuts and the natural oils from peanuts happens to be a perfect substitution for flour in cookie recipes.
In addition to following a simple ingredients list, this recipe is also extremely adaptable. If you don't have any white sugar on hand, feel free to swap-in brown sugar instead. The molasses contained in the brown sugar will compete with the flavor of the peanut butter, but not in a bad way. The cookies will have added depth of flavor that you may find you like better than the original!
Can you make 3-ingredient peanut butter cookies with crunchy peanut butter?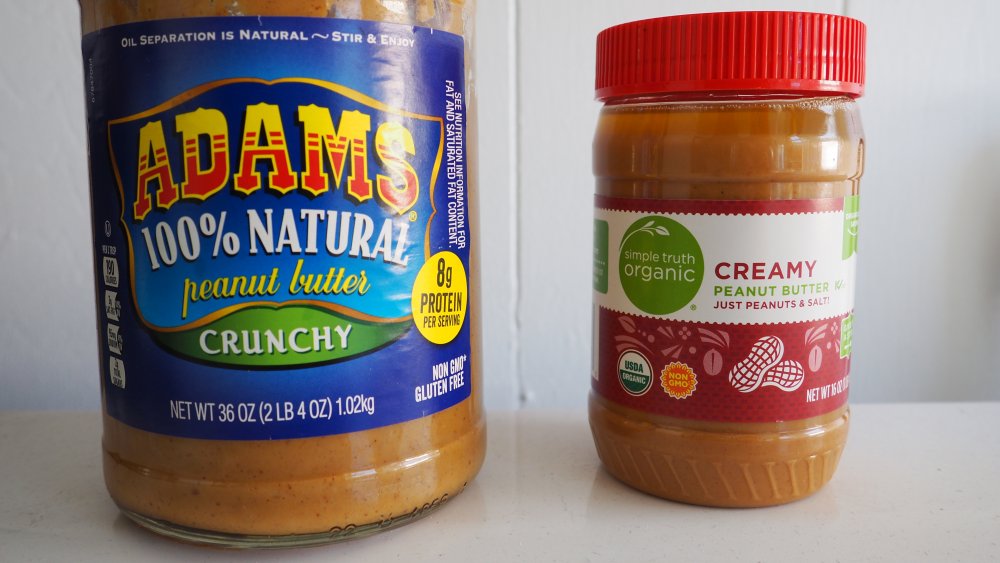 Lindsay D. Mattison/Mashed
We love crunchy peanut butter as much as the next guy, but there's a reason this recipe calls for creamy peanut butter. While it is possible to make 3-ingredient peanut butter cookies with crunchy peanut butter, they won't turn out the same. We did a few test batches and learned that the dough doesn't become smooth without creamy peanut butter. When we swapped-in a crunchy variety, the dough never came together quite the same. The cookies still turned out, but they were grittier and significantly more crumbly.
But that doesn't mean you have to stick to creamy peanut butter — you can absolutely play around with the recipe by using all kinds of different nut butters, like almond butter or cashew butter. If you want to make a really exotic cookie, try using hazelnut butter or macadamia nut butter. Just make sure they're smooth — not crunchy — for best results.
Is the criss-cross pattern essential for 3-ingredient peanut butter cookies?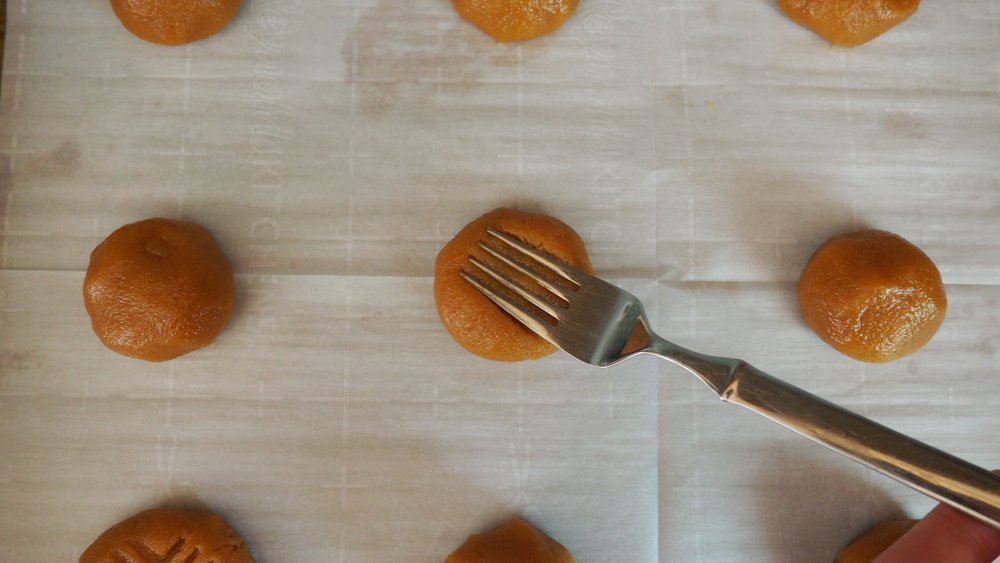 Lindsay D. Mattison/Mashed
Unlike normal cookies, these 3-ingredient cookies don't spread in the oven. Regular cookies contain butter, which spreads as it melts, and butter melts at lower temperatures than peanut butter — a microwave at 40 percent power will melt butter in 30 seconds, whereas it can take longer than 30 seconds to melt peanut butter in a microwave at 100 percent power. Since these cookies won't spread out, baking round balls of dough is a bad idea because the ball shape is too dense to cook through in 10 minutes. Instead, we need to flatten the cookies to help them cook more evenly. What's the easiest way to do that? Use a fork.
Simply press down on the cookie to flatten it out. These cookies contain plenty of oil from the peanut butter, so the fork shouldn't stick to the cookie as you make an impression. Then, turn the fork at a 90-degree angle and press it down again. You could use a spoon or a knife, but the fork achieves two things: It flattens the cookie enough to cook perfectly, while making a nice criss-cross patterned decoration on top.
Mix the ingredients together for 3-ingredient peanut butter cookies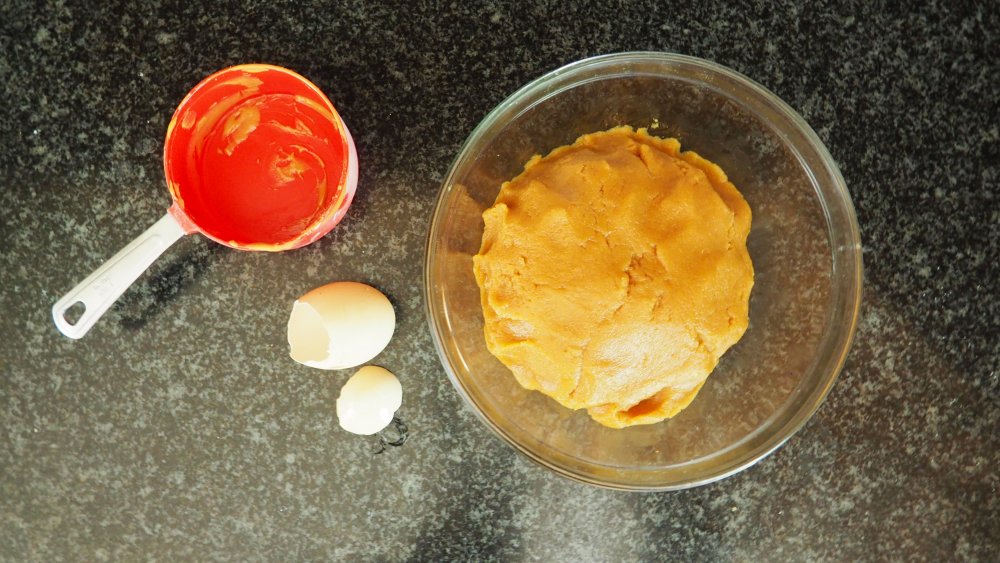 Lindsay D. Mattison/Mashed
The best part of this recipe — other than the simplicity of the ingredients list and the short baking time — is that you don't have to worry about over or under mixing. These cookies don't contain any gluten from flour or leaveners from baking soda or powder. That means they're almost impossible to mess up! You can't really overmix them and overdevelop the gluten, because they're naturally gluten-free. That makes these 3-ingredient cookies an ideal project for anyone who is new to baking, and it's a great opportunity to let the kids help if you want to involve them in the process.
Start by preheating the oven to 350 degrees Fahrenheit. Line two baking sheets with parchment paper and set aside. If you don't have two cookie sheets, you can bake these cookies in two batches. Then, in a large bowl, mix the peanut butter, sugar, and egg. Mix the dough with an electric mixer, in a stand mixer, or by hand until it's smooth and creamy.
Fun additions to these 3-ingredient peanut butter cookies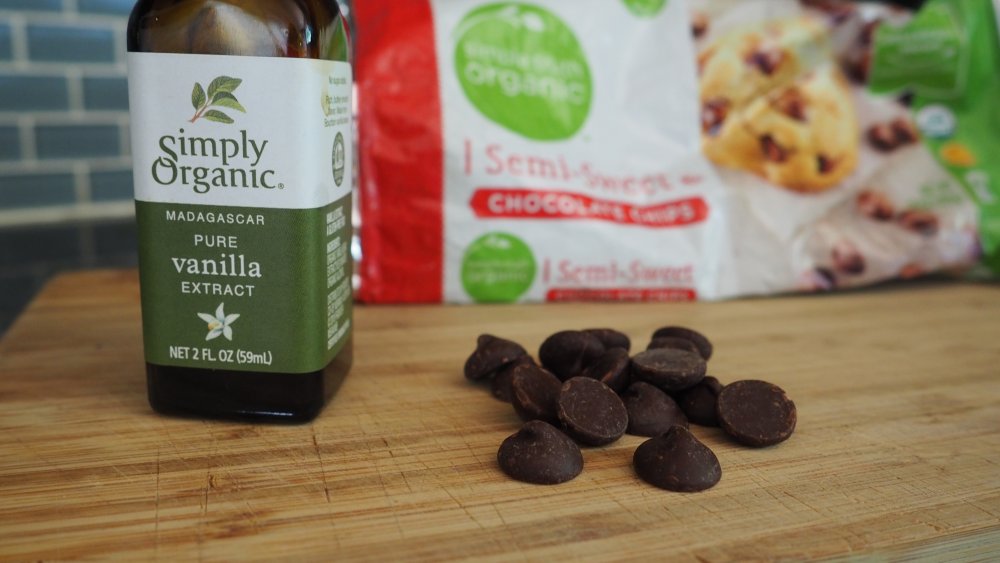 Lindsay D. Mattison/Mashed
If you don't want to be tied down by three ingredients, feel free to add a few additions to your cookies. A teaspoon of vanilla goes a long way to enhancing the flavor of these tasty cookies, and you could also add an extra egg to add richness. When adding the second egg, it's helpful to separate the white and the yolk from the extra egg and beat the egg white to soft peaks. This will incorporate extra air into the batter, helping the cookie hold its shape. The extra egg will create a gooier cookies, though, and it may be too loose to roll into balls, so you'll need to use a cookie scoop if you add this ingredient.
Other fun additions to these cookies include a cup of mini chocolate chips. A cup of toasted, chopped peanuts or 1/2 cup shredded coconut is a nice way to add texture, too. Avoid adding any ingredients with high liquid content, like jam, as these can make the cookies soggy. If you want to add fruit to the cookies, try a cup of chopped, dried fruit, like cranberries or raisins.
Portion, press, and bake the 3-ingredient peanut butter cookies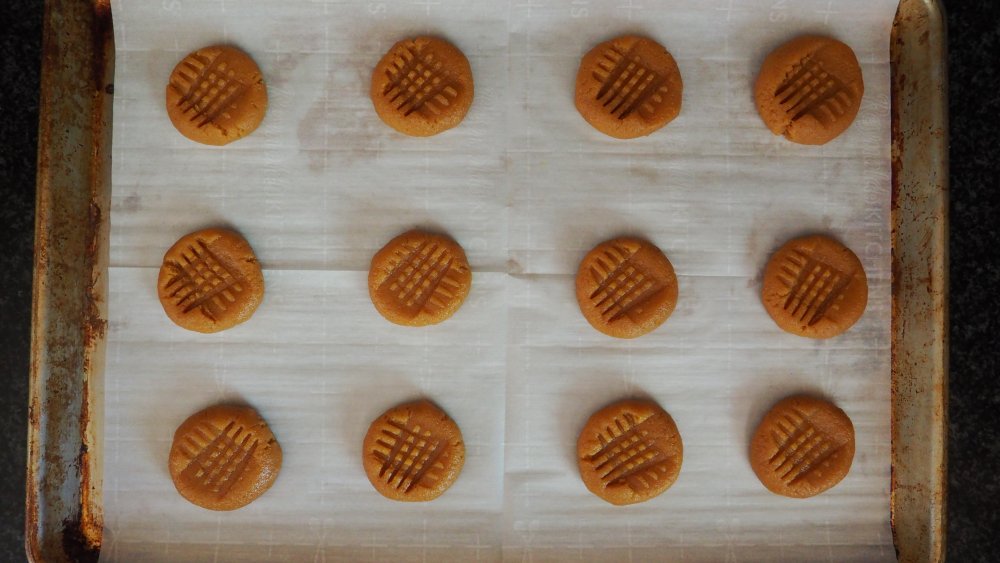 Lindsay D. Mattison/Mashed
When the dough has come together, portion out one-tablespoon balls of dough. Using your hands, roll them into small rounds and place them on the baking sheet about two inches apart. If you like extra sweet cookies, feel free to coat the rounds with extra sugar to give them a crispy exterior.
When all the cookies are on the baking sheet, flatten the dough balls using a fork. Press down firmly with the fork before turning it 90 degrees and pressing down again, creating a criss-cross pattern. Then, pop the sheets into the oven and bake for 10 minutes, until the cookies are lightly browned on top.
It's really difficult to tell when these 3-ingredient cookies are done because they're very soft and gooey when they first come out of the oven. If you're concerned that the cookies aren't cooked through, bake them for an additional two minutes. Be careful, though: Overbaking these cookies will cause them to become dry and extra crumbly.
Let the 3-ingredient peanut butter cookies cool on a rack before storing them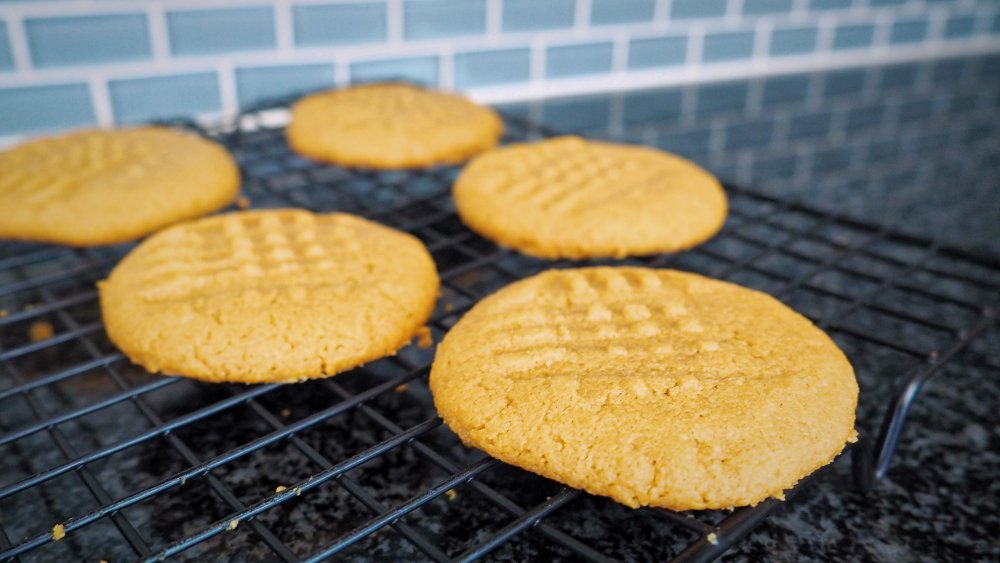 Lindsay D. Mattison/Mashed
When the cookies are finished baking, let them sit on the baking sheet for two minutes. If you move them immediately, they will fall apart. Trust us: We tried and failed. A little bit of patience goes a long way here. After the two minutes are up, use a wide spatula to move the cookies — very carefully — to a cooling rack. They will still be crumbly, but they're manageable at this point.
Everyone loves warm cookies, so you'll probably want to dive right in. But, once again, you'll need to be patient. The peanut butter in the cookies is still very soft, and it needs to come to room temperature to solidify. When the cookies have cooled completely, they will no longer be in danger of falling apart as you eat them. Transfer the cookies to an airtight container and enjoy. They should be good on the counter for about three days, but we have a feeling they'll be devoured long before that.
How did our 3-ingredient peanut butter cookies taste?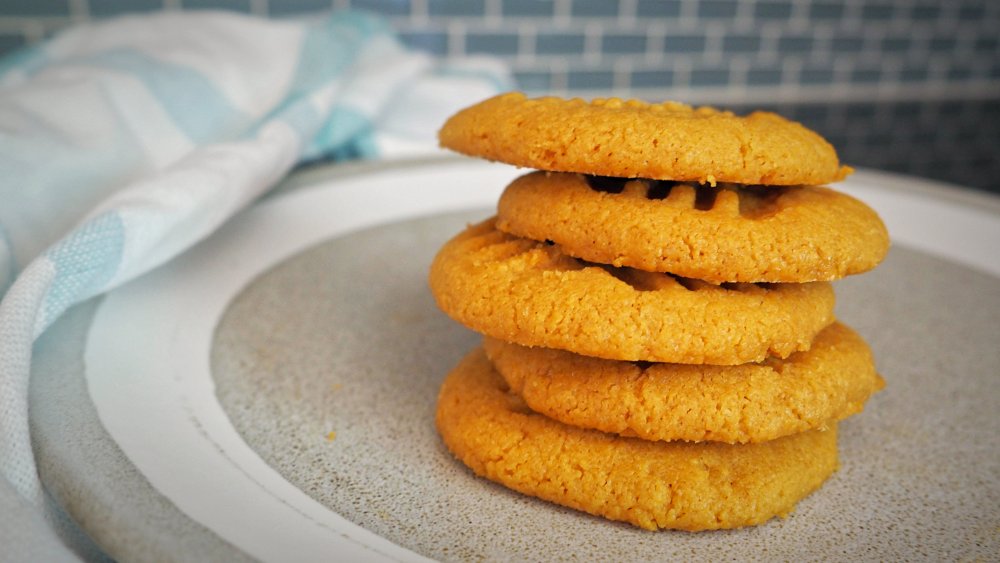 Lindsay D. Mattison/Mashed
You really can't go wrong with a cookie that contains this few ingredients and bakes up in only 15 minutes, but you'll fall especially hard for these cookies if you're a peanut butter lover. Despite containing simple ingredients, these cookies are rich and flavorful, and they're sweetened just enough to satisfy any sweet tooth without being too cloying. Add in their chewy texture and smooth finish, and these cookies have it all. When we added chocolate chips to the mix, they reminded us of Reeses peanut butter cups.
It is worth noting that these cookies are more crumbly than cookies baked with flour. Even after following the correct cooling procedure, they may fall apart if they're mishandled. If they do happen to crumble, don't throw them away. The broken bits were a fantastic topping for vanilla ice cream, and we also used them as a coating for no-bake chocolate truffles. We won't tell anyone if you crumble them in your morning granola, either.
3-Ingredient Peanut Butter Cookie Recipe
These 3-ingredient peanut butter cookies are not only naturally gluten-free and easy to make with pantry staples, but they're also delicious.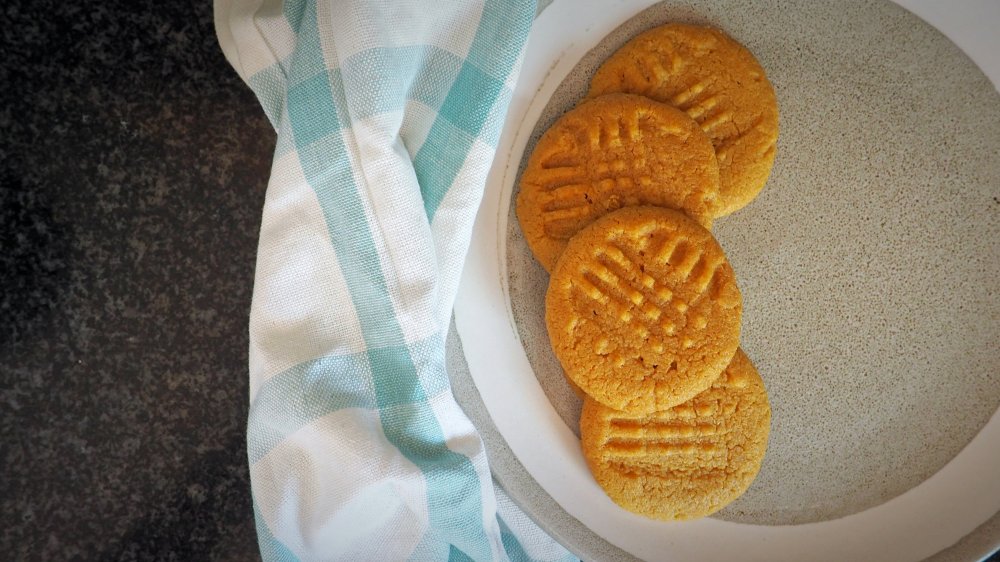 Ingredients
1 cup creamy peanut butter
1 cup white sugar
1 large egg
Directions
Preheat the oven to 350 degrees Fahrenheit. Line two baking sheets with parchment paper and set aside.
In a large bowl, mix the peanut butter, sugar, and egg until the mixture is smooth and creamy. Portion out 1-tablespoon balls of dough and roll them into small rounds using your hands. Place the dough balls on a baking sheet at least 2 inches apart, about 12 cookies per baking sheet.
Flatten each ball and create a criss-cross pattern by pressing down on the dough with a fork. Then, turn the fork and press again in the opposite direction.
Bake the cookies for 10 minutes, until they're lightly browned on top.
Allow the cookies to cool on the baking sheet for 2 minutes. Very carefully move the cookies to a cooling rack using a wide spatula.
Let the cookies cool completely before serving.
Nutrition
| | |
| --- | --- |
| Calories per Serving | 100 |
| Total Fat | 5.7 g |
| Saturated Fat | 1.2 g |
| Trans Fat | 0.0 g |
| Cholesterol | 7.8 mg |
| | |
| --- | --- |
| Total Carbohydrates | 10.7 g |
| Dietary Fiber | 0.5 g |
| Total Sugars | 9.5 g |
| Sodium | 4.9 mg |
| Protein | 2.6 g |