The Surprising Restaurant Chain Guy Fieri Is Operating Ghost Kitchens Out Of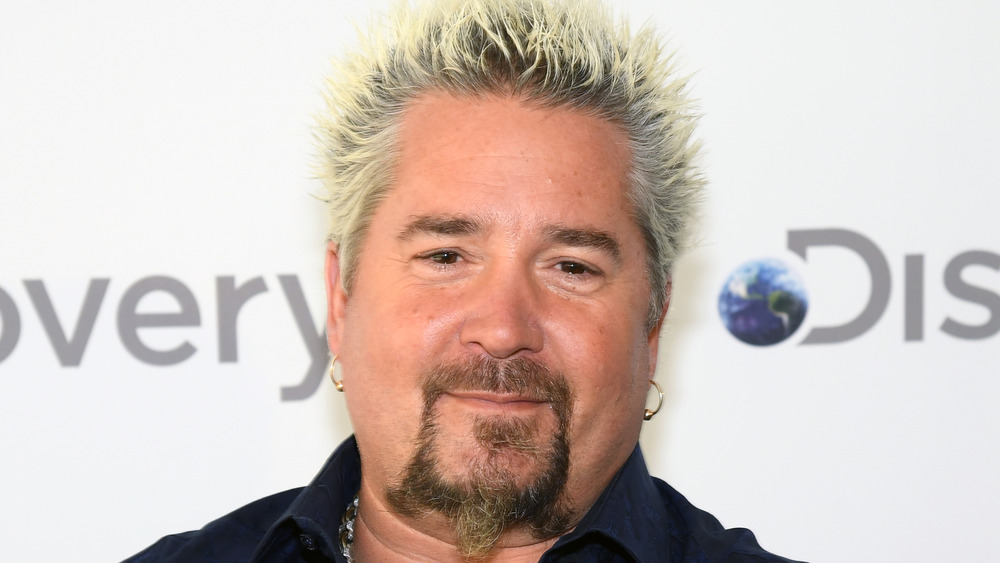 Dimitrios Kambouris/Getty Images
The term "Guy Fieri's ghost kitchen" may conjure up images of tormented spirit chefs, cursed to spend all eternity in a limbo known as Flavortown. The reality, of course, is much less ominous — America's tireless, frost-tipped food industry hero is simply riding the wave of a hot food trend for 2021. 
Ghost kitchens might be the future of restaurant dining because the COVID-19 pandemic has emptied dining rooms and shifted the restaurant business' focus on takeout. As such, the "ghost kitchen" delivery-only system can eliminate the in-restaurant dining aspect. If need be, it can bring all sorts of kitchens under one roof as an economically viable option that can act as a lifeline to many restaurant entrepreneurs. It's great to see an influential food personality like Fieri jump in on the action — even if the kitchens he has chosen to operate his variation of a ghost kitchen in might be a little unexpected. Let's take a look at the surprising restaurant chain Guy Fieri is operating ghost kitchens out of.
Guy Fieri has teamed up with Bertucci's to bring Flavortown to you
Guy Fieri might be a good Guy, but with restaurant endeavors like Times Square's much-maligned American Kitchen & Bar on his résumé, one would not necessarily expect him to ply his trade in cahoots with Bertucci's, one of the finest major pizza chains in the country. Yet, according to Eater Boston, that's exactly what's happening.   
The endeavor is, of course, called Guy Fieri's Flavortown Kitchen, and its fare is currently available in select areas around Boston. The food is gloriously, unabashedly Guy Fieri: Think jalapeño poppers wrapped in bacon, cheesesteak egg rolls, and the like. Offering such Fierian dishes from the restaurants that contain the iconic brick ovens of Bertucci's might seem strange, but the co-op is actually well in line with Fieri's pandemic-era role as a restaurant savior who has raised millions for the ailing industry. 
Fieri has recently struck up a business relationship with Bertucci's owner Robert Earl, and the pizza chain has gone through its share of financial hurdles even before the year 2020 struck. Hopefully, a collaborative infusion of flame-patterned bowling shirt energy can help the pizza company push through yet another batch of hard times.