Everyone Is Talking About This Couple Who Got Married At Dunkin'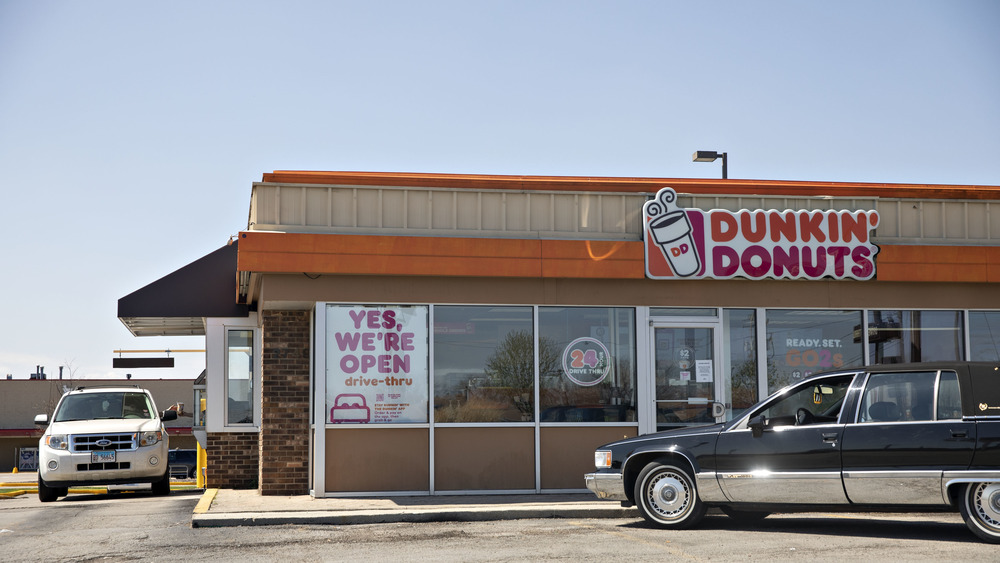 Bloomberg/Getty Images
What's your dream wedding? Maybe lots of pomp and tradition at a big church? Or maybe you want to fly your friends to Hawaii for a beach wedding. Some couples would be happy getting hitched at a drive-thru chapel in Las Vegas. But a drive-thru window at Dunkin'? For two New York couples on Friday, February 12, a Dunkin' in the small town of Wallkill was the perfect place to say "I do" (via Times Herald-Record).
Dana Shulman and Giancarlo Osaben tied the knot after dating for eight years (via Mass Live). Shulman's Instagram account shows the couple driving to their nuptials in a convertible, even though the temperature was 25 degrees. At least the couple's orange and pink Dunkin' face masks were keeping their lips warm for the big kiss. "Dunkin' is the most comforting thing I can think of," Shulman said. "It is my happy place."
Shulman and Osaben were one of two couples who won Dunkin's "Marriage is on the Menu" contest. "Why do I wanna marry GC in a Dunkin' drive-thru?" Shulman wrote in her contest entry on Instagram. "WHY NOT? Let's bring some joy into this crazy world. Let's combine my two great loves, Giancarlo and Dunkin', into one great super celebration of love."
One groom finished his vows by saying, I Dunkin' do!
A second happy New York couple, Selena Stallmer and Brian Dinsmore, also got married Friday at the Wallkill Dunkin' (via NEWS10). They entered Dunkin's contest after postponing a big family wedding they had planned for June. "Initially, it was a shocker to me," Dinsmore said of the sudden change in wedding plans. "You know, this is different, especially with the year we've had with corona and all that." He added, "You know, different is better."
Stallmer carried a bouquet of Dunkin' doughnuts, and Dinsmore had a Munchkin – a Dunkin' doughnut hole – attached to his boutonniere. Stallmer did try to stop her groom, but when the moment of truth came in their ceremony at the drive-thru window, Dinsmore said, "I Dunkin' do!" Then they both drove off with their go-to Dunkin' coffee orders.
Maybe Dunkin' was the ideal wedding venue for Stallmer and Dinsmore. They are both essential workers, and they have made a habit of stopping at the Dunkin' drive-thru on their way to work, to create a sense of normalcy in an abnormal year. Employees know what to make for Dinsmore as soon as they hear his voice through the drive-thru microphone.
Stallmer and Dinsmore should have more money for a honeymoon, now that they chose to skip the family wedding. As contest winners, the cost of their wedding was covered. They also got $500 cash, free wedding photography, and a basket of Dunkin' wedding merch.