Dunkin' Wants You To Get Married At Their Drive-Thru This Valentine's Day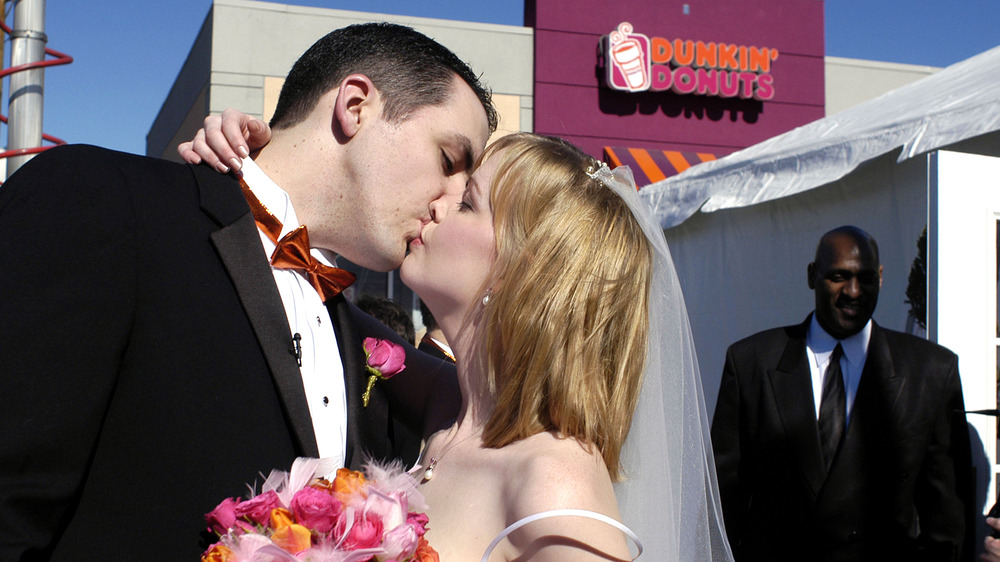 William Thomas Cain/Getty Images
You might want to avoid a certain Dunkin' drive-thru in the greater New York area on the Friday before Valentine's Day — unless you're willing to commit to more than a box of doughnuts.
Dunkin' wants you to skip the chapel or the city hall and head for the drive-thru window in Middletown, New York, where officiants from "I Do" Drive Thru Weddings will legally marry the winners of Dunkin's Marriage is on the Menu contest on February 12. Dunkin' sent a statement to Mashed with all the details: New York residents may enter the contest by posting a photo to Instagram with the hashtag #DunkinIDoContest along with the reason why they want to get married at a Dunkin' drive-thru. The contest begins today, January 27, and couples must enter by January 30. For other happy couples, Dunkin' and "I Do" Drive Thru Weddings will lead both vow renewals and commitment ceremonies for couples between 3:00 p.m. and 4:00 p.m. at the same Dunkin' location.
In addition to a unique and COVID-19-safe drive-thru wedding, lucky couples will receive $500 cash, free wedding photography, and a gift basket with Dunkin' wedding merch. Specifics about the gift basket haven't been announced, but we're confident that if the newlyweds ask nicely, maybe they'll get a couple of free heart-shaped doughnuts.
Doughnuts, macchiatos, and marriage are new on Dunkin's menu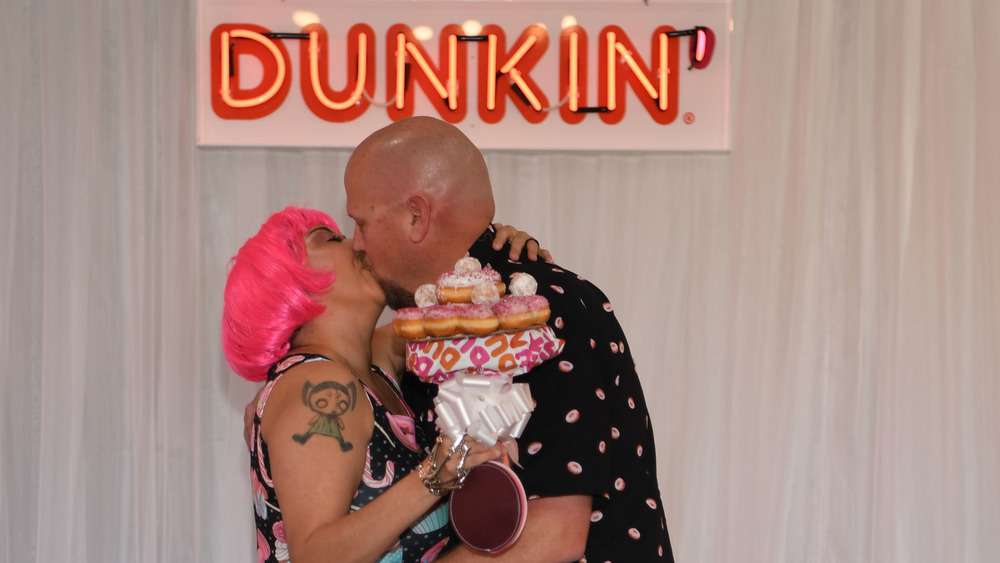 Denise Truscello/Getty Images
Marriage isn't the only new thing on the menu at Dunkin' in February. The doughnut-and-coffee chain also announced in its statement to Mashed that it has already started offering those heart-shaped doughnuts, including the Brownie Batter and Cupid's Choice flavors. On the drink menu, you'll find the Pink Velvet Macchiato, a blend of espresso and red velvet cake flavor, and the Mocha Macchiato, which mixes chocolate and espresso, from now through the month of February.
That's not all. Dunkin'-themed wedding merch goes on sale on February 11, just in time for those seeking a last-minute Valentine's Day gift. Details about the Dunkin' merch drop will be announced next month.
If you live in New York and decide to enter the contest because you want a one-of-a-kind ceremony, just know that yours won't be the first Dunkin' drive-thru wedding. In 2020, Dunkin' General Manager Sugar Good-Thompson and her husband got hitched at the drive-thru in Oklahoma City where they first met. Another couple decided to exchange vows in 2019 at a Dunkin' where they had broken up as a young couple 27 years earlier (via USA Today).