This Dashi Base At Costco Is Perfect For Winter
We may receive a commission on purchases made from links.
If you live in America, you might be familiar with a classic rotation of winter soups: there's French onion, chicken noodle, tomato soup – maybe even butternut squash or potato-leek. But if you're longing for a different flavor profile or maybe just something a bit lighter to make a soup base, look no further than dashi. Dashi broth or soup stock, for the uninitiated, is a staple of Japanese cooking, used in everything from miso to ramen.
According to Michelin and the blog Just One Cookbook, there are a number of dashi variations (including some vegan ones), but dashi at its most basic is made with kombu (dried seaweed) and dried katsuobushi flakes, which are bonito fish or delicate shavings of skipjack tuna that has been smoked, fermented and dried in a specialized process. Dashi has a unique umami taste that brings another dimension to everything from flavor-rich hot soups to marinated dishes and comforting rice bowls. And luckily for everyone who might not be able to find the raw materials to make dashi at home, Costco has you covered.
What to do with dashi powder from Costco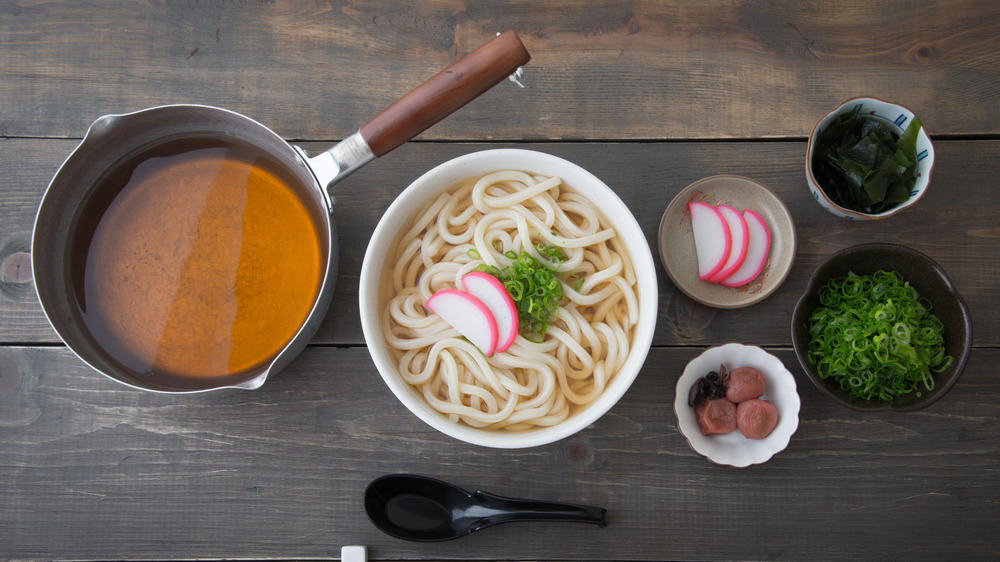 Shutterstock
According to the Instagram account @costcodeals, Costco is now offering a giant bag of 35 dashi soup base packets for $13.99. The dashi powders come from Kuze Fuku & Sons, a gourmet Japanese foods business, and get good, if limited, ratings on Amazon (so limited that there are only four ratings as of this writing). On the Instagram post, fans said they used it for homemade ramen and udon, and one even called it the "Best dashi available in the US!" The powders actually come in little sachets, much like a tea bag, and all you have to do is simmer it for a few minutes in water to extract the flavor and then remove the packet.
Dashi has any number of uses, but some comforting winter favorites are classic miso soup with rich miso paste and cubes of tofu (via Just One Cookbook). There's oyakodon, a delicious chicken and egg rice bowl mashup that Serious Eats has called "the pizza of Japan." There's also ramen, of course – and if you want to take that pre-packaged go-to to the next level, you can always swap dashi in for some of the salty flavoring powder. But if you're feeling extra special, you can make it homemade (via Just One Cookbook), with fresh noodles if you can find them. You will not regret warming up with some dashi in the mix.