Miso Soup Recipe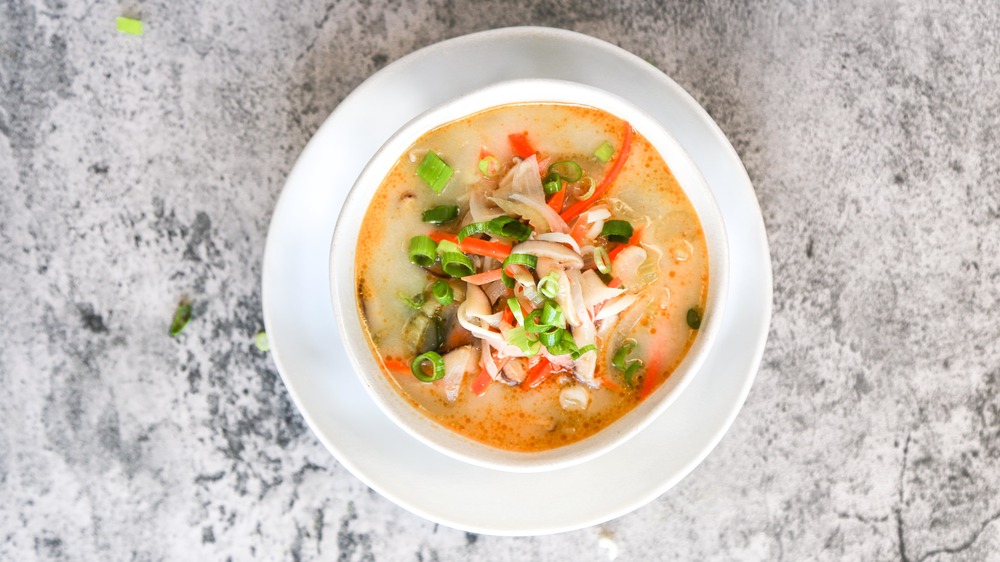 Maren Epstein/Mashed
There is a wide range of comforting and warming soups made around the world. In the United States, chicken noodle soup often gets the most love, while menudo is popular across Mexico. In Japan, miso soup is a favorite soup, and it's one that anyone who has eaten at a Japanese restaurant is likely familiar with. But you don't have to limit yourself to only enjoying miso soup when you go out. With this miso soup recipe from Maren Epstein, the certified holistic health chef behind Eating Works, you can have a miso soup ready in under an hour.
"Americans only eat miso soup in restaurants because they aren't familiar with how to make it," Epstein says. "But the ones you can order in restaurants have very little flavor and veggies in them. Miso soup is great to have on rotation because it's satisfying and great for gut health."
Keep this recipe in your back pocket and you and your loved ones can have miso soup at home whenever you please.
Gather your miso soup ingredients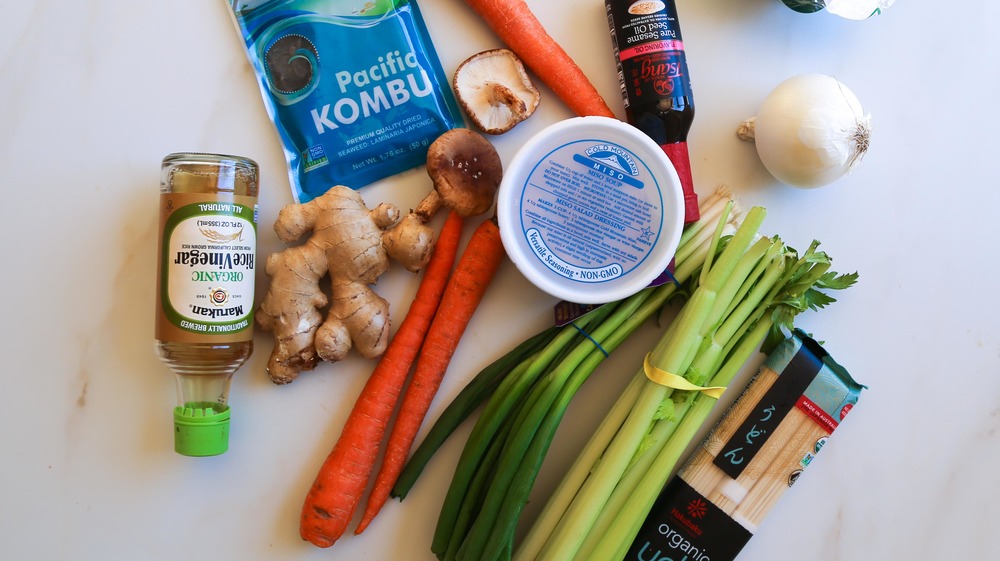 Maren Epstein/Mashed
Though this miso soup recipe isn't difficult by any means, it does take a fair number of ingredients. In terms of vegetables, you'll need onion, carrot, celery, and scallions, as well as mushrooms, garlic, and ginger. You'll have to cut each of these into different shapes for the perfect miso soup (carrots into a matchstick shape, for example, and celery on bias, which means cutting at a diagonal). Sesame oil, udon noodles, and rice vinegar are also required.
Then there are the ingredients you might be less familiar with. The first kombu leaf, which is a type of edible kelp that brings a strong umami flavor, and can be found at Asian grocery stores as well as online at places like Amazon. The recipe also calls for mellow white miso paste, which is a type of umami-tasting fermented soybean paste that's more mild than red miso (which is fermented for longer) and yellow miso (which falls somewhere in the middle of white and red miso). "I've tried other types of miso but mellow white is smoother and has a more mild taste," Epstein says.
Consider some optional ingredients for the miso soup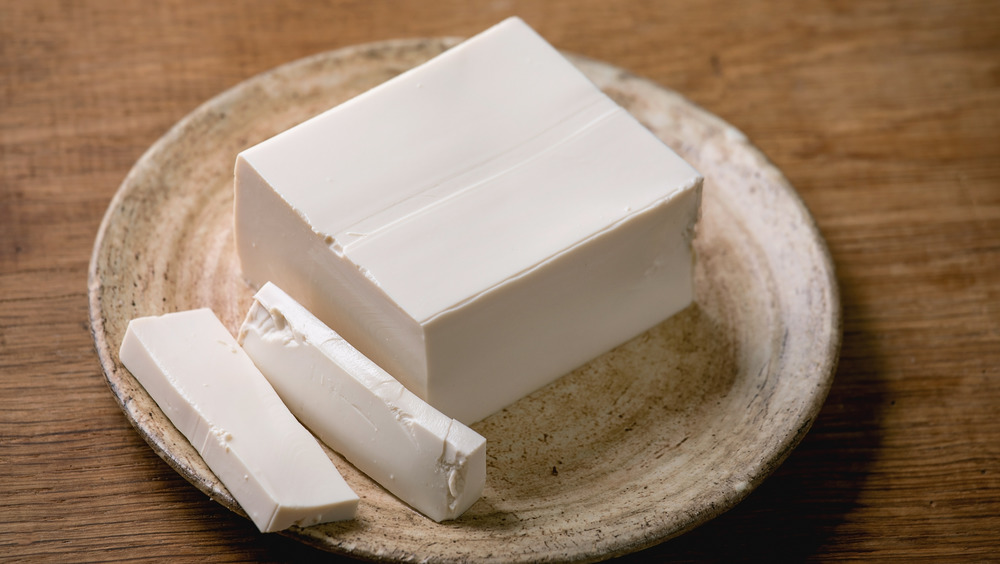 Shutterstock
Just about every recipe in the world has variations depending on who is making the dish and what ingredients are available at the time. This miso soup recipe is no different. If you are familiar with miso soup, there's a good chance you noticed a couple common ingredients aren't included in Epstein's recipe. Namely, tofu and dashi.
While it's not included in this recipe, tofu can also be added in. Dashi, a Japanese soup stock made with kombu and bonito flakes, is also commonly used in miso soup and can up the umami factor, but it isn't entirely necessary for this recipe.
"Dashi is great for miso soup, but I don't like to make it at home and this soup tastes just as well without it," Epstein says.
You can add tofu if you'd like after the last step. If you'd prefer to use dashi, make your own by soaking kombu and bonito flakes or purchase instant dashi if you can get your hands on it. Just make sure you decrease the amount of water proportionately.
Saute some veggies and grate the ginger for the miso soup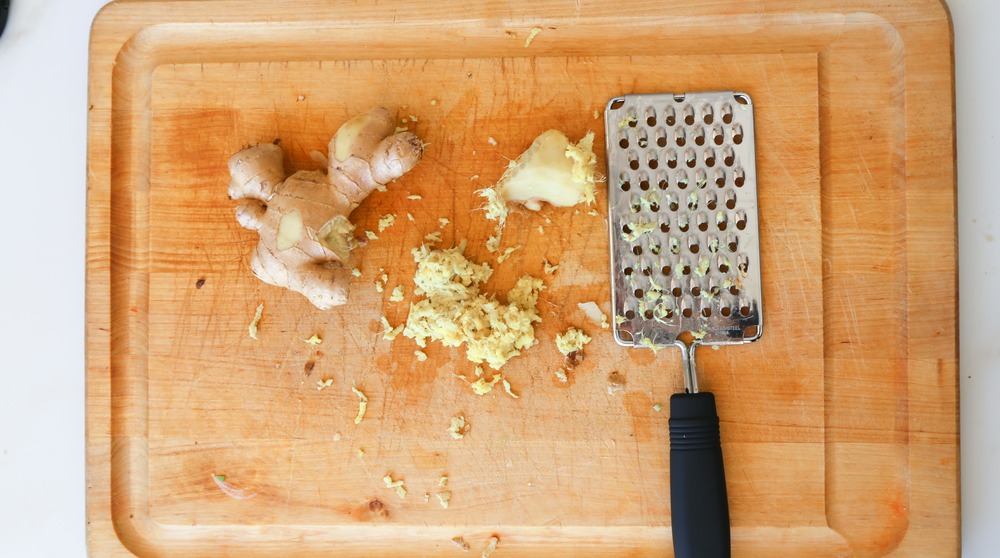 Maren Epstein/Mashed
If you have not done so already, slice your onion, cut your carrot into a matchstick shape, and slice your celery sticks thin on bias. You will also need to thinly slice your shiitake mushrooms, garlic cloves, and scallions, though you won't need the latter until the end of the recipe when you are putting the dish all together.
Once that is done, heat some sesame oil in a large pot. Wait for it to get warm before adding the onions, carrots, celery, shiitake mushrooms, garlic, salt, and kombu. Sauté all those ingredients on low-medium heat until the vegetables soften, which should take about ten minutes.
You can prepare the ginger while you are waiting for the veggies to finish up. First, peel the ginger root and then grate it. Put the grated ginger into a cheese cloth and squeeze the juice out into a measuring cup (if you don't have cheese cloth, you can use your hand to squeeze the juice out as well, just try and avoid pieces falling into the measuring cup).
"Grated ginger will leave fibers in the soup while the juice will help infuse it with ginger flavor," Epstein says.
Add the miso soup's water and noodles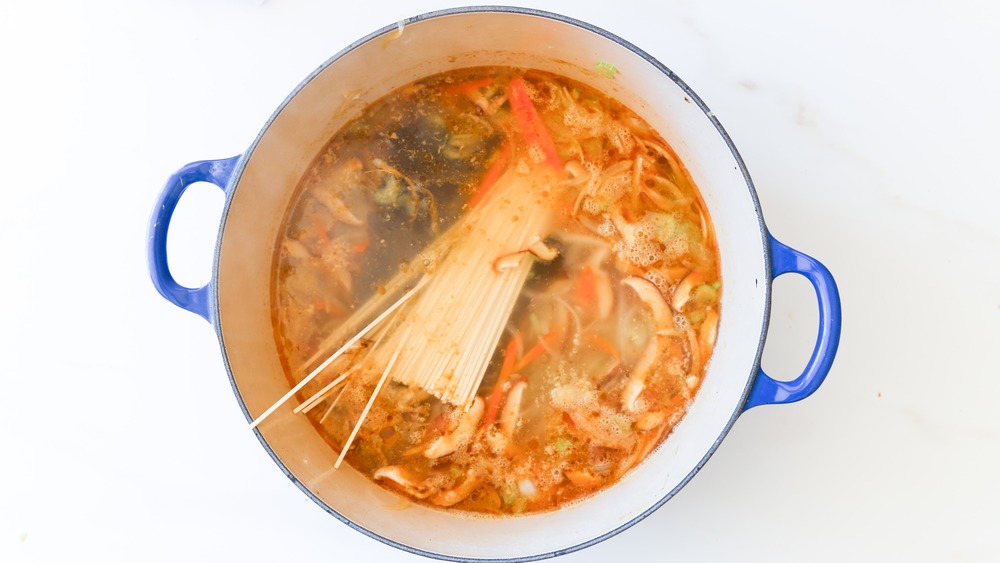 Maren Epstein/Mashed
At the heart of this recipe, you will find udon noodles. Udon is a thick and cylindrical Japanese noodle style that is made with wheat. Udon noodles are similar to the type of noodles that you find in ramen, but are thicker and chewier.
"Udon noodles are soft and smooth, making them perfect for this silky soup recipe," Epstein says.
You need to cook the udon noodles similar to how you cook any other style of noodle, but in this case you are going to cook the noodles straight in the soup rather than cook the noodles separately and combining everything at the end. Once the ingredients are done sautéing, add eight cups of water and bring it to a boil. Reduce it to a simmer and let it go partially covered for about ten minutes.
Then comes the udon. Remove the cover and add the noodles. Let them simmer for another four minutes before turning off the flame and letting the soup sit for five minutes.
Add the final ingredients of miso soup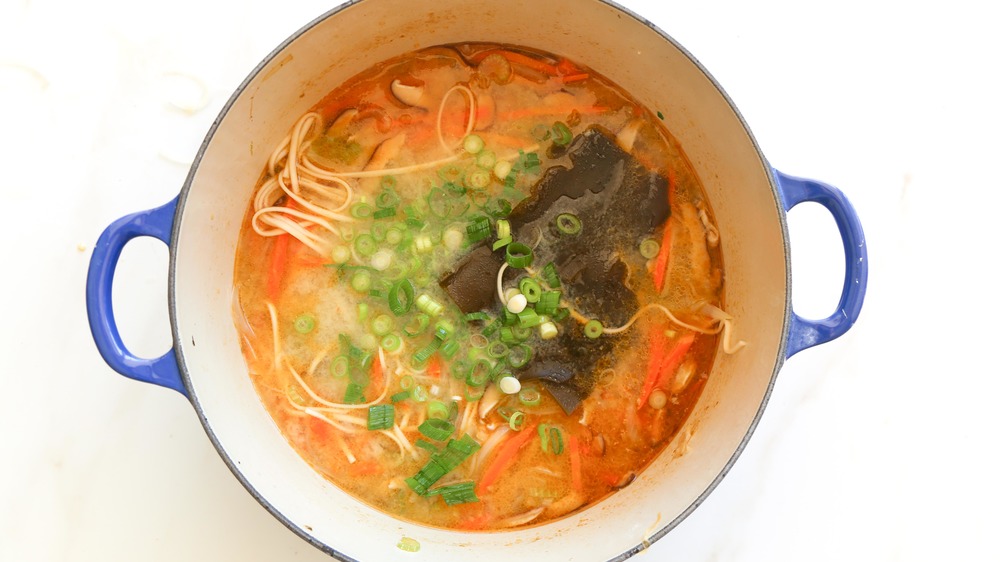 Maren Epstein/Mashed
You are just about done after you have let the soup sit and the udon noodles are fully cooked all the way through. There are still a few final ingredients to add after letting it sit for a bit, though. First, add the miso paste and use a whisk or spoon to stir it into the soup. Make sure the miso paste is fully dissolved. Then, add the ginger juice and rice vinegar.
Fermented miso has active bacteria cultures and it's a great probiotic just like yogurt, according to Bon Appetit. Miso paste works wonders for your digestive health when it's used correctly — and that means not adding it too early.
"I add the miso at the end so that I don't kill off the good probiotics while cooking," Epstein says. "The vinegar and ginger are just added at the end to help brighten the flavor of the soup as a finishing touch."
Enjoy and keep the rest of your miso soup for later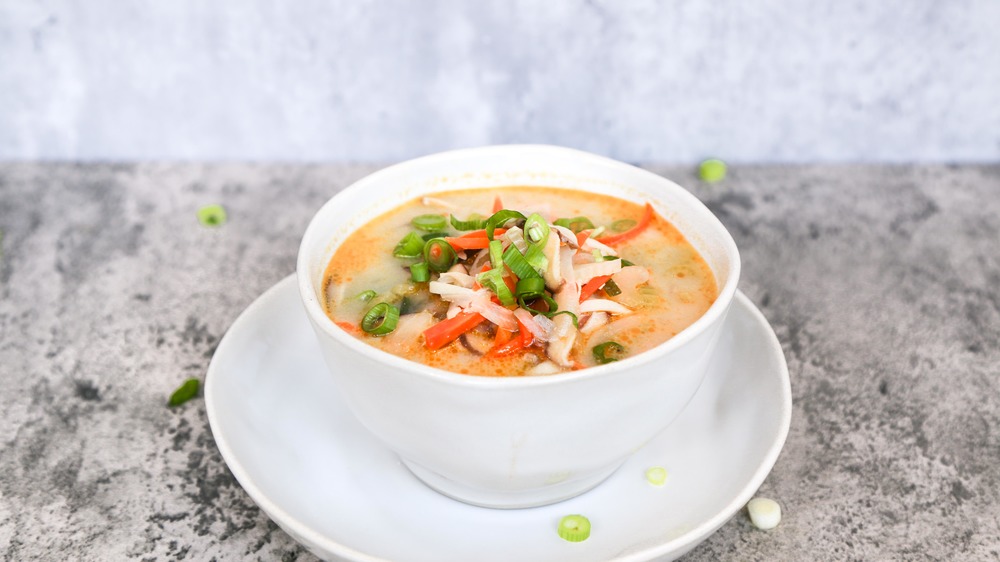 Maren Epstein/Mashed
With your ingredients all in the pot, your miso soup is all there in terms of flavor. All that is left to do is plate the soup and garnish it with the scallions that you thinly sliced at the start of the recipe. One note on the kombu: It is safe to eat and will have a soft and pliable texture, according to the seaweed education and retail website Kurakon, but Epstein prefers to use it solely as a flavoring agent for the soup and discards the kombu after it has served its purpose.
Like many other types of soups out there, this miso soup recipe can easily be stored and kept for later if you have leftovers. And best of all, the broth will only pick up more flavor over time if you let it rest before reheating it on the stove or in the microwave.
"Just add a bit more water when you reheat it, since some of the broth will evaporate leaving the soup too salty," Epstein says.
Miso Soup Recipe
No need to head out to a restaurant when you can make this classic Japanese soup at home. This miso soup recipe is full of flavor and great for gut health.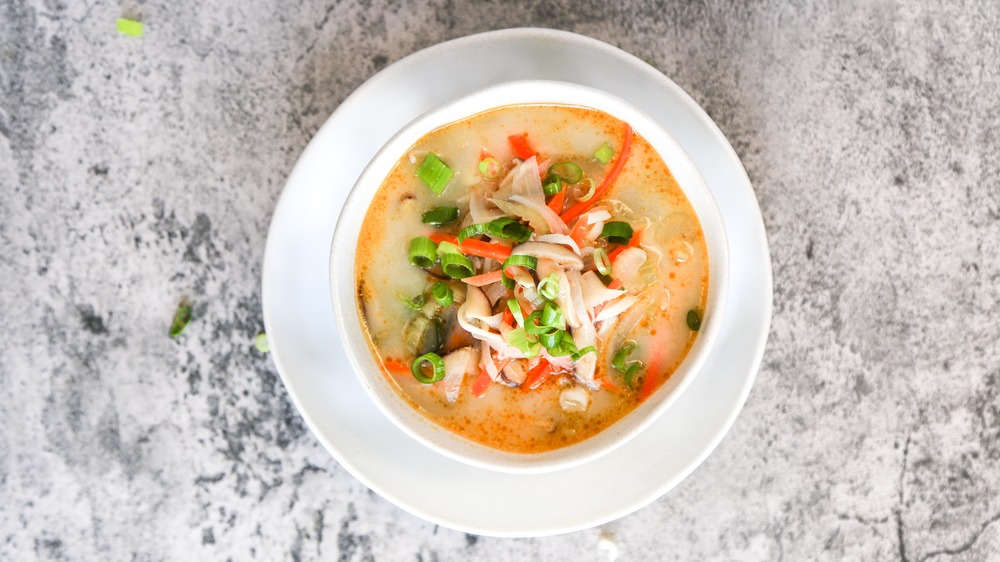 Ingredients
3 tablespoons sesame oil
1 onion, sliced
1 carrot, cut into matchsticks
2 celery sticks, sliced thin on bias
6-10 shiitake mushrooms, thinly sliced
1 teaspoon sea salt
1 kombu leaf
8 cups water
4 ounces udon noodles
1 cup mellow white miso paste
1 tablespoon ginger juice (4 inches ginger grated)
1 tablespoon rice vinegar
4-5 scallions, thinly sliced (garnish)
6 cloves garlic, thinly sliced
Optional Ingredients
Directions
In a large pot, heat sesame oil. Once warm, add the onions, carrots, celery, shiitake mushrooms, garlic, salt, and Kombu. Sauté for 10 minutes on low medium heat or until the vegetables soften.
While the vegetables are sautéing, peel and grate the ginger. Place the grated ginger in a cheese cloth or simply place in your hand. Squeeze the juice out into a measuring cup and set aside.
Add water and bring to a boil. Allow the soup to boil. Reduce to a simmer and allow to simmer partially covered for 10 minutes.
Add udon noodles and cook for another 4 minutes. Turn off heat and let the soup sit for 5 minutes.
Using a whisk or wooden spoon, stir in the miso paste until it's fully dissolved. Add ginger juice and rice vinegar. Plate and garnish with scallions.
Nutrition
| | |
| --- | --- |
| Calories per Serving | 259 |
| Total Fat | 10.1 g |
| Saturated Fat | 1.6 g |
| Trans Fat | 0.0 g |
| Cholesterol | 0.0 mg |
| | |
| --- | --- |
| Total Carbohydrates | 34.3 g |
| Dietary Fiber | 5.3 g |
| Total Sugars | 6.1 g |
| Sodium | 1,752.6 mg |
| Protein | 9.5 g |