Creamy Winter Squash Soup Recipe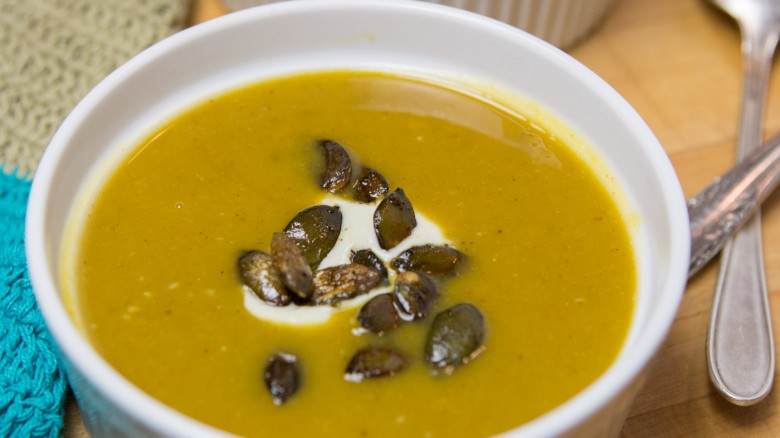 Prep time: 10 minutes. Cook time: 50 minutes. Servings: 4.
In the interest of full disclosure, I will tell you that I enjoy soups more than the average person. That said, who doesn't want to sit down to a warm nourishing bowl of creamy soup on a cold winter's night? Even if this nourishing meal option is relegated to the sidelines for most of the year, at least it gets some much deserved love during the chilly months.
For frigid evenings, I like to whip up simple, seasonal soups that make good use of hearty winter squash, flavorful broth, kicky spices, creamy additions, and crunchy garnishes. What's great about making winter soup is its inherent versatility. Whether you opt for calabash, acorn, Hubbard, or butternut squash, you can customize the seasonings and extras to help you achieve your ideal of comfort. For texture, add a handful of toasted nuts or seeds. Use sour cream, creme fraiche, or cream to give your soup some richness. Mix and match your favorite spices for maximum flavor. Most of all, have a splendid time doing it. It really is that simple!
This soup is made with a combination of roasted acorn squash and pumpkin puree to strike the balance between sweet and savory. Strong spices like cumin and coriander lend boldness, while chili powder brings the heat. A garnish of toasted pepitas complements the pumpkin in the soup's base and a small spoonful of sour cream adds tangy decadence. The result is soup that promises to warm you up and keep you cozy.
Ingredients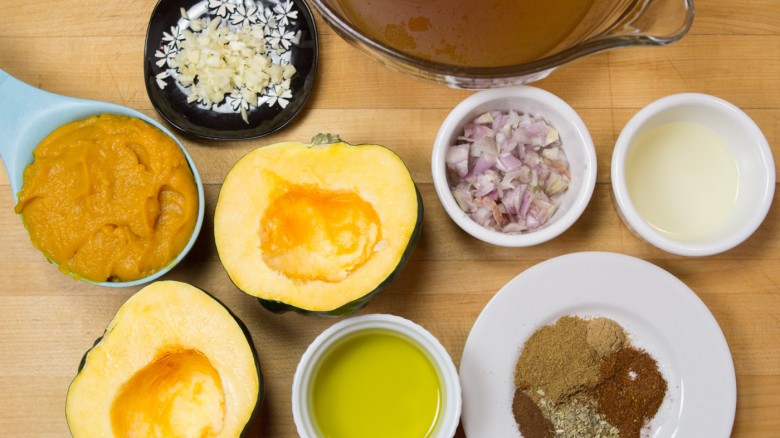 Shopping list


1 medium acorn squash, halved and seeded


2 tablespoons olive oil


1 small shallot, minced


1 garlic clove, minced


1 cup pumpkin puree


1 teaspoon kosher salt


1 teaspoon chili powder


1 teaspoon ground cumin


½ teaspoon dried oregano


¼ teaspoon ground coriander


⅛ teaspoon ground cloves


3 cups vegetable broth


juice from ½ lemon


toasted pepitas and sour cream for serving (optional)


Equipment


baking sheet


aluminum foil


large pot


Roast acorn squash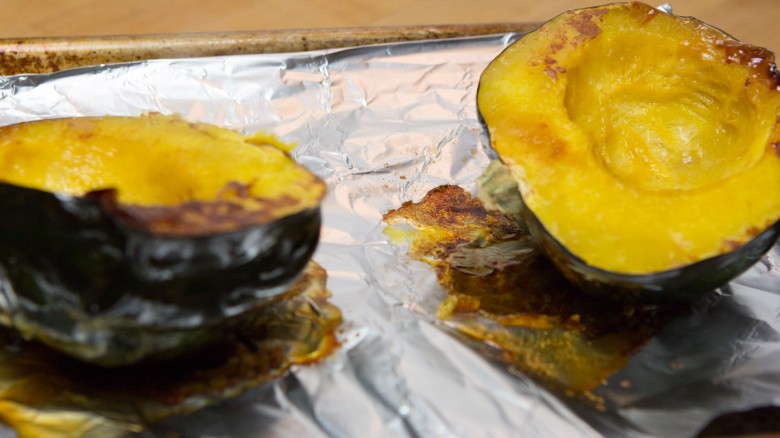 Preheat the oven to 350 degrees. Arrange the squash cut-side down in a foil-lined baking sheet, transfer to the middle rack of the oven, and roast until the flesh is tender, 25-35 minutes. Set aside and allow to cool for about 10 minutes.
Prepare acorn squash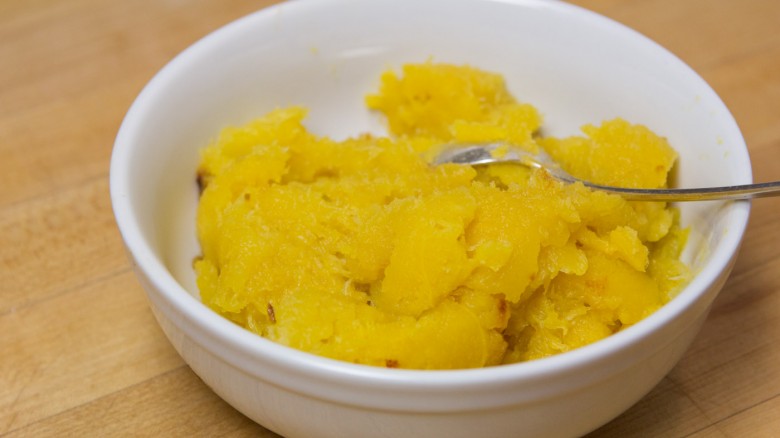 Using a spoon, scoop the squash flesh into a small bowl, discarding the skin.
Cook aromatics and squash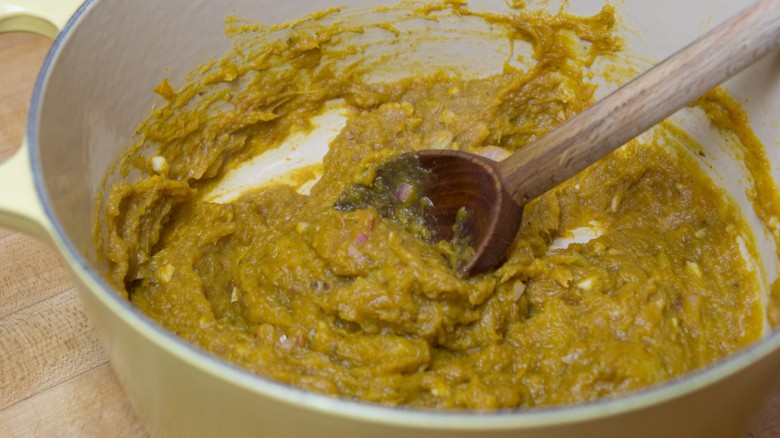 Heat the olive oil in a large pot over medium heat. When the oil is shimmering, add the shallot and cook, stirring occasionally, until softened, 2-3 minutes. Add the garlic, pumpkin puree, roasted squash, 1 teaspoon kosher salt, chili powder, cumin, oregano, coriander, and cloves and cook, stirring, until the mixture is fragrant. 2-3 minutes.
Simmer and blend soup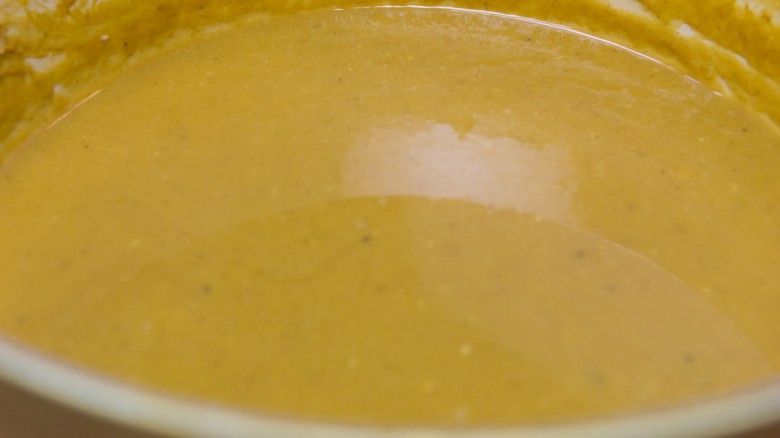 Add the vegetable broth and lemon juice to the pot with the aromatics. Increase the heat to medium-high and simmer until the squash is very tender, about 10 minutes. Remove the pot from the heat. Working in batches, carefully blend the soup mixture in a blender until smooth. Transfer the batches to a serving bowl as you work. Return the blended soup to the large pot and place it over low heat to keep warm until ready to serve.
Serve soup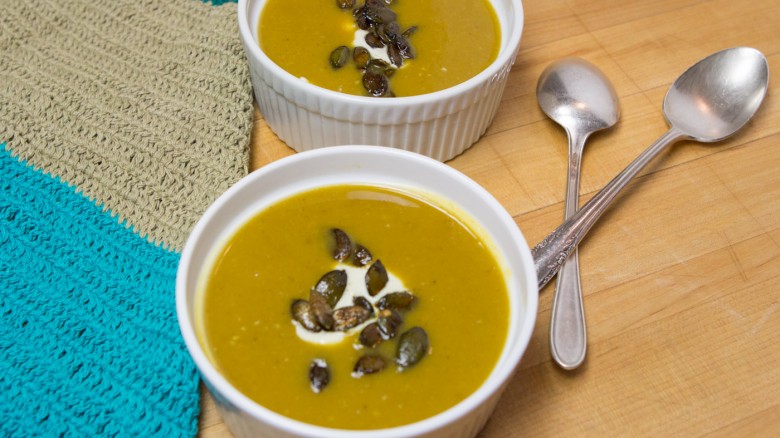 Ladle soup into bowls and garnish with dollops of sour cream and toasted pepitas if you like. Enjoy!