Chalupa Recipe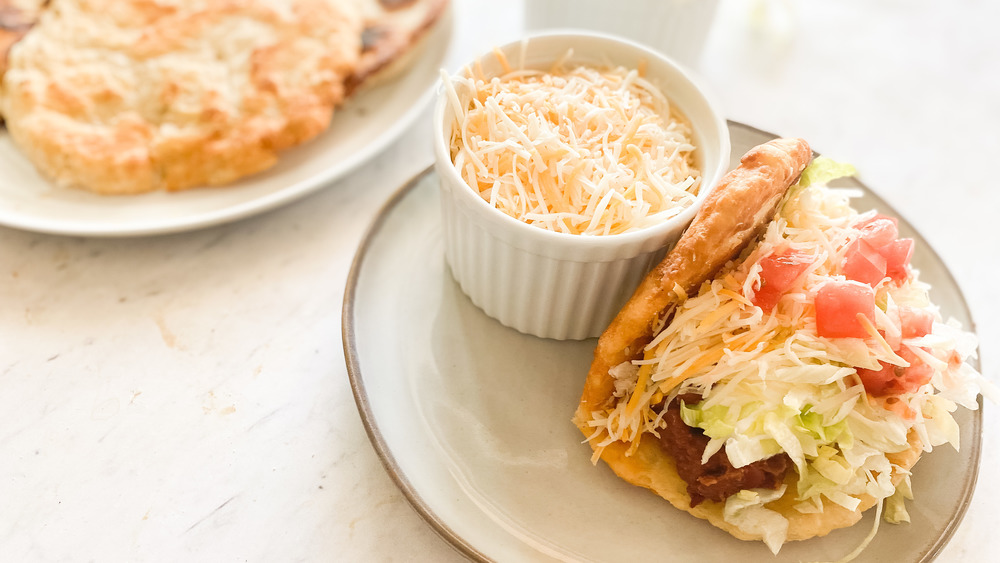 Kristen Carli/Mashed
Surprise, surprise: It turns out when you fry big discs of dough in cooking oil, you get a bread so delicious you won't be sure whether to fill it with savory stuff for dinner or sweet stuff for dessert. But no worries — that's a choice you don't have to make. 
"You can really put anything in these," says chef, food writer, and registered dietician Kristen Carli of Camelback Nutrition & Wellness. "I love the idea of something sweet like bananas and caramel or chocolate and strawberries. [And] anything that goes well in a sandwich would work well here too like ham and cheese or even egg salad."
That's right, a bread you can make part of breakfast, lunch, dinner, dessert, or a snack, too. And keep in mind that a piece of chalupa bread tastes great eaten all by itself also, so if you're low on filling, there's no need to fret.
There won't be a picky eater in the house when these are on the table. Even if you've already had chalupas at a restaurant, you've likely not had one as good as one fresh out of the pan in your own kitchen. But before we get cooking, let's take a quick cultural cuisine detour, if you will.
A brief history of the chalupa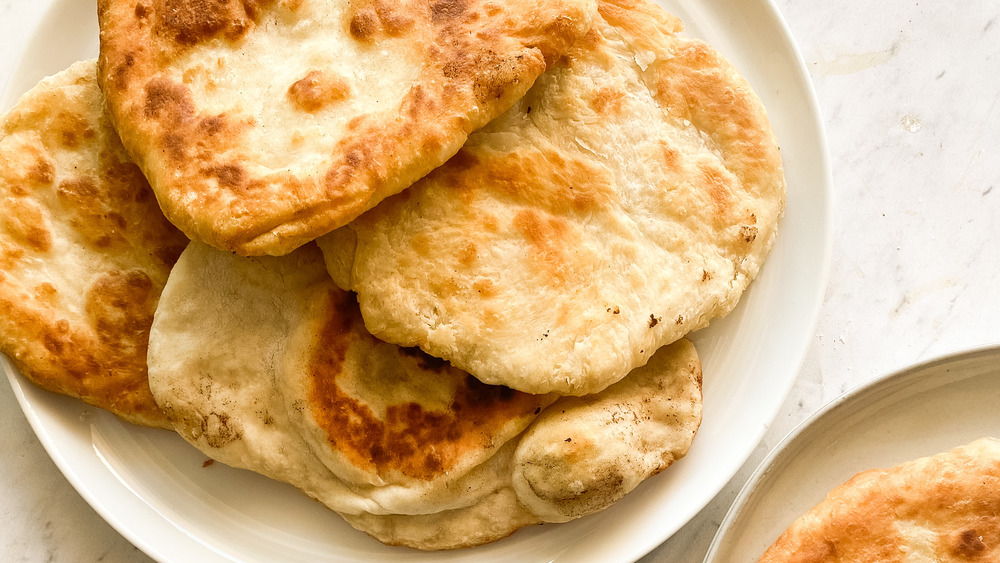 Kristen Carli/Mashed
When you think of chalupas, you probably think of Mexican restaurants and well, fast food, unfortunately. It's okay, don't beat yourself up, fast food joints spend millions advertising their take on this traditional foodstuff.
According to Taste Atlas, "the first written mention of chalupa dates back to 1895 in Mexico, [though] it is believed that the dish originates from pre-colonial times." The fried bread takes its name from the boat called the chalupa, which is canoe-like and to which the bread bears a resemblance once cooked. Chalupas are traditionally from the southern central region of Mexico, but they are now enjoyed far and wide — and with our recipe, they can also become a part of your own cooking repertoire.
Gather the ingredients for homemade chalupa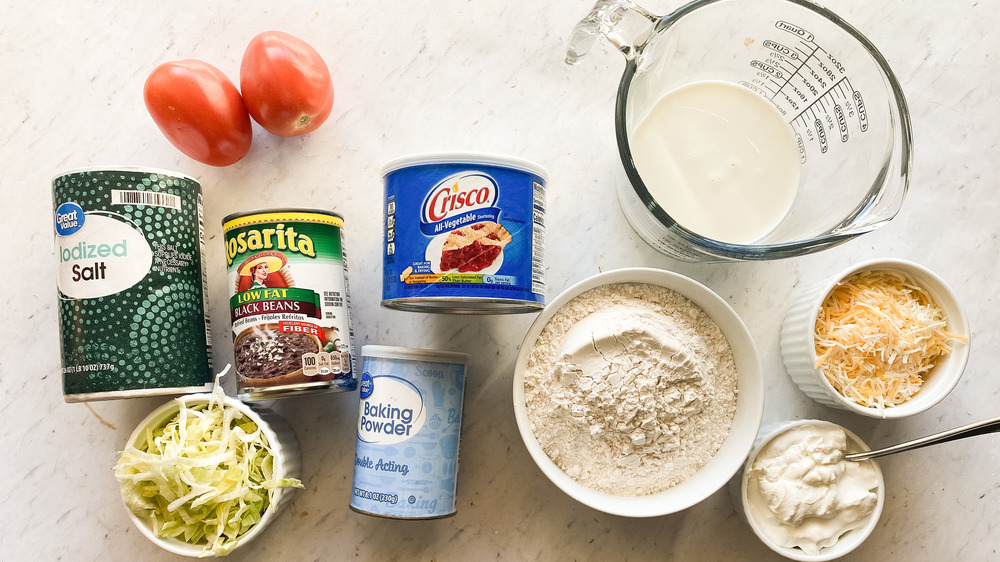 Kristen Carli/Mashed
When it comes to a chalupa, the ingredients are pretty basic, and it's really all about how you handle them. You'll need two and one-fourth cups of flour, a half teaspoon of salt, one tablespoon of baking powder, two tablespoons of shortening, and one cup of milk, plus canola oil for frying.
As for filling ideas, Carli says: "I used beef one time and refried beans another," and the chef further recommends "shredded Mexican cheese, shredded lettuce, diced tomatoes, [and] sour cream." And of course, those are all just jumping off points, and you make them yours however you prefer.
Make the dough for your homemade chalupas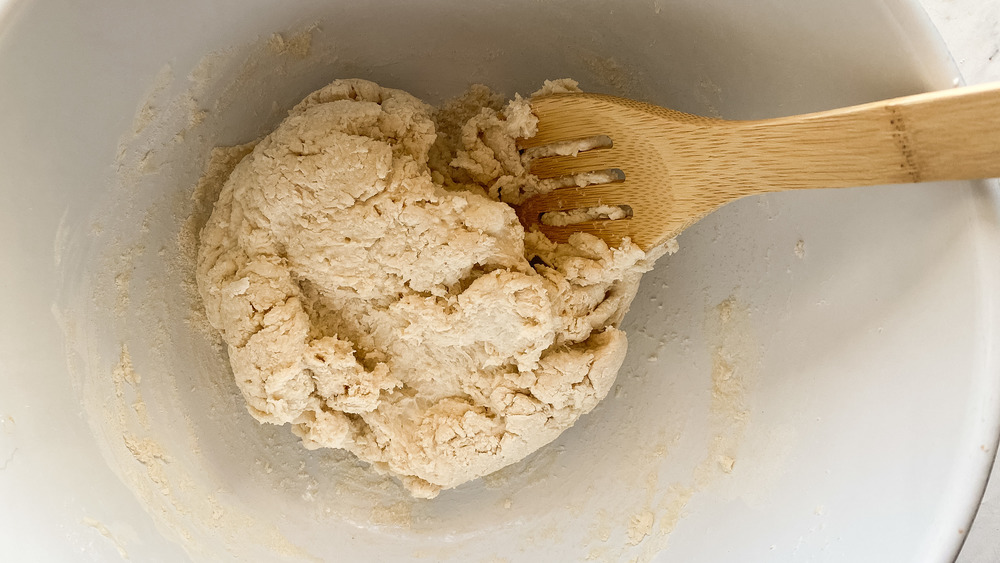 Kristen Carli/Mashed
In a large bowl, add the flour, salt, baking powder, shortening, and milk. Stir to combine and work the mixture until a ball of dough forms.
"It's easy to make and mix the dough," says Carli. Unlike with some dough, you're not going to ruin your recipe by slightly underworking or overworking this stuff the chef advises. Just make sure it mixes evenly and will be able to be rolled out without breaking apart. 
If you need to add a bit more flour to a thin dough, go for it, and the same is true with milk and a bit more shortening if the dough is too dry and falling apart.
Roll out the dough for homemade chalupas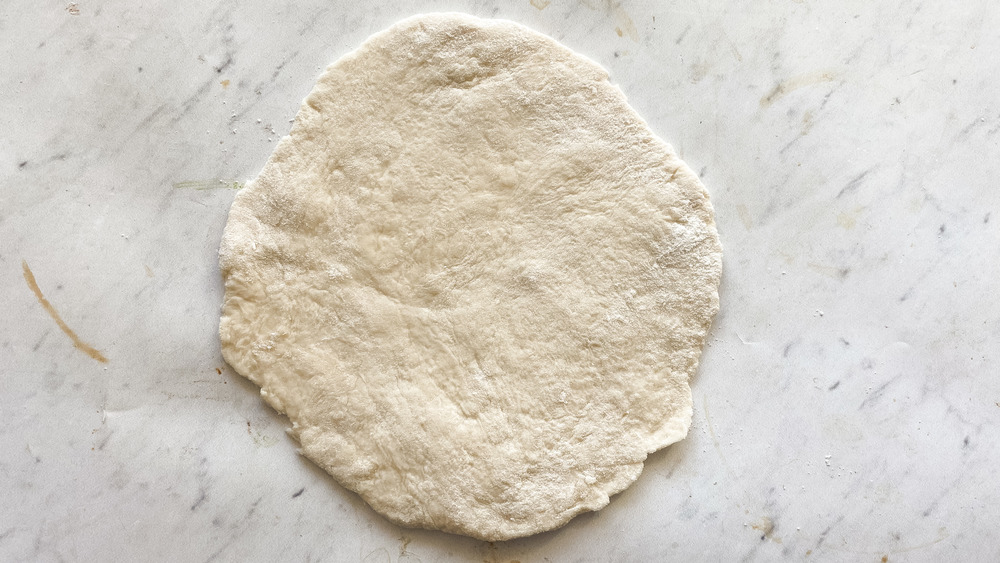 Kristen Carli/Mashed
Prepare a flat surface for rolling out the dough by spreading a bit of flour on it. Then, cut the rolled dough into eight even pieces and then roll each piece into its own a ball.
Now, flatten and roll out each dough ball into an approximately five-inch circle. You can use your palm for this step if you prefer the control that gives you. Repeat this with all eight pieces of dough.
Carli says you should make these dough discs "as round as possible [but] don't worry if it rolls out imperfectly," as a chalupa is really at its best when it looks a bit lumpy and uneven anyway.
Fry the chalupas to tasty perfection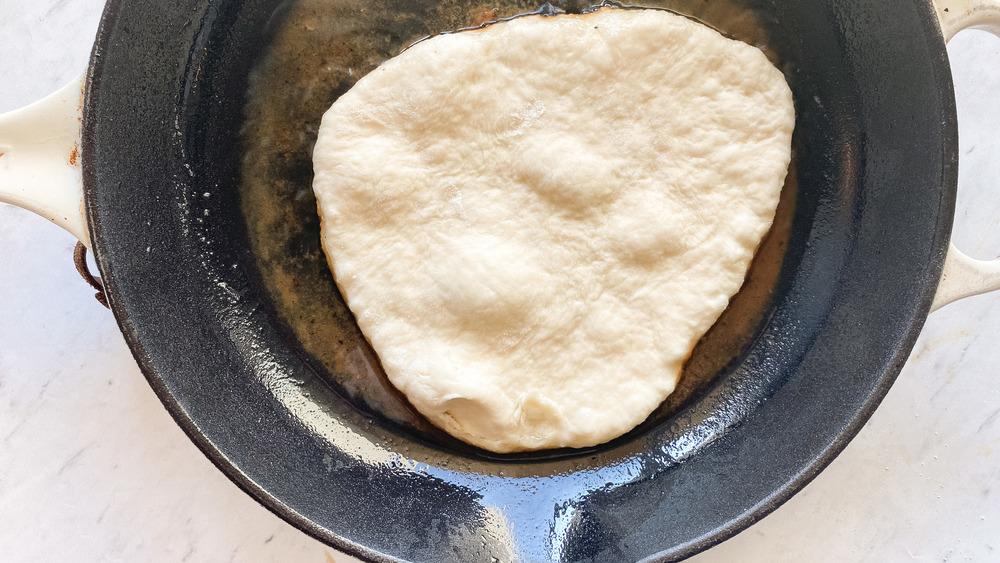 Kristen Carli/Mashed
Heat the canola oil in a medium cast iron skillet (or heavy frying pan) over medium heat. Once the pan is hot, place one raw chalupa in the pan. Allow it to cook for about two minutes, until its bottom is golden brown and puffy, and then flip the dough and cook it for two more minutes on the other side. Remove the finished chalupa from the skillet and lay it on a plate covered with paper towels to catch any dripping oil. 
Now, repeat the frying with the remaining pieces of dough, adding a bit more oil if needed at any point.
So you have leftover chalupas?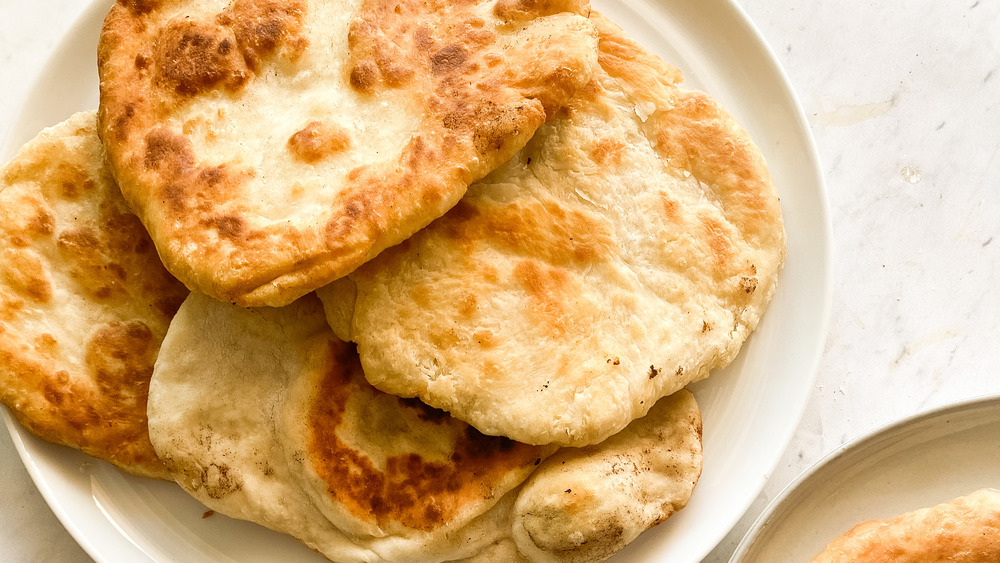 Kristen Carli/Mashed
If somehow, and this is a big if, you end up with a few extra chalupas left over after the feeding frenzy they precipitate, not to worry, they won't go to waste.
"These store well in a large freezer bag in the fridge for up to three days," says Carli, adding that a chalupa "reheats best in the oven on high broil for a few minutes." The chef advises that when reheating, "[just] watch it carefully so it does not burn."
More often than you end up with extra chalupas, however, you are going to wish you had doubled the recipe and made more.
Chalupa Recipe
Homemade chalupas are a great bread for lunch, dinner or dessert. Fill them with beans, meat, lettuce and sour cream or even strawberries and bananas.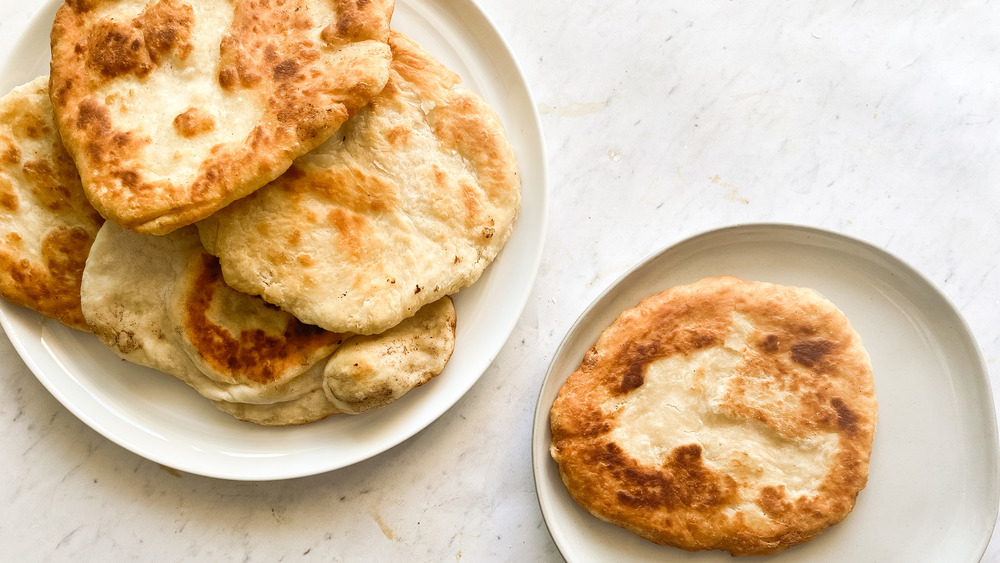 Ingredients
2 ¼ cups flour
½ tsp salt
1 tbsp baking powder
2 tbsp shortening
1 cup milk
Canola oil for frying
Optional Ingredients
Refried black beans
Shredded Mexican cheese
Shredded lettuce
Diced tomatoes
Sour cream
Directions
In a large bowl, add the flour, salt, baking powder, shortening, and milk. Stir to combine, until a ball of dough forms.
Roll out dough on a floured surface. Cut into 8 pieces. Roll each piece into a ball. Flatten and roll out into a 5" circle. Repeat with all 8 pieces.
Heat canola oil in a medium cast iron skillet over medium heat. Once hot, add one piece of dough. Allow to cook about 2 minutes, until golden brown and puffy.
Flip and cook for 2 more minutes then remove chalupa from skillet and drain on a plate covered with paper towels. Repeat with remaining pieces of dough.
Once cooked, fill with your favorite fillings, such as refried black beans, shredded lettuce, sour cream, diced tomatoes, and shredded Mexican cheese.
Nutrition
| | |
| --- | --- |
| Calories per Serving | 270 |
| Total Fat | 15.2 g |
| Saturated Fat | 2.2 g |
| Trans Fat | 0.5 g |
| Cholesterol | 3.1 mg |
| | |
| --- | --- |
| Total Carbohydrates | 28.7 g |
| Dietary Fiber | 1.0 g |
| Total Sugars | 1.6 g |
| Sodium | 188.9 mg |
| Protein | 4.6 g |