Disney Wants You To Celebrate Raya And The Last Dragon With This Family-Friendly Meal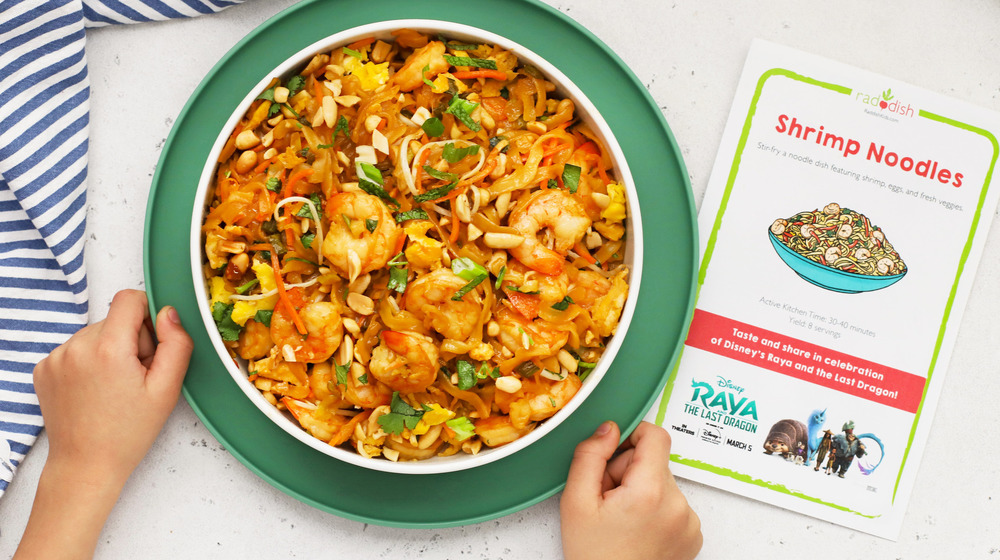 Raddish Kids
The newest Disney movie, Raya and the Last Dragon, could inspire your next family-friendly meal. Although families might not be boarding the Shrimporium, these Southeast Asia inspired recipes from Radish Kids might turn that family dinner into a culinary trip. In a collaboration with Disney, Radish Kids has created a "Dinner and a Movie" digital cooking kit that allows home cooks to create three family-friendly recipes. With easy to follow directions and approachable flavors, it appears that even the kids can help with the whole cooking process.
While Raya battles evil forces in the fantasy world of Kumandra, the connection to Southeast Asia culture is woven into the Disney movie (via Disney). With this digital cooking kit, Radish Kids saw an opportunity to bring those flavors and recipes from that region into the family kitchen. Although the recipes might not be featured in the film, the dishes are an opportunity for home cooks to explore another cuisine in an approachable and fun way. Whether families choose to make one recipe or all three, an entertaining evening of enjoying food and film could spark magical memories long after the meal is finished.
What dishes are on the Raya and the Last Dragon family-friendly menu?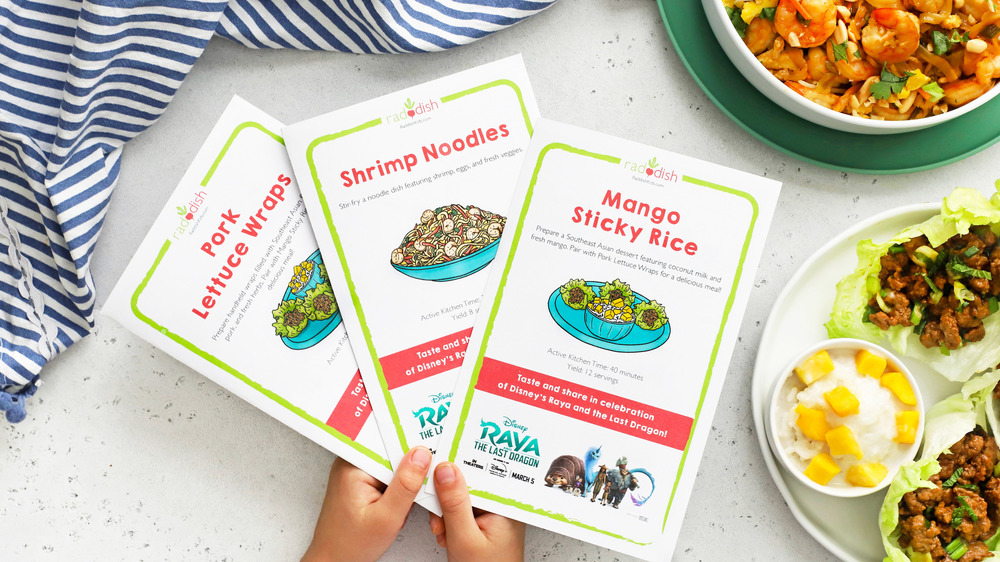 Radish Kids
Available on the free digital cooking kit are three recipes, "Shrimp Noodles, Pork Lettuce Wraps and Mango Sticky Rice." In a way, these three dishes can make a whole meal, appetizer, entree and dessert. The recipes offer step-by-step picture guides to simplify the cooking experience. Even if mom and dad have burnt their fair share of dinners, this Radish Kids family-friendly meal could spark a new quest to sharpen those cooking skills.
Included in the recipe guide, the "Culinary Connections" section simply explains common Southeast Asian ingredients and flavors. From the five flavor profiles to common kitchen tools, the additional knowledge could spark a food conversation around the table, as well as make trying new foods less scary. Paired with the "Table Talk" conversation cards, the Radish Kids kit seems to turn new foods into an exciting adventure and encourages the family to embrace that flavor exploration. If your family is ready to take a bold culinary journey, similar to Raya's quest in Raya and the Last Dragon, the first step starts by walking into the kitchen.