Here's How Fans Reacted To James McAvoy's Surprising Great British Baking Show Win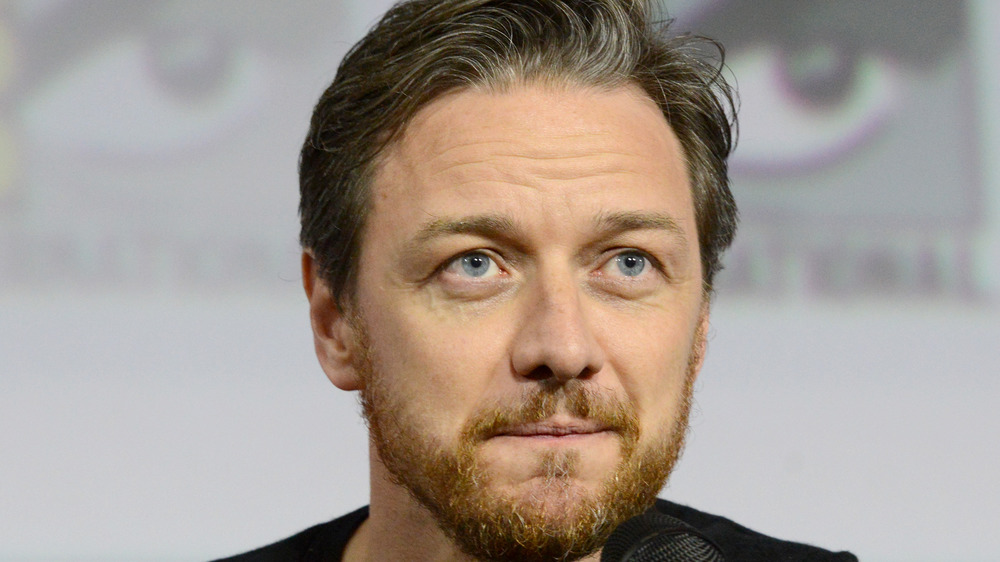 Albert L. Ortega/Getty Images
Judging from the fan reaction on Twitter, it didn't matter that James McAvoy won the celebrity edition of the Great British Baking Show (called Great British Bake Off in the UK) that aired in Britain on March 16 (via Independent). McAvoy knocked all three stages of the competition out of the park (a sports metaphor you'll never hear on GBBO, unless they have home runs in cricket) to earn the title of Star Baker. McAvoy, an actor known for his roles in Split, His Dark Materials, and the X-Men franchise, outbaked singer Anne-Marie, comic David Baddiel, and athlete Dame Kelly Holmes. Instead of paying McAvoy prize money, the show donated to the organization Stand Up To Cancer (SU2C).
Yes, fans on social media admired McAvoy's baking prowess. "MB" tweeted a photo of a woman sprawled on a bedroom floor under the words, "James McAvoy baking. All the ladies like...." But they admired his biceps at least as much. Twitter-verified Jarett Wieselman, a former BuzzFeed editor who now works at Netflix (via LinkedIn), tweeted a short clip of McAvoy on GBBO and wrote, "I would like to thank #GBBO for this GIF of James McAvoy cleaning a dish in a short sleeve shirt." Twitter user "nimkaz90" also noticed, tweeting, "Can we take a second to talk about James McAvoy's arms?"
Great British Baking Show fans were admiring more than James McAvoy's scones
As British Twitter continued to lavish praise on James McAvoy during his appearance Tuesday on Great British Bake Off's side project, The Great Celebrity Bake Off for SU2C, it remained unclear whether fans were admiring his perfectly browned scones or his overheated sexiness. "I wish James McAvoy would fan me like he fanned those scones," Sophie Mason tweeted. "If James Mcavoy keeps winking on #GBBO I'm going to be pregnant very soon," tweeted Harry Nicholas.
Even Paul Hollywood's piercing blue eyes had to take a back seat. Twitter user Charis Scott-Holm promised to start a petition to have McAvoy replace Hollywood as a judge on the show. You get the idea – at least from those tweets we felt we could share with a family audience. As @HannahRogan0 put it on Twitter, "Very glad the nation shares my massive crush on James McAvoy."
The United Kingdom had exclusive access to McAvoy's Great British Bake Off moment, as the celebrity version of the show doesn't appear on U.S. Netflix like the regular seasons do (via Marie Claire). American women and men who would like to feast their eyes on GBBO's latest celebrity star baker can watch an extended clip of his scenes, which the show posted to Instagram.