Great British Baking Show Fans Can't Believe This Celebrity Didn't Know What A Scone Is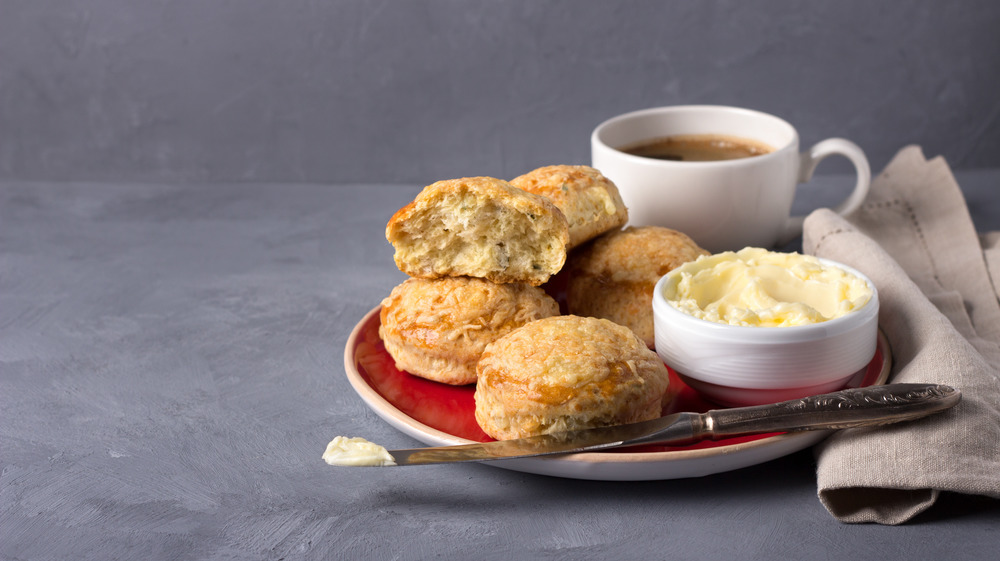 Shutterstock
Baking and sharing recipes can bring people together and bridge cultural divides. However, when that experience is put on television for millions to see and judged by not just a panel of intimidating bakers but, after the fact, by Twitter, it can become a much more stressful way to spend your time.
Take singer-songwriter Anne-Marie, for instance, who appeared on the second episode of this season of The Great Celebrity Bake Off alongside actor James McAvoy, comedian David Baddiel, and Olympian Dame Kelly Holmes. During the technical task of last night's episode (to make six cheese scones and homemade butter in just one hour and 15 minutes), Anne-Marie shouted: "What the hell is a cheese scone?!" (via The Sun).
If you also aren't familiar with scones (or haven't seen Derry Girls yet), they're a simple baked good, a bit like a very dense muffin, that originated in the British Isles and date back to the 16th century at least (via The New York Times). They can be sweet or savory, and are often paired with a cup of tea and spreads like butter, jam, or clotted cream.
Luckily, despite the gap in her baked good knowledge, Anne-Marie managed to come second place in the challenge (after James McAvoy), but that's not what Twitter remembers this celebrity episode for.
What Twitter had to say about Anne-Marie's Great British Baking Show blunder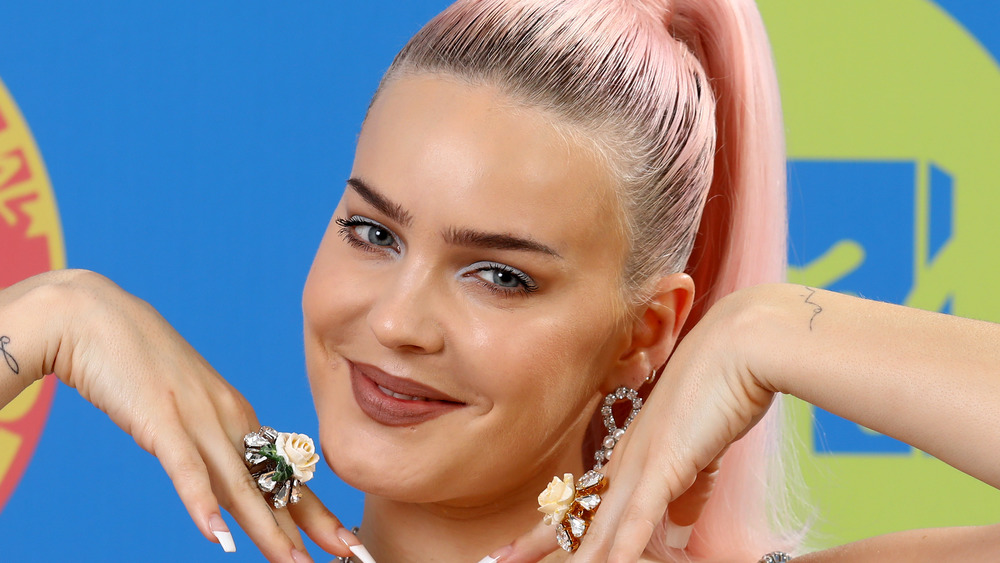 Tim P. Whitby/Getty Images
The Great British Baking Show has become a great source of comfort television in these tumultuous times, and while James McAvoy's presence alone would be more than enough for some, the best part of The Great Celebrity Bake Off is always the moments when celebrities look just as clueless as we all feel when trying to bake something for the first time. So. when Anne-Marie shouted: "What the hell is a cheese scone?!" the internet responded.
One person tweeted: "Doesn't know what a scone is?? #GBBO" along with a photo of the Lisa Simpson staring meme (via Twitter). Another posted a GIF of Kermit the frog biting his knuckles and shaking his head with the caption "Anne-Marie didn't know what a scone was before the challenge.... Please tell me she's joking. #gbbo" (via Twitter). 
Luckily for Anne-Marie, that negative attention was short-lived and quickly replaced by the debate over which is the correct pronunciation of the word scone (whether it rhymes with "gone" or "cone") (via Twitter).