Fans Of Peeps Will Love Ali Khan's Easter Cocktail Recipe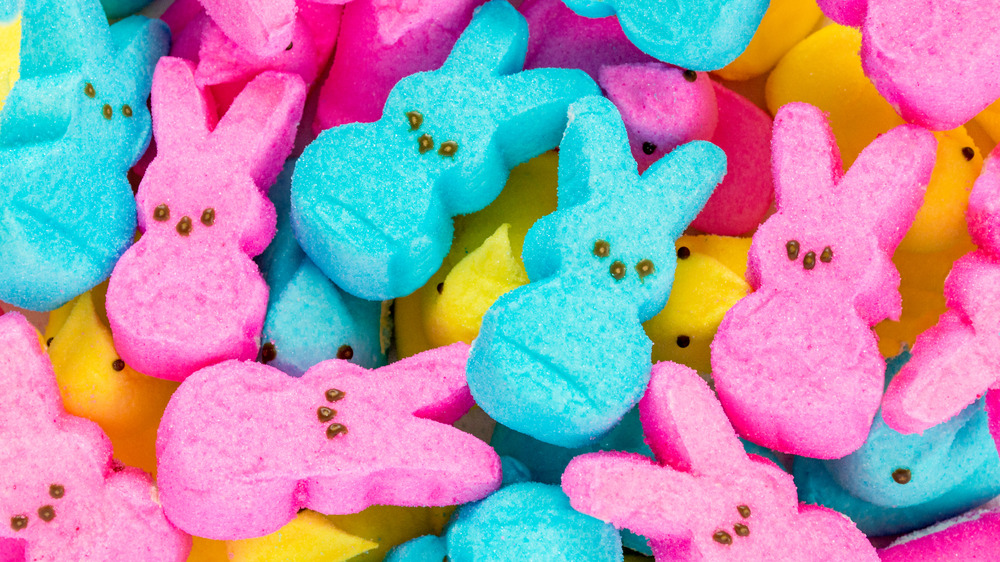 Shutterstock
If Peeps were a cocktail, what would they be? While an obscure spirits business in Australia called Mt. Uncle Distillery has indeed concocted a marshmallow liqueur, that's not where TV foodie Ali Khan was going with his official Easter cocktail, the "fluffy Peep."
You may know Khan as the host of the Cooking Channel's Cheap Eats. He's currently on the Food Network, too, hosting Spring Baking Championship. Now you can add mixologist to his resume. Wearing a ship captain's uniform for some reason, Khan demonstrates how to make his fluffy Peep in a video posted to Instagram Reels. If you have trouble tracking the drink's five ingredients in the video, Khan posted a photo of them on Twitter.
Like Peeps themselves, you can't really tell just by looking at it what Khan's fluffy Peep is going to taste like. And just like the maligned Easter candy, you might guess it wouldn't taste good at all.
Ali Khan's Peeps cocktail doesn't skimp on the alcohol
Here's how Ali Khan makes his fluffy Peep Easter cocktail: Combine ice, Verpoorten Advocaat, Bombay Sapphire gin, Naranja orange liqueur, and fresh orange juice. On the Instagram Reels video, Khan doesn't skimp on those shot sizes, either, except maybe a little with the orange juice. Once all the liquids are combined, shake, pour, and garnish with a Peep.
What's Verpoorten Advocaat, you ask? Drizly's website tells us it's a creamy, custard-flavored egg liqueur – which sounds Eastery, if not yummy. The proof would be in the taste. The proof is also in the gin – 80 proof, to be exact. Naranja is strong for a liqueur, at 80 proof also. The Advocaat is 20 percent alcohol. All combined, that makes the fluffy Peep a mighty stiff accompaniment to chocolate bunnies and jelly beans. Commenters on Khan's Reels video definitely picked up on that. "That Peep bunny is going to be so happy," one commenter said. Khan replied, "He's hammered."
Since you're mixing orange juice and the creamy Advocaat liqueur (which makes about as much sense as Khan in a captain's uniform), then Khan suggests making each drink to order, rather than mixing up a pitcher of the stuff in advance. However you choose to serve fluffy Peeps to your Easter guests, it promises to be a party no one will forget. Either that or everyone will.