Omurice Recipe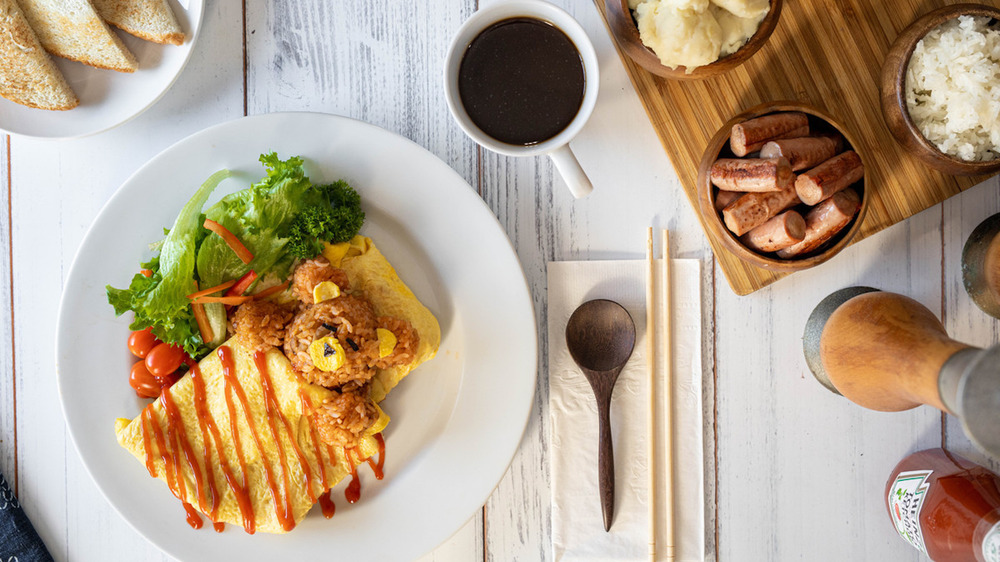 Keith Kamikawa/Mashed
Get ready to make the cutest, tastiest omelet hailing from Japan: omurice! Omurice a great example of a type of Japanese cuisine known as Western food or yoshoku. These dishes, inspired by European and American food that arrived in the island nation in the late 19th and early 20th centuries, blend traditional Western ingredients like meat, ketchup, and even French demi-glace sauce with Japanese stalwarts, like soy sauce and rice. Common yoshoku dishes include spaghetti Napolitan (a sort of stir-fried play on typical Italian spaghetti with tomato sauce) and hambagoo, a hamburger steak served on a plate and topped with a rich gravy.
In this recipe from food photographer and recipe developer Keith Kamikawa, a delicate omelet is filled with a seasoned fried rice made with flavorful chicken thighs. (Omelet + rice = omurice. Get it?) Drizzled with ketchup or homemade demi-glace sauce, it's a delightful dish the whole family will love. (Especially if you get creative with plating ... but we'll get to that later!)
Gather the ingredients for the omurice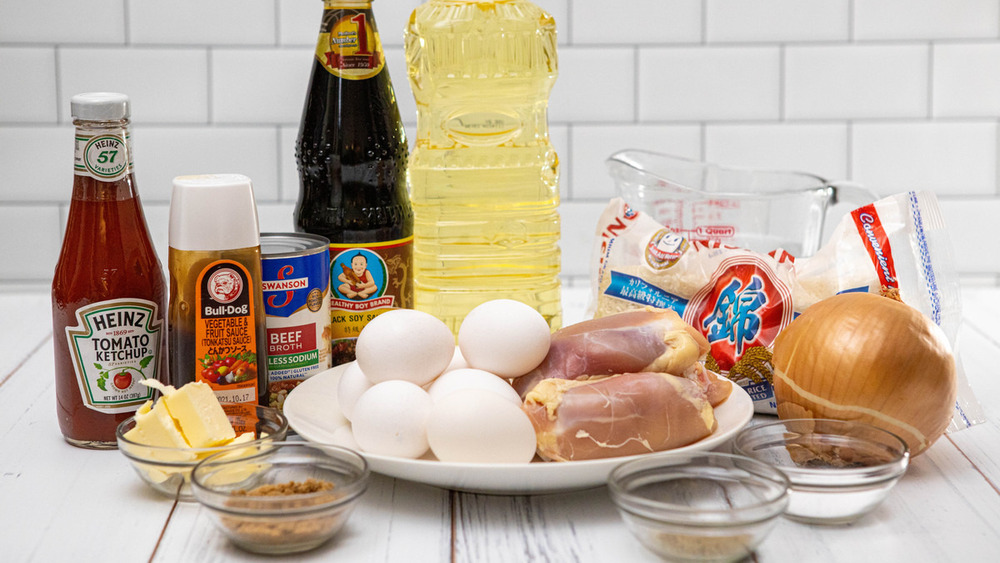 Keith Kamikawa/Mashed
First thing's first: we've got to gather our ingredients. The list will feature many that are familiar, like ketchup, beef broth, and chicken, but a few that may not be.
The main outlier for the typical American pantry is tonkatsu sauce, which Kamikawa notes is "similar in flavor to Worcestershire sauce but a little sweeter and [with] less sharp of a profile." If you don't have any and can't find it near you, don't let that deter you from making this recipe! For Kamikawa, "adding Worcestershire sauce, Mirin, and a bit more soy should be able to be a fine substitute."
You'll also want to start with some pre-cooked rice, preferably from the day before. "Day-old rice for any fried rice is ideal," says Kamikawa. "Day-old rice has less moisture in it and when making fried rice, it crisps up and browns for the perfect texture." While sushi rice is the most traditional filling for this omelet, leftover long grain or brown rice will work too!
Make the demi-glace sauce for the omurice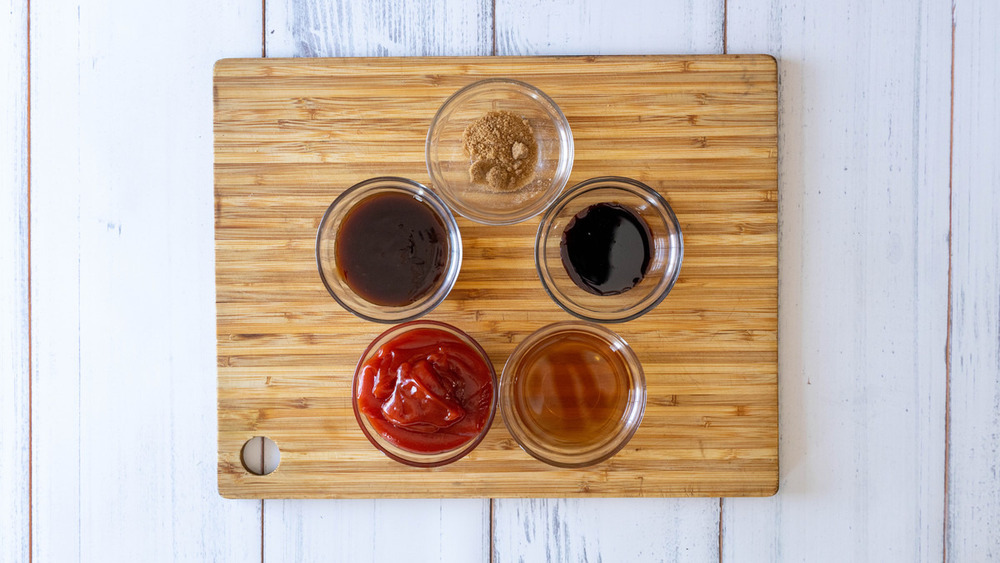 Keith Kamikawa/Mashed
Start things off by making the demi-glace sauce. Originally hailing from traditional French cuisine, this thick, glossy sauce will be used to top the final omelet. 
In the version common to Japan, this beef broth-based sauce is sweetened with brown sugar, ketchup, and tonkatsu sauce and is seasoned with salty, umami-rich soy. It's just a matter of whisking these ingredients together in a saucepan and simmering until hot and thick.
Make the fried rice for the omurice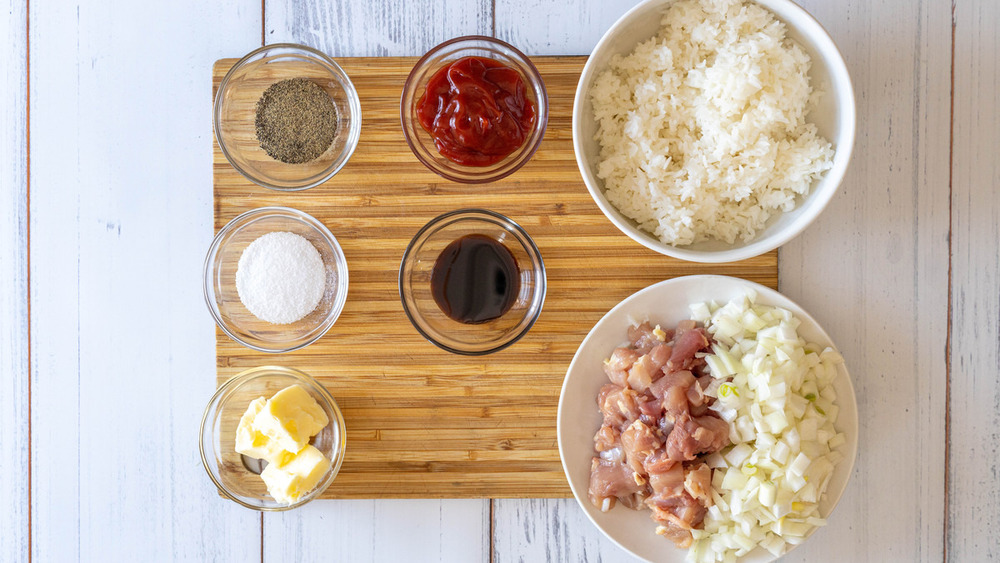 Keith Kamikawa/Mashed
With the sauce made, it's time to turn your attention to the fried rice filling. You'll want to move in stages, cooking each ingredient until golden brown, to achieve maximum flavor: first the onions, then the chicken, and finally the pre-cooked rice. They're sautéed in a generous amount of butter, yet another important ingredient that makes this filling rich, glossy, and absolutely delicious.
Chicken thighs are used in this dish as they're far more flavorful than breasts, but if you're not a fan, you can always sub in white meat — just be sure not to overcook it and risk drying it out!
Season the fried rice with ketchup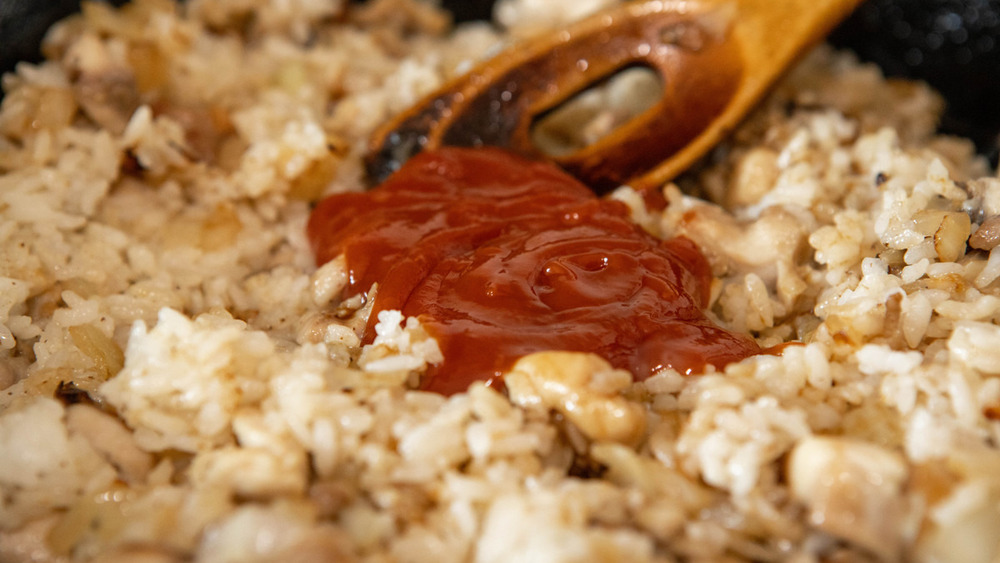 Keith Kamikawa/Mashed
Once the rice and chicken are nicely cooked, it's time to season with ketchup. Unlike in American cooking where ketchup is used mainly as a condiment, in Japanese yoshoku dishes, the sweet, savory, and acidic flavors of ketchup provide delicious seasoning for dishes like omurice. Kamikawa notes that "it's even used in some Japanese spaghetti recipes, which I'm sure some Italian grandmother would not be happy with!"
Like American cuisine, Japanese pretty deftly combines sweet and savory ingredients, albeit in a more subtle way, according to Kamikawa.
"I think Westerners might think umeboshi onigiri might be a strange combination, but then we can just go have fried chicken and waffles at any awesome breakfast shop," he says. "That being said, sweet with savory is, I think, more subtly combined in Japanese cuisine, including yoshoku."
Make the omelet for the omurice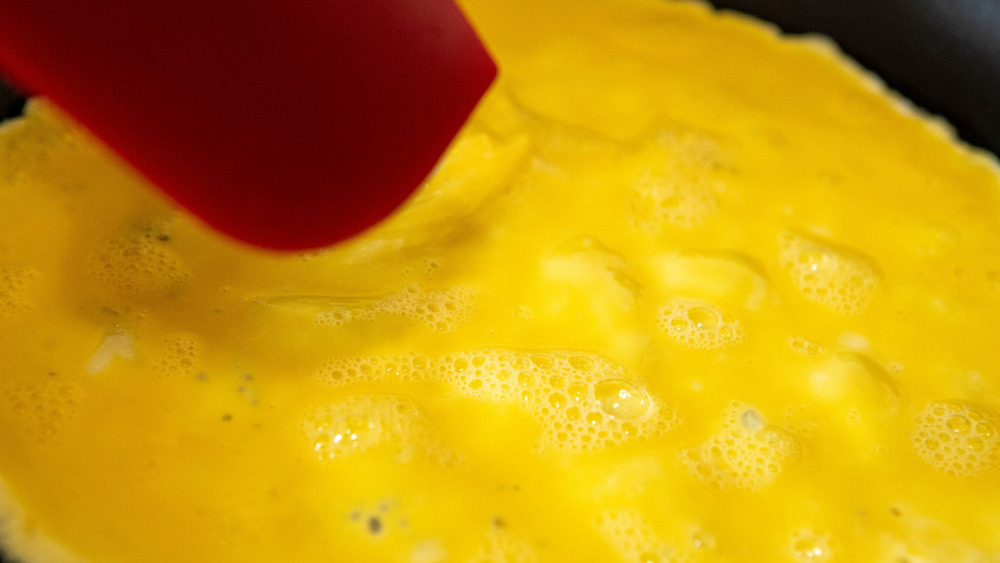 Keith Kamikawa/Mashed
Finally it's time to make the omelet itself! Each omelet is made with two eggs, making it quite thin — kind of like a tasty wrapper for the filling. Because the omelet itself is so delicate, using a nonstick pan is a great way to make it as stress-free as possible, but it's far from the only way.
"Non-stick pans are great for making omelets, but a well-seasoned cast iron pan will always be my go-to choice for any omelet," says Kamikawa.
Add the fried rice to the omurice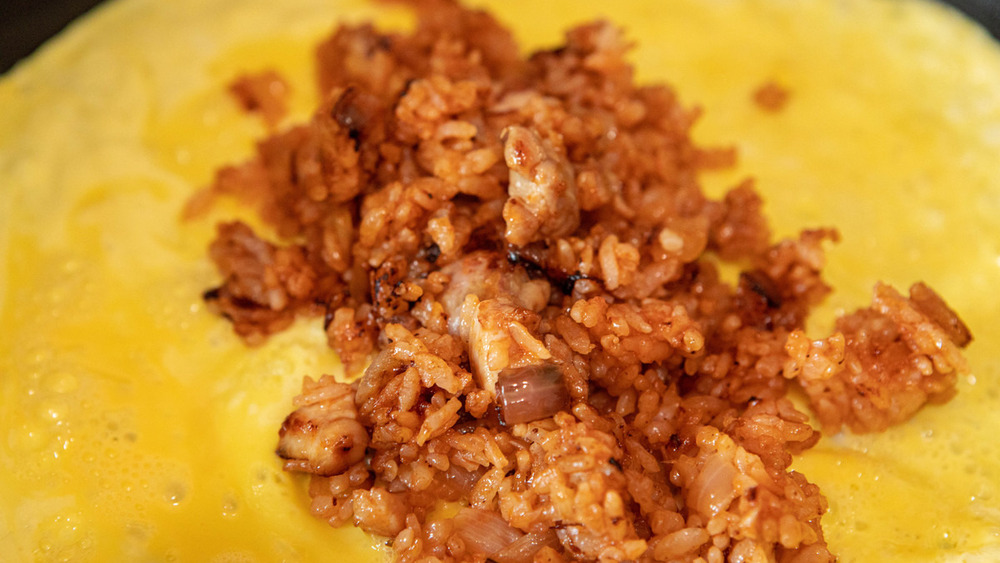 Keith Kamikawa/Mashed
Once the omelet is halfway cooked, it's time to add the rice. Pile it in the center, working quickly to keep from overcooking the omelet. Then simply fold both sides of the omelet towards the center, forming almost an open tube. 
To remove the omelet from the pan, use a large plate, flipping the omelet onto it so that the seam is facing down and hidden from view.
Shape the omurice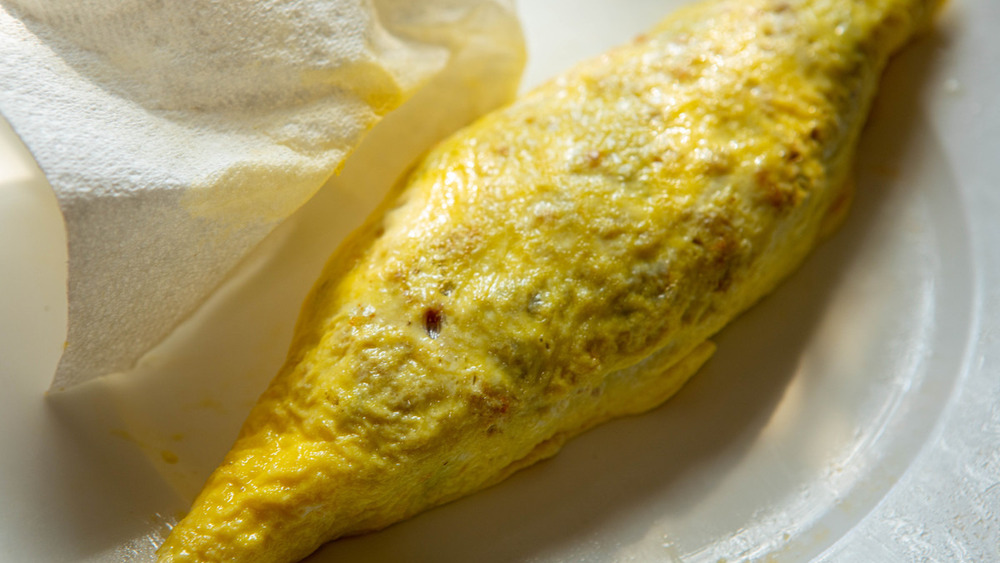 Keith Kamikawa/Mashed
Once the omelet is on the plate, use a paper towel to help form it into its elongated, almost football-like shape. Set it aside, and proceed with the remaining omelets.
"Omelet-making should go relatively quickly but not everyone can be as fast as we'd like," says Kamikawa. "If there is any concern that your finished omelets will get cold while you're still making more, heat your oven to 200 degrees and keep the finished omelets (un-sauced) on a sheet pan in the oven until all of the omelets are done."
Garnish your omurice with demi-glace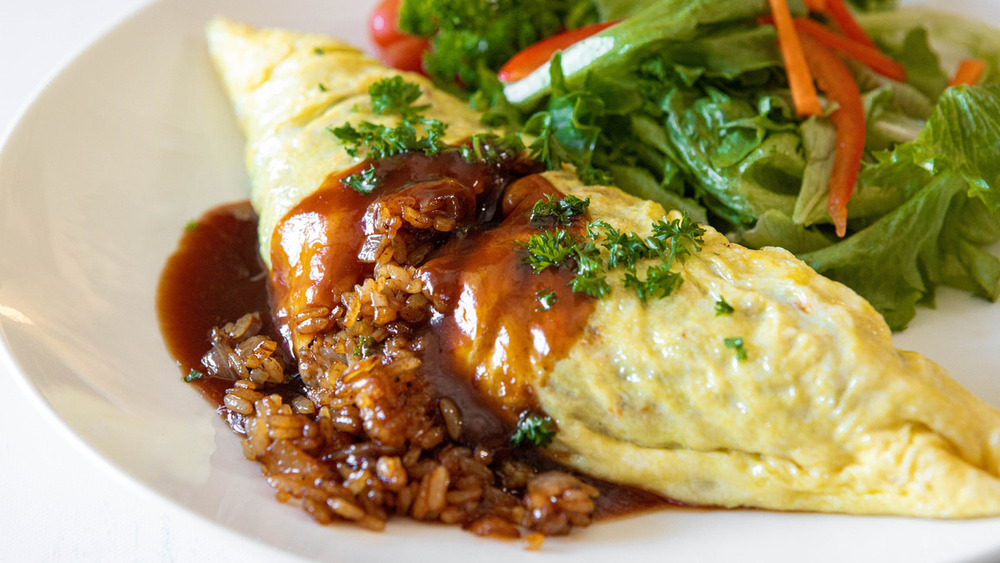 Keith Kamikawa/Mashed
Once your omelets are made, it's time to garnish and serve, so heap a side of salad or steamed veggies on the plate with the omelet, and drizzle with that homemade demi-glace you prepared earlier (you can serve any extra in a gravy boat on the side). Sprinkle the omurice with chopped parsley, and it's time to dig in. You can serve this dish with Western cutlery (knife and fork) or with Japanese chopsticks and a spoon. Either way, it'll be delicious.
Garnish your omurice with ketchup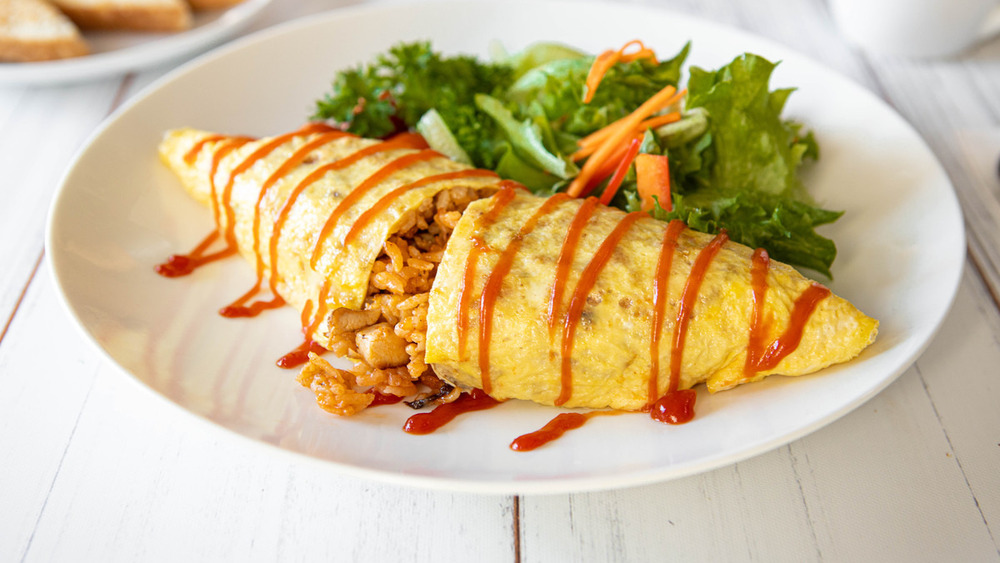 Keith Kamikawa/Mashed
Demi-glace is not the only traditional topping for omurice — some prefer ketchup instead! "I've had Omurice both with demi-glace and with ketchup both in Japan and South Korea," says Kamikawa, who notes nevertheless that "omurice topped with ketchup seems to be served at more child-friendly places or at home."
If ketchup seems an easier way to approach this dish, go for it! It will still be delicious. "You can always have the demi on the side, of course!" adds Kamikawa.
Plate your omurice in creative ways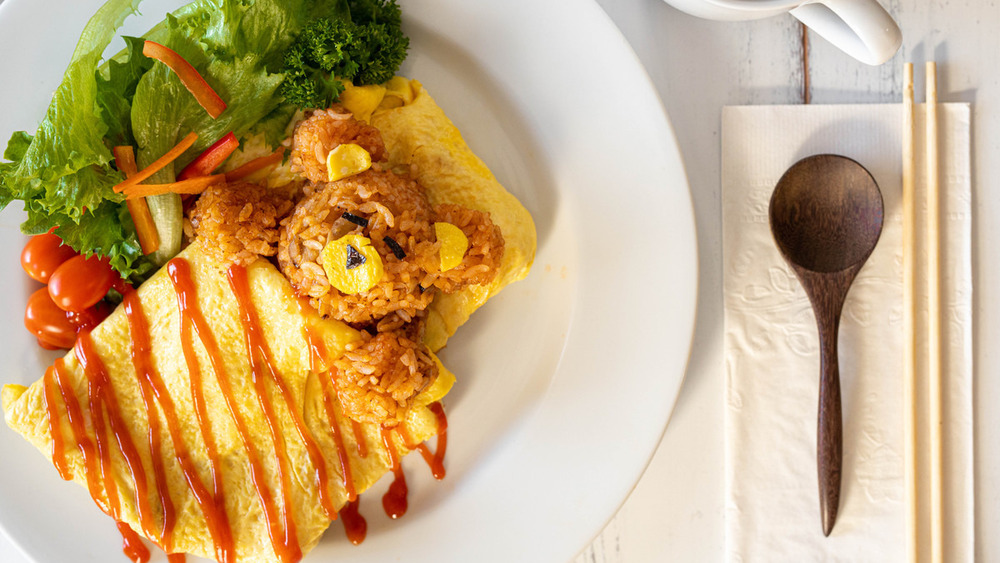 Keith Kamikawa/Mashed
If you're feeling particularly creative, you can also serve your omurice in different shapes, like a cute sleeping bear. The method, Kamikawa says, is "actually pretty simple and a ton of fun."
First, make two omelets, one to use as a "pillow," and the other for the "blanket." Fold the pillow omelet and place it on the plate. Then use an ice cream scoop to form the head of the bear with fried rice, and add a bit more rice for the body. Drape the "blanket" omelet over the top, taking care to nestle it just under the bear's chin. Form four small rice balls with your hands for the ears and paws, and then cook up a touch more egg to make the nose and ears. Use nori sheets to make the eyes and nose, and it's time for bed — err, rather, for dinner!
Omurice Recipe
This delicious omurice recipe from Japan combines seasoned fried rice and flavorful chicken thighs in a delicate omelet, drizzled with ketchup or demi-glace.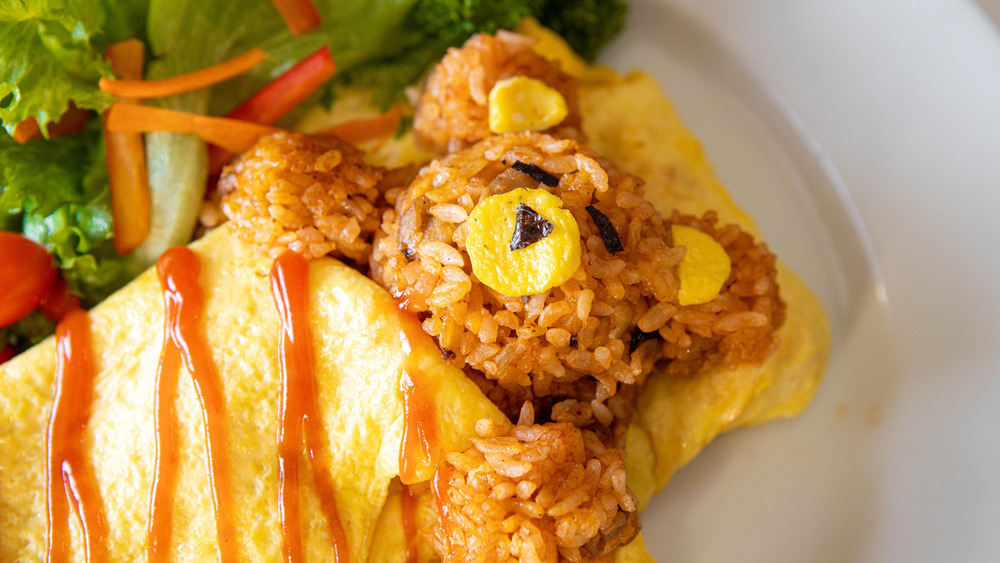 Ingredients
3 tablespoons tonkatsu sauce
¾ cup ketchup (divided) + extra for serving
1 tablespoon + 2 teaspoons soy sauce (divided)
3 tablespoons beef broth
1 teaspoon brown sugar
2 tablespoons unsalted butter (divided)
6 ounces onion (about 1 medium), diced
8 ounces boneless, skinless chicken thighs, diced
2 cups cooked sushi rice (preferably day-old)
2 teaspoons vegetable oil (divided)
8 eggs
Salt and pepper, to taste
Directions
Make the demi-glace sauce: In a small pot whisk together the tonkatsu sauce, ½ cup ketchup, 2 teaspoons soy sauce, the beef broth, and the brown sugar. Bring sauce to a simmer, then set aside until ready to serve.
Make the fried rice: Heat a large sauté pan over medium heat. Melt 1 tablespoon of butter and add the onions. Sauté until lightly browned, about 4 minutes.
Increase the heat to high, and add the chicken. Sauté until browned, about 3 minutes.
Form an empty space in the middle of the pan, and add remaining butter. Once melted, add the rice. Stir quickly for around 4 minutes, until the rice is crisp and fried.
Add the remaining ¼ cup ketchup and 1 tablespoon soy sauce. Toss so that the rice is fully coated, and season to taste with salt and pepper.
Make the omelet: Heat another nonstick pan over medium-high heat. Whisk 2 eggs for the omelet. Add ½ teaspoon vegetable oil to pan. When the oil is shimmering, add the eggs and cook halfway.
Working quickly, add about ¾ cup fried rice down the center of the omelet. Fold both sides of the omelet towards the center, forming almost an open tube. Bring the edge of the pan to meet a large plate, and flip the omelet upside down onto it, so the seam of the omelet is facing down on the plate. Using a paper towel, form the omelet into a "football" shape.
Repeat 3 more times for a total of 4 omelets. (Note: You can also have fun shaping your rice in creative ways, like a sleeping bear!)
Slide the fresh omurice onto a clean plate. Top with desired amount of demi-glace or ketchup, and serve immediately.
Nutrition
| | |
| --- | --- |
| Calories per Serving | 439 |
| Total Fat | 19.0 g |
| Saturated Fat | 7.2 g |
| Trans Fat | 0.3 g |
| Cholesterol | 388.5 mg |
| | |
| --- | --- |
| Total Carbohydrates | 41.0 g |
| Dietary Fiber | 1.5 g |
| Total Sugars | 12.6 g |
| Sodium | 975.4 mg |
| Protein | 25.9 g |