Trader Joe's 3 Ingredient Energy Bites Recipe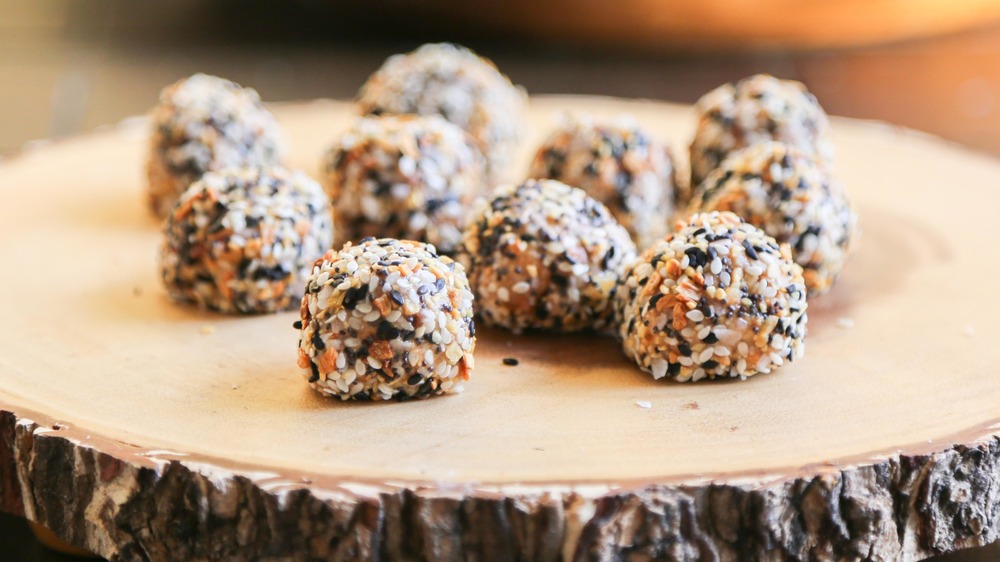 Maren Epstein/Mashed Staff
When you're looking for a quick and easy, pre-portioned snack after you finish a workout or to help tide you over until dinner, it's hard to go wrong with these energy bites developed by Maren Epstein, the chef and food writer at Eating Works. The thing about the term "energy bites" is that, similar to "energy bar," the word "energy" here isn't referring to the boost in adrenaline you're going to feel as you go through the rest of your day (there's no caffeine in this snack — sorry!); rather, it's referring to calories. 
In nutrition, the amount of energy found in a product equates with how many calories are inside. This is because, in fact, calories are the measurement of how much energy you derive from your food — food, of course, does give you energy. So, when something uses the word "energy," it's shorthand for saying, "you're getting extra calories from this food." To be clear, that's not a bad thing! It just means you should keep an eye on portion sizes. This is important to mention because these energy bites are addicting, and you just might be tempted to pop back the entire batch in a single sitting. Maybe you could get away with this once, but given that you'd be eating nut butter coated in nuts and seeds (all healthy, but energy-rich items!), it's probably best to pack two or three for your snack and save the rest for other days.
Gather your energy bites ingredients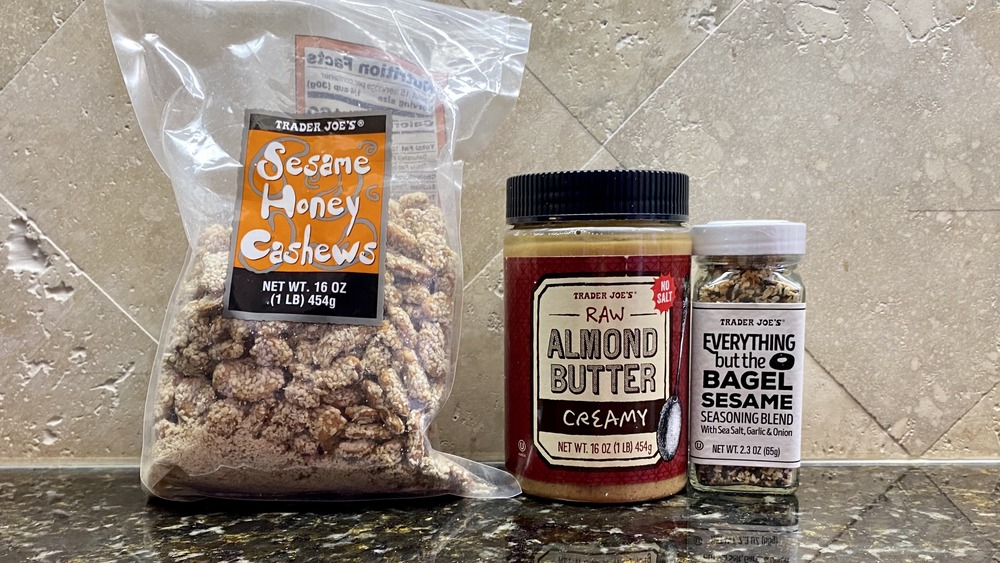 Maren Epstein/Mashed Staff
When gathering ingredients, you don't need much. You literally only need three ingredients, and you can pick them all up from a shopping trip at Trader Joe's. All you need is the brand's raw almond butter (pick up the creamy version), their Sesame Honey Cashews (this helps deliver sweetness to the energy bites), and the Everything but the Bagel Sesame Seasoning Blend. And of course, if you're not an almond butter fan, you can substitute other forms of nut butter if you like. Recipe developer, Maren Epstein points out, though that the raw almond butter from Trader Joe's is a killer deal, "It's such a great value for raw nut butters, which are usually $25 dollars a jar. This one is only $6." 
And, it's important to keep in mind that the Everything but the Bagel seasoning adds some extra saltiness. If you're not a fan, you can substitute plain sesame seeds for the bagel seasoning.
Blend cashews until smooth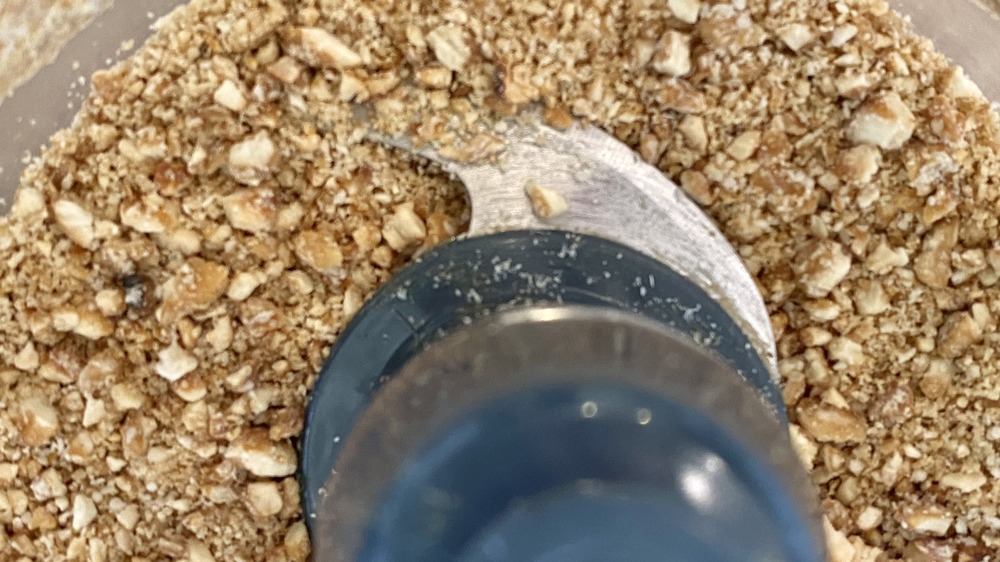 Maren Epstein/Mashed Staff
The recipe really is quick and easy to make, with the total prep time only requiring five minutes. Simply throw the cashews in a food processor and pulse. The goal here is to get the cashews reasonably smooth. They're not going to turn into a nut butter on their own — they'll remain fairly dry, but you want the pieces to break down so that you can mix them easily with the nut butter. Try to get the pieces to be similar in shape and size.
Combine and mix with almond butter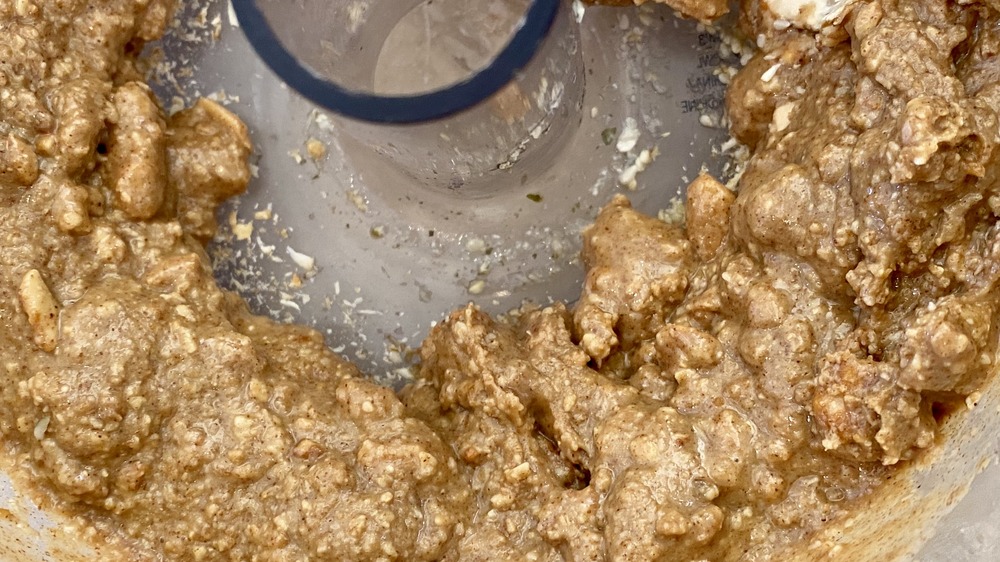 Maren Epstein/Mashed Staff
Once the cashews are smooth, remove the blades from your food processor, then add the almond butter to the container. Use a spoon to mix the two ingredients together. The goal with the dry cashews and the wet almond butter is to end up with a texture that is soft and malleable, but firm enough that it will be moldable and hold a ball-like shape. Think of it as being more akin to cookie dough, and less akin to muffin or pancake batter. 
Form the nut butter into balls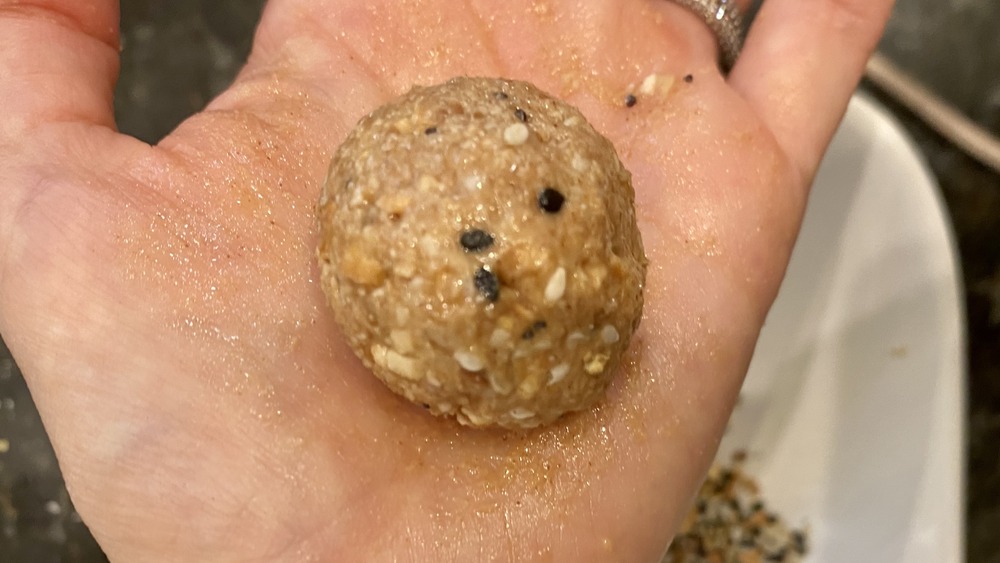 Maren Epstein/Mashed Staff
Now comes the fun part of making these energy bites (apart from eating them of course) — forming the bites into their bite-sized balls. You could do this by guesstimating the size of each bite, but Epstein suggests using a tablespoon to measure out the 16 different portions to make them more-or-less equal in size (and energy, of course). Each time you spoon out a tablespoon from the food processor, use your (clean) hands to roll the ball, then set the ball aside. Continue until you've used all of the nut butter and you've formed all your balls. 
Roll the energy bites in Everything But The Bagel Seasoning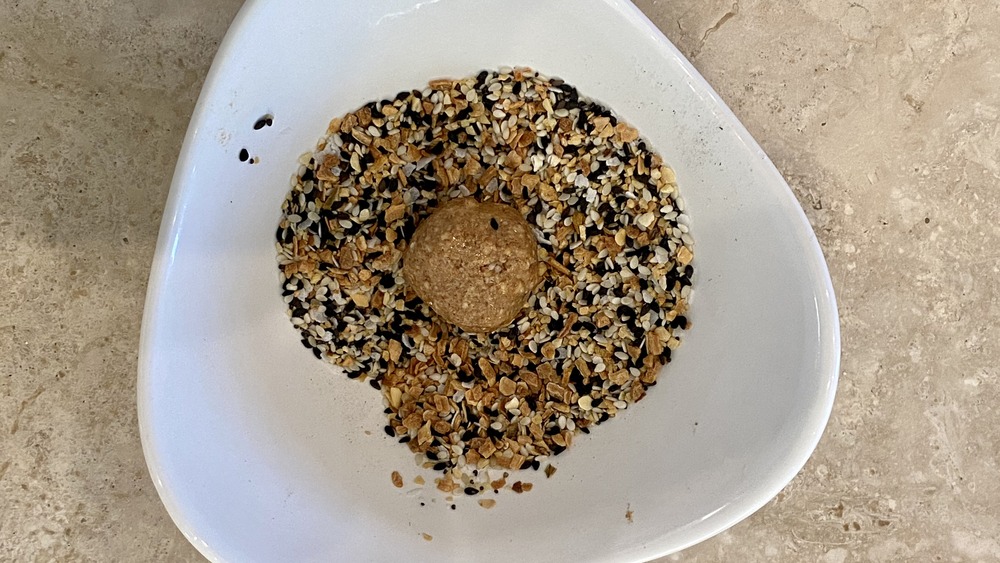 Maren Epstein/Mashed Staff
With all the nut butter balls ready to go, simply place the Everything But The Bagel seasoning into a bowl to coat the balls in the mixture by rolling them around. "If you don't like salty snacks, add the plain sesame seeds to the mixture," says Epstein. Or, she also says that the recipe can be sweetened by opting to roll the bites in dried coconut flakes instead of the seeds and seasoning. 
Chill the energy bites in the fridge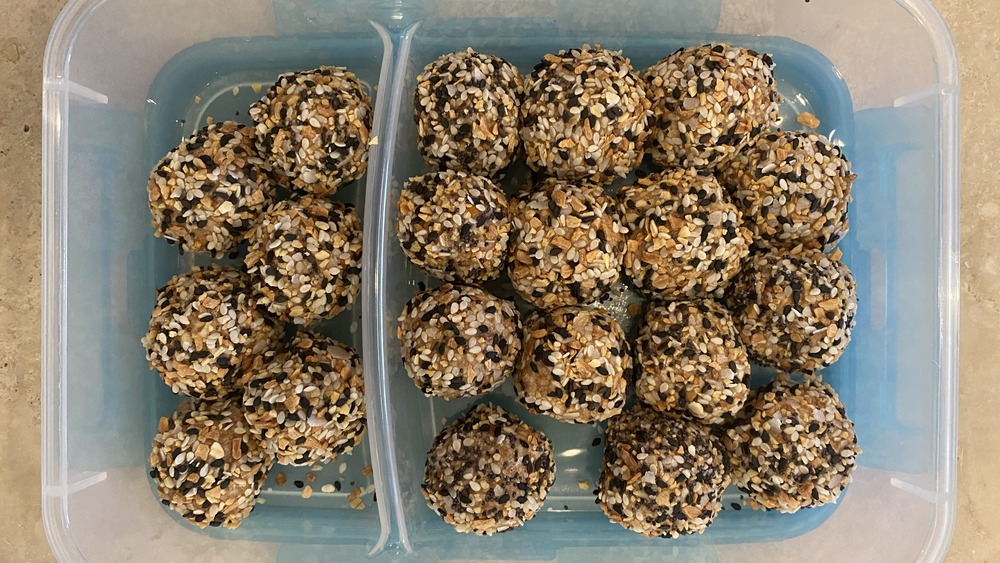 Maren Epstein/Mashed Staff
The last step couldn't be easier — you want the energy bites to firm up a little more before you eat them, so simply place them in a container to chill in the fridge for at least half an hour. We also suggest separating them into two- or three-bite servings and placing them in plastic baggies to grab and go when you're heading out the door. The end result is a savory and sweet treat that Epstein says is practically guaranteed to satisfy any craving.
Trader Joe's 3 Ingredient Energy Bites Recipe
Looking for a snack that will deliver a boost of energy? These 3-ingredient energy bites are just the answer for a salty snack that's easily customizable.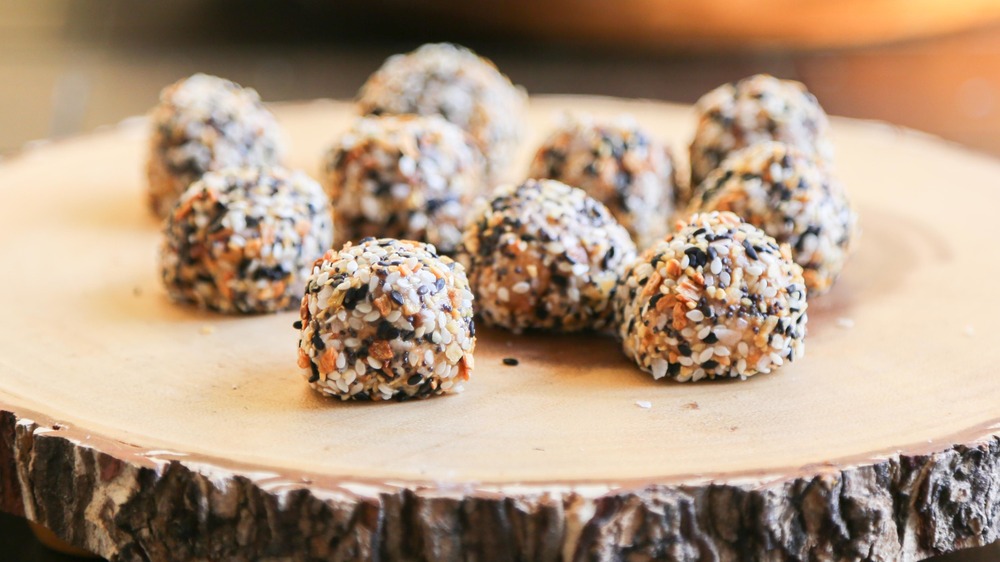 Ingredients
1 ½ cup sesame seed roasted cashews
1 cup raw Trader Joe's almond butter
½ cup Trader Joe's Everything Bagel Seasoning
Optional Ingredients
½ cup plain sesame seeds (optional)
Directions
Place the cashews in a food processor and pulse until smooth. Pour into the almond butter and mix with a spoon to combine. The texture should be wet but clump together easily.
Use a 1 tablespoon measuring spoon to divide the dough into sections. Roll each section into a ball.
Place the bagel seasoning into a bowl. If you don't like salty snacks add the plain sesame seeds to the mixture. Dredge each ball in the seasoning and place it in the fridge for half an hour. Enjoy.
Nutrition
| | |
| --- | --- |
| Calories per Serving | 176 |
| Total Fat | 14.8 g |
| Saturated Fat | 1.9 g |
| Trans Fat | 0.0 |
| Cholesterol | 0.0 mg |
| | |
| --- | --- |
| Total Carbohydrates | 8.6 g |
| Dietary Fiber | 2.2 g |
| Total Sugars | 1.4 g |
| Sodium | 83.9 mg |
| Protein | 5.5 g |