Short Rib Recipe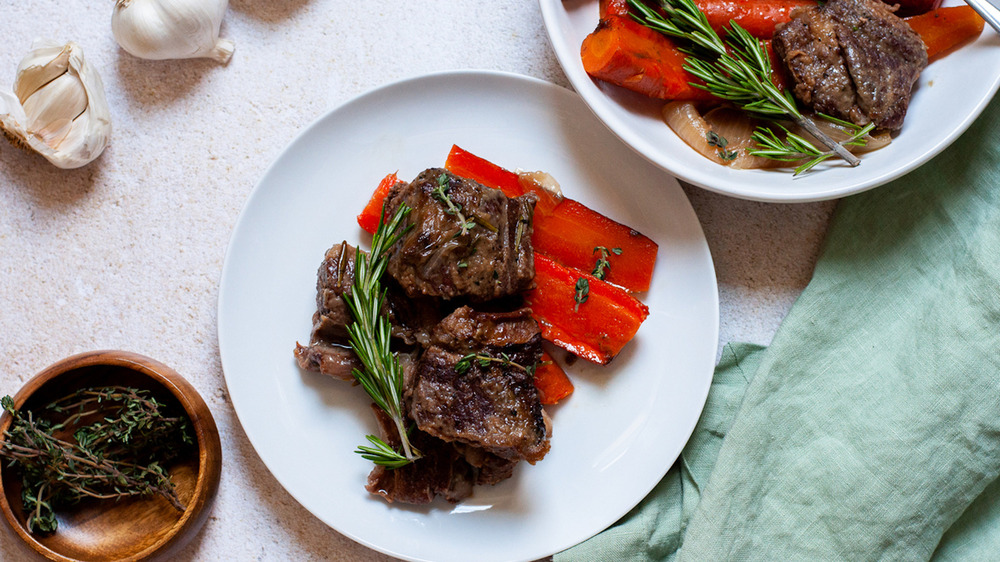 Christina Musgrave/Mashed
If you've never made beef short ribs at home, today is the day to conquer your fears! Beef short ribs are a particularly flavorful cut of beef hailing from the brisket area of the cow. Rich in connective tissue, flavorful short ribs are rather tough at the outset, becoming rich and fall-apart tender after a long braise. And that's exactly what Christina Musgrave of Tasting with Tina offers with this recipe.
Musgrave's approach to seasoning the short ribs is simple: just beef stock, herbs, and aromatics. As a result, she says, "You can really taste the flavor of the beef, along with herbs."
Served over mashed potatoes or polenta, they're succulent and savory — a real treat for any meat lovers out there, and usually relatively inexpensive to boot.
These short ribs do require three hours of cooking time to achieve their full potential, but not only is most of this time very hands-off, Musgrave notes that they're delicious when made in advance and simply reheated before serving. "It's really hard to overcook them," she adds, so consider prepping a batch when you have time at the weekend and then digging in on a busy weeknight.
Gather the ingredients for the beef short ribs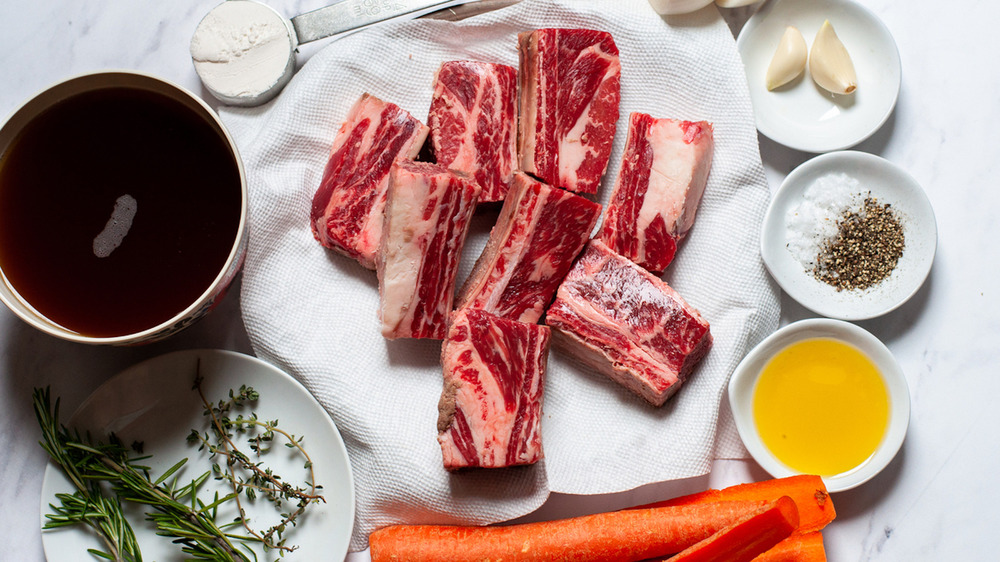 Christina Musgrave/Mashed
This recipe is really all about the beef — bone-in beef short ribs, to be exact. They're tossed in salt-and-pepper-seasoned flour before being seared in olive oil and then braised with carrots, onions, garlic, thyme, and rosemary.
For the braising liquid for this dish, Musgrave opts for beef broth or beef stock to kick up the natural flavor of the short ribs. "You can also use some red wine in addition to the beef broth," she suggests, which will add even more depth to the sauce.
Dredge and sear the beef short ribs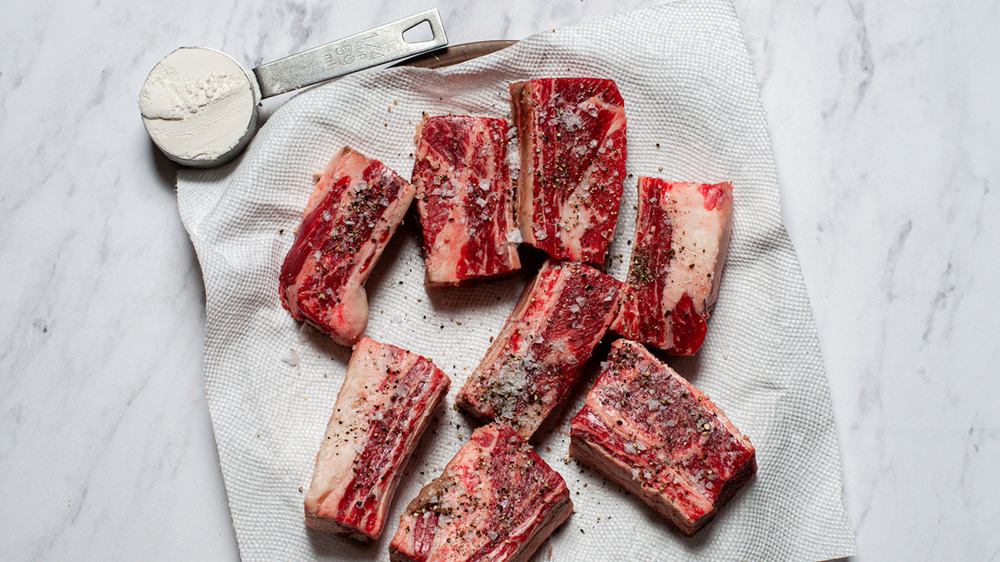 Christina Musgrave/Mashed
The beef ribs will braise for three hours in the oven, so first thing's first: preheat that baby to 325 degrees Fahrenheit. 
While the oven is heating, it's time to turn your attention to the short ribs. Season them liberally with salt and pepper before dredging them in flour on all sides. This will help them take on even more nutty caramelization when they're seared and will also help the broth to thicken into a rich gravy.
Sear the beef short ribs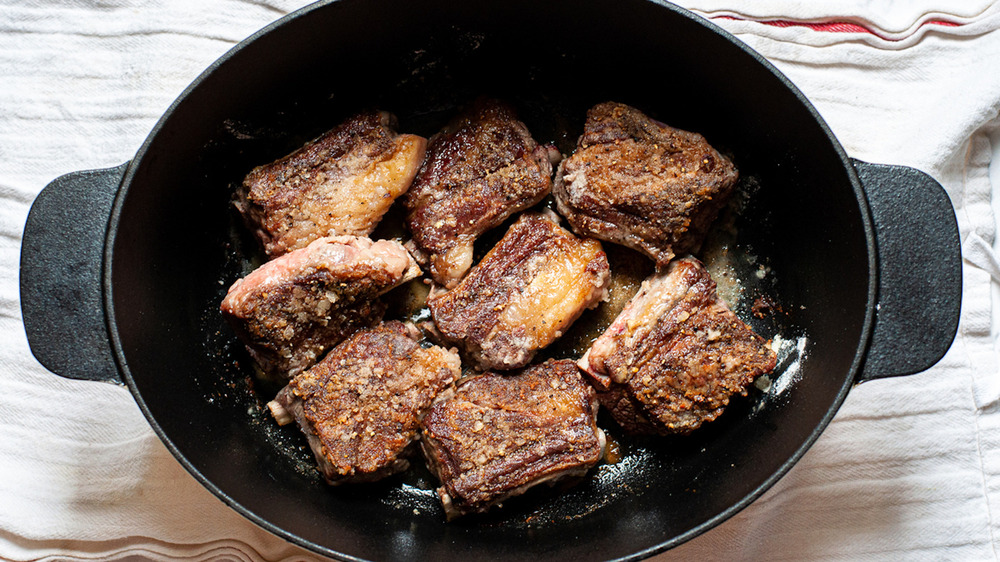 Christina Musgrave/Mashed
Heat the olive oil in a large Dutch oven over high heat, and sear the short ribs evenly on all sides. Don't worry about cooking them through at this stage — the braise will take care of that. Just make sure they're nicely caramelized but not burned.
As in any case of searing meat, it's best to work in batches. Overcrowding the pan can lead the temperature of the oil to drop, which means you'll be steaming the meat rather than searing it. Reserve the seared short ribs on a plate, where their juices can collect as you finish searing the other ribs.
Braise the beef short ribs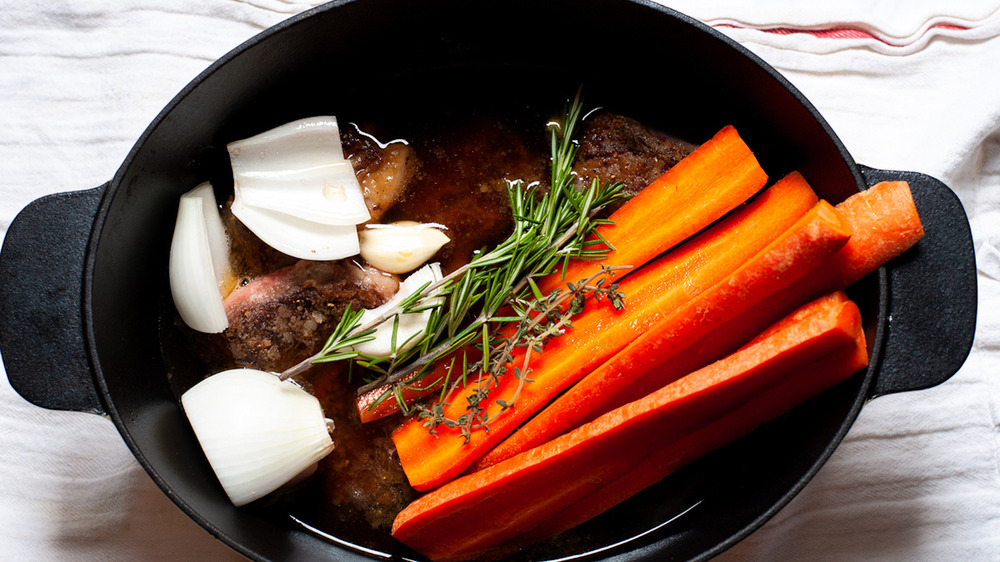 Christina Musgrave/Mashed
Once all of the short ribs are browned, return them and any accumulated juices to the Dutch oven. Now it's time to bump up the flavor! Add the carrots, onion, garlic, and broth, and top with sprigs of thyme and rosemary.
Musgrave likes to halve the whole carrots lengthwise for this braise, for a prettier presentation. They'll impart their slightly sweet flavor into the sauce while also taking on the richness of the beef over the next three hours in the oven.
By the time the braise emerges, your house will smell positively heavenly. But be sure to let the beef short ribs rest 15 minutes before serving to allow the juices to redistribute and the gravy to thicken slightly.
Short Rib Recipe
Conquer your fear of cooking short ribs by making this delicious, easy recipe, sure to impress your family, friends, and taste buds!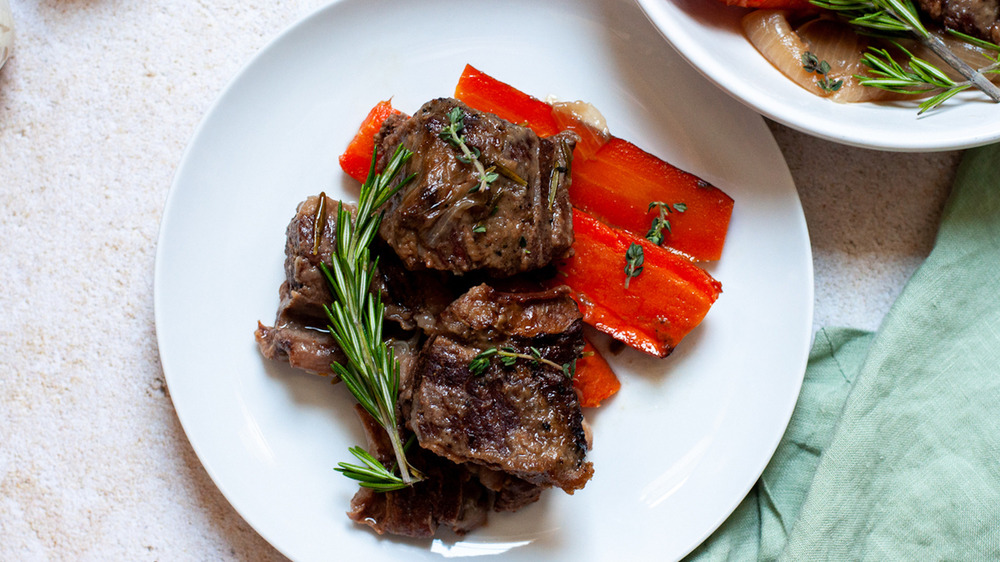 Ingredients
8 bone-in beef short ribs
1 teaspoon salt
1 teaspoon pepper
¼ cup flour
2 tablespoons olive oil
3 whole carrots, sliced in half
1 white onion, quartered
2 cloves garlic
4 cups beef broth
3 sprigs fresh thyme
2 sprigs fresh rosemary
Directions
Preheat the oven to 325 degrees Fahrenheit.
Place the short ribs on a plate, and season with salt and pepper. Dredge in flour and set aside.
In a large Dutch oven, heat the olive oil over high heat. Add the short ribs in batches, searing until all sides are browned. Set aside each batch on a plate and let the juices gather.
Once all of the short ribs are browned, add them back to the Dutch oven. Add the carrots, onion, garlic, and broth. Top with sprigs of thyme and rosemary.
Cook for 3 hours, then remove from the oven and let rest for 15 minutes before serving.