Chrissy Teigen Had Her Own Julie & Julia Moment With A Fan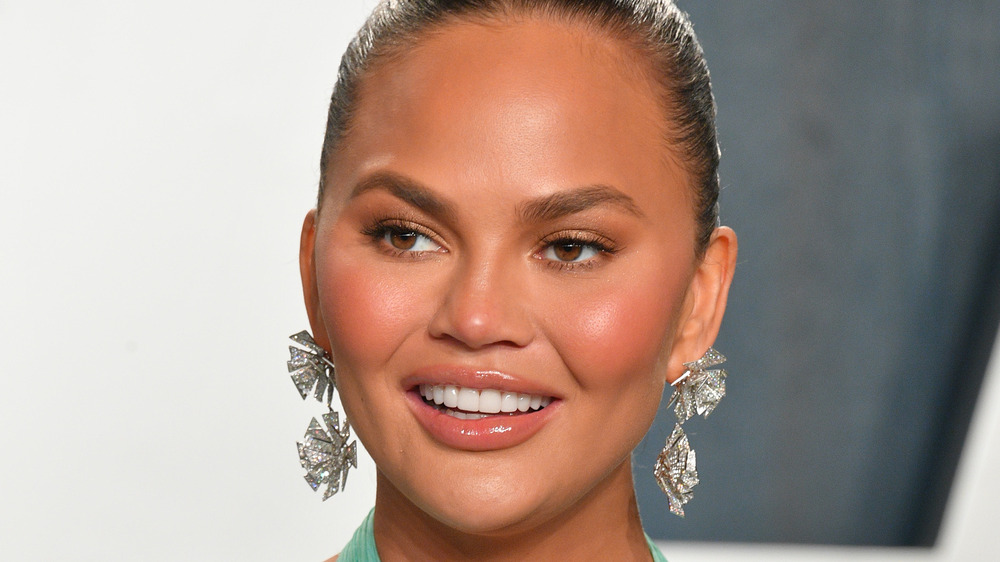 George Pimentel/Getty Images
In the 2009 movie Julie & Julia, Julia Child is the bored wife of a diplomat in postwar France that goes on to write a game-changing cookbook: Mastering the Art of French Cooking. While, Julie Powell, is an unfulfilled writer in 2002 New York that decides to blog about her effort to cook her way through all 524 recipes in Child's book in one year (via IMDb). Child didn't live to see the movie, but she did see Powell's blog — and, by all accounts, she hated it (via Chowhound). Fast-forward another decade or so, and Julie & Julia is getting its sequel: Call it "Michelle & Chrissy." 
Chrissy Teigen is a former model that discovers that her true calling is cooking and writes a bestselling cookbook, Cravings (via People). Michelle Kaplin is a recent college graduate, who needed something to do and got inspired by watching Julie & Julia and now she's cooking every recipe in Cravings and documenting the experience on TikTok (via YouTube). In the very first video she posted to her @michkapcooks TikTok account, Kaplin makes Teigen's zucchini fries and says, "Hopefully by the end of this experience, I'll be a better cook and be ready to start my life in the real world." 
So, did Teigen pull a Child and refuse to endorse Kaplin's project? Far from it. Instead, Teigen invited Kaplin to her New York apartment to try one of her brand-new recipes.
Chrissy Teigen sent a TikTok user a surprise invitation to cook in her kitchen
After posting her 66th Cravings recipe on TikTok, a vegetable tortilla stew, Kaplin's very next TikTok hinted at her meeting with Teigen. Kaplin opens the video by saying, "Everyone's been asking when Chrissy Teigen is going to notice my TikTok, and I was wondering the same thing. So — this happened." A photo pops up in the background of Teigen kissing Kaplin on the cheek. But it wasn't until Teigen posted on April 6, on Instagram and on YouTube, about the meeting that we got the full story. With the help of one of Kaplin's friends, Teigen sent Kaplin some Cravings swag and a card. 
Kaplin read the card on camera, and that's when she figured out Teigen was inviting her over to do some cooking. In fact, Kaplin hosted a "Cravings Takeover" in Teigen's kitchen, taking viewers step by step through the model's new garlicky brown butter-basted steak recipe. Reflecting on her TikTok experience, Kaplin said to Teigen, "Since it started, and picked up ... I feel like I, like, know you through this process. It's crazy." Which shows that even though Teigen isn't a master chef like Child, she has something that's even more important — a willingness to embrace a student of one of her cookbooks.