Costco Fans Are Loving These Frozen Chicken Sausage Links
A while ago, we discovered some amazing gluten-free chicken meatballs made by Jones Dairy Farm and sold at Costco. Pre-made gluten-free foods, especially tasty kinds that everyone in the family can enjoy, aren't always easy to come by, but Costco really delivered. Well, everyone's favorite wholesale club seems to have found another gluten-free meat product its customers love. It is (once again) from Wisconsin-based Jones Dairy Farm, and (once again) was brought to our attention by the much-followed @costcobuys Instagram account.
The All Natural Fully Cooked Chicken Sausage links of course look great, and are another Jones Dairy Farm gluten-free product which customers say is delicious. The sausages are sold in a three-pound bag (70 links, according to the packaging) at Costco for $12.99, reports @costcobuys. In addition to being certified as gluten-free, these breakfast sausages are also certified paleo-friendly and contain no sugar (via Jones Dairy Farm). Described by the company as clean, the sausage links also have no MSG, nitrates, or artificial flavoring.
These chicken sausage links at Costco are perfect for the air fryer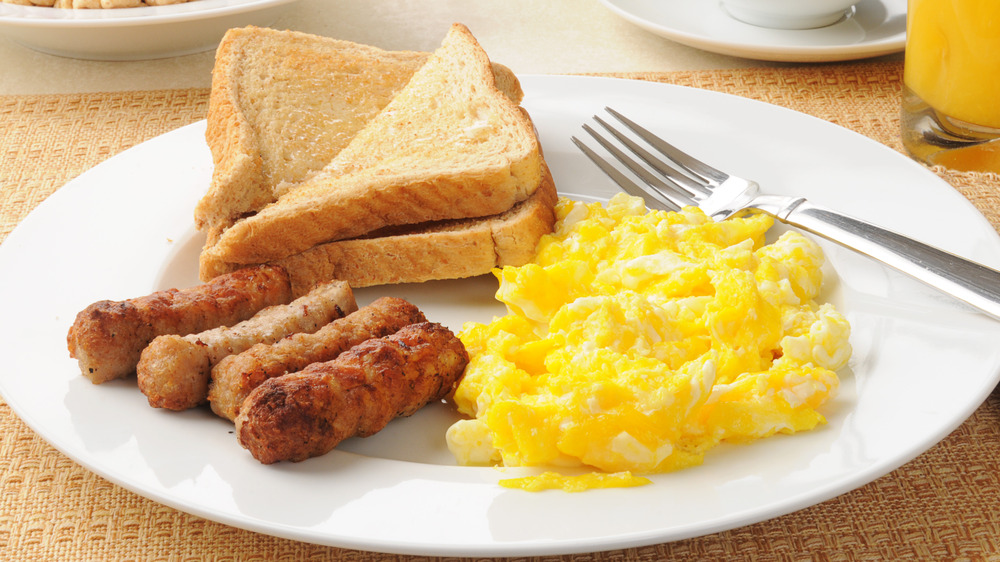 Shutterstock
Many followers of the @costcobuys Instagram account chimed in that they had either already tried Jones Dairy Farm's All Natural Fully Cooked Chicken Sausage links and enjoyed them, or were excited to add them to their carts on their next Costco visit. One fan (who also shares Costco finds from Ohio) recommended cooking them in an air fryer. Other followers of the account left positive remarks like "love them" or "these are [fire emoji]." One even described the sausage links as "sooooo delicious!!!!!!!!"
Not everyone has been totally impressed with the chicken sausages, however. A January 2020 post from the Costco Buys group on Facebook did draw a single negative review from one customer, who found the links "very crunchy" and wondered if bones might have been ground into their batch.
Even with the negative review, we think they're likely worth a try at your next brunch.