Here's What It's Really Like To Vacation With Bobby Flay, According To Giada De Laurentiis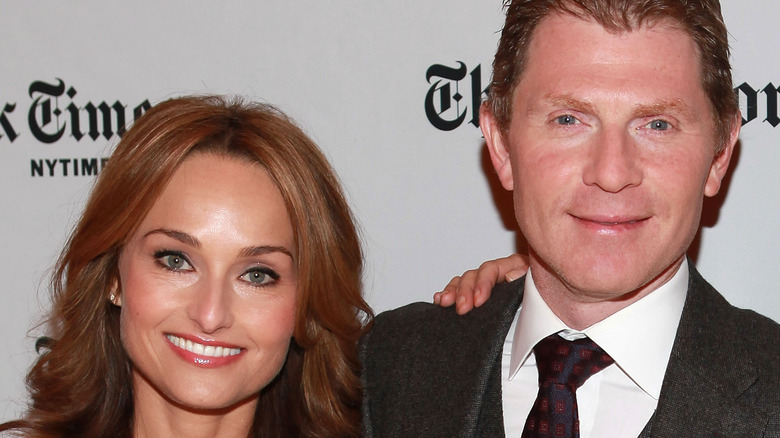 Robin Marchant/Getty Images
If you thought "Bobby and Giada in Italy" looked like a dream vacation captured on film, then you may be right. Everything from the thrill of biting into Italian treats to the BFF chemistry between cohosts Bobby Flay and Giada De Laurentiis is 100% authentic. As Flay told Delish, "It's almost like we were on some sort of extended vacation, but we're also working at the same time."
The four-part Discovery+ series was born out of a love for Italy and the famous food friendship Flay and De Laurentiis share (via Food Network). Flay has been embracing all things Italian, even converting his Las Vegas Mesa Grill into Amalfi by Bobby Flay, which will celebrate the fare of the famous Amalfi Coast (via Eater Las Vegas). Fellow Food Network star and chef De Laurentiis is a Rome native, so the two seem right for leading viewers on a culinary exploration of Italy. Recently on the "Today" show, De Laurentiis shared that she also thought filming "Bobby and Giada in Italy" was like vacationing with her friend, and she revealed exactly what it's like to have Flay as a travel buddy.
When "Today" co-host Hoda Kotb pointed out that you really get to know someone when you travel with them, De Laurentiis laughed and said, "I'm not going to lie and tell you I didn't have my trepidations about it. I did. But we actually had a blast." 
This is why Giada De Laurentiis and Bobby Flay were good travel companions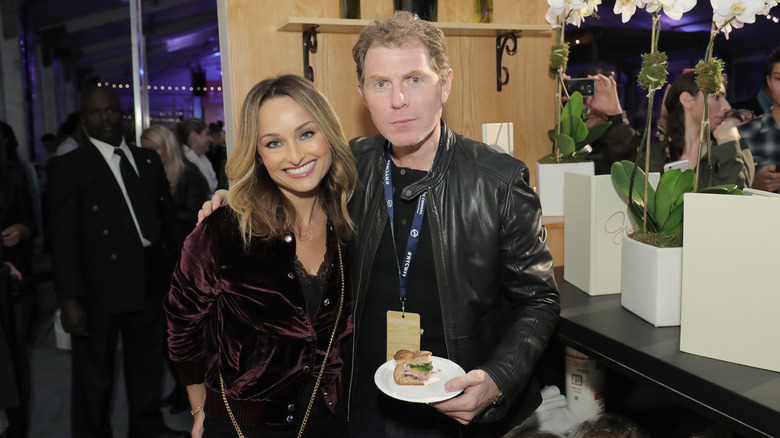 Neilson Barnard/Getty Images
During her recent appearance on "Today," Giada De Laurentiis said one of the reasons for the success of her trip with Bobby Flay to film "Bobby and Giada in Italy" was that she and Flay would go their separate ways occasionally. For example, Flay toured a flour mill on his own, and De Laurentiis learned how to make fresh zuccotto.
"So we did spend days where we were separated, thank goodness," De Laurentiis laughed. "Like any relationship, it's good to have some breaks from each other."
In addition to a good balance of time spent together and time apart, just the sheer magic of Italy made traveling together pretty blissful for Flay and De Laurentiis. After all, how could travel companions annoy each other when they're sipping wine in a vineyard or digging into freshly made pasta covered in cheese?
"I think you're going to see an inherent happiness in both of us just being there," Flay told People. You know when you go to a place that you really love being, your whole demeanor is different. We were just so much more relaxed and just smiling a lot and just enjoying our surroundings."
It seems like working with Flay — if you call that work — was pretty great for De Laurentiis, but going somewhere as beautiful as Italy with a close pal sounds like a pretty foolproof plan for anyone.