Costco Shoppers Are In Love With These Stackable Stoneware Dinner Bowls
Looking to update the dinner table and beautifully display your party foods for guests? Well, you're in luck because customers are raving about a new set of stoneware dinner bowls from Costco. Instagram account @costcobuys posted about the new bowls writing, "I love the designs on these 8.5" stackable stoneware dinner bowls! Grab a 4-pack of these for only $11.99!" Fans flooded the post with comments like "Omg sooooo cute" to "Yaaaaas I just got these this morning." However, a few customers were disappointed that their local store did not offer the stoneware dinner bowls.
As seen on CostcoCouple, that brand has been sold in Costco previously, but a different design was offered. According to Signature Housewares' website, its stoneware bowls are "dense, strong and durable ceramic" that "stands up well to constant use and frequent cleaning." For customers that can't find the Costco offer in stores, Signature Housewares's website shares a variety of retailer partners that sell its stoneware dinner bowls.
Why is stoneware a versatile kitchen essential?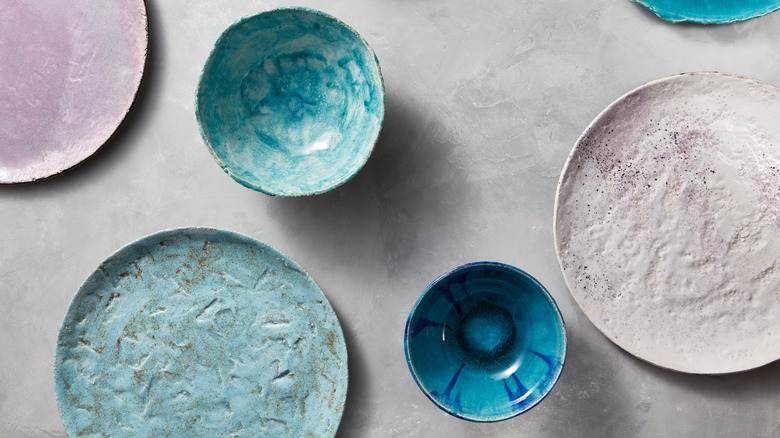 Shutterstock
According to Simply Recipes, "stoneware is earthenware." While that definition might raise another question, the clearer answer is that stoneware is often a kitchen essential that is made from clay. Due to the material, the product can conduct and hold heat well. Looking specifically at cooking pieces, the various shaped plates can go from oven to table, which makes them a convenient, multiple purpose item for home cooks. 
When referring to stoneware dinnerware, Kitchen Gear Zone shares that "non-porous ceramic dinnerware" is often thicker and more durable than other dinnerware options. While brands and designs vary, stoneware is appreciated for its ability to be easily cleaned, its non stick surface, and its durability. Some cooks also choose stoneware for its pretty appearance, from simple options with a rustic look to colorful designs, many people feel that it makes a statement on the table. So, for home cooks that are looking to replace those tired old plates, stoneware could be a reliable and stylish option.