Here's What The Pioneer Woman Actually Makes When Her Kids Are Sick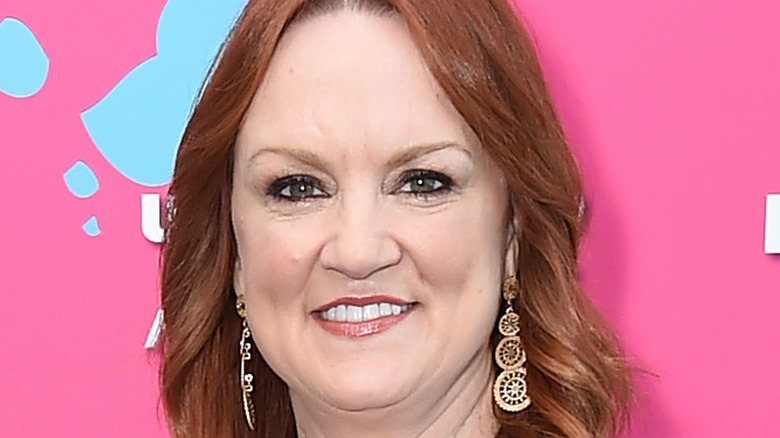 Michael Loccisano/Getty Images
Ree Drummond, AKA The Pioneer Woman, is the epitome of down-home perfection. So naturally, we can't expect anything less when it comes to taking care of sick family members, whether it's one of her five children or husband, Ladd Drummond. While some of us open a can of chicken and stars when we or a loved one is under the weather, The Pioneer Woman pulls out all the stops with a chicken and noodles concoction that, while it might not be medicinal, will certainly make anyone feel cared for.
On her website The Pioneer Woman, Drummond describes her chicken and noodles dish as one of her favorite recipes, and said it's slightly heartier than traditional chicken noodle soup. The secret is the addition of frozen egg noodles, although she says you can always go "turbo-homemade," making your own homemade noodles. (The frozen ones are just as good, she assures us.) For those who like chicken and noodles extra-thick, Drummond says she always serves it with a side of saltine crackers.
This recipe has been a favorite of Drummond's since childhood, "exactly like GaGa used to make," she says, referring as she often does, to her late grandmother (via The Pioneer Woman).
This is how Drummond prepares the dish
The website Cookies & Cups describes chicken and noodles as a soup, stew, and pasta hybrid; there are seemingly endless recipes and variations. Their version features a cream sauce made with heavy cream and butter, rather than a true broth or chicken stock. Additionally, the website Spend With Pennies uses a bag of frozen peas, carrots, and corn for its slow-cooker version of chicken and noodles.
In most ways, The Pioneer Woman's chicken and noodles recipe is similar to a classic chicken noodle soup. She starts with a whole, cut-up fryer chicken, simmering it for a half-hour, removing the meat, and continuing to simmer the bones for an additional 45 minutes for a rich, chickeny broth. Like classic chicken soup, ingredients include carrots, celery, and onions, and they're seasoned with parsley and thyme. But Drummond's chicken and noodles also calls for turmeric — a definite departure from most chicken soups. However, turmeric's popularity has risen in recent years, due to its anti-inflammatory properties and the growing interest in the foods of South Asia and the Middle East (via This Healthy Table). According to Bon Appétit, turmeric is distinctive, slightly musky, peppery, and earthy flavor found in curry powder. No wonder Drummond adds it to her recipe.
So next time a loved one has the sniffles, try out Drummond's chicken and noodles. At the very least, they'll feel comforted, even if it doesn't cure their cold.