Copycat Panera Bread Muffie Recipe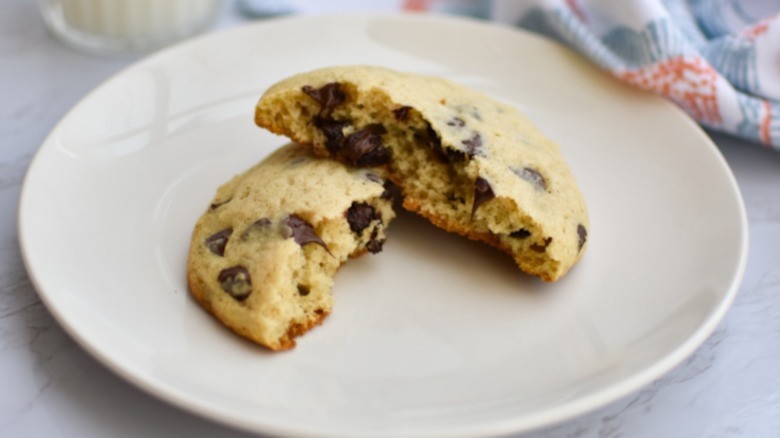 Stephanie Rapone/Mashed
Who doesn't love Panera Bread? They offer an assortment of food from bread, pastries, and sandwiches to soups, salads, and flatbread pizza. But what makes the brand a standout in fast casual? It's simply because the food chain produces fresh food that has no preservatives. Plus, they are all delicious! With so many tasty selections, it's hard to pick a favorite. However, when it comes to desserts, the Panera Bread muffie seems to be a winner. It's similar to a cookie but more moist and fluffy on the inside, like a muffin.
Sure, it's easy to buy from the store, but purchasing the Panera Bread muffie regularly can be expensive for your wallet. Why not make it at home? Not only will you gain knowledge on how to make this scrumptious treat, but you can also save money since you can make a dozen muffies out of a single recipe. Chef and recipe developer Stephanie Rapone made an easy-to-follow recipe for the Panera Bread muffie for everyone to try out. The muffies are actually muffin tops, and they don't take a long time to make. "These are great to make as a sweet element for brunch," says Rapone.
Gather your ingredients for the Panera Bread muffie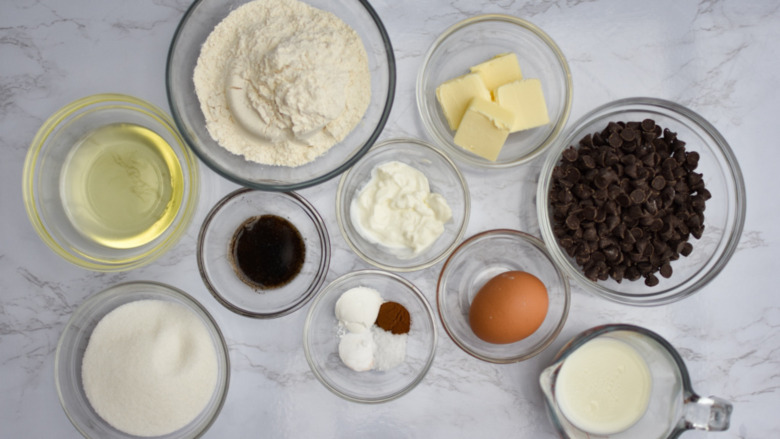 Stephanie Rapone/Mashed
To make the Panera Bread muffie, you'll need unsalted butter, vegetable or canola oil, granulated sugar, egg, vanilla bean paste, all-purpose flour, baking powder, salt, cinnamon, baking soda, milk, sour cream, and semi-sweet chocolate chips. If you can't find the vanilla bean paste, then you can also use vanilla extract. You can also substitute sour cream for plain yogurt.
Preheat your oven and prepare all the ingredients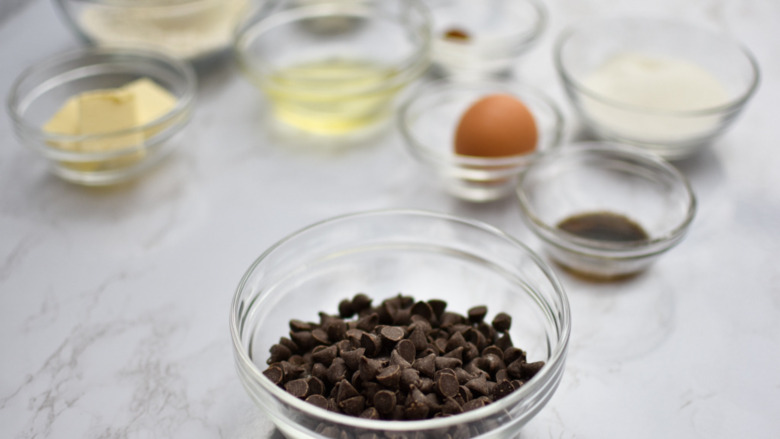 Stephanie Rapone/Mashed
Before you start mixing ingredients, preheat your oven to 350 F. It is also better to measure your ingredients ahead of the prep time as the step will save you a lot of time and mess while making the muffie. When everything is set, grab two baking sheets and line them with parchment paper or silicone baking mats.
Start mixing the muffie ingredients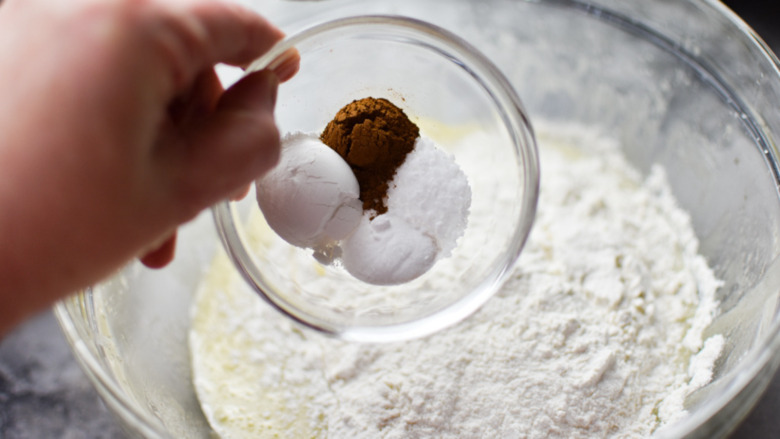 Stephanie Rapone/Mashed
Place your melted butter in a large mixing bowl and add oil and sugar. With an electric mixer, mix everything at high speed. When batter turns creamy, add in the egg, followed by the vanilla, then mix again. When the batter is ready, scrape the sides of the bowl, then pour in the flour, salt, cinnamon, and baking soda. Mix again, but don't beat for too long. Next, add the milk and sour cream or yogurt to the batter. Mix thoroughly, then add in the chocolate chips using a spatula.
Refrigerate the muffie dough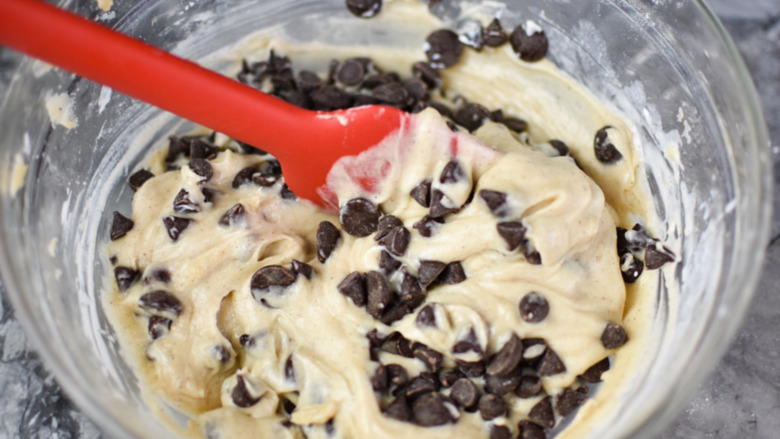 Stephanie Rapone/Mashed
Just like making chocolate chip cookies, you will need to refrigerate your dough for about 15 to 20 minutes to allow the fats to cool. This step will also help the shape of your muffie as they will gradually widen in the oven, compared to a non-chilled dough where they will flatten quickly under heat. The chilling technique will also give you a chewy outcome. 
It's time to bake the muffies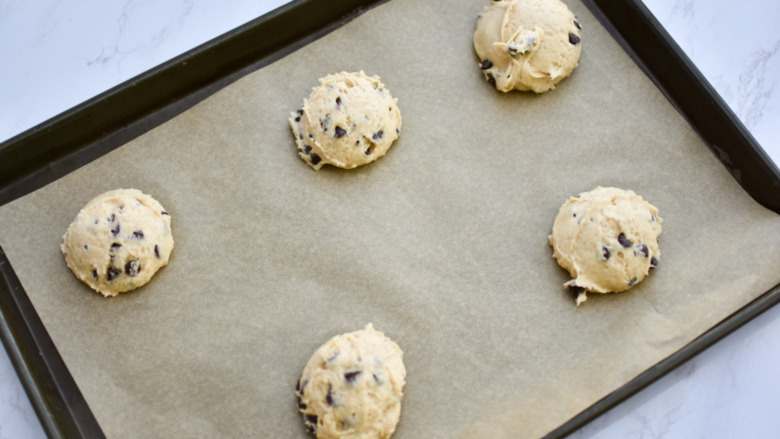 Stephanie Rapone/Mashed
Get your lined baking sheets ready and an ice cream scoop for this step. Scoop your chilled batter and place them on the sheets. As the muffie will widen while baking, create a 3-4" space between each one. After distributing the muffies, you are now ready to bake. Pop your muffies in the oven and bake them for about 10-15 minutes or until they turn brown on the edges. To check for doneness, grab a toothpick and prick a muffie. If the toothpick comes out clean, it means your muffies are cooked. But don't eat them just yet. Allow them to cool for at least 10 minutes. "Enjoy them fresh and slightly warm for the best flavor (and gooey chocolate)!" says Rapone. She also advises storing the muffies in an airtight container for up to five days to preserve them.
Copycat Panera Bread Muffie Recipe
No need to hit up Panera for this popular baked treat. Our muffie recipe combines cookie and muffin flavors to deliver a quick and chocolatey treat you'll love.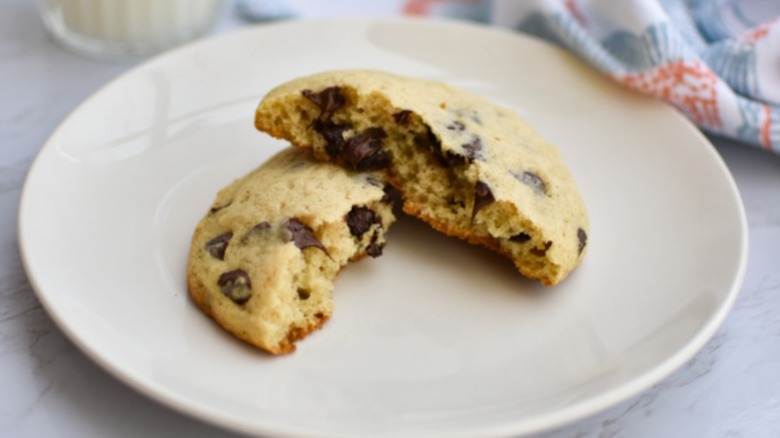 Ingredients
4 tablespoons unsalted butter, softened
¼ cup vegetable or canola oil
½ cup granulated sugar
1 large egg
2 teaspoons vanilla bean paste vanilla extract
1 ¼ cups all-purpose flour
½ teaspoon table salt
¼ teaspoon cinnamon
1 teaspoon baking powder
¼ teaspoon baking soda
⅓ cup milk
2 tablespoons sour cream or plain yogurt
1 cup semi-sweet chocolate chips
Directions
Preheat oven to 350 F and line two baking sheets with parchment paper or silicone baking mats
In a large bowl, add the butter, oil, and sugar. Mix the batter with an electric mixer at high speed.
Add the egg, vanilla, and beat, scraping down the sides of the bowl to incorporate.
Add flour, salt, cinnamon, baking powder, baking soda, and beat to just incorporate; don't overmix.
Add the milk and yogurt. Beat until incorporated. Stir in the chocolate chips with a spatula.
Chill the batter for 15 to 20 minutes in the refrigerator.
Use an ice cream scoop to scoop the batter onto the sheets. Make sure to have at least 3 to 4 inches between them. Bake for 10 to 15 minutes or until they start to brown on the edges and a toothpick comes out clean.
Allow the muffins tops to cool for 10 minutes before enjoying.
Nutrition
| | |
| --- | --- |
| Calories per Serving | 239 |
| Total Fat | 13.8 g |
| Saturated Fat | 5.8 g |
| Trans Fat | 0.2 g |
| Cholesterol | 27.4 mg |
| | |
| --- | --- |
| Total Carbohydrates | 28.1 g |
| Dietary Fiber | 1.2 g |
| Total Sugars | 16.7 g |
| Sodium | 137.7 mg |
| Protein | 2.8 g |