Scrumptious BLT Sandwich Recipe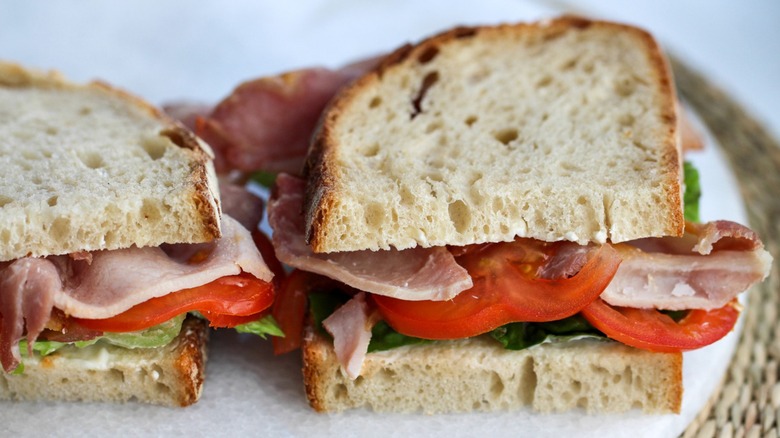 Susan Olayinka/Mashed
If there's one sandwich that nearly everybody can agree on as being one of the greatest of all time, it's the bacon, lettuce, and tomato, aka the BLT. While this sandwich may seem like a classic that's been with us since the dawn of time (or at least the 1904 St. Louis World's Fair), the Irish website Her says the BLT wasn't widely known until after WWII when the rise of supermarkets made all of the necessary ingredients available year round. Oddly enough, though, the club sandwich, usually made with similar ingredients, seems to predate the BLT by half a century: The Good Housekeeping Everyday Cook Book included a recipe for a sandwich with bacon, lettuce, tomato, mayo and sliced turkey in 1903 (via What's Cooking America).
While some restaurant chefs love to tweak the BLT's ingredients (and the acronym) a bit, as with the now-popular BLAT (bacon, lettuce, avocado, and tomato), Susan Olayinka of The Flexible Fridge is more of a BLT purist and sticks to just the basics. She tells us "I love the BLT, it's the perfect mix of fresh and cooked." As Olayinka is British, though, her sandwich is slightly different than the typical American version we're all familiar with.
It all starts with bacon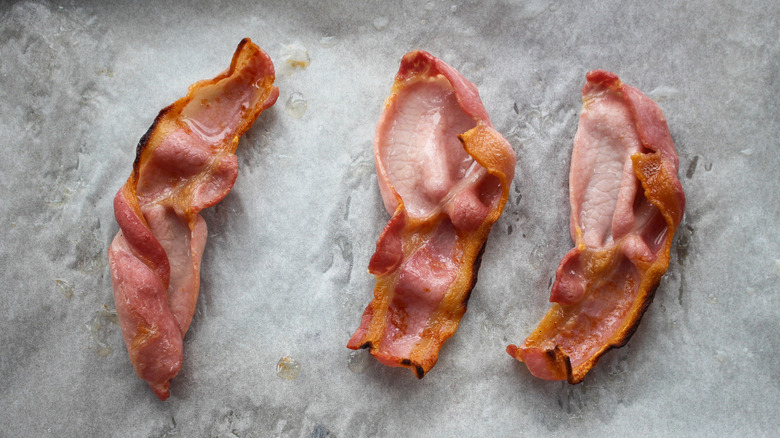 Susan Olayinka/Mashed
As George Bernard Shaw might have said (via The Guardian), "Britain and America are two nations divided by a common language." Well, you could say the same thing about bacon. In the U.K., bacon is really not all that much like the bacon we have in the U.S. Our bacon is fatty, salty, and smoky, while theirs is, well, not so much. In fact, it's somewhat closer to Canadian bacon in taste and appearance, so maybe it's a Commonwealth thing.
If you can manage to get hold of the British stuff, Olayinka says, "the bacon is a thicker cut, which definitely adds to the bite of the sandwich [and is] not overpowered by the tomatoes and lettuce." If you stick to using the plain old American product, though, your sandwich will still be delicious, because, well, it's bacon. 
Cook the bacon using your preferred method. Olayinka grills her less-fatty British bacon, but you can feel free to fry, bake, microwave, or use whatever bacon-cooking technique works best for you.
You'll also need some bread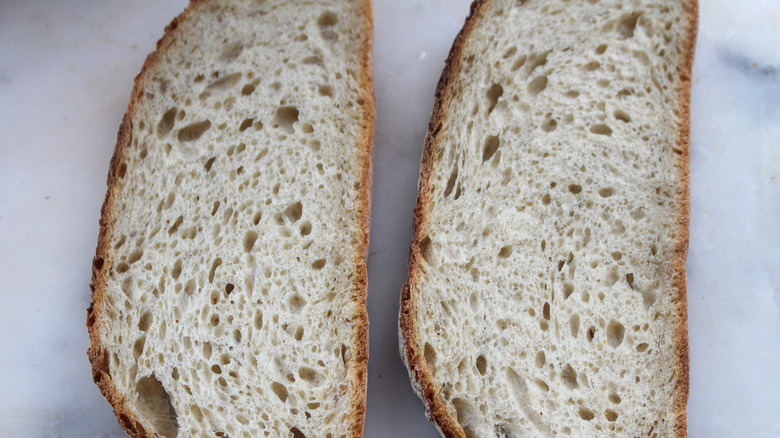 Susan Olayinka/Mashed
The bread Olayinka uses to make her BLT is sourdough. "It helps keep this sandwich firm which makes it not fall apart," she says. If you aren't so fond of sourdough, though, either because it harkens back to past baking failures or you just don't like the taste, you can always use a different type of bread. A French or Italian loaf would work well, since they are also sufficiently firm and dense to hold up to all of the fillings. A hearty, whole-grain bread might also work if you prefer that flavor profile, but don't use something with such a strong taste that it competes with the B, the L, and the T.
The L and the T are non-negotiable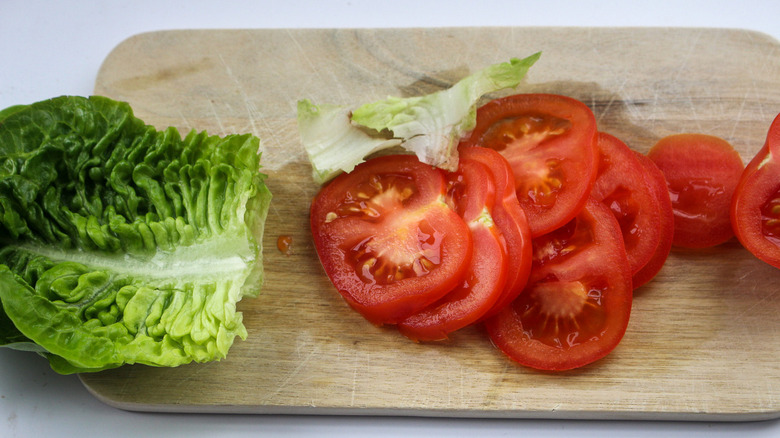 Susan Olayinka/Mashed
If you are a total carnivore (or rather, a carni/carbivore), you may be tempted to make a sandwich using bacon alone. You could certainly do that. In fact, the bacon butty is a classic British breakfast sandwich that's so popular even McDonald's restaurants in the UK have offered their take on it. If you're making a BLT, however, you need all three of the acronymic ingredients.
Olayinka says she used a vine-ripened tomato as a tomato "tastes its best when picked from the vine." If it's not tomato-growing season, you can use whatever's on offer in the produce section, as long as it's ripe. The tomato will, however, still need to be firm enough to slice; Olayinka likes to slice her tomatoes into thin strips for her sandwich. 
For lettuce, she prefers baby leaf since it doesn't need much chopping, something she says "adds to the simplicity of the sandwich."
Put it all together, that spells B-L-T
Susan Olayinka/Mashed
Another way in which Olayinka's BLT differs from the all-American diner classic is that she makes hers with untoasted bread, saying it's not only traditionally British but also that she prefers it this way. That's why using a thinner, softer slice of bread like the kind you'd use for a PB&J really won't work here. She starts by grilling the bacon, then spreading the bread with both butter and mayonnaise. Using both spreads may add extra calories, but Olayinka tells us, "Butter adds a more creamy salty taste, whilst the mayo adds to the creaminess." She also finds that sourdough bread, unbuttered, can tend to be on the dry side.
The bacon, the lettuce, and  sliced tomatoes are all layered on top of one buttered, mayonnaised bread slice, then topped off with the other one. Slice the sandwich in half, then enjoy your British-style BLT with a nice cup of tea (or perhaps a half-pint of lager).
Scrumptious BLT Sandwich Recipe
This scrumptious BLT sandwich is ready in just minutes, and is one classic sandwich that nearly everybody can agree is one of the greatest of all time.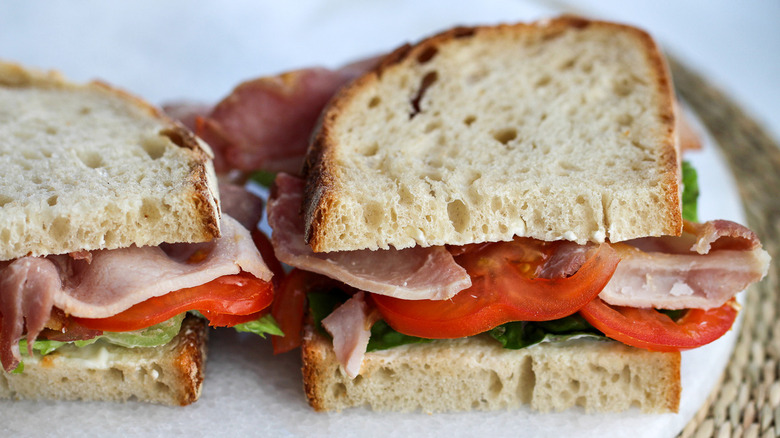 Ingredients
3 strips bacon
2 slices sourdough bread
1 tablespoon butter
1 tablespoon mayonnaise
1 tomato, sliced
2 leaves baby leaf lettuce
Directions
Cook the bacon for 2 to 4 minutes on each side.
Spread the bread with butter and then mayonnaise.
Slice the tomatoes into thin strips.
Place the lettuce, tomato, and cooked bacon on one slice of bread and cover it with the other slice.
Slice the sandwich in half before serving.
Nutrition
| | |
| --- | --- |
| Calories per Serving | 1,343 |
| Total Fat | 64.1 g |
| Saturated Fat | 22.0 g |
| Trans Fat | 0.6 g |
| Cholesterol | 93.6 mg |
| | |
| --- | --- |
| Total Carbohydrates | 150.2 g |
| Dietary Fiber | 7.6 g |
| Total Sugars | 17.0 g |
| Sodium | 2,340.8 mg |
| Protein | 42.1 g |