Tender Rack Of Lamb Recipe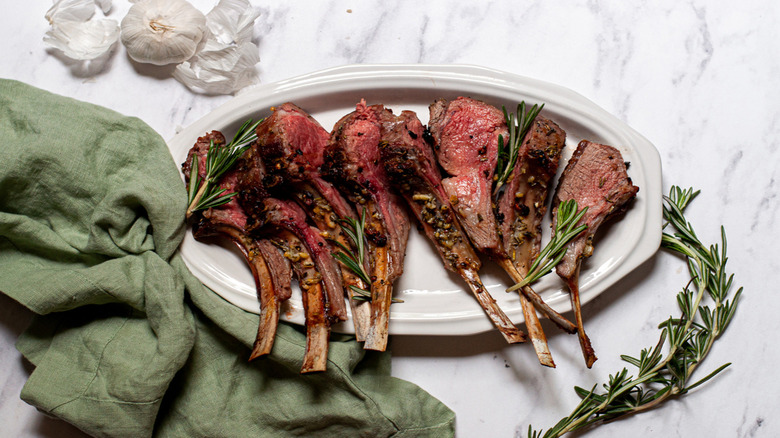 Christina Musgrave/Mashed
There's nothing like the smell of succulent lamb wafting through the house at dinner time. Christina Musgrave, food enthusiast and creator of Tasting with Tina, crafted this recipe in hopes that you'll gather around to serve it to your friends and family. Musgrave says, "This is great year round; you can serve a seasonal side to make it great in any season." 
From prep to plate, this decadent main course takes about 35 minutes in total to prepare. The flavors of this delicious dish are unbeatable. This is an easy recipe everyone at the table will love to have over and over again.
A commonly sized rack of lamb comfortably serves 4 people, so if you have a large family, are a meal-prep pro, or you simply like leftovers, feel free to multiply the meat and seasonings accordingly. With these super easy prep steps, this sensational, yet simple entrée should be a cinch to set a timer, slide in the oven, and cut to enjoy. 
Gather and prep your ingredients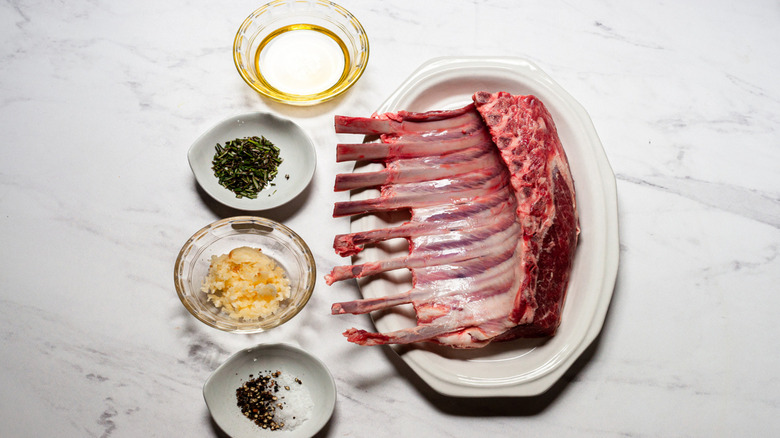 Christina Musgrave/Mashed
Aside from a rack of lamb, to make this yummy dish, you're going to need garlic, olive oil, fresh rosemary, and salt and pepper — that's it! Before getting your hands dirty though, start out by preheating the oven to a cozy 450 degrees Fahrenheit. While the oven rises in temperature, mince up 10 garlic cloves. Mix them into 1/4 of a cup of olive oil, 1/2 teaspoon of salt, and 1/2 teaspoon of pepper, then set the combination aside. For an earthy taste, add 2 tablespoons of finely chopped rosemary to the oil mixture. Hold onto a few leaves though, as you can use the rosemary as a decorative topping later on. 
Lather the lamb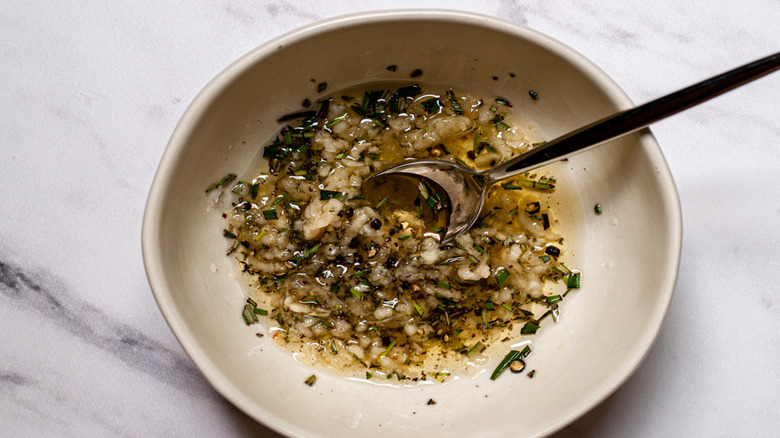 Christina Musgrave/Mashed
Prepare yourself for a savory experience. After rinsing your meat, with a light cheesecloth or kitchen towel pat the rack of lamb until dry on each side. When the meat is ready, place it in a metal pan or baking dish and sprinkle it with a dash of salt and pepper, amounting to about half a teaspoon, on each side. Using the garlic oil and herb combo, rubbing both sides thoroughly to evenly distribute the seasonings. These decadent herbs will infuse into the meat as it bakes, amplifying the delectable flavors.
Roast your lamb to perfection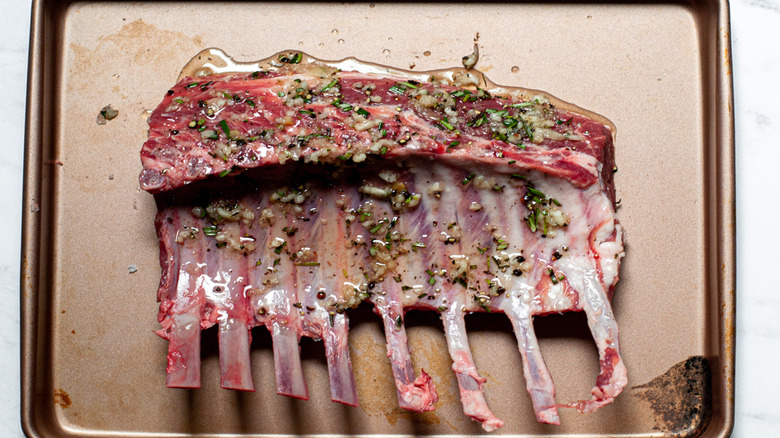 Christina Musgrave/Mashed
Once the lamb is dressed and ready, gently place the pan into the oven. For a softer, pink middle and medium/medium rare turnout, Musgrave recommends flipping the lamb after 12 minutes and roasting it for an extra 10 minutes on the other side. Doing so allows for the meat to be evenly seared on the surface, while preserving the tasty juices within. You're on your way to crafting the week's most stunning main course! 
Add delectable details
Christina Musgrave/Mashed
When your timer finally dings away, remove the lamb from the oven and let it rest for about 5 to 10 minutes. For an accurate temperature reading, try using a meat thermometer to ensure the lamb has reached a steady internal temperature of 125 degrees for medium rare. Meat slices better once it's had time to cool, so once it's cooled a bit, find your best carving knife and go to work. Slicing the lamb between the bones gives a clean cut appearance, and leaves meat on both sides. Now you're ready to serve!
Add some extra rosemary to embellish each serving.
Serve your delicious lamb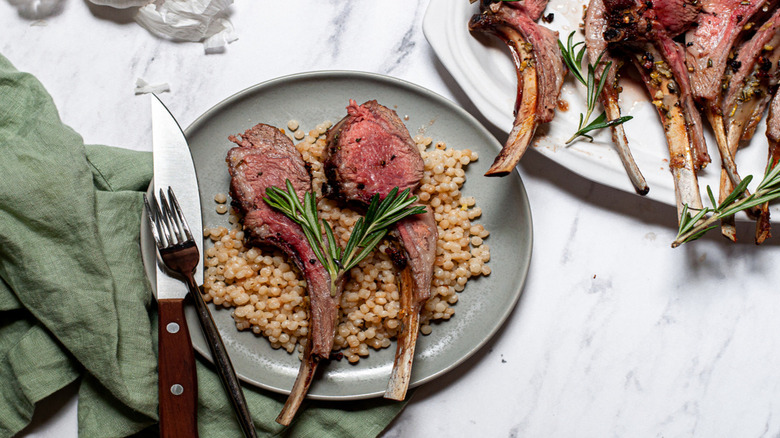 Christina Musgrave/Mashed
For a meal that's light and palatable, pair this main course with sidekicks like couscous and Brussels sprouts or butternut squash. Do you prefer more protein? Roast some spring veggies or add slow-cooked lentils to complement the lamb's rich minerals. If you prefer a more hearty plate full, feature this beautifully roasted lamb alongside pesto orzo or try garlic mashed potatoes.
Musgrave told us, "This is great for entertaining a small group, a fancy at-home date night, or a Sunday dinner with family. It's a versatile recipe feels fancy but it [is] actually very easy to make." With the quick prep time and delicious variety of sides to spice it up, we know you'll love feeding your family this time after time. 
Tender Rack Of Lamb Recipe
This tender, tasty roasted rack of lamb is incredibly easy to pull off, whether you're trying to impress a date or serve your family Sunday dinner.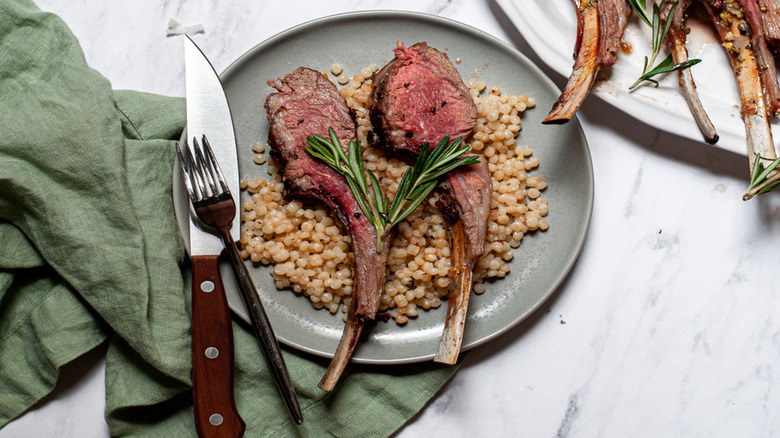 Ingredients
10 garlic cloves, minced
2 tablespoons chopped rosemary, plus more for serving
1 ½ teaspoons salt, divided
1 ½ teaspoons black pepper, divided
¼ cup olive oil
1 rack of lamb
Directions
Preheat oven to 450 degrees Fahrenheit.
Combine the garlic, rosemary, ½ teaspoon of salt, ½ teaspoon of pepper, and olive oil in a bowl. Stir well.
Pat the rack of lamb dry and place it on a baking sheet or in a baking dish. Season both sides with the rest of the salt and pepper, then rub the garlic-rosemary mixture on both sides.
Roast the lamb for 12 minutes, and then flip it and roast it for another 10 minutes.
Remove the lamb from the oven and let it rest for 5 to 10 minutes before cutting.
Carve the lamb in between bones and serve on a platter with rest of the fresh rosemary.
Nutrition
| | |
| --- | --- |
| Calories per Serving | 240 |
| Total Fat | 23.4 g |
| Saturated Fat | 6.2 g |
| Trans Fat | 0.0 g |
| Cholesterol | 21.7 mg |
| | |
| --- | --- |
| Total Carbohydrates | 3.4 g |
| Dietary Fiber | 0.6 g |
| Total Sugars | 0.1 g |
| Sodium | 119.6 mg |
| Protein | 4.8 g |