Easy Oyakodon Bowl Recipe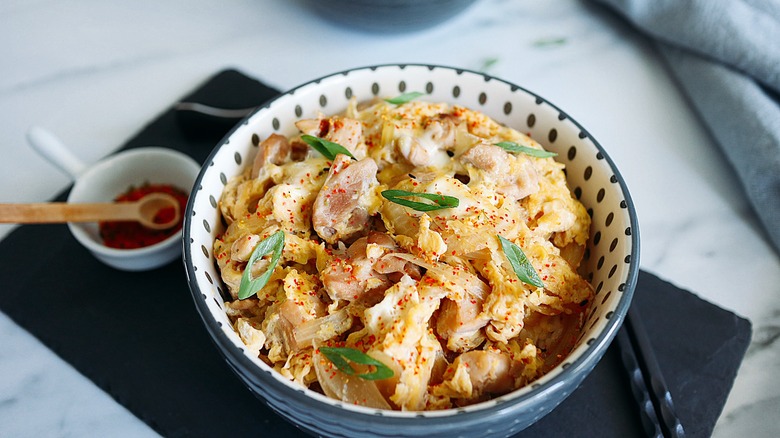 Cecilia Ryu/Mashed
Did someone call for hot rice? Yes, please! Bursting with warmth and goodness, donburi Oyakodon is a quick-fix for any time of day. 
Donburi is traditional Japanese cuisine at its finest. Oyakodon, or the "parent and child rice-bowl," serves up an inviting chicken-and-egg combo, and recipe developer Cecilia Ryu's rendition will send your taste buds overseas, no passport required.
This one-bowl meal is perfect for a midday mix of carbs and protein. The pan-cooked chicken atop rice will surely keep your belly full without too much fuss. "I usually make this dish for the family on a weeknight for lunch or dinner. It comes together quickly and doesn't require too many ingredients," Ryu says. 
Expect this bowl to grant a burst of energy to breeze through the day. Or, if you want to rustle up an easy dinner and have thirty minutes to spare, then get ready. Gathering and chopping a few ingredients should only take about ten minutes tops, and cooking takes less than twenty. This recipe may become your go-to for homemade "fast" food.
Assemble the ingredients for oyakodon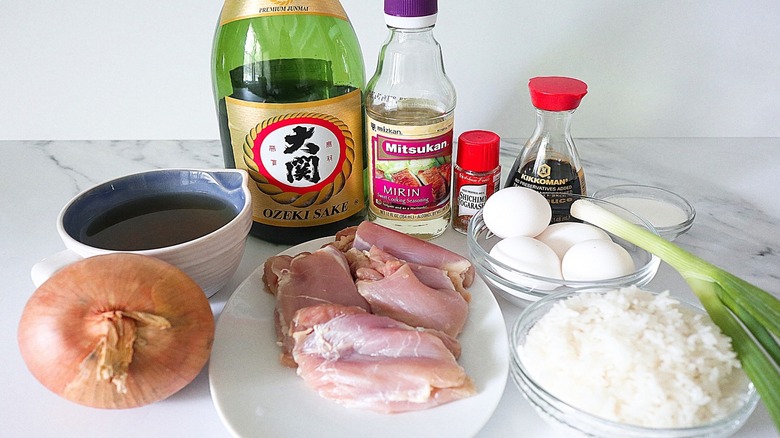 Cecilia Ryu/Mashed
The main ingredient here are deboned, skinless chicken thighs with all the fat trimmed away. You'll also need eggs, cooked short-grain white rice, and just one onion (nothing to cry about).
To add an authentic Asian taste, you'll want to grab a few ingredients at an Asian market or in the ethnic section of your favorite grocer. You'll want to pick up: dashi stock powder to make the broth, soy sauce, sake, granulated sugar, and mirin, a Japanese rice wine common in most Asian cuisine. Cecilia recommends using Ajinomoto Soup Stock Hondashi for your dashi base.
Some decorative and dainty garnishes will consist of one chopped scallion and shichimi togarashi, a Japanese dried pepper blend found at most grocery stores or Asian markets. Now, you're all set to mix up this tasty batch of goodness.
This oyakodon takes only 10 minutes to prep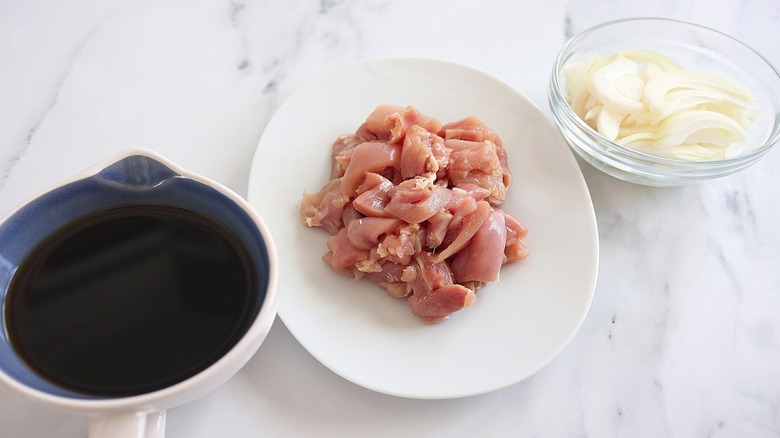 Cecilia Ryu/Mashed
Prepping your ingredients will take no time at all. Start by boiling one cup of water and adding one teaspoon of dashi mix to make the broth. After the dashi has cooled, use the full cup of the broth and add three-and-a-half tablespoons of soy sauce with two tablespoons of sake, along with two tablespoons of mirin into a small mixing bowl. To this mixture, stir in one-and-a-half tablespoons of sugar. Once the sugar has dissolved, you'll know you've comingled it perfectly. When that step is complete, divide the mixture into two portions, leaving one for each bowl.
Next, take your trimmed chicken thighs and slice them into one-inch bite sized pieces. Depending on your number of guests, you can multiply the number of thighs per person. With this method, you can divvy it up for two servings.
Now you're coming to the final prep steps for your delectable meal. Carefully cut half an onion into thin slices. Take two eggs to whisk and set those aside. (You'll whisk the other two eggs for the second serving.)
Let the juices simmer for your oyakodon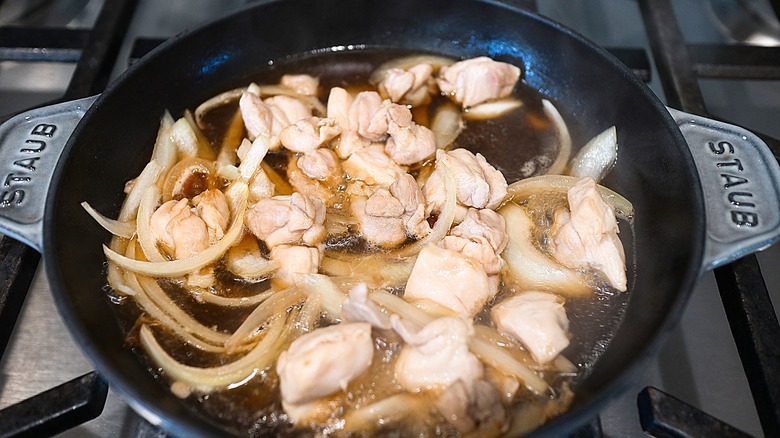 Cecilia Ryu/Mashed
Set a small skillet on the stove over medium heat. Once you're comfortable with the pan temperature, place half of the sliced onions and half of the diced chicken in to cook. Que the sizzle! Now pour about one-third to one-half a cup of your mixed sauce into the skillet. Let the heat rise as the chicken absorbs the bubbling sauces and onion flavor. Once you see the sauce boiling, turn your heat down just a tad bit to low, and cover it with a lid. You're nearly halfway done.
Let the skillet rest and simmer until the onions are soft and the chicken is lightly cooked through. During this window, you can dish up your cooked white rice. Keep an eye on the stove, because the chicken and onions need just about five minutes for this step.
Pour eggs in and cook slightly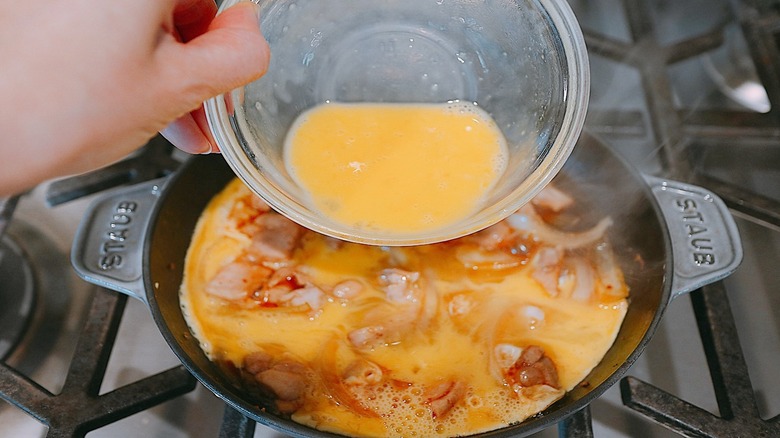 Cecilia Ryu/Mashed
When the chicken and onions are ready, slowly pour the whisked eggs into the skillet. Our recipe creator extraordinaire Cecilia Ryu says, "Not overcooking the eggs is probably the trickiest part of this recipe." After the eggs are in, cover the skillet with a lid and cook for a few short minutes.
The ideal oyakodon dish has a delicate balance of lightly-cooked yet piquant, juicy egg texture, Ryu says. This requires a good eye and we're certain you can make this fantastic dish.
Secure your fluffy white rice in a small bowl for serving. Stay by the stove, because once the eggs are complete, the skillet can be removed from heat. Finally, a taste of Tokyo is just one bowl away!
Cascade your rice with oyakodon opulence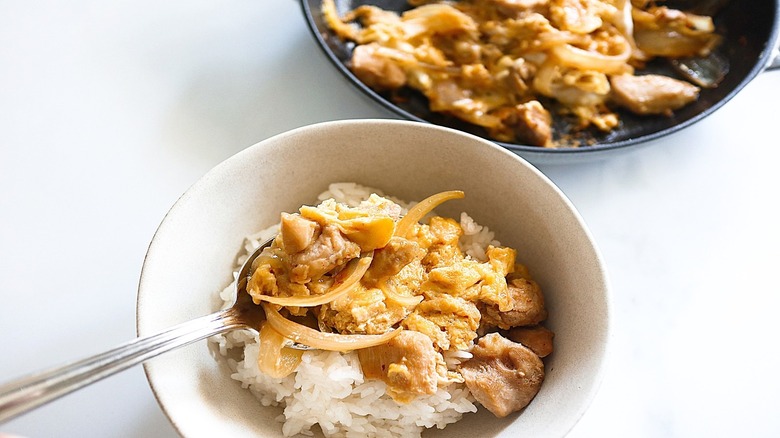 Cecilia Ryu/Mashed
Immediately after taking the skillet from the fire, transfer the chicken and eggs to the bowl. Oyakodon is traditionally served hot, so the chef may pour directly from the skillet onto the rice, or using a large utensil will do the job. To serve multiple guests, repeat this method using the remaining ingredients.
Since she specializes in Asian dishes, recipe developer Cecilia Ryu uses a rice cooker, but she gave us the secret to making great, sticky rice: "You should always use short grain white rice. This type of rice will give you the perfect sticky and chewy consistency used for Asian dishes like oyakodon," Ryu says. Whether you're cooking for the whole family, or having a quarantine dinner date, oyakodon is a simple way to do gourmet.
Garnish your oyakodon bowl and serve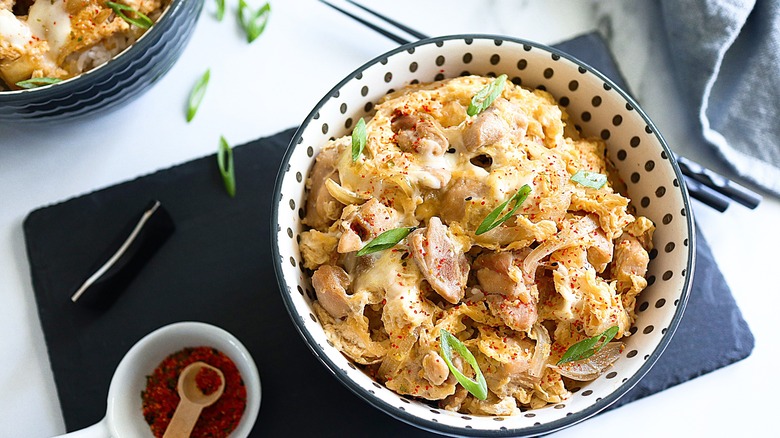 Cecilia Ryu/Mashed
And now, the grand finale. Using the chopped scallions, carefully garnish each bowl. For those who simply love spice, intensify the flavors galore by topping it all off with shichimi togarashi, a pre-made blend of seven Japanese peppers.
Oyakodon is commonly served from Asian menus in the US and overseas. But what's better than making praiseworthy soul food right from your own home? Savor this tasty dish with friends and family. We hope you will enjoy it time and again.
Easy Oyakodon Bowl Recipe
Oyakodon is an easy one-pot dinner with chicken and flavorful dashi, sake, mirin and soy sauce. Enjoy the taste of Japan at home with this easy meal for two.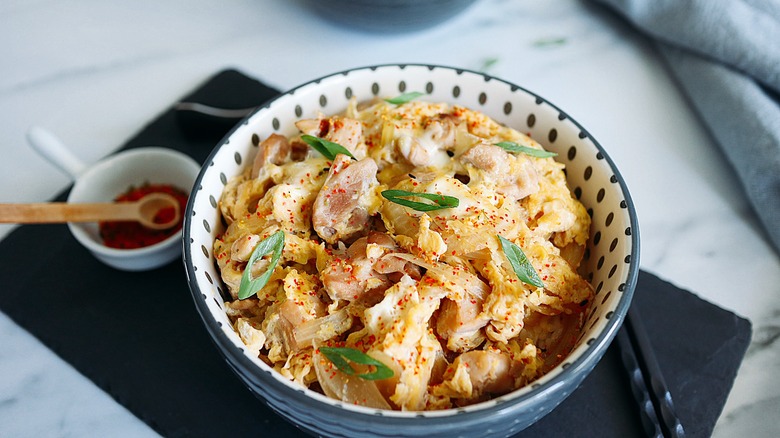 Ingredients
½ lb boneless and skinless chicken thighs, fat trimmed
½ onion, sliced thin
1 cup water
1 tsp dashi mix
3 ½ tbsp soy sauce
2 tbsp sake
2 tbsp mirin
1 ½ tbsp sugar
4 eggs
2 cups cooked white rice
Optional Ingredients
Shichimi togarashi (Japanese chili pepper mix)
1 scallion, thinly sliced for garnish
Directions
Boil one cup of water and mix in dashi powder.
In a small mixing bowl, combine cooled dashi, soy sauce, sake, mirin and sugar. Mix until sugar is dissolved. Set aside.
Dice chicken thighs into 1-inch bite sized pieces and set aside.
Whisk 2 eggs in a small bowl and set aside.
Heat a small skillet over medium heat. Add half of the sliced onions and half of the diced chicken.
Pour about ⅓ cup to ½ cup of prepared sauce into skillet.
Once sauce comes to a boil, lower heat to medium low. Cover with lid.
Cook onions until softened and chicken is just cooked through, approximately 5 minutes.
Slowly pour the eggs over the chicken and onions. Cover with lid and cook until eggs are just set. Do not over cook the eggs.
Carefully pour the chicken mixture over a bowl filled with 1 cup of cooked rice.
Alternatively, using a large spoon, scoop the mixture on top of the rice.
Garnish with sliced scallions and the Shichimi togarashi, if using.
Repeat with remaining ingredients for a second bowl. Serve immediately while hot.
Nutrition
| | |
| --- | --- |
| Calories per Serving | 599 |
| Total Fat | 13.4 g |
| Saturated Fat | 4.1 g |
| Trans Fat | 0.1 g |
| Cholesterol | 426.5 mg |
| | |
| --- | --- |
| Total Carbohydrates | 67.5 g |
| Dietary Fiber | 1.0 g |
| Total Sugars | 10.4 g |
| Sodium | 1,777.7 mg |
| Protein | 40.2 g |