Easy Piecaken Cupcakes Recipe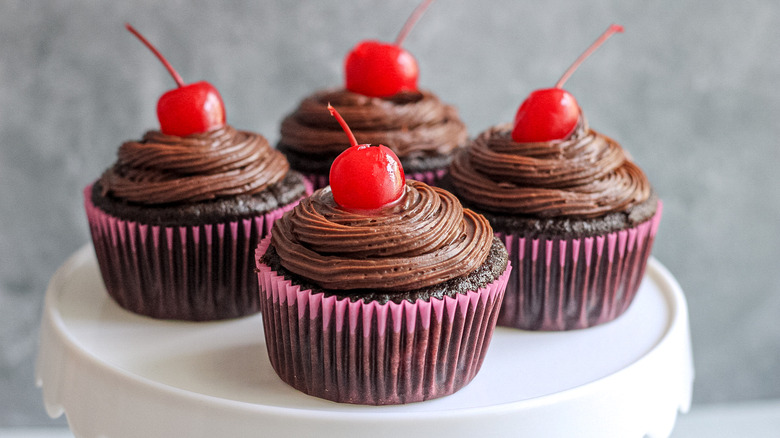 Jessica Morone/Mashed
What do you get when you mix pie with cake, and bake it like a cupcake? Piecaken, of course! This delicious dessert is a step outside of your traditional pie or cupcakes, because it combines the two together. It's like when two of your best friends get married. You can't think of a better match, and the union just makes you oh-so-happy. Jessica Morone of Jess Loves Cooking curated the recipe, and it's jam-packed with sweet flavors and fluffy perfection.
Morone shares that she loves many things about this recipe. "One is that they are super easy, so it doesn't take a lot of effort to make them," she raves. "Another is that there are so many flavor combinations that it's kind of fun to play with them and figure out what you want to combine." The combo possibilities are endless. "You could do vanilla cake with cherry pie, vanilla cake with blueberry pie, lemon cake with blueberry pie, spice cake with apple or pumpkin pie, chocolate cake with pecan pie ... really any combination," Morone says.
Keep scrolling to find out how to make your new favorite dessert. You can take these treats to a BBQ, enjoy them at home, or make them for the kids and their friends. With something this tasty, the possibilities truly are endless.
Gather the ingredients to prepare piecaken cupcakes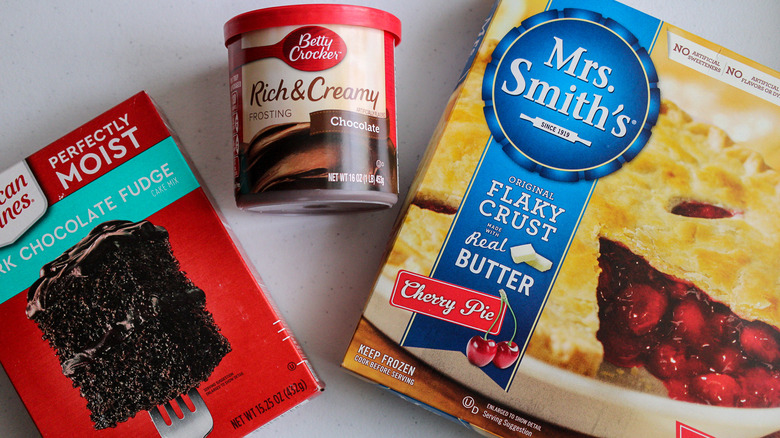 Jessica Morone/Mashed
Not only is this recipe as sweet as pie, but it's also a major plus since it only has three ingredients. You read that right — you only need to round up three things. At the store, you'll want to grab a 15.25-ounce cake box mix in the flavor of your choice. Morone opted for chocolate cake. You'll also want one frozen pie in any flavor. In this recipe, Morone chose cherry. Last but not least, you'll need a 16-ounce container of frosting. Morone selected a chocolate frosting.
Defrost the pie, and prepare the cake mix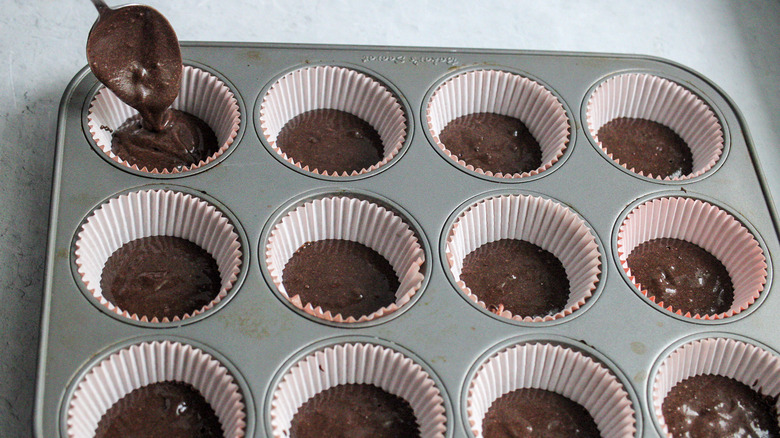 Jessica Morone/Mashed
Since the pie has been frozen, you'll want to take it out of your freezer and let it sit out for about 30 minutes to defrost. You'll know it's finished when it's still cold, but can easily be cut into. You can also preheat your oven to 325 F at this time. Grab two muffin tins, and place liners in them as well.
You'll then prep the cake mix as the package instructs you to do. At this point, you may need to add some eggs or oil, but it really just depends on the mix and flavor. Once your batter is mixed, pour about 1 tablespoon of batter into the bottom of each cupcake liner. "You don't have to use cupcake liners, you can just spray the tin with cooking spray before you put the batter in, but I just think they are easier to get out of the pan when you use the liners," Morone says.
Scoop the pie dough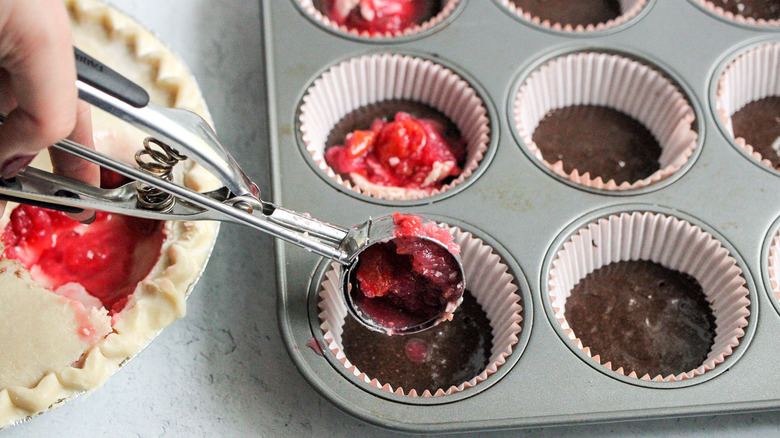 Jessica Morone/Mashed
After you have all 24 muffin inserts filled, you're ready for the pie. Use a spoon or a dough scoop, and take about a tablespoon of pie dough at a time. Put the scoops of pie over the cake mixture. After you put the pie over each, use the remaining cake batter on top of the pie. At the end, your cupcake inserts should be ¾ full. This means they have just enough room to rise! 
Bake the piecaken cupcakes, then decorate them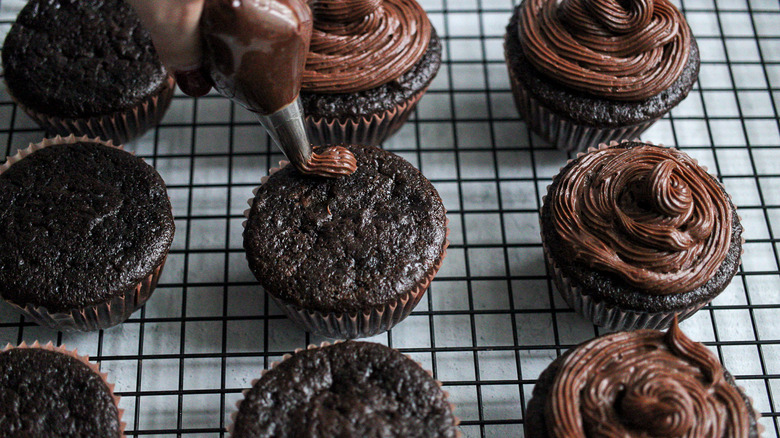 Jessica Morone/Mashed
Once everything is filled up, you'll want to stick these bad boys in the oven. Before doing so, make sure that your oven is fully pre-heated. Bake for about 30 to 35 minutes. Use a toothpick in the center to check for doneness. You will know that the cupcakes are ready to go when the toothpick comes up with no batter.
Take the cupcakes out of the oven, and allow them to cool. When they're cool, add your frosting! If you have leftovers, that's totally fine. "I kept these in my fridge for about a week, and they were still good and I kept eating them," Morone says. "So they are definitely good for at least a few days if they are kept the fridge."
Easy Piecaken Cupcakes Recipe
These easy piecaken cupcakes will be your new favorite dessert to whip up for special occasions or just because.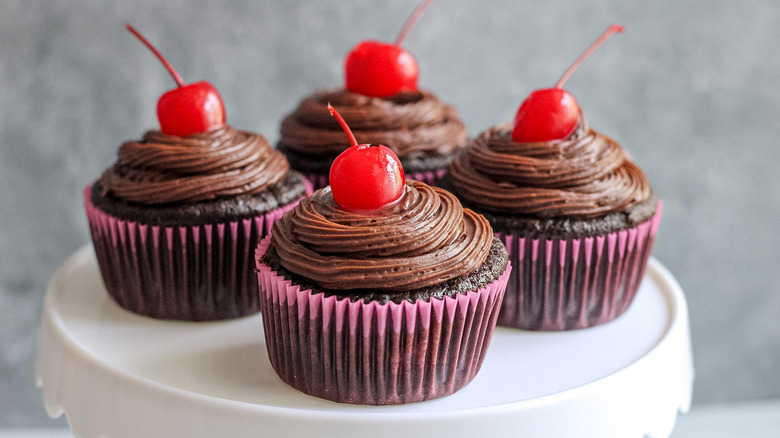 Ingredients
1 (15.25-ounce) box cake mix (any flavor)
1 store-bought frozen cherry pie (any flavor)
1 (16-ounce) container of frosting (any flavor)
Directions
Allow the pie to defrost slightly for about 30 minutes, until it is still cold but you can easily cut into it.
Preheat the oven to 325 F. Line two muffin tins with liners.
Prepare the cake mix as the package directs.
Pour about 1 tablespoon of batter into the bottom of each cupcake liner. Use a spoon or dough scoop to scoop out about 1 tablespoon of pie at a time, placing pie scoops over cake batter in each cupcake liner. Then, cover the pie with the remaining cake batter so that each cupcake well is about ¾ full.
Bake the cupcakes in the preheated oven for 30 to 35 minutes, until a toothpick inserted in the center of a cupcake comes out with no cake batter on it.
Allow the cupcakes to cool completely, then frost them and enjoy!
Nutrition
| | |
| --- | --- |
| Calories per Serving | 172 |
| Total Fat | 5.0 g |
| Saturated Fat | 1.0 g |
| Trans Fat | 0.0 g |
| Cholesterol | 0.0 mg |
| | |
| --- | --- |
| Total Carbohydrates | 30.9 g |
| Dietary Fiber | 0.2 g |
| Total Sugars | 11.9 g |
| Sodium | 157.9 mg |
| Protein | 1.1 g |