Slow Cooker Cochinita Pibil Recipe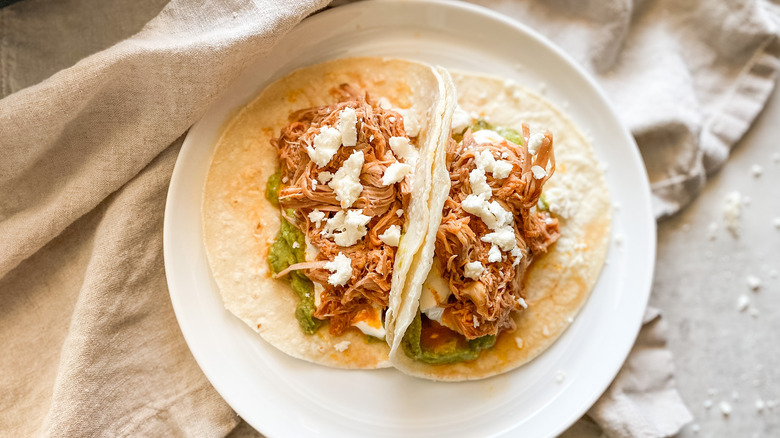 Kristen Carli/Mashed
This dish produces meat as tender and succulent as American BBQ-style pulled pork, but when it comes to the flavor profile, it's in a completely different ballpark. Chef, recipe developer, and registered dietician Kristen Carli says: "Cochinita pibil is a Yucatan dish traditionally served with tortillas and pickled red onions." Rather than the savory profile you get with an American take on pulled pork, the flavors here tend toward the sweet and citrus with a touch of peppery bitterness thanks to the achiote paste.
As cochinita pibil is a traditional Mexican dish, it's a great idea to pair it with sides from the same cuisine. "This dish is great served with elote corn and calabacitas," Carli says. And while traditionally, the dish was prepared with an entire roasted baby pig ("cochinita" means baby pig in Spanish), today you can go ahead and substitute pork shoulder and can use your slow cooker instead of an open fire and spit. When made with the right balance of citrus juices and served with the right toppings, this tender pork may just see you pulling your typical pulled pork off the menu for a while.
Gather your ingredients for this slow cooker cochinita pibil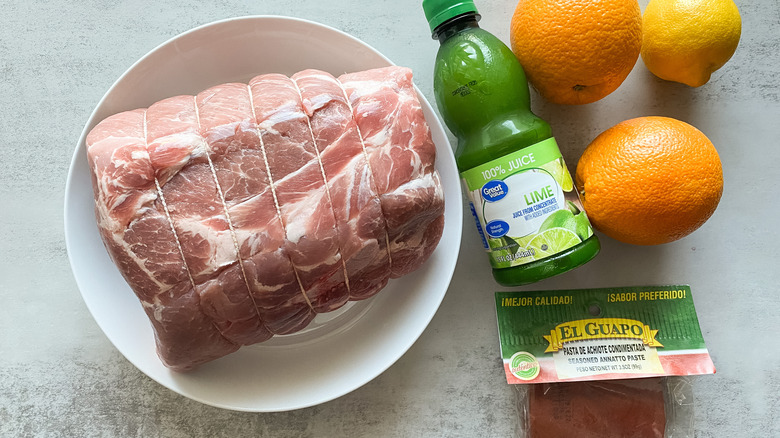 Kristen Carli/Mashed
All told, this recipe calls for a large pork shoulder, achiote paste, juice from a lemon, a lime, and two oranges, and salt. For serving, you'll want corn tortillas, guacamole, sour cream, and queso fresco.
Like things on the spicier side? Easy. "If you want more heat, I would recommend adding more achiote paste," says Carli.
Place the pork shoulder and prepare the marinade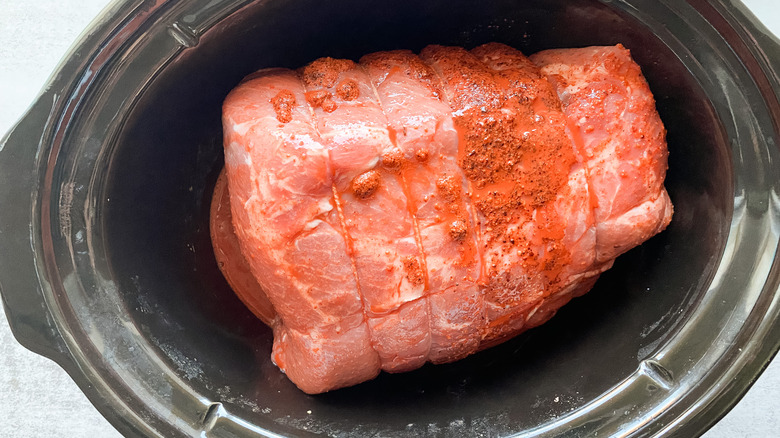 Kristen Carli/Mashed
Start off by placing the pork shoulder in a small four-quart slow cooker, and note that you do not need to remove the strings wrapping the meat, assuming it came tied as such — you'll cut those away before shredding and serving the meat.
Next, juice the lemon, lime, and oranges, and combine their juices in a small bowl. Then add a quarter cup of achiote paste (or more for added spice), and stir to combine.
Now pour this lightly mixed marinade into a blender or food processor, and then blend it until it's well-mixed and smooth.
Pour on the marinate and slow-cook the meat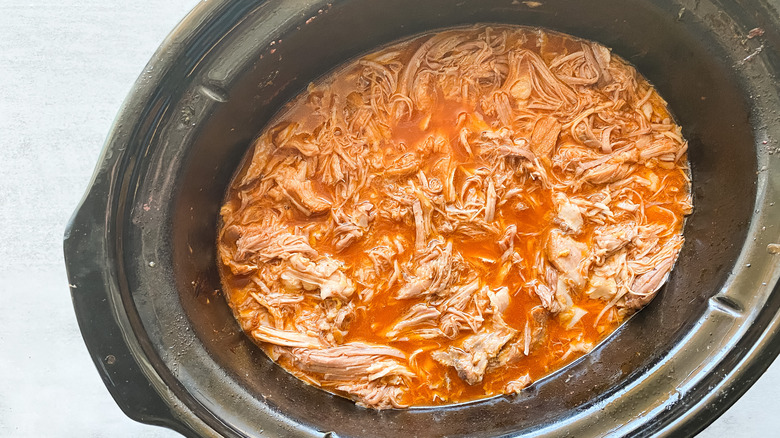 Kristen Carli/Mashed
Pour the prepared marinade over pork slowly, then close the lid of the slow cooker and let it cook on high for six hours. Every hour or so, go ahead and check to make sure things are not drying out, and add a few tablespoons of broth (veggie or chicken) to keep the meat moist if needed, though this may not be necessary.
When the cooking is done, cut away and remove the strings from the pork, then use two forks to shred the meat — it should come apart easily. Serve the finished cochinita pibil in corn tortillas with guacamole and sour cream and topped with queso fresco.
The health benefits of pork shoulder meat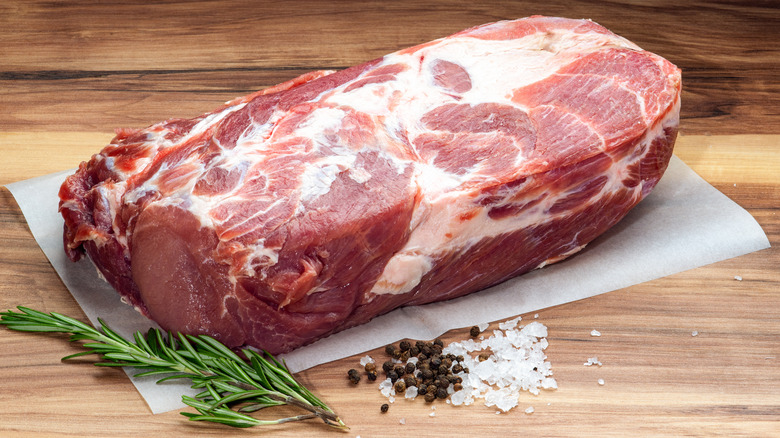 Shutterstock
You eat tender, tasty, slow-cooked pork shoulder because it's delicious. But the fact that it's also nutritious? That's a good thing. According to Live Strong, pork shoulder "is an excellent source of animal protein," with a 100 gram serving delivering more than 17 grams of protein, which is more than a third of the daily needs for the average person. It's also a great source of vitamins B6, B12, niacin, and riboflavin. It also has trace amounts of iron, potassium, and magnesium.
Slow Cooker Cochinita Pibil Recipe
While this dish produces meat as tender as American BBQ-style pulled pork, when it comes to the flavor profile, it's in a completely different ballpark.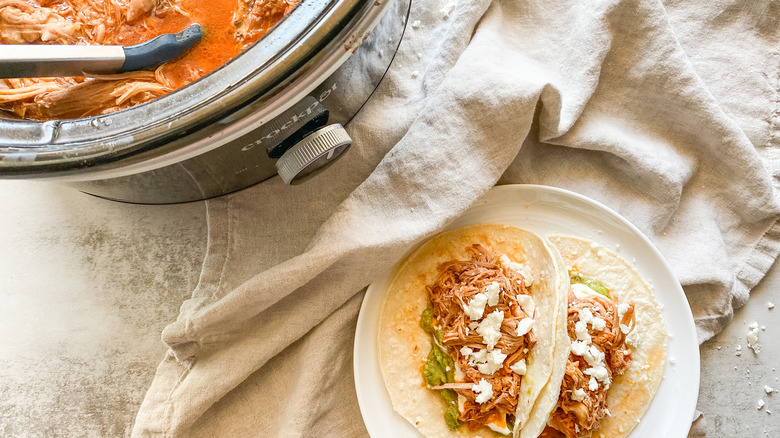 Ingredients
3-pound pork shoulder
Juice of one lemon (¼ cup)
Juice of 2 oranges (½ cup)
Juice of one lime (2 tablespoons)
1 teaspoon salt
Optional Ingredients
¼ cup achiote paste
Corn tortillas, for serving
Guacamole, for serving
Sour cream, for serving
Queso fresco, for serving
Directions
In a small 4-quart slow cooker, add pork shoulder.
In a small bowl, add lime juice, orange juice, lemon juice, and achiote paste and stir.
Pour stirred marinade in a blender and blend until smooth.
Pour blended marinade over pork, then close lid and cook on high for 6 hours.
Serve in corn tortillas with guacamole and sour cream and topped with queso fresco.
Nutrition
| | |
| --- | --- |
| Calories per Serving | 407 |
| Total Fat | 30.6 g |
| Saturated Fat | 10.6 g |
| Trans Fat | 0.0 |
| Cholesterol | 120.8 mg |
| | |
| --- | --- |
| Total Carbohydrates | 1.6 g |
| Dietary Fiber | 0.4 g |
| Total Sugars | 0.9 g |
| Sodium | 401.4 mg |
| Protein | 29.4 g |